November's side hustle report is coming out much, much later than usual (my bad), but it's here! I didn't forget about it!
As you can imagine, it's been a busy month with the holidays coming around. The other day, I finally got around to getting all these numbers from November together.
For those of you that are new here, every month, I document exactly what I earned from side hustling using sharing economy apps and websites. There are two main reasons I share these side hustle reports:
I want to show you exactly how much a regular person can earn in the sharing economy/gig economy while also holding down a full-time job, and
I want to give you the inspiration to go out there and earn some extra money.
The key thing to remember here is that I do all of this while also holding a full-time job and doing this whole blog thing. It doesn't leave me with a ton of free time on my hands – and yet, I can still do this. It's not necessarily a ton of money, but it's something that I think can help anyone looking to make more money. What I also know is that if I can do all of this stuff, you can do it too – if you're willing to try.
With that said, let's see what I was able to bring in this month from side hustling in the sharing economy.
Side Hustle Income for November 2017
Here's a breakdown of my side hustle earnings in November.
Total Side Hustle Income for November 2017 = $1,450.57
I still always surprise myself at just how much I manage to bring in each month from all of these little side hustles. They never seem like very much when I'm doing them – a few bucks here, a few bucks there. But that's the thing about earning money on the side. It adds up.
Here's a more detailed breakdown of my November side hustle income:
Airbnb Income: $747
It was another solid Airbnb month in November. We ended up with 16 nights booked which comes out to an average nightly rate of around $46. That's definitely not bad at all, in my opinion. At that rate, we earned more than what we'd earn from just renting out the room to a roommate while also getting the benefit of having the house to ourselves when we need it (for example, we blocked off our calendar for Thanksgiving since we had family staying with us that week – you lose that flexibility if you have a roommate). 
Most of the folks we hosted this month were the usual suspects – students coming into town for grad school interviews or folks meeting up with professors. Your location is a key determinant in the guests you'll get, so if you're thinking of hosting, just try to think about what is in your area that would bring people into town. If you're anywhere near a college campus, my example will be very relevant to you.
[quads id=4]
In family news, my sister and brother-in-law just bought their own house and are also thinking about throwing up one of their guest rooms on Airbnb once they get settled in. They're both regular users of Airbnb and usually choose to stay in a room in a house, rather than getting an entire place for themselves. That makes them perfect candidates for listing up a spare room. They are a little farther out from the city center, so it'll be interesting to see what type of guests they attract once they start hosting.
If you're interested in monetizing your home, you should sign up to be an Airbnb host, even just to try it out once. Your house can be a dividend-generating asset if you're willing to let it be one.
Rover Income: $0
Whomp Whomp. After over two years of hosting pups on Rover, November marked the first month that I earned absolutely nothing from dog sitting. A lot of this had to do with a repeat client of mine that ended up canceling her booking on the Sunday before Thanksgiving.
I've always treated my side hustle earnings as completely bonus income, so as a result, I set up my cancellation policies on both Rover and Airbnb as flexible, meaning people can cancel their booking up to 24 hours before their booking starts. My reasoning for doing this is two-fold: (1) it might attract folks who would otherwise be hesitant to book since they can cancel their stay if they want, and (2) since I don't need the money, it's not a big deal if they cancel.

I don't get a ton of people canceling on me, but when it happens, a situation like this can occur where I basically lose the money and have very little time to find a replacement guest. In this case, since the guest canceled on me on Sunday, it left me with only 2 or 3 days to find a replacement pup for the Thanksgiving weekend.
Almost instantly, I received about 4 or 5 last minute requests, but none of those dog owners wanted to do a meet and greet. I have strict policy of doing a meet and greet before accepting any new pups in my home, and the way I see it, if you're not willing to do a meet and greet (or can't make the time to do it), then I probably don't really want to watch your pup anyway.
Anyway, I couldn't find a replacement pup to replace my canceled Thanksgiving stay, so November ended up being my first pup-free month. December will be better though!
Postmates/DoorDash/Uber Eats/Tapingo Income: $291.88
November turned out to be a very good delivery month for one main reason – my buddy that I referred to Uber Eats back in August was finally able to come back to town and complete his 10 deliveries. That 10th delivery earned me a $200 referral bonus and him a $100 bonus. I gave him $50 of my bonus so that we could each have $150.
I've said it before but making money doing deliveries by referring your friend or spouse can be very lucrative. Last summer, my wife and I earned $50 an hour biking around our city doing deliveries after I referred her to Postmates. I wrote about it in a post last year in which I asked: "Is It Possible to Earn Over $50 An Hour As A Bike Messenger?"
The Postmates referral concluded with us earning $500 in referral bonuses plus another $300 or so in delivery payouts. And this was literally us getting paid to bike around town – an activity that we would do for free. A few months later, we did the same referral scheme with Uber Eats – I referred her and we went and did our 10 deliveries, which earned us $300 between the two of us. Not only was doing this stuff fun, it also gave us a great story to tell. How often do you see a lawyer and a dentist biking around delivering food like a commoner?
Anyway, here's a breakdown of what I earned on each delivery platform in November:
Tapingo was another surprising earner this month. With a lot of these services, money can be made during peak times, and I saw a bunch of surged deliveries on Tapingo one random evening. There were three open deliveries to be made, and each one offered $6 to $8 for each delivery. I ended up snagging all of them, went out and did the deliveries and was back home within 45 minutes.

$28 for 45 minutes of biking around? I'll take that any day.
Trash Income: $5
Not much to report in the trash world. I've been lazy this past winter, so I ended up just selling some crappy old chair I found across the street. I probably could have sold it for more, but there was a wheel broken and I just wanted to get this thing off my hands quickly. It sold within a few hours.
I still have more stuff I need to sell in the garage (desks and things like that), but just haven't gotten around to getting them listed up. It's possible they'll sit until the weather warms up.
Wag! Income: $177.50
November was a pretty high earning dog walking month because, during November, I was able to snag a walk during lunch almost every, single day. There's an apartment building right across the street from my office, and almost every day around noon, the same client requests a dog walk for their two pups.
Walking pups during lunch on Wag has really worked out perfectly for me. Essentially, I'm able to monetize my lunch break. Instead of spending 10 bucks during my lunch hour or just wasting my time browsing the web, I can instead go out there and earn 15 or 18 bucks and go for a nice little stroll. It's definitely working out for me so far, plus it gets me outside and exercising, instead of sitting at a desk.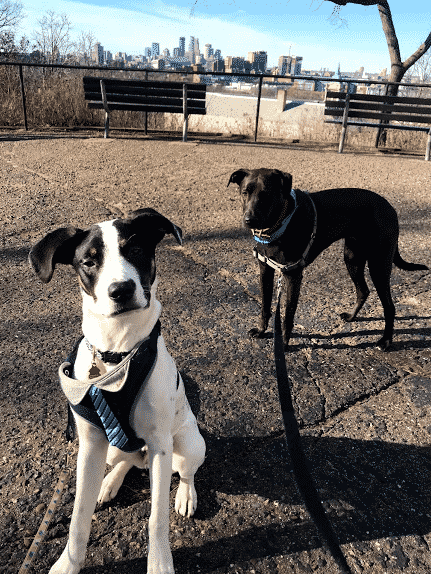 If you work anywhere with apartment buildings near you (especially luxury apartment buildings), it's worth firing up Wag to see if you get any walks during lunch. When you think about it, most people at work need their dogs walked around mid-day, which coincides perfectly with when most of us need to get outside and stretch. If you'd like more info, make sure to check out my in-depth write-up about my experience as a Wag walker.
TaskRabbit: $191.25
TaskRabbit finally opened up in my city and I immediately signed up for it in order to test it out. If you've never heard of TaskRabbit, its basically an app where you can hire someone to do anything for you. Most people use it for stuff like helping them move or building Ikea furniture for them (indeed, Ikea bought TaskRabbit earlier this year just for that purpose).
I grabbed two gigs this past month where I had to help someone move boxes from their house to a storage unit. With tip, the pay came out to around $28 an hour, which is actually pretty good. The main problem with TaskRabbit is that, if you accept a gig, you lose a lot of flexibility. I spent several hours helping this person move, and it's not like I could just come and go as I pleased. But, it was an interesting experience.
I haven't been getting a lot of requests on TaskRabbit yet, but I know a lot of sharing economy folks swear by this app, so I'll keep it running to see what else comes in. I can see there's money to be made here
Job Spotter Income: $16.94
Another $16 or so month on Job Spotter. This app is just too easy to use and one that anyone, no matter who you are, should have on your phone. Read my in-depth review of Job Spotter if you're looking for more information.
For the year, I've now earned $205.09 from Job Spotter, which I think is pretty darn good for what amounts to very minimal work.
 
Merchandiser Income: $21
Merchandiser is another one of these little apps that I do on the side, similar to Field Agent, EasyShift, and GigWalk. These aren't things I go out of my way to do, but if a task happens to be nearby or in a store that I'm already at, I'll go ahead and do it.
In this case, I snagged a few different tasks. One was at a Whole Foods downtown where I was asked to put some coupon stickers on some boxes of baking goods. Merchandiser mailed me the stickers and while I was downtown, I went into that Whole Foods and stuck the stickers on there. It took me maybe 5 minutes and I was out of there before anyone even noticed me.
My other Merchandiser gigs all involved taking photos of a drink cooler at a Target that I pass by every day on my way home from work. I just stopped in there one evening and snagged a few photos. Again, it couldn't have taken me more than 5 or 10 minutes to do.
These gigs aren't all necessarily winners, some are just not worth doing for the low amount they pay. But whenever I get an easy one, I'll go ahead and do them.
And that's the November 2017 Side Hustle Report!
For the year, I've already earned more than the $14,000 I earned last year side hustling, and at this current pace, I believe I'll make somewhere around the $16,000 mark. That's significant income for most people! And this is all completely extra money that I earn without a ton of extra work.
As always, be sure to check out my side hustle report page if you're interested in seeing what I've made in other months. You can also check out my most recent side hustle reports below if you're looking for quick access to other side hustle reports.
October 2017 Side Hustle Report – $1,884.13
September 2017 Side Hustle Report – $2,055.19
August 2017 Side Hustle Report – $2,495.50
July 2017 Side Hustle Report – $1,816.50