Welcome to this month's side hustle report!  It's been a busy summer for me, and unfortunately, it's led to me not posting as often as I'd like.  My bad.  But, there are some big changes going on with my professional life that I'm hoping will help me get back on track.  Can't wait to share it with you when I get the chance!  For now, though, let's get right to it with this month's side hustle report.
For those of you that are new to this, each month, I document exactly what I made side hustling using the sharing economy.  The nice thing about sharing economy side hustles is that they're low risk and easy to do.  You can start making money immediately and most of the time, you don't even have to spend any money upfront in order to get started.  You can't say that with pretty much any other business.
Last year, I made over $14,000 side hustling using the sharing economy.  And this was while I was also holding a full-time, demanding job as a big city lawyer.  If I can do it, I promise you that you can do it too.
When it comes to side hustling, I have four main sources of side hustle income:
Renting out a spare guest room on Airbnb
Dogsitting using Rover.com
Making deliveries using Postmates, Doordash, Uber Eats, and Tapingo
Selling trash finds using Craigslist and OfferUp
Side Hustle Income for June 2017
Here's what my side hustle income looked like for June.
Airbnb:  $839
Rover: $106.25
Postmates/DoorDash/Uber Eats/Tapingo: $54.47
Selling Trash Finds: $37
Jobspotter: $14.42
WeGoLook: $20
Total Side Hustle Income for June 2017 = $1,071.14
My side hustle income took a bit of a dip in June just because of a lack of effort on my part.  In theory, I should be able to make more from doing deliveries.  In the past, I've aimed to make $50 per week, which typically only requires doing a few hours of deliveries throughout the week.  I should also be able to sell more trash if I actually put the effort to list up the backlog of trash that we've been finding.
I'm hoping that some upcoming changes I have going on in my life will help free up a little bit more time for me, which can then translate into higher side hustle earnings.
Here's a detailed breakdown of my June side hustle income:
Airbnb Income: $839
June was a fairly slow month for us, but a part of the reason was that we had a completely empty week for the first week of the month.  It's sometimes nice to get a break from hosting, and since we don't necessarily "need" the money (we're living fine on the income we make from our day jobs), we aren't desperate to reach maximum occupancy.
In terms of occupancy, we had 15 nights booked for the month, which comes out to an average rate of $55 per night.  The key to my pricing strategy is to use Beyond Pricing, which basically tracks occupancy rates in my area and then automates the pricing each day.  This is basically the same thing that a hotel does.
It helps not having to think about my pricing strategy too much.  Plus, if you use my Beyond Pricing link, you'll get your first month of Beyond Pricing for free.  I definitely think it's worth trying out if you're an Airbnb host that wants to optimize your listing.
In terms of guests, they were pretty standard for what we usually see.  We had some parents staying with us for a night who were helping their kid move into a new house, a few folks coming into town for conferences and a post-doc that stayed with us for two weeks while she was doing research on campus.  These were all good, low-stress guests that we really didn't even notice were in our house.
Recommendations:
Rover Income: $106.25
The transition to Rover is now complete.  A few weeks ago, DogVacay completely shut down, so now Rover is pretty much the only dog sitting platform out there.
As I've mentioned before, I've been worried about this transition due to the fact that Rover's search algorithm appears to have no rhyme or reason to how it lists sitters.  I'm still remaining decently booked and did get at least one new request through Rover, so we'll see if business holds up through the transition.
Our favorite pup for the month was a repeat pup we've watched a couple of times now.  Here he is resting his weary head on our couch.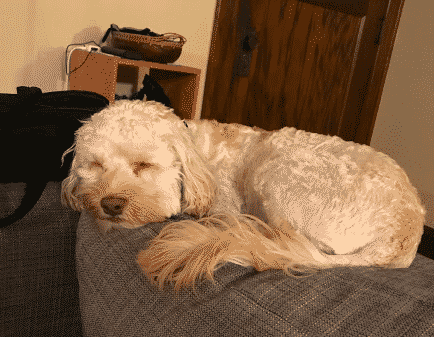 The nice thing about dogsitting for as long as we have (two years now!) is that we get a steady stream of repeat pups.  When you're starting up a dogsitting side hustle, you want to aim to get as many repeat pups as possible. When it's a pup you've watched before, you know exactly what you're getting into.  But when you watch a new pup, you always run the risk of watching a dog that doesn't mesh well with your lifestyle.
I found myself in the latter situation this month.  We watched a border collie mix that was perfectly friendly and well-behaved at the meet and greet, but ended up being really hyper once we started watching him.  The worst part was that he was a barker.  And it wasn't a quiet bark either.  This bark was deafening.
Thankfully, we only had to watch this dog for 2 days, but it's just a good reminder about the inherent risk with watching any new pup.  Your meet and greet won't always reveal what the dog will be like in your home.  In future meet and greets, I'm going to be sure to ask about barking tendencies.  I just can't have that in my house.
Recommendations:
If you already have a well-behaved and friendly pup, then I think you should consider trying your hand at dogsitting.  The great thing is that it doesn't add any additional work to your plate if you already have to take care of your own pup. Make sure to sign up to be a Rover sitter using my link.  It helps to support this site.
Postmates/DoorDash/Uber Eats/Tapingo Income: $54.47
I've been busy with my day job for the past few months, and unfortunately, it means doing bike deliveries has taken a bit of a hit.  I love doing deliveries on my bike, so it's definitely something I'm working on fixing in the coming months.  I just need to carve out more time to do it, which I hope should happen with some changes I've got coming up in the next few months.
Related: Click Here To Read More About My Experience Biking With Postmates
The only big news to report on the delivery front has to do with how Uber Eats works.  The app finally added tipping last month, which might mean that I think Uber Eats is worth incorporating into your delivery game.
I still primarily lean on Postmates and DoorDash, but it's nice to know that Uber Eats is a potentially legitimate delivery option now beyond just snagging the signup bonus.
Recommendations:
If you like biking and essentially getting paid to bike, be sure to sign up to do deliveries with Postmates, DoorDash, and Caviar if they're available in your city.
Sign up to deliver with Uber Eats also and snag yourself a referral bonus.  They usually offer at least a $100 signup bonus and depending on your city, it'll require you to do between 10 to 30 deliveries to earn the bonus (in my market, it was 10 deliveries, which was really easy to do).  A few months back, I referred my wife to Uber Eats and had her do 10 deliveries, which earned us a combined $300 in bonuses. Definitely worthwhile if you have a spouse or partner that's willing to work with you.
Trash Income: $37
I don't have much to report on the trash income front.  I've just been super lazy with listing stuff up and my trash earnings have suffered for it.  The only interesting things I sold this month were some random magazines I found in the trash a while back.  Here's what one of them looked like: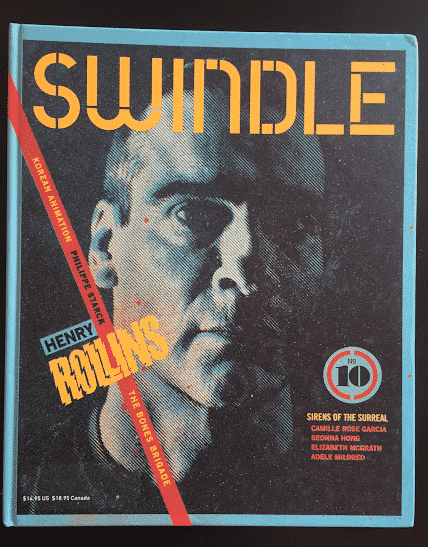 They're hardcover magazines I found in a dumpster and just based on how they looked, I thought they might have some value.  Plus, items like this are easy to sell on eBay.  I sold two of these magazines on eBay for $12 and $10 each.
I'm on a mission to clear out my garage and next month is already shaping up to be a great trash month.
For the year, that's $532 worth of trash sold, which keeps me on pace for my goal of $1,000 worth of trash sold in 2017.  If I told you that you could literally find $1,000 sitting on the street, would you be interested?  I'm guessing yes.
Related: Making Over $1000 Selling Trash Finds Found In One Dumpster
Jobspotter Income: $14.42
Jobspotter continues to be a pretty consistent income generator.  I bike and walk around a lot, so finding hiring signs isn't hard to do. This is just extra money that I can earn without much work.  And honestly, it's fun whenever I find a new hiring sign out there.
If you say that you're not seeing hiring signs out there, then I think you're either (1) not looking closely, or (2) you drive everywhere and rarely walk or bike.  Trust me – they're everywhere!  Especially if you're using the right modes of transportation!
Related: Jobspotter App Review: Earn Extra Money By Taking Pictures of Hiring Signs.
WeGoLook Income: $20
I've mentioned WeGoLook in the past, but if you don't know, it's basically an app where you go around taking pictures for insurance companies.  I don't do a lot of the gigs that pop up since they're often way out of my way, but when I see an opportunity that is nearby, I'll usually try and grab it.
This past month, there was a gig to take pictures of an intersection out in the suburbs.  Since I was already heading in that direction for a camping trip, I figured it was an easy way to make a quick 20 bucks on my way out of town.
We ended up pulling off the highway for a few minutes while I ran around taking pictures of the intersection.  The whole thing probably took around 10-15 minutes.  That's not bad at all for a $20 payout.  I just wish that more of these gigs were closer to me!
And that concludes this month's side hustle report.
The side hustle income continues to stay steady.  Making an extra $1,000 a month can go a long way.  Even if you're making $100,000 a year, an extra $1,000 per month equates to giving yourself a 12% salary raise.  If you're making less, it'll obviously be more impactful.
What's really crazy is that ANYONE can do this.  Seriously.  Anyone can figure out a way to make an extra $500 or $1,000 per month if they're just willing to try.  I think these income reports are a testament to that.
Be sure to check out my side hustle report page if you're interested in seeing what I've made in other months.  You can also check out my most recent side hustle reports below.  Thanks for stopping by!
May 2017 Side Hustle Report – $1,625.11
April 2017 Side Hustle Report- $399.04
March 2017 Side Hustle Report – $1,251.91