Welcome to another edition of the side hustle report!  As a quick background, for about a year now, I've been tracking all of the side hustle income I make from sharing economy apps and posting those numbers in these posts.
We live in a pretty amazing time where anyone can make extra money just by using the stuff they already have or doing the things that they're already doing.  Even just a few years ago, making money like this wasn't really possible. My hope is that people reading these posts can see exactly what's possible out there.  There's money to be made if you know where to look.  And it can be pretty fun too.
When it comes to side hustling, I have four main sources of income:
Renting out a spare guest room on Airbnb
Dogsitting using DogVacay and Rover (*DogVacay recently shut down, so it looks like it'll only be Rover in the future)
Making deliveries using Postmates, Doordash, Uber Eats, and Tapingo
Selling trash finds using Craigslist and OfferUp
If you haven't already, be sure to check out my post on How I Made $14k In One Year Using The Sharing Economy. In that post, I go into detail about what I made in 2016 from side hustling through the sharing economy.
Anyway, without further ado, here's what my side hustle income looked like for May 2017.
Side Hustle Income for May 2017
Airbnb:  $1,196
DogVacay/Rover: $106.25
Postmates/DoorDash/Uber Eats/Tapingo: $229.94
Selling Trash Finds: $75
Jobspotter: $13.92
GigWalk: $4
Total Side Hustle Income for May 2017 = $1,625.11
Not a bad month at all.  I made pretty much nothing in April because my wife and I were busy with wedding stuff, so it's nice to see our side hustle income get back up to solid levels.  An extra $1,600 is pretty significant for most people.
Airbnb was definitely the big moneymaker for me this month.  The summer months typically mean more people coming into town for conferences, which means that I can increase our rates during the summer, and thus, earn more money from the Airbnb.
Uber Eats was another interesting moneymaker for the month.  My wife and I have done the referral bonus scheme in the past with Postmates, and we did the same thing this month for Uber Eats.  All it required us to do was to have me refer her, do 10 deliveries, and then collect our bonus!  It didn't take much time at all and we ended up making $300 total between the two of us just to do 10 deliveries (I've only included the referral bonus I received in this report).
Here's a detailed breakdown of my May 2017 side hustle income:
Airbnb Income: $1,196
For May, we brought in $1,196 renting out our guest room on Airbnb.  This represents 22 nights booked or an average rate of $54 per night.  That's really good when you consider that the market rent for a room in our neighborhood would be somewhere in the range of $500 to $600 per month.  Our earnings were pretty much double what we'd get from a traditional roommate.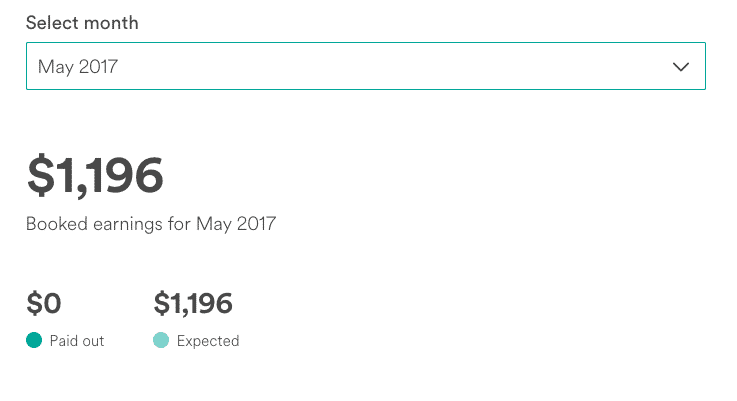 With summer starting, I now have to consider whether to install a window A/C unit in the room.  We pretty much avoided putting it in last summer because we were afraid that guests would just run the A/C all day, but I think this summer I'll put the A/C unit in and just ask guests not to run it when they're not home.
Airbnb income continues to be where I want it to be for the year.  I'm aiming for at least $7,200 of Airbnb earnings for the year and I expect that we'll hit that number this year.  For now, the Airbnb income is serving as our house maintenance fund – essentially a secondary emergency fund for us.
Quick pricing tip for you all.  If you're serious about hosting, you should definitely be using something to automate your pricing.  Just like with a hotel, your pricing should change every day based on supply and demand.  There are way too many people in my neighborhood underpricing themselves.
I've been using Beyond Pricing now for close to a year and it's been doing the trick for me.  They charge a 1% fee of whatever it is you booked for the month (i.e. if you have $1,000 worth of bookings in a month, they'll charge a $10 fee).  I think that's totally fair because I definitely make more than what they charge.  Plus, if you use my referral link, you'll get your first month free.  If you're a host and have never tried an automated pricing service, using the free trial of Beyond Pricing is a great way to get started.
And, if for some reason you've never used Airbnb before, definitely sign up to be a guest here and you'll get $40 off your first stay.
Even better, if you sign up to be a host using this link, you'll get a bonus $50 from Airbnb once you host your first guest.  The only requirement is that in order to earn the $50 bonus, your qualifying booking has to be done within 150 days and the stay has to cost a total of $100 or more.  Most people can do that pretty easily.  The best part is, if you're not sure about hosting long term on Airbnb, take advantage of the Masters Rule and host for 14 days or less in order to get tax-free Airbnb income!
Rover Income: $106.25
We hosted two pups this month – an extremely cute Cavapoo puppy and a Welsh Terrier that is a regular guest of ours.  The thing that's great about dog sitting is just getting the opportunity to watch new types of pups that we don't often encounter.  Just take a look at this Cavapoo puppy!  We were in love!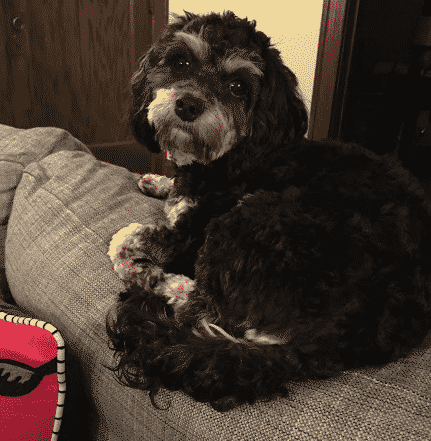 The big news on the dog sitting front is that it looks like DogVacay will officially shut down on June 12th.  If you didn't know, a few months back, Rover bought out DogVacay.  It wasn't quite clear what would happen with the DogVacay brand at the time, but I guess Rover has now made the decision to merge it all into one brand, leaving Rover as the sole dog sitting platform out there.  I've been concerned about the impact that this merger will have on my dog sitting business – I've typically had way more success on DogVacay – but I guess we'll just have to wait and see.
I still think that there's an opportunity for people who like dogs or already own a dog to make extra money on the side doing this.  Even bringing in $1,000 or so in a year watching dogs on the side wouldn't be a bad deal.
If you're interested in making money watching dogs, make sure to sign up to be a Rover sitter using my link.
Postmates/DoorDash/Uber Eats/Tapingo Income: $229.94
Admittedly, I've been getting really lazy when it comes to doing deliveries.  One issue is that deliveries are time intensive.  I can earn money with Airbnb and Rover fairly passively, but doing something like Postmates requires me to be actively out there biking around.  It's definitely fun for me – I wouldn't be doing it if I didn't think it was fun – but every hour I'm out doing deliveries is an hour I can't be working on something else.  I still need the exercise, so I make it a goal to get a decent number of deliveries in each month, but it's becoming a bit of a challenge to make the time for it after work between everything else that I have going on.
Here's the breakdown of what my earnings looked like for each delivery platform this month:
Postmates: $22.94
Doordash: $0
Uber Eats: $200
Tapingo: $7
The big earner this month was definitely Uber Eats.  Way back in January, I referred my wife to be an Uber Eats delivery courier so that we could earn the referral and signup bonuses.  We did a similar referral scheme last year with Postmates, in which we made a combined $800 in a weekend just by me referring my wife and having her do a bunch of deliveries.  In terms of ways to earn extra money, spending time biking around town with your significant other isn't so bad.
The nice thing about the Uber Eats referral bonus was that it only required completing 10 deliveries in order for us to earn a total of $300 in bonuses.  My wife signed up for it way back in January and we finally got around to getting those 10 deliveries done in May.  After it was all said and done, she snagged a $100 signup bonus and I received a $200 referral bonus.  Pretty easy money.

Whether Uber Eats is a worthwhile platform long term is still up for debate, but I definitely think it's worthwhile to do it just to earn the signup bonus.  10 deliveries isn't a hard thing to do – you could do it in a day probably if you're in a busy market.  And, if you happen to have a spouse, you can refer them and snag an extra bonus too.
The referral bonus landscape is always changing, but I know that Uber Eats seems to offer at least a minimum $100 signup bonus.  Definitely worth doing if you want to make a little extra money quickly.  Make sure to sign up for Uber Eats using my referral link in order to qualify for a signup bonus.
Trash Income: $75
I've learned that trash fortunes can change quickly.  I thought this was going to end up being a $0 month just because I'd been busy and hadn't listed up much stuff online.  Then suddenly, in the last few days of the month, a guy messaged me about a cabinet I found in the trash last year.  Take a look: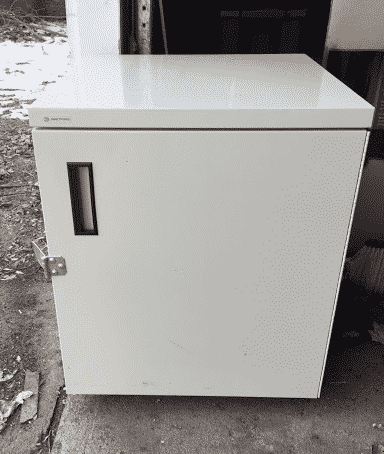 I'd had this thing listed up for months but didn't get any offers.  It's a nice cabinet and sells for $250 new, so I figured that putting it up for $100 would be fair.  Crickets.
I then lowered it down to $50 and still got no interest.  It then randomly sold for $50 right at the end of May. Remember, it only takes one buyer to get something sold.
Another interesting sale was this glass coffee table that Mrs. FP found while she was walking home one day.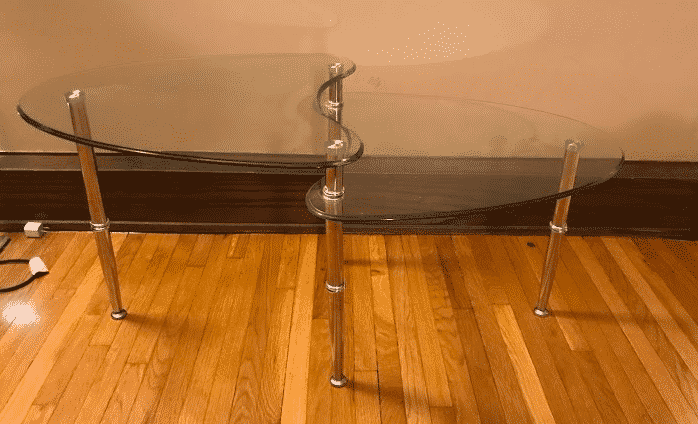 I always love selling coffee tables because they're easy to carry.  Mrs. FP carried this thing home while playing Pokemon Go at the same time.  Coffee tables also almost always sell immediately.  For some reason, people are always looking for coffee tables!  I sold this coffee table within a day for a solid $20.
We're now up to $495 worth of trash sold for 2017.  Pretty amazing when you think about it.  It's literally stuff I'm finding on the street.
Related: Making Over $1000 Selling Trash Finds Found In One Dumpster
Jobspotter Income: $13.92
Not a ton to elaborate on here.  I've been continuing to snag pictures of hiring signs while I'm out biking or walking. They're seriously all over the place once you start looking for them.  It only takes me a few seconds to snap the pictures, so definitely worth the time, in my opinion.
Related: Jobspotter App Review: Earn Extra Money By Taking Pictures of Hiring Signs.
GigWalk Income: $4
I'm trying to do a better job of tracking the random income I get from these picture taking apps.  These are basically apps where you take pictures of stuff in stores so that companies can audit it.  I earned this $4 by taking pictures of the jelly aisle of a convenience store that was on my way home from work.  Took me about 5 minutes to take the pictures.
And that concludes this month's side hustle report.
May was a pretty good month, especially because of what we were able to pull in with Airbnb and the fact that I snagged that referral bonus from my wife through Uber Eats.
It's pretty nuts to think that I can make this much extra money per month while working a regular day job. Seriously, an extra $1,000 or more per month can go a long way for a lot of people.  It's also pretty comforting to know that, if I absolutely needed to, I could probably figure out a way to survive using just these apps.
Related: How I Made $14k In One Year With The Sharing Economy
Be sure to check out my side hustle report page if you're interested in seeing what I've made in other months.  You can also check out my most recent side hustle reports below.
April 2017 Side Hustle Report- $399.04
March 2017 Side Hustle Report – $1,251.91
February 2017 Side Hustle Report – $800.33