Welcome to the September 2017 Side Hustle Report. September ended up being a big side hustle month for me and altogether, I was able to pull in over $2,000 worth of side hustle income. I earned all of this side income using sharing economy and gig economy apps that pretty much anyone can use.
There are two reasons why I share this side hustle income (besides the fact that I think it's entertaining):
I want to show you exactly how much someone can earn through the sharing economy/gig economy while also holding down a full-time job, and
I want to inspire those of you that need extra money to go out there and get it for yourself.
The thing that I can't stress enough is that I earned all of this income while also working a full-time day job. If you need to earn extra money, I'm an example of exactly how you can do it. And trust me, if I can do this, I know you can too.
With that said, let's see what I was able to bring in this month from side hustling on top of my day job.
Side Hustle Income for September 2017
Here's a breakdown of my side hustle earnings in September.
Total Side Hustle Income for September 2017 = $2,055.19
Definitely another big month on the side hustle front, with me bringing in a little over $2,000 of side hustle income from 12 different income sources. When you take a closer look at the numbers, it's actually pretty interesting how much income you can generate from small amounts coming in the door.
Let's take a more in-depth look at how I earned all of that income.
Airbnb Income: $946
It was business as usual on the Airbnb front this past month. As in past months, the majority of our guests were in town for business related to the university – folks in town for conferences, interviews, and things like that.
The nice thing about having a thriving Airbnb business is that it makes it easy for our home to earn income for us even when we're out of town. In this case, we had a guest staying in our house for 4 days while we were in New York for a wedding. It's perfect when this situation happens because it basically means our house earns us an income and we don't even have to deal with the "weirdness" of sharing our space with a stranger.
In terms of specifics, we had 19 nights booked for the month, with rates ranging from $41 to $71 per night. As I've mentioned before, I use a pricing app called Beyond Pricing to automate our Airbnb rates. Just like with a hotel, Beyond Pricing increases prices during more high-demand times and lowers prices during lower demand times in order to maximize both my revenue and occupancy rate.
One new tool that I started using in September is Aviva IQ. It links to your Airbnb account and then allows you to set up automated Airbnb messages at specific times. I set up my Aviva IQ account to send out a welcome message about a day before guests arrive, which includes information about my house and a link to my house manual that I set up on Hostfully.com. This has led to serious time savings for me. Before, I was manually sending out a message with this information. Now, I don't even have to think about it.
Related: 
Recommendations:
Rover Income: $191.25
September was a good Rover month, not because of income, but because we ended up watching a pup that's now officially our favorite pup. She meshed perfectly with Financial Pup and our lifestyle. And the great thing is that we've got her booked for another stay in October as well!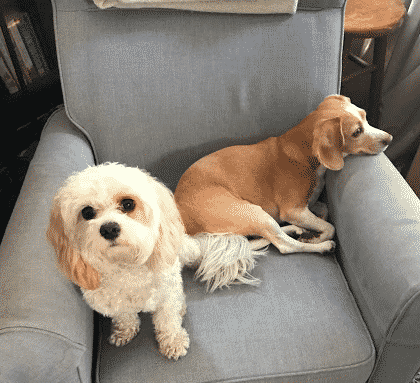 I think the goal with side hustling on Rover is to build up a stable base of repeat clients. In my opinion, the only real risk with dog sitting is that you never know how a dog might act once you're actually watching them. But when it's a repeat client, you know exactly what to expect.
Of course, it takes time to get that stable base – I've been dog sitting on Rover now for over two years. So if you haven't done it yet, and you like dogs (or even better, you already have a dog), you should at least give Rover a try.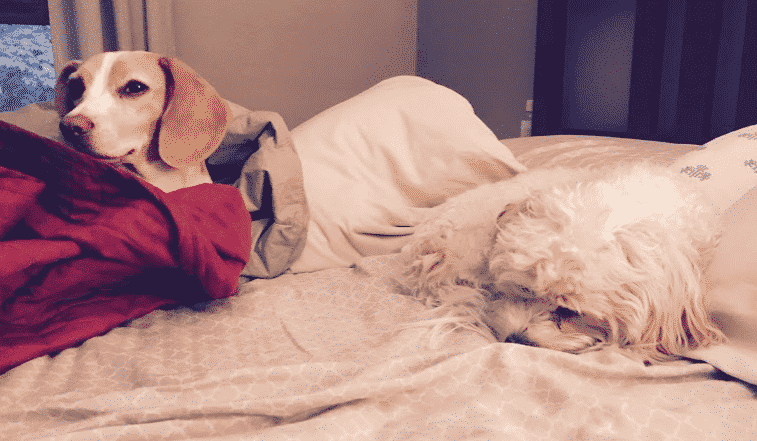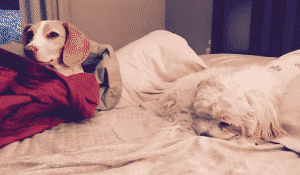 Related: How I Make Over $2000 Per Year On Rover
Recommendations:
Postmates/DoorDash/Uber Eats/Tapingo Income: $261.01
The delivery game was strong again in September, with me earning over $260 using four different delivery platforms. Here's a breakdown of what I earned on each delivery platform in September:
The funny story of the month happened during my trip to New York in mid-September. The nice thing about Postmates is that it lets you do deliveries in any city that has Postmates. This basically means that, if you're traveling, you can do deliveries wherever you are.
Since my wife and I were already walking around and exploring the city, I thought it'd be fun to put myself as a walker and see what deliveries I'd get in New York. I eventually got pinged for an order to pick up a salad at a pizza place 2 blocks from our hotel. The delivery location was to a hotel just around the block.
After picking up the order, I was greeted by this note in the app:

I laughed at the note and figured it was some sort of joke. A few minutes later, I received a call from the customer asking me if I'd read the note and if I'd be cool with bringing the order up to his hotel room. I didn't really care too much, so I said that'd be fine.
When I got to his room, he was, as expected, completely naked. The guy then asked me if I'd be willing to contract with him directly for the weekend and pick up stuff for him so that he wouldn't have to explain himself to other delivery people. Unfortunately, I couldn't take him up on his offer since I was in town for a wedding.
He told me that was no problem and then went into another room and came back with a $40 cash tip! This was for a delivery that took me all of 5 minutes to complete.
Suffice it to say, this is definitely my funniest delivery story yet.
Related: 
Recommendations:
Trash Income: $405
It was the start of a new semester at the University which meant that I was able to sell a ton of trash that I found in August. This is nuts when you think about it – I literally made $405 from stuff I found in the street!
Here's the catalog of all the trash I sold in September: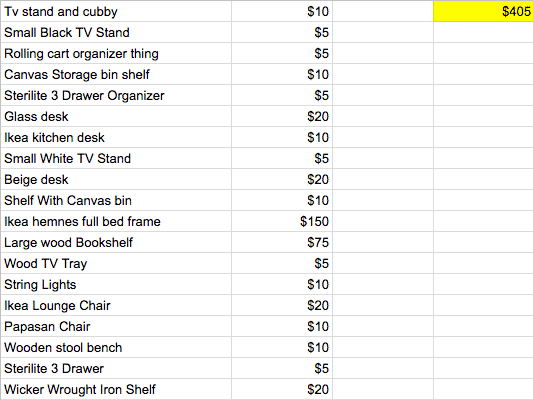 There are two big money things that I was able to sell this month that really boosted up the monthly total. The first was a perfect condition Ikea Hemnes bed frame that was left on the curb with all of the pieces included. I was able to sell that for $150 within just a few hours of when I listed it up.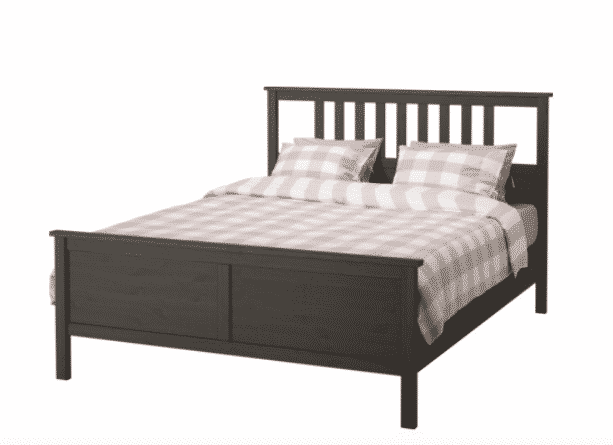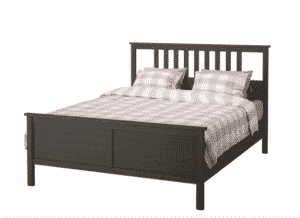 The second big thing I sold was this huge bookshelf that someone from across the street put on the curb. I sold it for $75.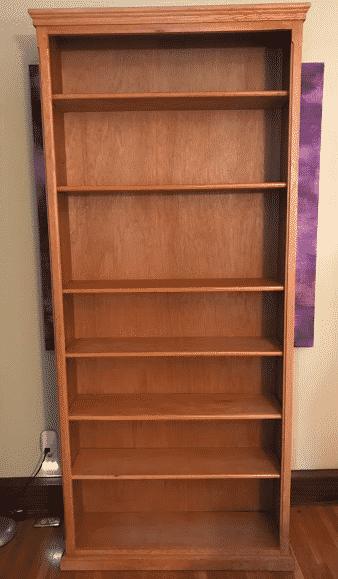 Otherwise, you can see that I made little sales here and there. Over time, they add up. Selling trash is like saving – you just do it little by little and before you know it, you have a pretty big number without even realizing it.
In 2017, I've now sold $1,533 worth of trash. That is nuts when you really think about it. This is money made from stuff that people are literally throwing away. These days, when I see something on the curb, I don't see trash – I see dollar signs.
Recommendations:
Related:
JobSpotter: $20.19
I don't have a ton to report here. Jobspotter continues to do what I need it to do. Trust me, folks. There are hiring signs everywhere and taking a picture of a hiring sign only takes a few seconds.
I've now made $171.45 this year taking pictures of hiring signs using Jobspotter. If this is something that interests you at all, make sure to read my post: Jobspotter App Review: Earn Extra Money By Taking Pictures of Hiring Signs.
WeGoLook: $20
I still need a dedicated post about this app, but until then, here's a YouTube video from WeGoLook explaining what it is:
This month, I did an easy gig involving taking pictures of an intersection where a bike accident happened. It was an easy bike ride over to the intersection and a quick 20 bucks.
Gigwalk: $3
This Gigwalk gig involved taking pictures of bread aisles at a Target a few blocks from my house. I stopped by there on my way home from work, snapped a few quick pics, and then was back on my way home. Not a lot of money obviously, but it only took me a few minutes to complete.
There are three main apps where you take pictures of stuff in stores:
I think all three apps are worth downloading just to see if there are any easy gigs in your area. Any gigs on GigWalk or Field Agent are worth doing if you happen to see a gig in your neighborhood.
EasyShift gigs are hit or miss – some are easy to complete while others are ridiculous and not worth doing. You'll learn which ones are worth doing as you do more of these gigs.
DriverDo: $27.14
Stay tuned for a dedicated post about my experience with this app.  As background, with DriverDo, you're basically moving trucks from one place to another. Here's a YouTube video from DriverDo that explains how it works:
This month, I happened to grab a gig on a Saturday morning asking me to drive a moving van to a Home Depot across town. I had some time, so I biked over to the truck rental place, then grabbed the truck. The nice thing about the truck rental place is that it's located right on a bike path near my house, which makes it really easy for me to get there. After dropping the van off, I was directed to take an Uber back to the starting point and provide a receipt so that I could be reimbursed.
This was actually perfect for me because I wanted to get some extra spend on my Chase Ink Preferred Business Card. If you haven't gotten this card, I highly recommend you get it because they're offering an 80,000 point Chase Ultimate Rewards signup bonus if you spend $5,000 in three months. That's good for at least $1,000 worth of travel.
Wag!: $89.60
I've had a lot of fun doing some on-demand dog walking with Wag. I wrote an in-depth review about my experience in my post titled Wag App Review – My Experience As An On-Demand Dog Walker. Check it out if you're interested in a fun way to make some extra cash on the side.
This month, I managed to get a bunch of walks from people in an apartment building right next to my office. This has actually worked out perfectly for me because I've been able to walk a few dogs during my lunch break. What I need to do is figure out a way to advertise Wag to all of the people that live in these apartment buildings by my office.
If you happen to be a dog owner and want to help me out and help yourself out too, use my promo code, KEVIN9516, and you'll get at least your first walk free. Right now (as of October 2017), Wag actually has a promo going on where you'll get $101 worth of Wag credit if you enter my promo code in the Wag app (to enter the promo code, just go to the "payment" tab in the Wag app, then click on the "apply promo code" button and enter in my promo code).
$101 worth of Wag credit is good for at least 5 free walks, so it's definitely worthwhile if you're a busy dog owner and need someone to walk your dog occasionally.
Roadie: $51
Roadie is an app that I've had in my side hustle toolkit for two years now, but I've only recently been able to use it. It's basically a peer-to-peer shipping app.
Here's a video explaining how it works:
One thing Roadie has done is to team up with Delta airlines to deliver lost bags to its customers. This makes a lot of sense when you think about it. There are a ton of people coming from the airport – it's easy enough for people to just grab a bag and drop it off if it's on the way.
Last month, I had to drop off a buddy of mine at the airport. When I got to the airport, I turned on the app and saw a few lost bags that needed to be dropped off at houses that were on the way back to my house. I walked over to the baggage claim, snagged the bags, and then delivered them.
I will say that Roadie gigs aren't worth going out of your way for, but if you're already heading in that direction, it's worth doing if you have the time.
Merchandiser: $16
I don't have a ton to say about the Merchandiser app because, most of the time, the gigs don't seem worthwhile. It's basically an app similar to GigWalk, EasyShift, and Field Agent where you go to stores and do certain tasks. The key difference is that most of the gigs on Merchandiser ask you to do things where you have to talk to the store manager.
Most of the time, I just skip all of the gigs I see, but last month, I happened to see two gigs that involved checking to see if some grocery stores had a certain product in stock. It only took me a few minutes to see if the product was in stock, and I got paid a quick $8 for each store. I did these shifts while I was out doing deliveries near these stores. If I wasn't already in the area, I probably wouldn't have done them.
I do think this is an app that's worth having on your phone, but you need to be selective about which gigs you do.
ReceiptPal: $25
This is another side hustle that probably deserves its own post at some point. Basically, there are two apps out there where you take pictures of your receipts in order to earn points that can be redeemed for cash: ReceiptPal and Receipt Hog. From what I understand, these companies sell the receipt data to market research companies.
Of the two apps, ReceiptPal is far and away the better one. You can take pictures of any receipts you get with that app, whereas Receipt Hog only pays you for receipts that come from grocery stores and gas stations.
With ReceiptPal, for every four receipts that you take a picture of, you earn 100 points. Each week you can earn a total of 300 points. Earning 7500 points gets you a $25 Visa Gift Card.
Basically, if you take pictures of 12 receipts a week for 25 weeks, you get $25. Since you're already getting receipts anyway, it's not that hard to just take pictures of your receipts before recycling them. I've been consistently taking pictures of my receipts for 2 years and have managed to earn $125 in that time through ReceiptPal. It only takes a second to take a picture of a receipt, so the time is worth it.
And that's the end of the September 2017 Side Hustle Report.
I'm still surprising myself at how much extra money I can bring in on the side. It seems like I'm doing a ton of stuff, but honestly, it doesn't feel like I'm doing all that much. I think it's because a lot of this stuff has just been incorporated into my daily routine that I don't even notice it at this point.
Be sure to check out my side hustle report page if you're interested in seeing what I've made in other months. You can also check out my most recent side hustle reports below.
August 2017 Side Hustle Report – $2,495.50
July 2017 Side Hustle Report – $1,816.50
June 2017 Side Hustle Report – $1,071.14
May 2017 Side Hustle Report – $1,625.11