Welcome to the August 2017 edition of the Financial Panther Side Hustle Report! If you're a new reader, let me take a few moments here to recap what these side hustle reports are all about.
For the past 2 years, I've been earning extra income on top of my day job by doing work in the sharing economy, gig economy, on-demand economy, or whatever else you want to call this new style of earning money. Since starting this blog, I've been tracking all of the income I earn from these side gigs on a monthly basis and reporting it all here.
The reason for tracking and writing about this income is two-fold:
I want to show people exactly how much someone can earn doing these sharing/gig economy gigs while also holding down a full-time job, and
I want to inspire those of you that need extra money to go out there and get it for yourself.
Writing about these gigs, in addition to being some fun journalism, is a nice look into the real potential of these side hustles.  I'm not just out there writing about these apps – I'm on the ground floor doing them and showing you how it's done! And if I can do it, I guarantee that you can do it too.
If you need to earn an extra $500, $1,000, or $2,000 per month, this is exactly how you can do it.
With that said, let's see what I was able to bring in this month from side hustling on top of my day job.
Side Hustle Income for August 2017
Here's a breakdown of my side hustle earnings in August.
Airbnb:  $1,199
Rover: $510
Selling Trash Finds: $240
Jobspotter: $18.96
WeGoLook: $20
Field Agent/EasyShift: $38.50
DriverDo: $83.12
Wag!: $103
Total Side Hustle Income for August 2017 = $2,495.90
As you can tell, August was a BIG MONTH on the side hustle front with me earning well over $2,000 in extra income from 9 different income sources!
Just think about that for a second- that's over $2,000 that I earned in my spare time, mainly doing things I'd already be doing (cleaning my house, taking care of my dog, or biking around the city for fun and exercise).
Part of the reason for this higher August income can be attributed to me having more time to work on my side hustles. At the beginning of August, I pivoted into a new career, leaving my litigation attorney job with the state and taking a position in a non-traditional attorney role with my state bar association.
With a little bit more time on my hands, I can now spend my time doing things that I find much more fun than sitting in my office. Honestly, if I could, I'd bike around all day and deliver food. I don't know what it is about it – I'm just addicted to doing deliveries.
Anyway, here's a detailed breakdown of how I earned all of that side hustle income in August:
Airbnb Income: $1,199
As with the other summer months, my wife and I were able to bring in over $1,000 from renting out a single, spare room in our house using Airbnb.
As a house hack, renting out a spare room on Airbnb works out pretty well. Our mortgage, including insurance, taxes, and everything else that goes into our monthly payment, comes out to a little over $1,300 per month. That means that, with this one little house hack, my wife and I were able to live in our home for just a few hundred bucks in August. Imagine how much pressure that takes off your finances when you can do that. Yes, it takes a little bit of sacrifice – that's why it's a house hack – but it's actually pretty fun and it's not as weird as you probably think it is to have Airbnb guests staying in your home.
In terms of stats, it was a pretty busy month in August. We had 21 nights booked, with nightly rates ranging from $55-$68. The guests for the month were the typical guests we get given our location – one was a grad student in town for a journalism conference, another was a grad student here to conduct research, and another was a parent in town to help her kid move.
We also had one long term guest who stayed with us for two weeks while he was waiting to move into his campus apartment. We were pretty happy to see that guest go. The nice thing about Airbnb is that most of your guests are around for such a short time that they don't really have enough time to make themselves "too cozy" in your home. But when you get a long term guest, like we did in August, they start to feel more like a roommate.
Related: 
Recommendations:
Rover Income: $510
Rover continues to be a pretty fun side hustle, allowing us to watch cute dogs in our spare time. The key with Rover is that, since we already have our own dog, watching another dog doesn't really add any more work to our plate – taking care of two dogs is pretty much the same as taking care of one dog. Our dog – Financial Pup – also enjoys having other pups around, although I think she likes some dogs better than others. She's particularly favorable to fluffy white dogs.
As for this month's Rover income, much of it was actually a carryover from last month. We watched this sweet little Havanese (pictured below) through the end of July and into August, so to make things easier, I just classified it all as August income, since that's actually when I was paid for it.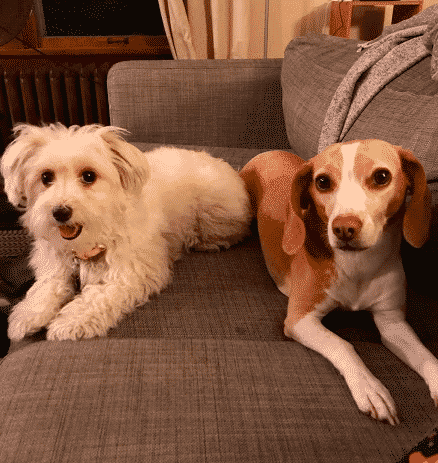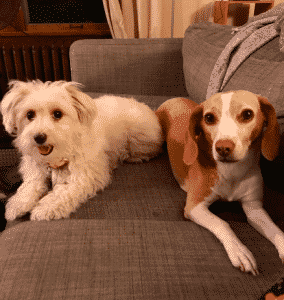 Other notable pups of the month included a repeat client that's always been fun to watch.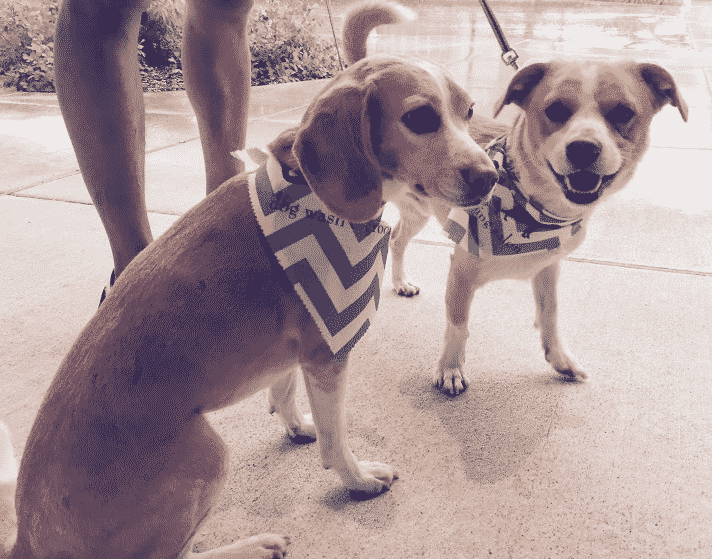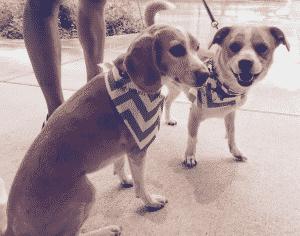 We also watched a really funny little poodle.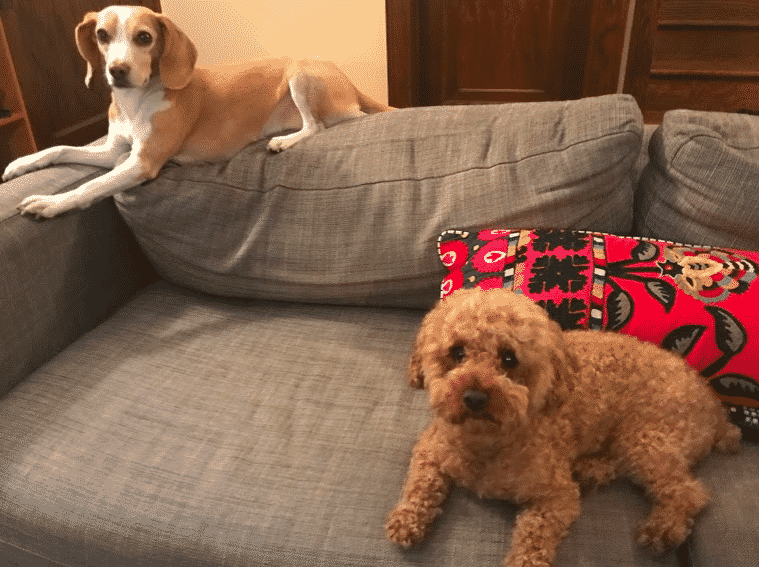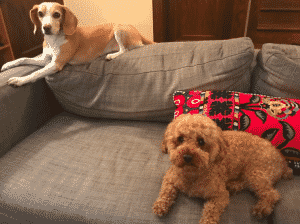 One interesting thing that happened to me this month is that two of my Rover clients actually gave me cash tips when they came to pick up their dog. Those were the first tips I've ever received from a client.
Anywhoo, making an extra $500 through dog sitting isn't a bad way to earn some extra cash, especially if you already have a dog. And all you need to do is just spend a few minutes making a Rover profile to get started.
Related: How I Make Over $2000 Per Year On Rover
Recommendations:
If dog sitting sounds like a fun way to make a little extra money, then sign up to be a Rover sitter here. You'll learn how to run a business and you can get paid to watch dogs! Sounds like a win-win to me.
Postmates/DoorDash/Uber Eats/Tapingo Income: $283.32
With a little bit more time on my hands in August, I finally got myself back on my bike and making deliveries. Out of all the sharing economy gigs I do, deliveries are my favorite. I just find it really fun to get out in the world, bike around, and basically, do little missions by collecting food in one place and biking it over to another place. Plus, it's like I'm getting paid to bike!
As with all of these sharing economy apps, I always do work on multiple platforms. You always want to give yourself multiple options when doing deliveries in order to get as many delivery options as possible. Here's the breakdown of my delivery earnings by platform for August:
Postmates: $124.46
DoorDash: $89.91
Uber Eats: $68.95
Tapingo: $0
Seriously, if you try it out, you'll probably find doing deliveries are stupidly addictive. Just ask my best friend – I recently convinced him to sign up for Uber Eats just so that we could snag ourselves a referral bonus. For the past week, he's just been telling me – half jokingly, but also half seriously – that all he wants to do is get out there and do more deliveries.
No, you won't get rich doing deliveries (or maybe you can if you utilize referral bonuses like the ones that my wife and I have snagged through Postmates and Uber Eats). But, it's fun and if you're doing your deliveries on your bike, it doesn't even feel like work. You're basically just getting paid to bike and explore your city.
Related: 
Recommendations:
If you're a hardcore Mustachian and like biking, be sure to sign up to do deliveries with Postmates, DoorDash, and Caviar if they're available in your city. They're available in most decently sized cities in the US. If your market doesn't let you sign up to be a bike delivery person, one way around it is to just sign up as a car delivery person, then ask to switch over to a bike later. I've found that works for a lot of people.
Also, sign up to deliver with Uber Eats and snag yourself a referral bonus.  They usually offer at least a $100 signup bonus and depending on your city, it'll require you to do between 10 to 30 deliveries to earn the bonus (in my market, it was 10 deliveries, which was really easy to do). Get exercise and earn money – what can be better than that?
Trash Income: $240
My wife and I have been hard at work grabbing all the furniture that the college kids throw away at the end of the year, and as you can probably tell, that led to some good trash income for the month. This is the only time of the year that my wife and I actively go out in search of trash – the rest of the year, we just grab trash as we happen to see it.
Looking back, it's actually surprising that our trash sales ended up this high. The most expensive things we sold were some twin size, foldable bed frames, which we were able to sell for $25 each within a few hours of finding them. We had another twin bed frame we found that sold a day or two later for $35. The nice thing with these bed frames were that they were small and light – perfect for just grabbing off the street.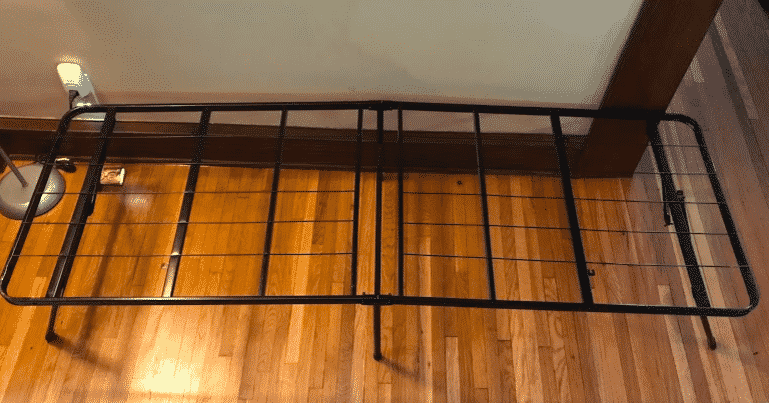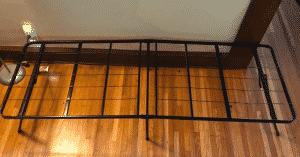 We sold other things we found here and there – a TV stand, coffee tables, end tables, etc. Nothing huge, 10 bucks here, 20 bucks there. But this stuff adds up. And since they're not expensive, they sell pretty much immediately.
For a better picture of how I earned this trash income, take a look at the below spreadsheet that catalogs my trash sales for the month of August: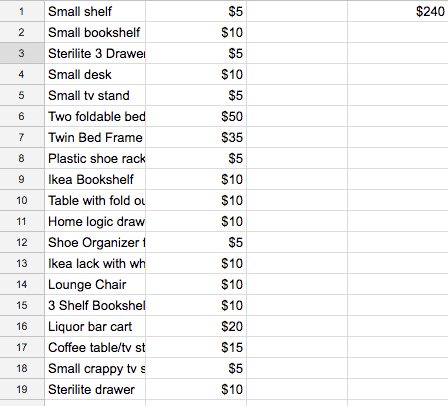 For 2017, we've now sold $1,128 worth of trash! My goal at the beginning of the year was to hit $1,000 in trash sales, and as you can see, my wife and I have already crushed that goal. That's over $1,000 of stuff that people literally threw away in the street.
Related:
JobSpotter: $18.96
JobSpotter continues to be a consistent income source that meshes well with my delivery game and the fact that I walk and bike around a lot. When you're physically out in the world, instead of driving in a car, it's pretty easy to see hiring signs.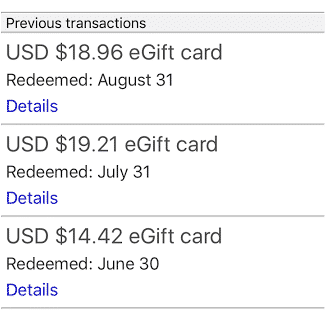 So far this year, I've made $151.26 just from noticing hiring signs when I'm going about my day. And it only takes a few seconds of my day to take a picture of any hiring sign I see. That's a pretty good return on my time.
Related: Jobspotter App Review: Earn Extra Money By Taking Pictures of Hiring Signs.
WeGoLook: $20
I think I need a dedicated post in the future about my experience with WeGoLook. It's a fun little app that I've been doing on and off for the past two years that I've only briefly mentioned in these posts.
In essence, you're taking pictures for insurance companies. When people get in an accident these days, instead of sending an insurance agent to survey the damage, WeGoLook instead sends a "Looker" like me to go out there and take pictures for the insurance company. Here's a YouTube video that explains what you do as a Looker:
So far, I've basically done two types of gigs on WeGoLook: (1) gigs where I take pictures of intersections where accidents happened, and (2) gigs where I take pictures of damaged vehicles. Whenever I see a gig that's near me, I'll grab it. It's not a consistent stream of income by any means, but it's 20 bucks here and there for what amounts to 15 minutes or less of my time for each gig.
This past month, I did a quick WeGoLook gig on my way home from work involving a car that had been rear-ended. I met the car owner at a parking lot that was right my bike route home from work. A few pictures of the car, and that was it – a quick and easy 20 bucks. The car owner even commented on how funny it was that I had biked there.
Field Agent/EasyShift: $38.50
I made a pretty decent income this month from taking pictures using Field Agent and EasyShift. A dedicated post on these apps could probably be helpful as well since I do seem to do these gigs every once in a while.
This past month, there were a bunch of gigs where I needed to take pictures of houses in my neighborhood. Each gig paid $5 or so, and they were all within a few blocks of my house. It was easy money and I got to bike around my neighborhood for a little bit.
DriverDo: $83.12
DriverDo is another funny new app that I finally tried out this month. I've actually had this app on my phone for a year now, but never got around to doing any gigs on it until recently.
I'm planning to write a more in-depth post about my experience with this app, but in short, DriverDo is an app where you move rental trucks from one place to another. Turns out that a lot of moving truck companies need to have their trucks moved from place to place.
Check out the below YouTube video if you want to know more about it:
With a little bit more time on hands this month, I decided to try a few of these gigs to see what it would be like. I picked gigs that were located within biking distance of my house and then moved the cars to some random place. Another DriverDo driver would follow me in another car and bring me back to the starting point. It's actually a pretty interesting side hustle that I hope to do once a month or so.
You have to be fairly selective to avoid wasting your time, but I had some good luck with my first DriverDo gigs. Take a look at my DriverDo earnings report for August:

Most of these gigs took me an hour or less to complete. And the best part – I can still bike to where I need to go, then drive someone else's car!
Wag!: $103
I've written in-depth about Wag in another post from a few weeks ago, so I won't get into too much detail here. As a quick recap, Wag is an on-demand dog walking app – basically, think of it as an Uber for dog walking. If someone needs their dog walked, they simply request a dog walker through the app, it pings out to everyone in the area, and then whoever wants to do the walk can accept it and then go walk the dog. I did a number of walks this month and made myself an extra $100 or so in the process.
It's a fun little app that's decent to try out if you're looking to get outside and happen to get a request near you. If you happen to be a dog owner, use my promo code, KEVIN9516, and you get your first Wag walk for free. I tried Wag out on the customer side too and had a good experience with it.
For a more in-depth look at Wag, check out my recent post:
And that's the end of the August 2017 Side Hustle Report.
August was definitely a big month in the Financial Panther side hustle front. Right now, I don't really need this money, so I pocket all of this extra income – either as a home maintenance fund or for retirement in a Solo 401k.
An extra $2,500 in a month won't happen every month – but it is crazy to see that this is possible. In theory, if I could keep up this level of hustle, I could bring in an extra $24k to $30k in a year! That's a full-time income for some people. And that's just from money earned outside of my regular working hours!
Be sure to check out my side hustle report page if you're interested in seeing what I've made in other months. You can also check out my most recent side hustle reports below.  Thanks for stopping by!
July 2017 Side Hustle Report – $1,816.50
June 2017 Side Hustle Report – $1,071.14
May 2017 Side Hustle Report – $1,625.11
April 2017 Side Hustle Report- $399.04