Welcome to the January 2018 edition of the side hustle report. This is a popular series that I've been writing now for a year-and-a-half and that I think provides a great look at how anyone can earn extra money outside of their day job using sharing economy and gig economy apps.
I've written this before, but to recap, I document this income for two main reasons:
I want to show you exactly how much someone can earn on the side. Remember, I do all of this stuff while also holding down a full-time, 9-5 job, as well as working on this blog.
I want to give you ideas and inspire those of you who are looking to make a little extra income. If I can do this, I know you can too.
With that said, let's take a look at how I did in January 2018:
Side Hustle Income for January 2018
Here's a breakdown of my side hustle earnings in December.
Total Side Hustle Income for January 2018 = $1,147.67
It's always nice to start the new year off strong, and bringing in over $1,100 in January is a pretty decent way to start off the new year. The $1,110 came from 8 different income sources – again showing the importance of having multiple streams of income when you're trying to earn money on the side like this.
Here's a detailed breakdown of how I earned my January side hustle income.
Airbnb Income: $668
January was a surprisingly busy month for Airbnb given that it's the middle of winter here in Minnesota and we pretty much didn't see any temperatures above freezing for the whole month. As a point of comparison, last winter, our Airbnb listing made $395 during January, so it's interesting to see this number increase by so much. My guess is that its because I have a lot of reviews now. After 2 years of hosting, we're sitting on 80+ reviews for our listing. 
The guests we had for the month were pretty standard – almost all of them were grad students in town for interviews at the school (med, pharmacy, theater, and music). It's one of the nice things about living near a large college campus. I find that professional students are pretty much the best guests you can get. They're super low-impact, don't need you to hold their hand, and most importantly, are rarely in your house. 
In terms of specifics, we hosted a total of 6 different guests for a total of 16 nights. That's not a huge daily rate by any means – only $41 per night – but considering that we don't really have to do anything besides sweep up and change the sheets in the guest room, it's still worthwhile. This spare room, even in the heart of winter, can cover more than half of our mortgage.
Rover Income: $229.50
Our Rover income for January is actually a carry-over from a guest pup that stayed with us over Christmas. For ease of accounting, I count my Rover income as income in the month that I'm actually paid for it, which is typically a day or two after the stay ends. As a result, sometimes I'll host a pup from a previous month that ends up in the next month's income report. 
I've been on a good streak with pups lately, as this pup we hosted over Christmas was a winner. I sort of knew that immediately during the meet and greet – the pup was well behaved, didn't get super excited, and the owner seemed like he knew what he was doing. It was also an older pup, which is always good as well. The nice thing about hosting pups on Rover is that, during holidays like this, my niece gets another pup to play with. She loves it.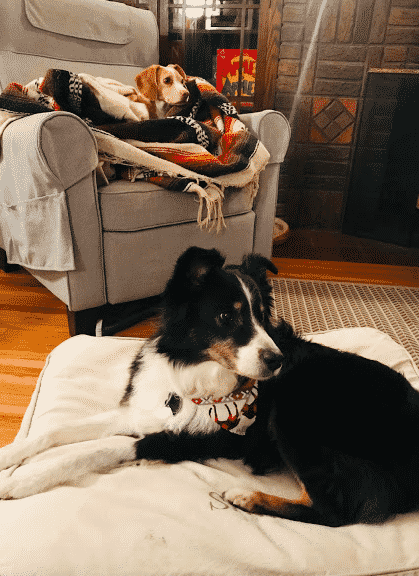 Postmates/DoorDash/Uber Eats Income: $30.31
Not much to see here for January. Since I do deliveries on my bike, weather plays a big factor in whether I actually get out there and do deliveries. And it's been COLD around these parts.  In fact, for the month, I only ended up doing three deliveries – one of which I walked to the customer while I was out walking my dog with my wife.
Doing deliveries on Postmates, DoorDash, and Uber Eats is still my favorite side hustle because it lets me combine two things I like – earning extra money and biking. February looks like it'll be a warmer month (or at least it seems like warmer weather is on the way), so I'll hopefully be out doing more deliveries in February. Until then, at least I brought in a couple of bucks from deliveries. 
Related: My Postmates Side Hustle: How I Get Paid To Bike Around Town
Trash Income: $35
Admittedly, I haven't been putting much effort into finding or selling trash finds lately, and in January, I only ended up selling two things. One of the things I sold was two chairs that I found in the alley by my house. They seemed to be in good condition, so I ended up listing them for $5 and had the chairs sold within an hour. Most people don't realize that random things like this can be sold really quickly without a lot of effort. Sure, $5 isn't a lot, but it pretty much only took me a few minutes and someone who actually needed the chairs got them for basically nothing.
The only other thing I sold this month was a desk that my wife and I actually found a few years ago and have been using as a desk in our house. We recently decided to do a little overhaul of some stuff, so this trash find ended up getting listed. This desk sold for $30, which I think was fine – I had it listed up for as much as $50 last year, but didn't seem to get any bites until I lowered it down to $30.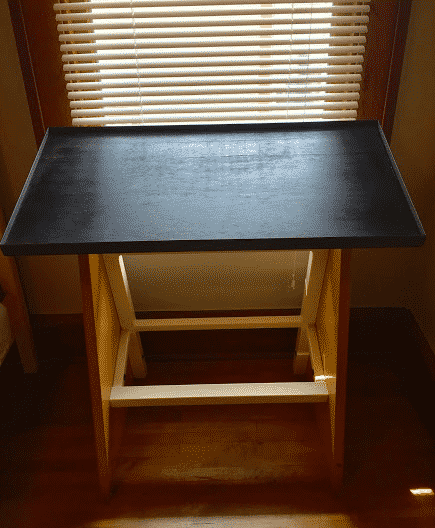 Related: Making Over $1000 Selling Trash Finds Found In One Dumpster
Wag Income: $148
Wag continues to surprise me with how much I can earn with it in my spare time. It's definitely a time-for-money type gig since you're signing up for 20 or 30-minute walks, but it can be useful if you're using it like I do. I pretty much just walk dogs during my lunch break – essentially getting paid to get outside and stretch at lunch.
My favorite pup is definitely this one: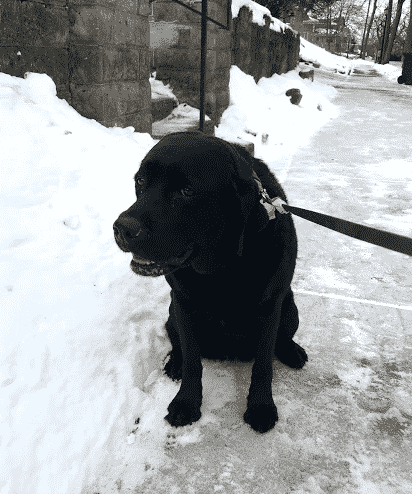 There's also a lazy college student that lives a block away from me that keeps requesting walks, so every once in a while, I'm able to snag a walk from this college kid when I get back home from work. It's funny because this college kid is literally sitting at home when I arrive, and he's got his dog all leashed up and ready to go when I arrive, but instead of walking his dog himself, he's paying someone to do it for him. Oh well. I might as well take advantage of that fact. 
TaskRabbit Income: $21.25
TaskRabbit gigs don't come very often for me (honestly, it doesn't seem very big here in the Twin Cities), but every once in a while, if I get something I think I can do, I go and do it just to see what it's like. In January, someone asked me to shovel their sidewalk. It took me about 15-20 minutes to complete, but I still got to bill for an entire hour, since TaskRabbit seems to requires a minimum of 1-hour of billed time. It was a pretty easy 21 bucks. I thought for sure there would be more shoveling gigs, but seems like they're not as common as I thought.
JobSpotter Income: $13.56
Same as usual on the Job Spotter front. I say this every month, but this is an app everyone should be using. Be sure to read my in-depth review of Job Spotter if you're looking for more information about how this app works. Really, the only downside is that JobSpotter pays you in Amazon gift cards, which I don't think is a big deal for most people anyway. Amazon gift cards are pretty much cash equivalents for most people, and at a minimum, even if you never use Amazon, you can probably find something on there that you need. I've been using my Job Spotter income to buy board games lately.
Google Opinion Rewards: $2.05
This is a new addition to my side hustle reports. I've never really been a survey guy – I personally find that they're a waste of time and take way too long to do for what you get.
The Google Survey's are a little different though. They only ask you 3 or 4 questions max, and pretty much take 30 seconds or less to complete. For each survey you complete, you make somewhere between 10 and 30 cents (or at least that's what it seems like). Once you hit a balance of $2, Google sends you your earnings via PayPal. It's worth doing, in my opinion, just because of how quick these surveys are to complete. Obviously, you won't get rich doing this, but considering how fast they take, it's pretty much free money.
And that's the January 2018 Side Hustle Report!
Sorry that this side hustle report came out later than expected. I ended up getting sick recently (my wife got sick, and naturally I caught whatever she had), and I'm now playing catchup. 
If you have any questions for me about these side hustle reports, feel free to leave a comment down below. 
Be sure to also check out my side hustle report page if you're interested in seeing what I've made in other months. You can also check out my most recent side hustle reports below if you're looking for quick access to other side hustle reports.
December 2017 Side Hustle Report – $1,022.53
November 2017 Side Hustle Report -$1,450.57 
October 2017 Side Hustle Report – $1,884.13
September 2017 Side Hustle Report – $2,055.19