I'm late getting this one out, but hey, at least it's out there! Let's take a look at what I was able to make side hustling in May 2023. 
Side Hustle Income for May 2023
Total Side Hustle Income for May 2023 = $541.52 
As you can probably tell, May was a very slow month for me for side hustling. Indeed, I think the last time I made so little in a month from my side hustles was way back in April 2017. Back then, I was getting married and didn't do any side hustling because I was in full wedding planning mode. 
So why did May end up being such a low-earning month for me? The main reason was that I was on childcare duty for most of the month. My youngest son couldn't get into daycare until June, so he's been at home during the day. We had parental help from January to April, but for May, I had to take over watching my son during the day. That meant for much of the month, I was on dad duty, which didn't give me much time to do my side hustles.
That being said, though it was busy, I still did manage to make a couple hundred dollars of extra income in May. Here's a pie chart showing the percentage of my monthly income from each category of my side hustles.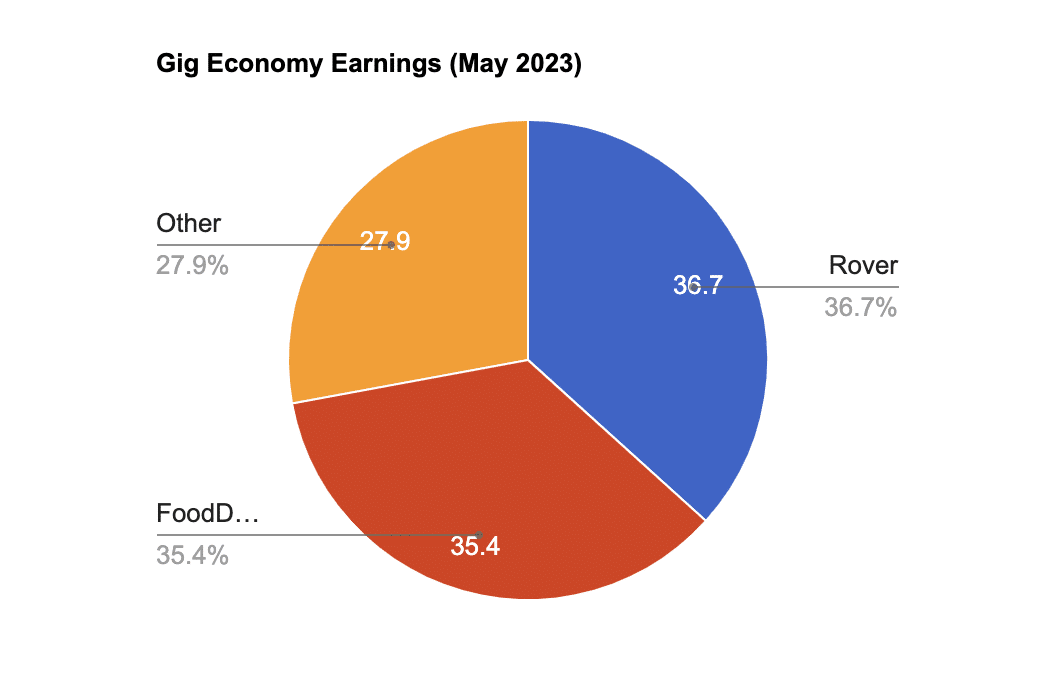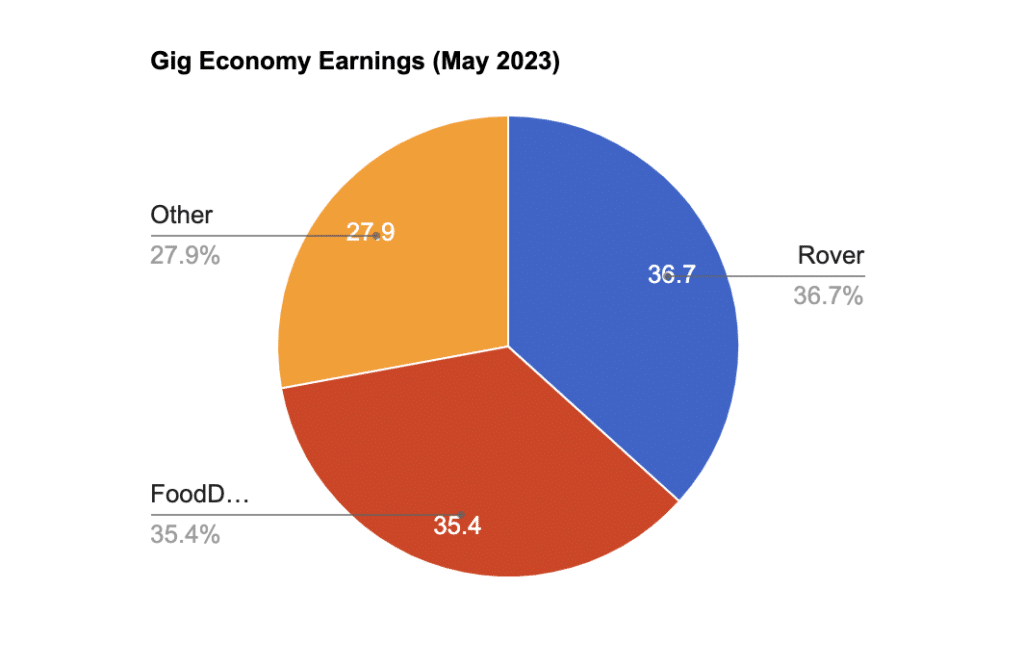 The split was pretty even for the month, with each of the major side hustle categories making up about a third of my earnings for the month.
Here's a more detailed look at my earnings for the month:
Rental Income: $2,400
Rental income remains steady and things have been running smoothly for me during the two years I've rented the house out. In May, I did have an issue where the handle on the storm door fell off, but I was able to replace that myself fairly easily. I was shocked at how expensive a new handle was though ($63 for the handle). 
Rover Income: $198.75  
Rover ended up being slow for me in May. I only ended up watching two dogs for the month and I didn't have any cat drop-in visits. I'm not sure why May ended up being slow, but the rest of the summer is looking very busy.
DoorDash/Uber Eats/Grubhub Income: $192.02 
Food delivery was also slow for me in May. Here's a breakdown of my earnings with each delivery app.
I didn't have a lot of time to do food delivery, so that mainly explains why I earned so little. I've also noticed that business has been getting slower on all of the food delivery apps. It's getting to the point where I'm starting to worry about the sustainability of these food delivery gigs. In the past, I was always able to stay busy, but I'm now having times – even during peak hours – when I don't get a single delivery request.
That being said, for me, food delivery has always been more about having fun than about making money, so as long as I'm still having fun doing it, it's worth it for me. It's why I always opt to do DoorDash and these other food delivery gigs using a bike.
Google Opinion Rewards/Surveys On The Go/1Q Income/Facebook Viewpoints: $18.23 
The short survey apps did well for me in May. Here's what I made with each app:
Google Opinion Rewards did particularly well. I also made some money from Facebook Viewpoints. I don't usually get a lot of surveys from Facebook Viewpoints, but whenever I do get them, they're usually worth doing since they pay $5 per survey and usually only take a few minutes to complete.
Secret Shopping Income: $82.50 (plus free food) 
Secret shopping was steady in May. I also got a bunch of free food as well. The earnings I get from secret shopping all come from Marketforce. I also have good success with secret shopping from A Closer Look, but that website typically only offers reimbursements for the meal, rather than actual payments. Marketforce, on the other hand, is an actual side hustle – I don't even care about the food that much – I do it for the payouts.
ReceiptPal/Receipt Hog/Fetch/CoinOut/Amazon Shopper Panel Income: $50
My receipt apps did well for me in May. As usual, Amazon Shopper Panel paid me at least $10. It's the best receipt app out there (but limited because not everyone can sign up for it).
I also cashed out points on Receipt Hog for $40 in my PayPal account. Receipt Hog is always a long-term play, as it typically takes a year or so to earn the $40. It takes me so little time to snap photos of my receipts, however, so it's worth the few seconds it takes me each day to snap photos of my receipts.
Medium Income: $0.02
Medium still brings in a few pennies for me each month. I haven't written anything for Medium in over a year, so I suspect this will soon drop to zero, which is fine with me. My time is better spent writing on this blog, rather than spreading myself thin over multiple platforms (especially a platform like Medium, where you own nothing).
And that concludes the May 2023 Side Hustle Report!   
This is a quick side hustle report, but I wanted to get it out there before we got too far away from the month.
As you can see, May was a slow month for me, but at least I brought in a little money from my side hustles. The way I see it, if I can bring in an extra $500, even with all of the personal things I have going on, you can probably do the same too. 
I hope you enjoyed this quick look into my side hustles.