I can't really believe it, but this past weekend, I turned 30 years old.  It's sad to say, but my 20s are now officially over.  I think I have to become a responsible adult now or something.
I've been casually tracking my net worth over the past couple of months, and back in October, I published my first quarterly net worth report.  You can take a look at that post here.  My plan is to continue these reports so that folks can see where I've been and where I'm going.  It's also not bad for me to have these numbers documented for my own records so that I can get a picture of where I'm going.
Here's the current picture of my net worth: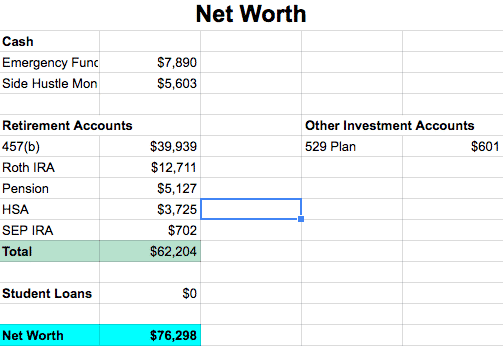 As shown above, my current net worth as of this post is $76,298.  That's up from $61,526 back in October 2016.  The growth is pretty surprising to me, but it goes to show how much money you can put away when you don't have all that many bills.  In particular, getting rid of all those student loans and having an employer that offers a generous match is huge.  I've been able to sock away a ton of money in the past few months.
There are a few things that aren't included in this net worth report.  I have money saved away in various buckets for future, anticipated expenses.  Since that's money that will likely be spent at some point in the near future, I don't consider that in my net worth calculation.
Related: I use Qapital to help me save money for short term goals.  It's a terrific, totally free app that I highly recommend.  Check out my review for Qapital here.
Cash

The emergency fund continues to grow steadily.  I've been doing the 52-week money challenge for a while now, and all of that money gets funneled right into my emergency fund.  Right now, I'm pretty comfortable with the size of my emergency fund, so I don't feel a ton of urgency to build it up quickly.  The bulk of my emergency fund – $5,000 worth – is kept in an FDIC insured savings account earning 5% interest.  I keep the remainder in a high yield savings account earning 1%.
In addition, I have a lot of money set aside in other buckets to cover other, future anticipated expenses.  While I'd prefer to keep that money to be used for their intended purposes, the money can serve as a sort of backup emergency fund if necessary.
The side hustle income doesn't include about $6,700 worth of Airbnb income, so that amount should actually be higher.  I opened up a Solo 401(k) last month and plan to get as much of the side hustle income into there as possible. I'm just waiting to get all my taxes together before I make that move.
Investments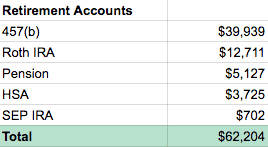 457(b) and Pension
The retirement funds continue to grow at a steady clip, powered primarily by my contributions.  A few months ago, I rolled over the funds that were in my 401(k) from my previous employer into my 457 plan at my new job.  The process was pretty simple.  All I had to do was call up my old 401(k) provider and ask them to roll over the funds into my new plan.  I then had to fill out a form telling my 457 plan provider how to invest the new funds.
Rolling over the funds into the 457 plan made sense for me.  It cost me $89 per year to keep my funds in my old 401(k), so it didn't really make much sense to continue paying that fee while also paying an annual maintenance fee for my 457 plan.  My 457 also has great investment options (primarily Vanguard), so I was comfortable rolling my 401(k) contributions into it.
I also didn't want to roll my 401(k) into a traditional IRA because I anticipate my household income rising to the point where I won't be able to contribute to a normal Roth IRA.  By keeping my traditional IRA space empty, I make it much easier for me to utilize a backdoor Roth in the future.
My defined contribution pension plan continues to grow at a steady rate as well thanks to consistent contributions.  My employer requires all of us to put in 5.5% of our salary into it and my employer throws in 6%.  All together, that's 11.5% of my salary going into my pension plan.  It's a nice benefit that allows me to save much more into tax-advantaged savings compared to a regular person.
Roth IRA
My Roth IRA continues to grow steadily as well.  I maxed out my Roth in 2015 and maxed it out again in 2016.  The plan hopefully is to continue maxing it out in 2017.  The funds are invested in a 100% equity portfolio with Betterment.
I'm still debating on whether I'll keep the funds invested in Betterment or whether I'll move it all over to Vanguard and save myself the 0.25% management fee.  I do find some comfort in knowing that I have an appropriate, diversified asset allocation that I can't mess up so long as I don't mess with the account.  And I do like knowing that I have a fiduciary watching my back for me.
HSA
My HSA also continues to benefit from regular contributions.  I initially had these funds invested with Fidelity and was putting after-tax money into the HSA (rather than opting for payroll deductions) because the options offered by my employer's preferred HSA provider were horrible.
Luckily, a few months ago, my employer's preferred HSA provider started offering Vanguard funds with low expense ratios.  I've since moved all of my HSA funds to my employer's preferred HSA provider and I'm now opting for payroll deductions.  The good thing about payroll deductions into an HSA is that you can avoid paying FICA taxes on those contributions.  That's good for a 7.9% tax savings that otherwise isn't possible to get.  For whatever reason, if you opt to invest after-tax money into your HSA and then deduct those contributions, you still have to pay FICA taxes on those contributions.  Payroll deductions into your HSA are basically the only way I know to avoid FICA taxes.
I maxed out my HSA for 2016 and my plan is to continue maxing it out for as long as I happen to have a high deductible health plan.  My employer happens to contribute $800 per year into my HSA, so I only need to put in $2,600 for 2017 in order to max the whole thing out.
SEP IRA
The SEP-IRA funds remained basically unchanged.  This is money that I plan to rollover into my Solo 401(k), but I just haven't gotten around to doing yet.  For now, this money is invested in a Wealthfront account and, because of the low balance, I pay no management fees to keep it there.
Other Investment Accounts

My 529 plan continues to grow slowly.  I still automatically invest $25 per month into my 529 plan, mainly just as a learning exercise.  My thinking is that at some point when I do have kids, I'll understand how a 529 plan works and can easily transfer the 529 into my kid's name.  And $25 per month is basically unnoticeable to me.
I also used to have a couple hundred bucks invested in various individual stocks using an app called Loyal 3.  About a month ago, I ended up liquidating that entire account and putting those funds into my Roth IRA.  I was just getting tired of looking at my individual stock performance.  And I didn't want to spend mental bandwidth on it anymore.
That concludes this quarterly net worth report!
I'm pretty happy to see my net worth growing steadily.  It's surprising how fast you can save money when you don't have any debt.  Obviously, at 30 years old, I'm nowhere near where some of the early retiree folks are.  But I am making progress.
I also didn't start my career until I was 26, then didn't really start saving a ton until I paid off my student loans this past year.  If you're a young professional in a field like law or medicine, you've got to remember that you need to save extra hard once you start working.  A lot of people start working when they're 22 years old.  Most lawyers won't start working until they're in their mid-20s.  Doctors might not start their careers until they're in their 30s (Ms. FP will be 32 when she starts her first job).  You've got to play a little catch-up, which is what I'm doing now.
Hope you enjoy that insight into my financial life.  How's your net worth doing?