When you're in a one-car household like my family is, you often get questions about how you get around. Before I had kids, getting around with one car wasn't an issue. If I needed to get somewhere, I could easily bike or take public transit.
Things got a little harder though once my son was born. I bike everywhere as my primary mode of transportation, so if I wanted to keep getting around by bike, I needed to figure out how to do it with my son. 
Thankfully, biking with kids has never been easier. There are a wide variety of accessories that make it possible to bike with your kids, and with the rise of electric bikes, it's even possible to get your kid around on a bike without breaking a sweat. Indeed, in many cities, getting around on a bike is just as fast – or even faster – than using a car, especially if you're like most people and going to places within 3-5 miles of you.
So, if you want to know how to bike with your kids, this is the post for you. In this guide to biking with kids, I'll go over all of the equipment you'll need to make this possible, give you some strategies to make biking with your kids work for you regardless of weather, and discuss why using a bike to transport your kids can make so much financial sense.
How To Bike With Your Kids
Getting around using a bike is what my son and I do every day. My wife and I used to be within walking distance of our son's daycare but recently moved to a new house in a different neighborhood. We now live about 5 miles from his daycare.
Most people would probably have given up and bought a car to make this work. But that's not my style. I'm all about optimizing and efficiency, and a bike is probably the most efficient vehicle out there. Rather than using a two-ton vehicle just to move me and my kid around, my bike can do the same thing while weighing in at just a few pounds.
And so, each morning, rain or shine, I load up my son in his bike seat or bike trailer, and we make the journey to his daycare. It takes about 20 minutes to travel the 5 miles. In the afternoon, I pick him up and bring him home the same way. It works out well – my son gets to see the city and be part of the world, rather than staring at the inside of a car. And we both get to start and end our day with a nice bike ride.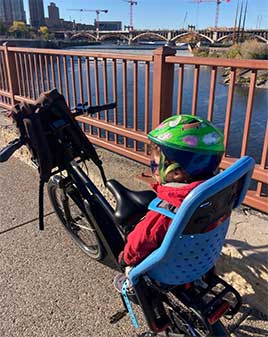 Before we get into the accessories you'll need to bike with your kids, first, we'll need to look at the bike itself. You can, of course, use a regular bike. I have a Specialize road bike that I use when I feel like pedaling, but these days, I prefer using electric bikes. Here's my current lineup of electric bikes:
RadCity 3 (older model)
RadCity 4
Himiway Escape
Espin Sport
I've written in-depth posts about the Himiway Escape and the Espin Sport, which you can check out below if you're interested:
Now, when it comes to biking with your kids, you have three main accessories you can use to convert your bike into a child transportation machine. These include the following:
Bike Seats
Bike Trailers
Cargo Bikes
Each of these options comes with its advantages and disadvantages. Let's take a closer look at each.
1. Bike Seats 
My preferred method of biking with kids is to use a bike seat. They attach either to the front of your bike (between your arms and the handlebar) or to the rear rack of your bike. The seats are typically padded and have straps that let you secure your child into the seat. You're not limited to using a single bike seat either. Cargo bikes like the RadWagon are long enough that you can attach two seats to the rear rack, allowing you to carry multiple children while you ride.
My favorite children's bike seat comes from a company called Thule. We use the Thule Yepp Maxi, which is a rear bike seat that can fit children from 9 months to 6 years old. It attaches perfectly to my RadCity ebike. I also have an adapter that allows me to attach the Thule Yepp Maxi to other bikes if needed.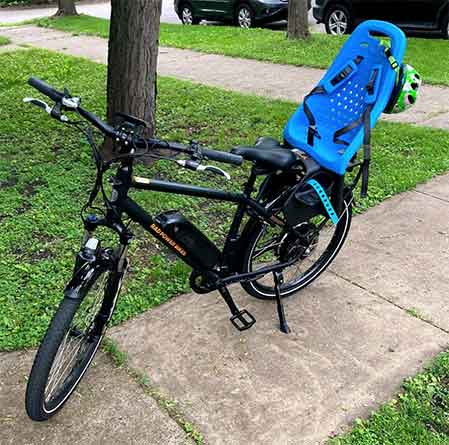 The Thule Yepp Maxi is easily removable, but leaving the bike seat on won't impact your ride much either. It also has a key so you can lock the seat to the bike in case you need to leave your bike unattended. The footrests are adjustable as well, so your seat can grow with your child. 
The main reason I like using a bike seat is that it allows me to ride fairly normally since the seat is attached to my bike. There will be a little bit of balance adjustment you have to do since the rear of the bike will be heavier, but it's not very noticeable, especially if you're using a heavy electric bike. I also like that the bike seat keeps my son close to me and gives him a better view of the world around him compared to your typical bike trailer.
The downside of a bike seat is that it doesn't offer any protection from the elements. If it's raining or cold, this might not be ideal. Compared with a bike trailer, bike seats also come with the risk of more significant injury in the event you crash while you're riding. I've never had a crash while riding with my son, but the possibility is always there.
Bike Seats I Recommend: Thule Yepp Maxi
2. Bike Trailers 
A bike trailer is the second option you can use to bike with your kids. These trailers typically attach to the rear wheel of your bike and allow you to carry one or two children while you're riding. The bike trailer I use has an adapter hinge, which makes it easy to attach and detach the trailer as needed. You simply screw the hinge onto the wheel, and then you can easily hook and unhook the trailer arm. 
I think the best bike trailer company is Burley and the bike trailer I use is the Burley Bee. This is an entry-level bike trailer that works well for most people. There are also more advanced trailers that come with higher-end features and can be used as strollers too, but you'll have to pay more for these higher-end trailers.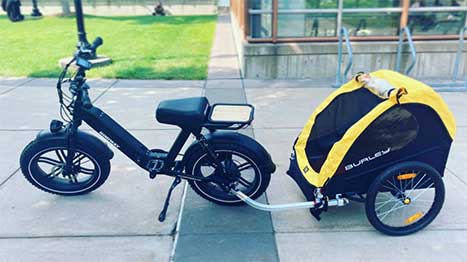 The key advantages of bike trailers are the additional storage space that you get with them and the protection from the elements that they provide. The Burley Bee, for example, has plenty of storage space, essentially creating a sort of trunk for my bike. I use this storage space to put my backpack, bike lock, and anything else I need for the day when I'm riding. And in terms of protection from the elements, the Burley Bee has waterproof covers and a rain flap that protects your child from the wind and rain. 
The main disadvantage with bike trailers is that they add length and width to your bike. This can make it harder to get through tight spaces or make sharp turns. I know I often find myself looking back to make sure I'm not bumping into things behind me. You also lose a bit of interaction with your child since they're in a separate space from you, especially when the flaps are closed. 
In general, I recommend having both a bike seat and a bike trailer. That way, you can opt for different transport options as needed.
Bike Trailers I Recommend: Burley Bee, Burley Encore, Burley D'Lite X
3. Cargo Bikes 
I don't own a cargo bike, but it's an option I'll likely consider in the future. There are two types of cargo bikes that are good for hauling kids around. The first is called a "longtail" cargo bike. These are bikes with a long rear that you can use to haul cargo or people. A good example of this type of bike is the RadWagon. You'll need to buy accessories to make the cargo part of the bike hold people, but once you have everything installed, this type of bike becomes a full-fledged minivan.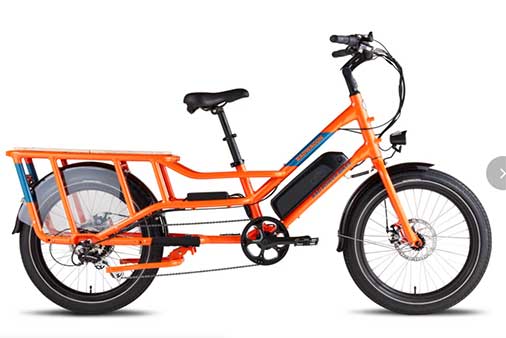 The second cargo bike option is a box cargo bike. These are cargo bikes that have a box built into them that can hold people and things. With the right accessories, these bikes can offer protection from the elements as well, essentially turning a regular bike into a car of sorts. An example of this type of bike is the Urban Arrow, shown below. I don't own this bike, but I have seen people riding it on the streets.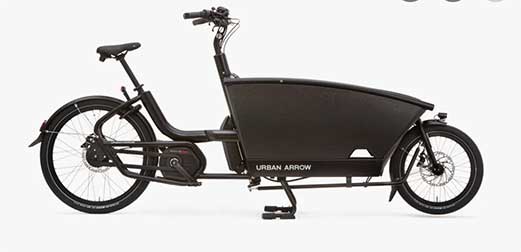 The main downside with cargo bikes is that they are more expensive than other bikes – sometimes prohibitively so. Many of the electric box cargo bikes I've looked at cost $5,000 or more. That's a difficult price for most people to justify. While I'd like to get a box cargo bike, I think I'm probably always going to be priced out of getting one.
The longtail cargo bikes, however, are within reach for most people. The RadWagon is one I'm particularly interested in because it's priced at a normal ebike price.
Cargo Bikes I Recommend: RadWagon
Planning A Bike Route With Your Kids 
When you're biking and commuting with kids, the most important thing is figuring out safe routes to your destination. I've always been a confident biker and have no problem riding in traffic if necessary, but once I started biking with my son, I found myself much more cognizant about using protected bike paths and separate bike infrastructure. 
The best way to figure out a good bike route is with Google Maps. They have two features in particular that are designed for cyclists. The first feature is bike-specific directions. When you're getting directions to somewhere, instead of picking the driving directions, click the biking directions. Google Maps will show you how to get to your destination on your bike, favoring bike paths and bike-friendly streets. 

The second feature that's really useful is the bike layer. When you turn on this feature, Google Maps will show you all of the bike paths in your city. Solid green lines are bike paths while dotted green lines are bike-friendly roads. While not perfect, I have found that most of the time, Google Maps is accurate with where the bike infrastructure is in your city.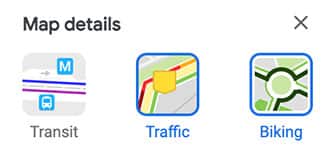 One thing you'll notice when you start biking with kids is the importance of good bike infrastructure, especially with bike lanes that are separated or protected from traffic. In general, the more separated and protected the bike path is, the better. In Minneapolis, where I live, there are a lot of good, separated bike paths that make biking with my son much easier.
For example, one of the best bike paths in Minneapolis is the Midtown Greenway, which is a bike path built on an old railroad track that cuts through the middle of the city. It's a grade-separated path and only has to cross a street a few times, making this an excellent route for me to ride with my son.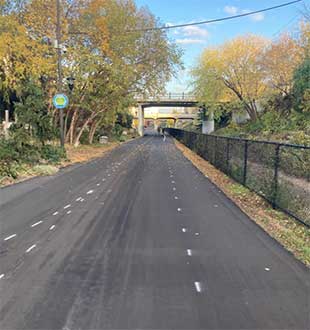 Another example of good bike infrastructure is paths that look like this one. You get a large buffer zone and it's separated from traffic with small poles. When you're riding with your kids, having this separation means a lot.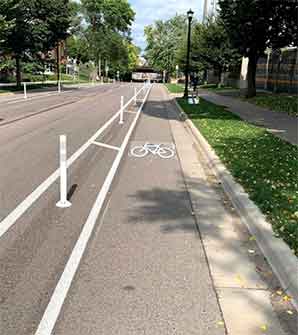 I'm also a fan of what you could call the sidewalk bike path. These are bike paths that are on the same level as the sidewalk, so it gives you clear separation from traffic.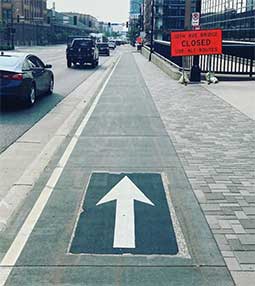 We also have a lot of bike-separated river crossings over the Mississippi River. I love having this bike infrastructure – bridges are often scary places to bike since traffic moves fast on them, so having a separate bike-only crossing is very helpful. Here's an example of one crossing I make every morning with my son.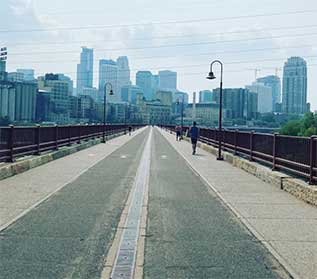 You'll eventually figure out the best bike routes for you and your kids. Even if you live in a city without good bike infrastructure, you can still figure out good routes if you do your research.
Biking With Kids In The Rain 
One common issue you'll deal with when you're commuting with kids is the weather. It won't always be 70 degrees and sunny. Depending on where you live, you'll probably have to deal with rain at some point. The good thing is that rain doesn't have to be a big deal. 
For your kid, it's easy enough to put them in a bike trailer when it's raining. With my Burley Bee, all I have to do is close the front flap and my son stays warm and dry inside the trailer.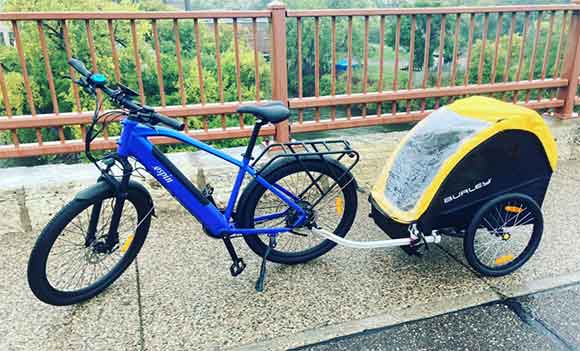 If you have a cargo bike, you can buy rain canopies that shield your child from the elements. Many box cargo bikes come with similar canopies that turn an open-air ride into an enclosed one.
As for yourself, unfortunately, you'll have to be out in the elements, but putting on some good rain gear and keeping a change of clothes can do wonders. You'll want waterproof pants, a good rain jacket, and some waterproof shoes so you can be as comfortable as possible.
Biking With Kids During The Winter 
The gear you use for biking in the rain is the same as the gear you'll use when biking in the winter. On really cold days, a bike trailer can do a good job of shielding your child from the elements. If you bundle them and put a bunch of blankets in there, they'll be pretty comfortable too – you might even get jealous of how comfortable they look.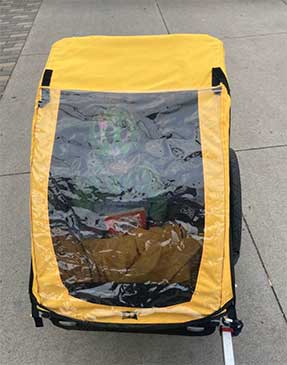 You can also do the same thing with a cargo bike. If you get a rain canopy, your kids will have enclosed space on the bike that will shield them from the cold and wind.
For the most part, I can bike throughout the entire winter, although I will probably opt to take the bus on really cold days or if there's a lot of snow and ice on the street.
Even if you can't bike through the whole winter, a little bit of rain and cold doesn't have to stop you from biking with your kids. Try doing it a day or two per week and see how well you can adjust. 
The Finances Of Opting For An Ebike + Bike Seat/Bike Trailer 
Using an ebike and a combination of a bike seat and bike trailer isn't just something to do because it's fun. There are also real financial benefits to choosing to travel this way with your kids.
First, you have to look at an ebike as a potential car replacement vehicle. I think that's where most people get tripped up. They look at an ebike and think of it solely as a recreational vehicle – something you only use on nice days in the summer. But the real magic is using an ebike every day as your primary method of transportation. 
Ebikes are well suited for this too. The vast majority of people are only traveling a few miles per trip, which are distances easily covered by bike and even more easily by ebikes. In many cities, when you factor in parking and traffic, getting around on an ebike is going to be faster. And rather than traveling these short distances in a two-ton vehicle, it's far more efficient to do so on a relatively lightweight ebike. 
Second, the cost of getting an ebike, while admittedly expensive, is still reasonable if you treat it as a car replacement vehicle. Your typical direct-to-consumer ebike will cost somewhere between $1,500 and $2,000. If you add a bike seat and a bike trailer, you're looking at another $500 or so of costs. Even your cheapest used cars are going to cost more than that and will likely require much more maintenance and upkeep. And more likely, you're not going to buy a $2,000 car – you'll probably spend much more than that if you're going to buy a car.
Third, the cost to maintain and operate an ebike versus a car is not even comparable. Maintaining an ebike should only cost you a few hundred dollars per year. Replacement parts – things like tires, chains, breaks, etc are not very expensive either. If you're able to do your own bike repairs, you can maintain your bike for even less. And the cost to charge an electric bike battery comes out to pennies per day. In a typical year, I spend about $200 to $300 on bike maintenance at my local bike shop. The most expensive part of an ebike is the battery, which you'll likely have to replace every 3-5 years. A new battery is around $600, so this is not a significant cost if you budget for it. 
In contrast, a car comes with insurance, gas, parking, registration, and much more expensive repairs. If you're like most people, you might get a few parking tickets too. Each year, AAA puts out a study on how much it costs to operate a car, with the typical number coming in around $9,000 per year. No matter how much you think a car costs to operate, it'll still be thousands more than any ebike.
Final Thoughts 
Having kids doesn't mean that you can no longer get around on a bike. Especially when your kids are young, commuting by bike with them can work out well. Your kids are small, they fit onto a bike easily, and they probably won't complain.
Biking with kids also lets them interact with the world much more than in a car. I know that for my son, it's a very different experience for him to be on the bike, looking at everything around him, compared to in a car where he can't see anything. 
I hope this guide on biking with kids is helpful. Biking as a primary mode of transport isn't just fun – it's financially savvy too. And if you can do it even when you have kids, you'll separate yourself from the vast majority of people who simply think it isn't possible to commute with your kids by bike.