I'm still recovering from a long week at FinCon and trying to get back into the swing of things at work and here on the blog. The natural thing at this point would be to write a FinCon recap post, but a lot of people have already written about their own FinCon experience, and in truth, I don't think I have a ton to add to the conversation (plus, I didn't go a great job documenting my week at FinCon anyway).
Instead, in today's post, I wanted to address one of the takeaways I got from attending FinCon. It was to ask myself the question of why I write this blog in the first place. Anyone who writes a blog is doing it for a reason. But what is the reason? It's an important question to think about – one that I admittedly haven't given much thought to.
You can think of this post as the mission statement that I should have written long ago. So what are my reasons for this blog? Why does it exist? I've got three primary reasons:
1. To Impact People
Without a doubt, the primary reason I do anything on this blog is to impact people. It's not just to get people to understand the ideas I have, but also to get people to act on the things I write about. I write from personal experience, and when I write about something – some gig I'm doing or some app I'm using – it's because I genuinely believe that the thing I'm writing about is something that will help someone out there.
That's why one of the biggest joys I get from this blog is when I find out a reader has actually done something I've written about. Take the example of Michelle, a blogger I met at FinCon who blogs over at Frugality and Freedom. She told me about how she had made $137 in a week taking pictures of hiring signs with Job Spotter (an app I've written about and that appears in every side hustle report I've written since 2017). This was amazing to hear about – made even better by the fact that Michelle did all of this while she was just out and about, exploring a new city. 
Or take my friend Young Fire Knight, a financial independence blogger that I met at CampFI this past August (I haven't written about my CampFI experience, but Young Fire Knight did, and you can read more about CampFI in his recap post). I told him about how I was charging up these Lime and Bird scooters on my way into work, and that based on where he lived and worked, this side hustle was perfect for him to incorporate into his life. Sure enough, he actually went out and did it, making himself an extra $310 in a month to literally commute to work. He wrote a great blog post in which he documented his own experience charging scooters for Bird and Lime. 
Related: My own post about charging up Bird and Lime Scooters.
It's people like this that make this blog worthwhile. It means something to me when someone out there reads or hears about something I wrote, goes out and does it, and it actually makes a difference to them. My hope is that, with this blog, I can impact as many people as possible to see the world a little differently and to understand just how much opportunity is out there. You just need someone to show you where to look. 
2. To Share My Voice 
The great thing about the internet is that it makes it possible for all of us to start up our own little, independent media companies. All you have to do is figure out a way to put yourself out there – whether that's starting a blog, a podcast, a YouTube channel, an Instagram page, or whatever. With the way the internet works, it's possible for all of us to put our voice out there and have hundreds, thousands, or even millions of people hear it. 
That's why I started up this blog. I think I have a voice that's worth listening to. And even if I didn't think this, I still think it's worth seeing if maybe someone out there thinks differently. 
There's an imposter syndrome in all of us, though. This idea that our story isn't good enough. It's often one of the reasons people hesitate to put themselves out there. After all, most of us think we're pretty normal and live normal lives. I don't think I do anything really crazy. So why would anyone care what I'm doing? 
When it comes to sharing your voice, I think it's important to remember just how big this world is. There are 3 billion people on the internet today and that number is only going to keep growing. You might not think that anyone cares about your story, but of those 3 billion people, there's going to be some portion for which your voice will resonate. They say it only takes 1,000 true fans to make a living as a creator. That's a really small amount out of 3 billion people.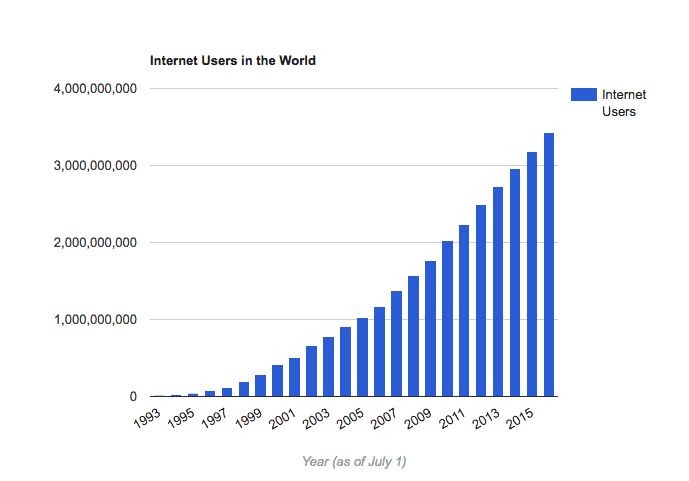 So that's perhaps the second purpose of this blog. My voice might not be the most interesting voice in the world. But I don't think it's the least interesting either. What I do think is that it's a voice worth sharing. And if the stuff I write can resonate with just a minuscule portion of the 3 billion people on the internet, then I think this blog will have done its job.
3. To Prove That I Believe In Myself
There's a funny thing about a lot of us. Most of us believe in others more than we believe in ourselves. That's why we spend the prime hours of our day working for a single employer, who pays us for the hours we put into their business.
I've started to think a little differently recently ever since my wife bought her dental practice. She bought it straight out of residency, so from day one, she's bet everything on herself, believing that she can make a living just from her own wits, rather than relying on someone else to pay her. And why not? If you don't believe in yourself, how can you believe in anything? 
I've started to think of this blog in the same way – as a way to prove that I believe in myself. I didn't start this blog with the intent of trying to make it a business. But as I continue to grow this blog, I'm starting to see the potential in it. It's a big world out there, and if you have something to say and can build an audience, eventually, you'll figure out a way to make a living.
So all of the time I put into this blog is my way of showing that I believe in myself, that the stuff I write is something that I can maybe make a career out of one day. When people ask me what my ideal life is, I always tell them that same thing. I just want to basically Postmate and blog forever. I do know that I don't really want to work for anyone again. At least not if I don't have to. I just need to believe in myself.
Anyway, it's a little bit different of a post compared to what I normally put out there, but I thought that getting this information out in writing was worth the time. This blog was born in 2016, about a week or so after I paid off my student loans. A pretty sizeable chunk of people have stumbled onto this blog over these past two years. My hope is that this blog can continue to impact people over the years. That it continues to show that I have a voice worth sharing. And maybe most importantly, that this blog demonstrates a belief in myself.