Using a scooter to deliver for Uber Eats is one of my preferred ways to deliver orders. Since I live in a city, opting to deliver Uber Eats with a scooter is usually faster than using a car. I also save a lot of money since I don't have to worry about gas or maintenance. That means more profit for me since I can complete more orders with fewer expenses.
While using a scooter is a great way to deliver for Uber Eats, it does present some logistical challenges. You'll need to be strategic about the orders you accept so that you don't waste too much time. You'll also need to think about the logistics of how you'll deliver your orders, including which scooters to use and how you'll carry and deliver your orders. 
With that said, in this post, we'll through through how I deliver for Uber Eats using an electric scooter. We'll also talk about the equipment you'll need and what scooter you should use. 
How To Deliver For Uber Eats On A Scooter
To deliver for Uber Eats using a scooter, you'll want to sign up to deliver for Uber Eats on a bike. While Uber Eats does have an option to deliver using a scooter, this option is actually referring to using a moped. That means you'll need to have a license and appropriate insurance to deliver for Uber Eats if you select the "scooter" option.
In contrast, if you sign up to deliver Uber Eats on a bike, you'll still be able to use an electric scooter to complete your deliveries without any issues. A scooter is much more like a bike than a moped, so I don't think this is a problem.
Note that Uber Eats doesn't make it easy to switch between different vehicles. I only deliver for Uber Eats using an ebike or scooter, so my account is only for delivering using a bike or scooter. If I had originally signed up to deliver in a car, I believe I would have to make a separate account to deliver on a bike. This is in contrast to DoorDash which allows you to switch between different vehicles in one account.
Which Scooter Should You Use?
The ideal scooter to use to deliver with Uber Eats is one that offers good speed and has good range. For longer delivery shifts, high-powered electric scooters will be your best bet. These scooters typically have larger wheels, wide decks, front and rear suspension, and 30-40 miles of range. They also have high-top speeds, some with top speeds of 40mph or more. The downside with a high-powered scooter is the price – these scooters typically cost at least $1,500 and usually go for $2,000 or more, which isn't cheap by any means.
For high-powered scooters, the one that I use is the Varla Eagle One. I wrote a review of this scooter a few years ago and it has continued to be a strong scooter for my needs. These days, the Varla Eagle One is an older model, so it can be purchased at a good price point, especially if promotional sales are happening. The newer versions of the Varla Eagle One include the Varla Eagle One 2.0 and the Varla Eagle One Pro, both of which are newer models of the Eagle One. Any of these scooters will work well for you as a Dasher.
A step below high-powered scooters are scooters that I think of as "intermediate scooters." These scooters typically have smaller wheels, a top speed of about 20 mph, and a max range of around 20-30 miles. Scooters in this category can often be purchased fairly cheaply – usually around $1,000 or less. I think intermediate scooters like this are great for quick delivery runs if you're only planning to work for a few hours at a time. Perhaps the best intermediate scooter is the Varla Pegasus, which offers a top speed of 28mph, 25 miles or so of range, and a smooth ride thanks to the nice tubeless tires and front and rear suspension.
Finally, another scooter option is to go with what I call "toy scooters." These are scooters that usually have small, solid wheels and typically have a top speed between 15-20 mph and a max range of around 15-20 miles. The advantage of scooters like these is that they're small, fairly lightweight, and usually cheap. The downside, of course, is a lower top speed and not that much range. If you're using this type of scooter, you'll want to stick to working during prime hours and in a smaller area. Good examples of scooters in this category include the Hiboy S2 or Hiboy S2R, both of which deliver good speed and range at an affordable price point.
What Equipment Should You Use To Deliver Uber Eats With A Scooter?
Besides figuring out what scooter to use, if you're delivering for Uber Eats using a scooter, you'll also need to think about what equipment you'll need. One downside with scooters is that you don't have a lot of cargo space, so to carry your orders, you'll need a good delivery bag. 
I use an Uber Eats delivery bag that I bought for $5 several years ago. It has cup holders inside it and a lot of storage space, so it has worked out well for me. Unfortunately, they don't sell this particular bag anymore, but there are still plenty of good, affordable delivery backpacks out there. The main thing you'll want to look for is a delivery backpack that can hold several orders and has space to securely hold drinks as well. If you want to be extra-prepared, getting a bag that can hold pizzas is also a good idea.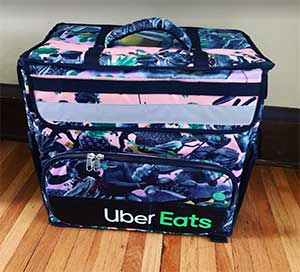 I wrote a post with some of the best delivery backpacks that I've found. Check it out for some good options.
Other Uber Eats drivers have rigged up different setups for their scooters. For example, Yogi Steve from Electric Scooter Academy has a setup where he puts his delivery bag on the deck and stands behind it. This system works well for him. I say do what works for gout – just be sure that whatever setup you have can securely hold drinks and a couple of food orders.
Other than a good delivery backpack, you'll also want a bike lock so you can lock up your scooter if you need to. Most of the time, I don't need to lock my scooter since I can bring it inside, but there will be some situations where you can't bring your scooter inside. In those situations, a small lock that you can use to quickly lock up your scooter is a good thing to have.
Uber Eats Scooter Strategies
The Uber Eats scooter strategies are similar to any other food delivery strategy. You'll want to be strategic with the orders you accept, sticking with orders from restaurants that are generally fast and sticking in areas that you know are busy. The key with Uber Eats – as with any other food delivery app – is to complete orders quickly and efficiently. Remember, you're getting paid by the tasks you complete, not the time you work, so working quickly and efficiently is the most important thing you can do to maximize your earnings. 
The other thing you should do is multi-app. That means you should sign up for all of the food delivery apps in your area (i.e. DoorDash, Uber Eats, and Grubhub), then log into all of them at the same time. I try to line up my Uber Eats orders with orders from DoorDash and Grubhub so that they're all going in the same direction.
Finally, make sure to use the scooter to your advantage. That means you should work in dense areas with a lot of traffic and limited parking. These are places where scooters have a huge advantage over cars and where you might have less competition from other Uber Eats drivers. I always opt to work in the busiest areas of my city, since with a scooter, I don't have to worry about dealing with traffic or parking.
Final Thoughts
Using a scooter to deliver with Uber Eats is an excellent strategy to earn more money. It's also way more fun. 
I never use a car to deliver with Uber Eats, opting instead to deliver using an ebike or scooter. It's much easier to deliver using a scooter, plus it allows me to complete more deliveries and saves me time and money. When I think of my scooter as an investment, it has easily paid for itself.