When I look back at my life, I think there's one thing that has guided a lot of my decision-making – fear. It's a powerful emotion, one that I think pushes many of us onto the paths that we find ourselves on – whether we know it or not.
Of course, a healthy dose of fear isn't a bad thing. There's value in having some fear to slow us down as we move through the world. But too much fear can be problematic. It can work as a trap, keeping us stuck in place and holding us back from chasing whatever it is that we might have been meant to do.
You can see this in action just by looking at the people around you. How many people do you know that talk about all of the things they want to do or the ideas they have, but never seem to act on them? Or think about all of the people who talk about how much they hate their jobs, yet spend 40 or more hours per week of their prime working at that same job and doing nothing to change that. What's the reason for this? Is it laziness? Complacency? Something else?
Obviously, there are a lot of factors that go into the decisions we make, but I think that pretty much all of it boils down to the base emotion of fear. There's the fear of going into the unknown. The fear of uncertainty. The fear we have about what others will think about us if don't follow the normal path (and even worse, if we deviate from the norm and fail). 
I've been thinking about my own relationship with fear lately as I look at the choices I've made and the choices I hope to make in the future. I went to law school because I graduated during a recession and didn't know what else to do. Law school made sense – a way to make myself a decent living. That's the reason I tell myself anyway. But when I really think about it, it was a decision made out of fear. I didn't know what else to do and I was too scared to go into the unknown. So instead, I chose the clear path.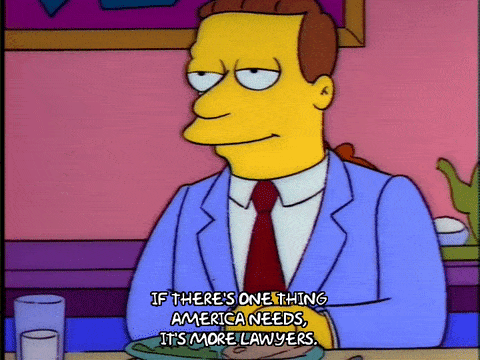 I've been especially thinking about the impact fear has on my life as this blog continues to grow. My best friend keeps pushing me to take the leap and give the whole solopreneur thing a shot. As a part-time side hustle, I can grow this blog steadily. But if I could dedicate the 40+ hours per week that I currently spend at work, doing things that I'm not 100% passionate about, well…I could probably grow things a lot faster.
But I'm fearful of making that move, even though it's something I really want to do. As a lawyer, I tend to have a worst-case view of the world – that if I do something, the worst will happen. Interestingly enough, I rarely ever think about what's the best thing that could happen to me, or how even if things don't work out, the worst case scenario is probably the most unlikely one. 
With all that said, today's post is a reaffirmation I'm writing to myself and that I hope could apply to you too. It's time to remember that the world is a much bigger place than we can imagine and that we have way more options and abilities than we know. 
I'm a generally fearful person – I know this is a character trait I have. But there are a lot of reasons why I shouldn't be. My guess is that if you're feeling stuck or scared to make that next move, the below reasons about why I shouldn't be afraid might just apply to you too.
There Are Many Ways To Make A Living
Growing up, I basically figured that there were only two ways to make a decent living – be a lawyer or be a doctor. My basic understanding of money was that it was given to you, not created by you. In other words, money required doing things to get hired by someone – get good grades, go to good schools, get fancy degrees, and have good credentials.
The idea of being able to create money via your own wits or with your own job never really occurred to me until I got into this whole online space and the side hustle world. In retrospect, this was a weird mentality for me to have. I grew up in an immigrant household, with parents that didn't have fancy jobs or any sort of fancy education. My dad owned a Chinese restaurant. Money wasn't given to him – he had to create it himself.
As I continue to learn more about the world, I'm starting to realize just how small I used to think. There are so many more ways to make a living beyond being a doctor or a lawyer – more than any of us can imagine. It's just about knowing that if you go out there, you can find some way to make it.
I Can Always Get A Job
Earlier this summer, I was on a panel where I talked about my own path in the law and the non-traditional path I've been pursuing. When someone asked me how I made the decision to leave all of these traditionally "good" legal jobs, I went into the usual things I say – how I was looking for something that I found more fulfilling, that fit me better as a person, etc. But I also made the very important point that there are always going to be jobs out there and that if things don't work out, I can ALWAYS get another job. 
It's kind of a silly thing to have to remind yourself of – that you can always get another job. I think there's this weird absolutist thing that I and a lot of professionals seem to have – an idea that if you don't do things exactly by the book, you'll never be able to make it and you'll be broke and unemployed forever. Obviously, this isn't true.
We're all smart and have the drive to succeed. There are a million jobs out there. Some are good, some are crappy. But they're out there. If I need to get a job, I can always go and get one. 
I Don't Need A Lot Of Money To Live
A great benefit of the financial independence movement is that it's creating a whole group of people that knows how to live lean. The funny thing is, we act like this is something we've never done before, but anyone who has gone to college knows exactly how to live lean.
There are a lot of benefits to not needing a lot of money to live. It allows you to save more money, of course. But it does something even more important. It buys you flexibility. And when you have flexibility, you lose a lot of fear.
I don't need a lot of money in order to live. I've proven it to myself by the fact that I've taken two pay cuts in the past two years, dropping my income by over 50% during that time span. It helps that I paid off all of my student loans as fast as I could, I've never bought a car, and my only real fixed cost is a very reasonable mortgage payment on a modest house, which is partially covered via house hacking with Airbnb.
If I was spending $100k a year, things would be a lot tougher for me. I'd need over $8,000 per month just to make ends meet. But drop that spending down to something like $30k, and suddenly, things look much more manageable. Creating $8,000 per month out of thin air is scary. But $2,500 per month out of nothing – that looks possible. Break it down by day and things really look manageable. $30,000 per year in expenses requires $82 or $83 per day. Anyone can do that.
I'm Not Alone
One of the benefits of being in a two-income household is that, just in itself, you have a built-in backup system, as long as you do the smart move of living on one income. Out of necessity, my wife and I have been doing that for years. I got my first job in 2013. My wife was a student up until a few months ago, giving up hundreds of thousands of dollars in real and opportunity costs to become the specialist dentist that she is today. During that stretch, we essentially lived on my income alone. And we did this even as my income kept going down. 
My big fear is taking a leap into something new and never making a dime. Of course, I could always go back and get a job. But even if I made no income for years, we'd still have plenty to live on since my wife and I have spent the last four or five years getting used to living on one income. If I wasn't married, I still would have plenty of support systems. I could just move back home if I needed to. In any event, I'd figure something out.
Most of you reading this probably aren't alone either. You have partners, or spouses, or family that you can probably lean on, at least just for a little bit. There's a lot less to be fearful of when you remember that you're not out there by yourself.
The Thing I Always Forget – I Could Succeed
Instead of looking at all the negatives and all of the contingency plans I need, it's important to remember one thing that I always forget – the best case scenario could happen. I could succeed in whatever projects or dreams or ideas I have.
As this blog continues to grow, I keep thinking about all of the horrible things that could happen if I decide to go all-in on the whole solopreneuer thing. I have all of my backup options at my disposal if the worst does happen and everything flames out. But why don't I spend any time thinking about the fact that it could all work and I could make it?
So What Are You Afraid Of?
I've got this vision of being able to do this online thing full-time, and while it might not be some big, huge money-making enterprise, it's something that I'd like to take a shot at.
After all, I don't have a lot of reasons not to give it a shot. I'm 31, with no kids yet. I don't have a lot of expenses. And I have a professional degree that I should be able to fall back on, not to mention that I'm married to a dentist that now owns her own practice. 
Admittedly, I'm in a unique situation, one that should make me less fearful compared to others. Our situations are all different, but I think the points made in this post are universal to everyone.
We can all figure out ways to make a living.
There are always going to be jobs out there that we can get.
If we don't need a lot to live, we can pretty much do anything. 
And most importantly, we need to remember the most important thing. We could succeed.