One of the things that I think this pandemic has taught us is just how important it is to have a lot of backup plans. When times are good, many people have this assumption that the good times will never come to an end, and as a result, they don't prepare for any contingencies, instead, riding the one plan they have or relying on that one income source or assuming that nothing can go wrong with whatever it is they're doing. I believe that the future is bright, but I always have my Plan Bs, Cs, and Ds too.
The area of my life where I have a lot of contingency plans in place is with my income. Over the years, I've continued to add different sources of income to my life, to the point where, in any given month, I have income coming in from 10 or more different sources. The benefit of this approach is that I'm generally not dependent on any single thing to make ends meet. And when one income source sees a decline, another income source might be able to cover the difference.
Nowhere is the benefit of this diversification more apparent than in the current demand between the different sharing economy and gig economy apps. Apps like Airbnb, Rover, and Wag – all of which rely on people traveling and being out of their homes – have seen a massive decrease in demand to the point where I wonder if some of these companies will even survive the pandemic. By contrast, food delivery and grocery delivery apps – think Postmates, DoorDash, Uber Eats, Grubhub, Instacart, Shipt, and Amazon Flex – have seen an increase in demand as people are staying at home and relying on gig workers to get food and groceries to them.
Since the pandemic officially broke out in Mid-March, I've been spending about an hour or so each day doing deliveries using all of the different food delivery apps. Food deliveries have always been my favorite gig economy side hustle because of how well they fit into my life and the fact that doing deliveries allows me to get paid to exercise and/or be outside. And deliveries in the current environment, at least in my area, have been particularly lucrative to the point where I really couldn't pass up the opportunity.
People still need to get food brought to them. And delivering food during a pandemic is very different compared to what it's like delivering food in normal times. I thought I'd share what it's been like out there so you can get a sense of what people like me are doing when you order food from your phone.
How I Gear Up And Do Deliveries During A Pandemic 
My state shut down restaurants for dine-in back in mid-March, making it so that restaurants can only offer carry-out and delivery. With the Coronavirus pandemic keeping most people indoors, I've found that demand for delivery services has increased. During lunch or dinner hours, the orders basically come nonstop. This has remained true in my area, even as, I assume, more people are signing up for these gigs.
My delivery method has always differed from the vast majority of delivery people because I do all of my deliveries using a bike. This means I have zero fuel costs and minimal maintenance costs to worry about. I also live in a dense area, so I'm able to get a lot of deliveries done in a short amount of time.
In a pre-pandemic world, my delivery equipment consisted of just a few things: 
A bike, electric scooter, or e-bike.
A delivery bag (I have a delivery backpack that I got for free from Uber Eats back in the day).
My phone, wallet, keys, Airpods, and a bike lock.
Doing deliveries during a pandemic has required the addition of another piece of gear – a homemade cloth facemask. I put on this facemask before I leave my house and it doesn't come off my face until I'm back home and have fully washed my hands with soap and water.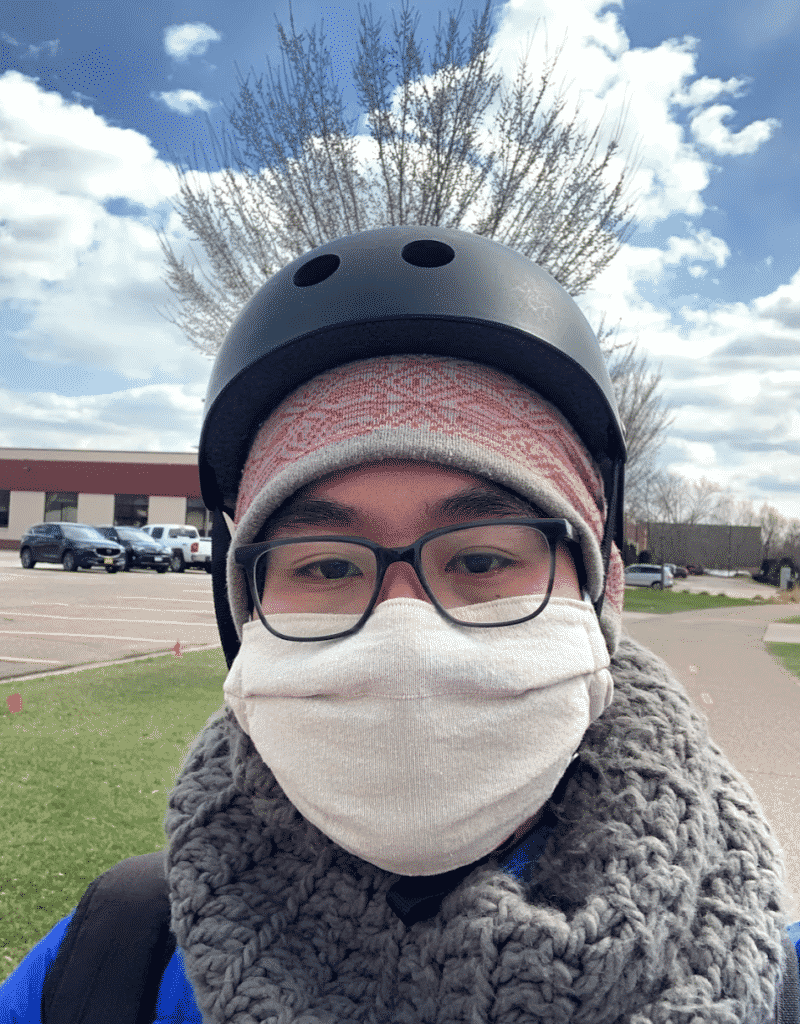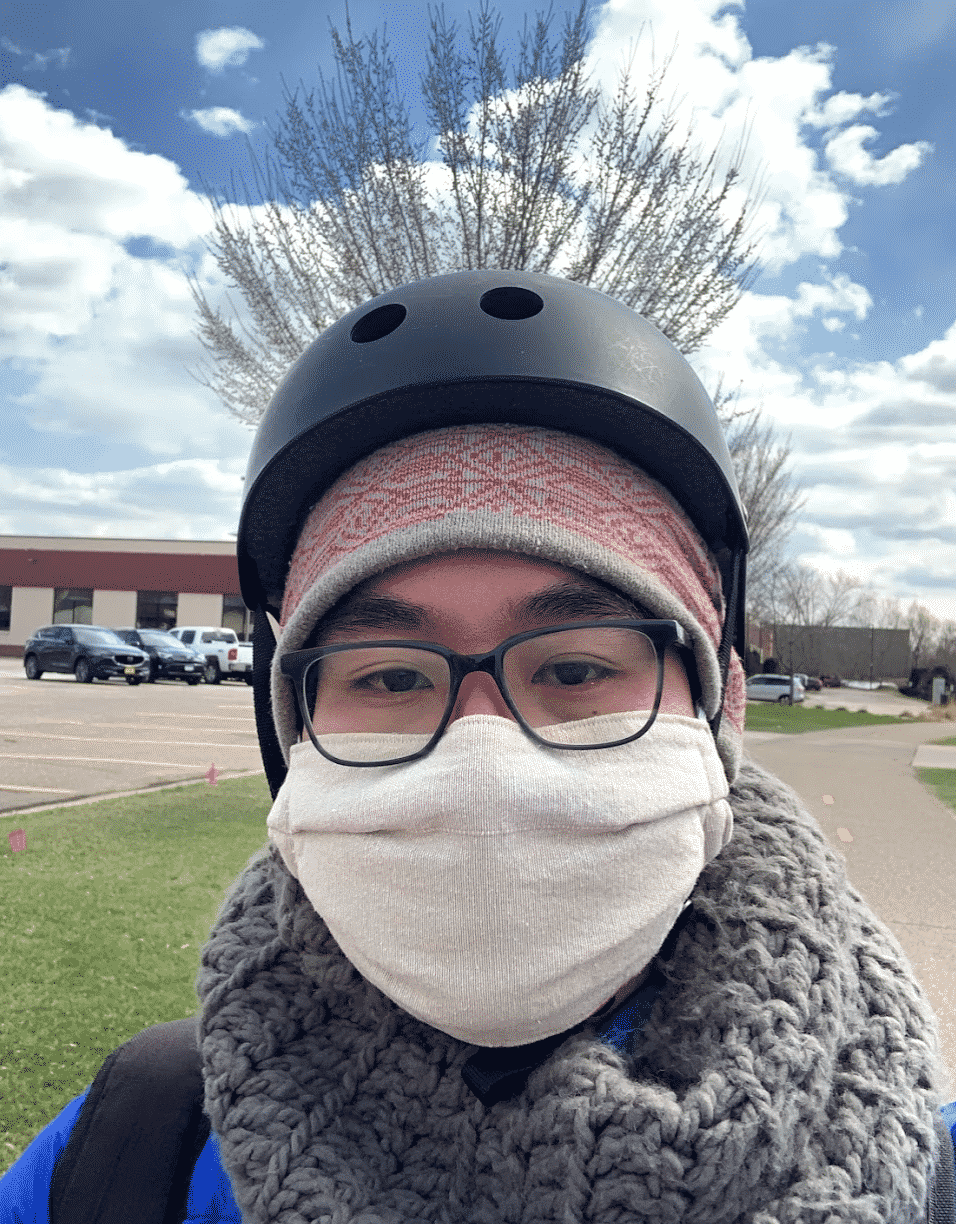 The actual delivery process has changed dramatically compared to how it used to be – in most cases, for the better. Because all of the restaurants are only able to offer carry-out right now, food is getting prepared much faster. I've rarely had to wait for the food when I arrive at the restaurant. In most cases, I don't even have to interact with any staff, instead simply walking into the restaurant and picking up the food from a table (usually at the entrance).
Here's a recent order I did as an example. The food was ready when I arrived and sitting on a table for me at the entrance. The staff was safely inside and away from me and I didn't have to interact with anyone when I picked up the food.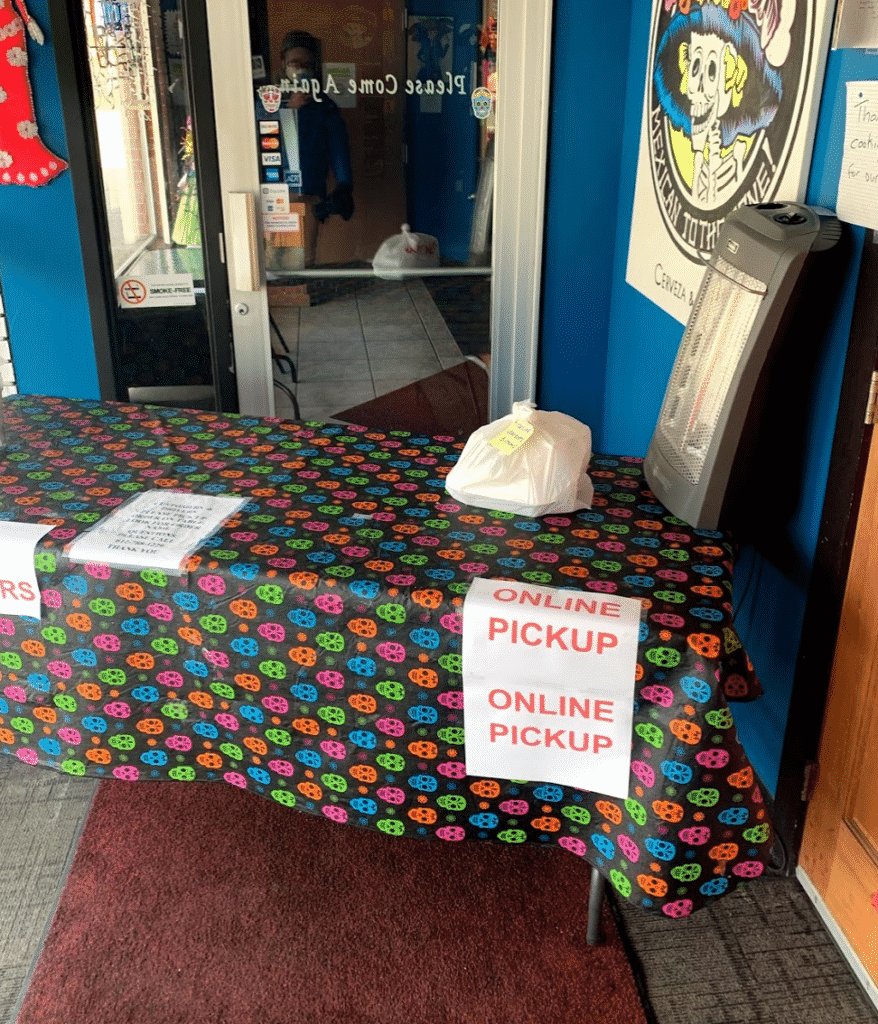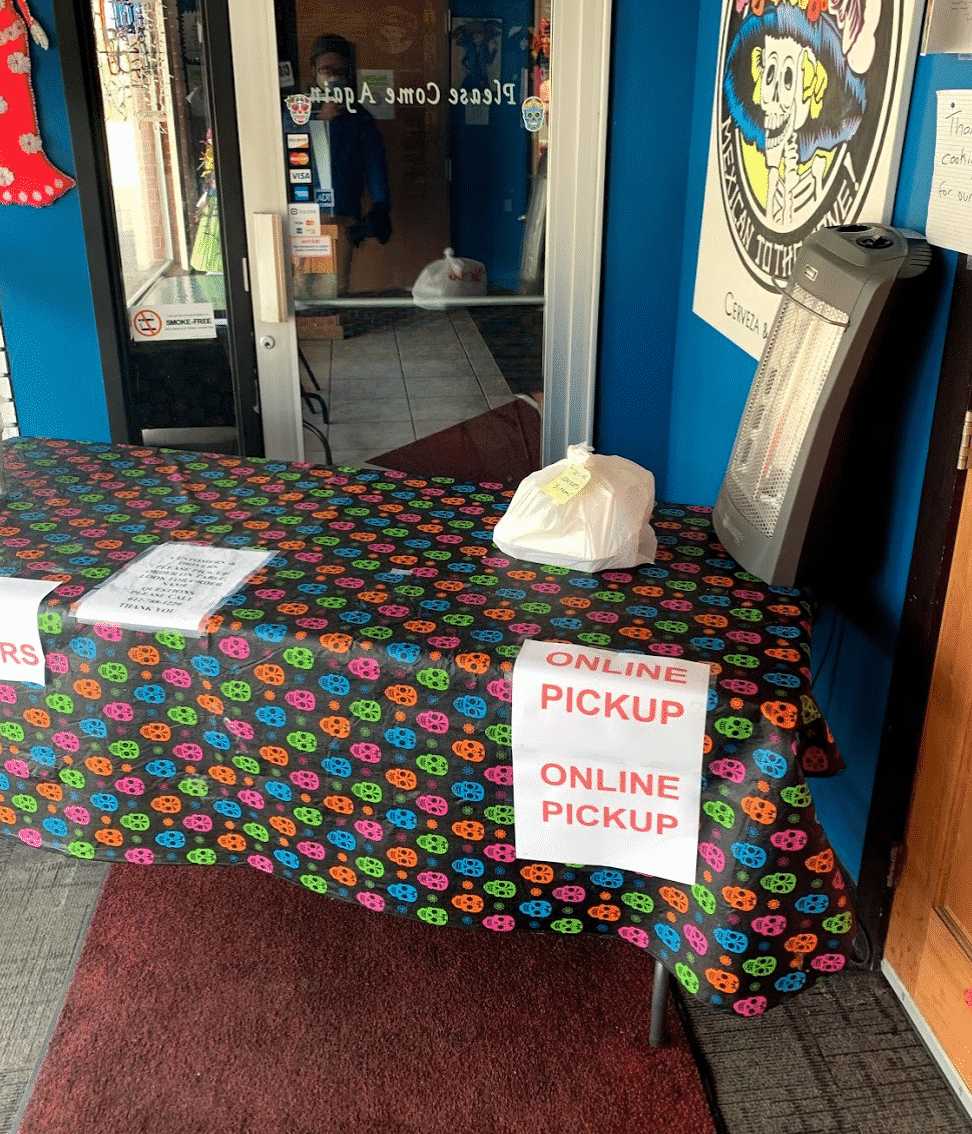 The way restaurants are handling the pickup process differs, with some restaurants handling the pickup process better than others. One Chipotle near my house has added automatic hand sanitizer dispensers at the entrance. When I walk into this Chipotle, I quickly run my hands under the hand sanitizer dispensers, then pick up the food from a table. The restaurant is spaced out enough that I'm easily able to social distance from others.
While some restaurants are doing things really well, I think others are doing things – well, pretty stupidly. For example, there's another Chipotle near my house that isn't allowing people into the restaurant. Instead, you have to knock on the door, tell them who the order is for, and then they bring out the order to you. This wouldn't be a problem in itself, but the problem is that this Chipotle is always busy, which means that a lot of the time, you arrive and find a group of people milling about outside. It defeats the purpose of social distancing when you're cramming a bunch of customers and delivery people near a single door. 
Once picked up, the last step is to drop off the order. This process has been pretty favorable these days. The apps have all added no-contact delivery, which means that instead of handing the food directly to the customer, I'm able to simply leave the food at the door and then tell the customer to come and grab it. This saves me a lot of time since I don't have to wait for the customer and it has the obvious benefit of allowing me to avoid unnecessary contact. 
Of course, I assume some risk by doing deliveries – doing these deliveries means I'm in public and touching things that others have touched too. However, I'm fairly comfortable with the steps I've taken on these food deliveries. Wearing a mask mainly helps me avoid touching my face. The drop-off process generally has no risk of coronavirus transmission for myself, since I don't get near anyone (for people ordering food, move the food out of the container when you get it and wash your hands before you eat). The riskiest part for me is the pick-up process, where, depending on the restaurant, I have the highest chance of being in close proximity to someone and I have to touch door handles and other surfaces. Restaurants that have hand sanitizing dispensers are very helpful to reduce potential spread of the virus.
How Much Have I Been Making? 
I've always felt that I make more than the average person when it comes to doing deliveries. There are a few reasons for this: 
I live in a dense area where I can do a lot of deliveries in a short period of time.
I run multiple delivery apps at once, which allows me to complete even more deliveries.
I'm more experienced and know which orders to accept and which to reject. 
I use a bike, so I have few to no overhead expenses.
In normal times, I typically make between $20 and $25 per hour. But during this pandemic, I've found that my delivery income has been hovering in the $30 or more range. Take my earnings for this past week, for example. I calculated my time working by looking at when I left my house and when I returned to my house via my Ring doorbell.
April 12th: $30.19 per hour
April 13th: Didn't do any deliveries on this day
April 14th: $51.25 per hour
April 15th: $31.98 per hour
April 16th: $35.42 per hour
Of course, I'm only spending about an hour or so doing deliveries since these aren't my main job, but rather are a side hustle that I do because I think they're fun. I doubt I could keep up that hourly rate if I worked all day long. It's why the delivery game is much better suited as a side hustle, rather than as a full-fledged job.
All that said, $33 per day comes out to $1,000 per month of income. And right now, I can earn this amount in about an hour a day. I'm basically creating my own stimulus check by working an hour a day.
Note that the delivery game is very location-dependent, and I'm sure that it's not this lucrative in many areas. I can say that I know my earnings aren't completely crazy. My brother lives in a completely different city and recently sent me a screenshot of his earnings from doing deliveries on Uber Eats for a little over an hour. When you do the math, he made about $50 per hour. And he did all of those deliveries on an electric scooter.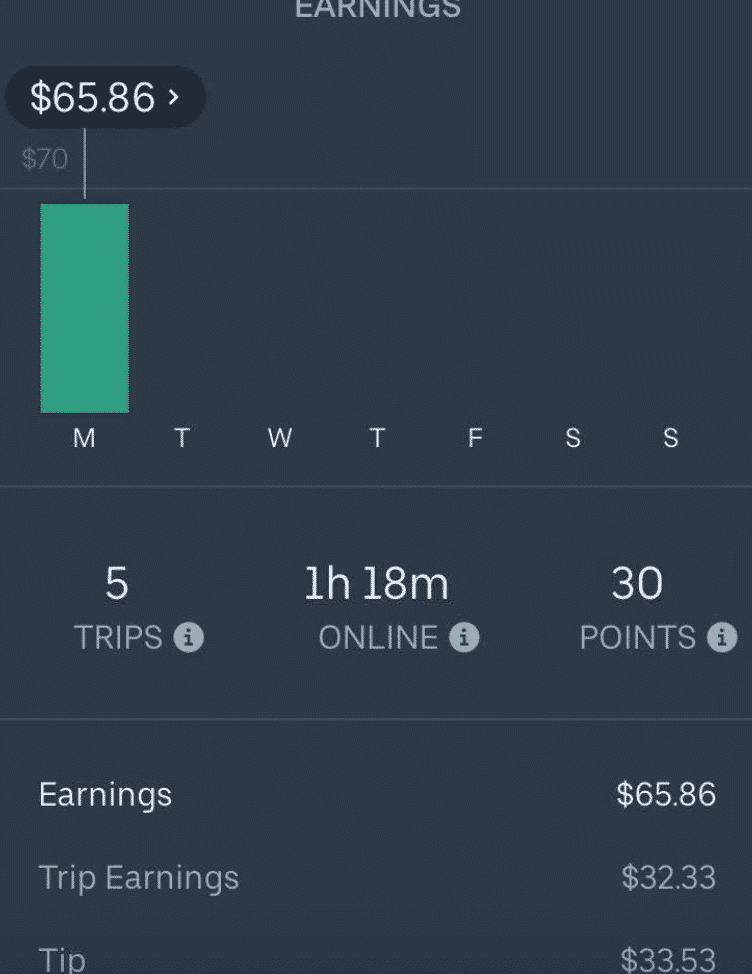 My Thoughts About The Delivery Game
Taking Advantage of My Advantages. I need to absolutely address the fact that I am privileged enough where I made enough money that I was able to set up a big savings buffer – right now I easily have enough cash in the bank to last me a year or more. I don't have to work long hours doing deliveries because of this buffer. Indeed, I've even opted not to do grocery deliveries because I don't feel comfortable spending extended periods of time in a grocery store. A lot of people don't have that luxury.
I'm also young and don't have any underlying health conditions, which makes the risk analysis here a little different. I know that a lot of people aren't as fortunate. 
That said, I recognize these advantages. I can work during prime earning hours and while I do risk contracting Coronavirus by being out there, my underlying health risk is ultimately pretty low and I'm in a position where I can take steps to reduce the risk of contracting the virus.
Restaurants Are Hurting – And I'm Not Sure If These Apps Are Helping Them. It's fairly well-publicized that these delivery apps price-gouge restaurants, especially independent restaurants that don't have many other options. Restaurant margins are already low as it is, and my understanding is that many of these delivery apps charge commissions as high as 30%, which doesn't leave much profit for the restaurant. I don't know what the solution is though – people want food delivered to them and most restaurants are not in a position to set up their own delivery service.
There's Money To Be Made Out There. If you're in trouble right now because you didn't create an emergency fund and you don't know what to do next, you need to sign up for any delivery apps you can get on right now. I've always believed in the power of the Side Hustle Emergency Fund – it can stretch any cash you have even longer if you can just bring in a little bit of extra cash each month. The time to get signed up with these apps is when others aren't signing up for them – it's why I signed up for all of these apps during the boom times when the demand to work on these apps was lower. Right now, you could face a waiting list. But, if you're in a position to work, there's money to be made.
Appreciate Your Delivery People And All The Other "Low-Level" Workers Out There. This hopefully goes without saying, but be sure to show your appreciation to the people out there still working and keeping the world running. Try to get in their shoes and don't be a jerk. I know I've always done this type of low-level work because I appreciated how it humbled me. When I was a big-shot lawyer, it was hard for me to get too high on myself when I was also out doing the low-level gigs that most people felt were beneath them. Right now, it's these workers that are keeping the world running.