If you're signing up to be a Dasher for DoorDash, it's important that you have the right DoorDash gear.
When I talk about gear, I'm not necessarily talking about DoorDash branded shirts or things like that. While those are things you can get, what's usually more important is getting the right gear so you can be a more efficient Dasher and make more money.
The type of gear you need will depend on the mode of transportation you use. If you use a car, you'll need different things compared to if you use a bike. I do all of my deliveries using a bike, so I have a lot of experience in how to make delivering on a bike easier. But I can also recommend gear for your car too.
In this post, we'll look at all the DoorDash gear you should get to make dashing easier for you.
Where To Get DoorDash Gear 
At the outset, if you want to get specific DoorDash gear, you can do so via the DoorDash store. The DoorDash store has the following types of gear you can buy: 
DoorDash branded clothing (shirts, hats, jackets, gloves, socks, etc). 
DoorDash branded delivery bags, including bike delivery backpacks, regular insulated bags, pizza bags, and large catering bags.
Car kits (includes DoorDash magnets, window clings, and car signs).
PPE (things like face masks and hand sanitizer). 
For the most part, I think that almost everything in the DoorDash store is overpriced or not worth the cost. You can typically find similar items on Amazon. The only thing I'd consider getting is a DoorDash branded t-shirt – and that's mainly because I enjoy collecting shirts from different tech companies. 
One question you might have is whether you need to wear DoorDash branded gear or whether dashers have uniforms they need to wear. The answer is that they do not. Remember, when you're a dasher, you're working as an independent contractor, which means you can wear anything you want and use any equipment to complete your order. 
Of course, I recommend dressing professionally. Ideally, you don't want to look like you just rolled out of bed. Still, so long as you can get orders to customers on time, you can dash wearing whatever you want. 
What Free DoorDash Gear Do You Get? 
One good thing about DoorDash is that they do send you some free gear. When you sign up to be a dasher, DoorDash sends you a DoorDash activation kit, which includes an insulated delivery bag and your DoorDash red card. 
The insulated delivery bag is a basic food delivery bag with the DoorDash logo on it. It has some insulation on the inside to keep food warm and has a zipper so you can close the bag. This bag is pretty good and one I often use. It makes a great grocery shopping bag too, so leave it in your car for when you need it.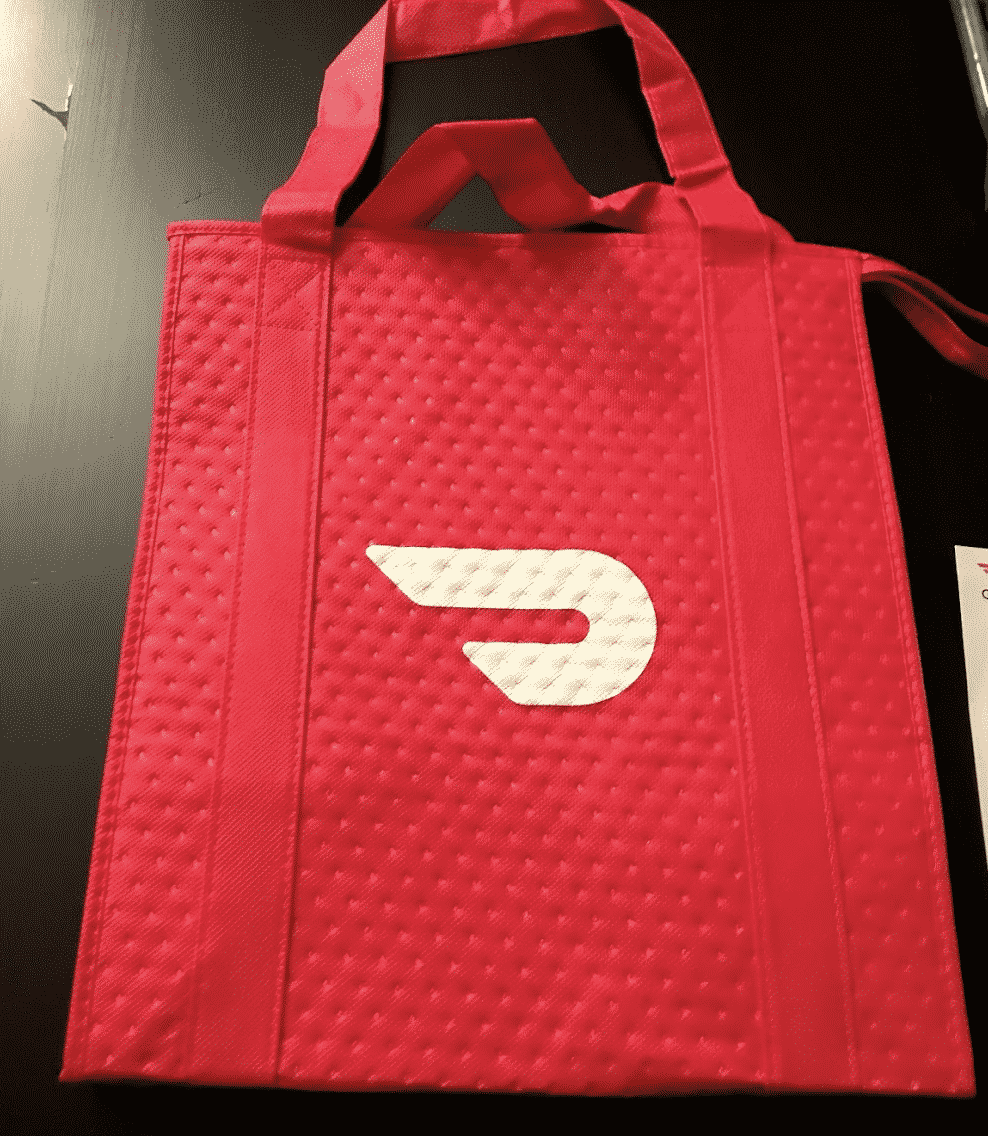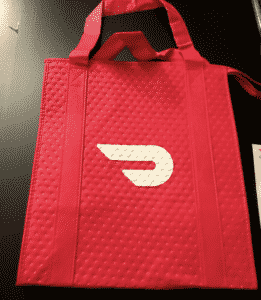 The DoorDash Red Card is a prepaid debit card that you may need to use to pay for orders that aren't already prepaid. The good news is that most orders on DoorDash are prepaid, so you usually won't need this card. However, you do need to activate it to be able to dash, so activate it, then set it aside for when you need it.
What DoorDash Gear Is Required? 
There is no required DoorDash gear. Again, because you're an independent contractor, you can use any equipment you want so long as you can complete the deliveries you accept on time.
That being said, some restaurants do require you to bring a delivery bag before they'll hand you an order. You can understand why from the restaurant's point of view. They want their food to get to the customer warm, so they may refuse to give you the order if you don't have an insulated bag to put it in. You don't need to use the DoorDash branded bag, though. If you have any insulated bags, that works.
The only "required" gear you need is the DoorDash Red Card. This is the card you have to use if you need to pay for an order yourself. However, most orders are prepaid, so you usually don't need to pay for the order.
Recommended Gear For Drivers 
If you're driving for DoorDash, you're going to want to get some gear to make your deliveries easier. Here's the most important gear you'll want to get if you're Dashing using a car.
1. Delivery Bag 
This is probably the number one thing you should get if you're working as a Dasher. Luckily, DoorDash sends a free delivery bag in the activation kit, so you don't need to spend money on this. If you want, you could buy extra delivery bags or a pizza delivery bag, but I don't think those are necessary. If you use the free delivery bag that DoorDash gives you, you should be in a good shape.
2. Phone Holder 
When you're driving, you're going to want something to hold your phone and make it easy for you to access your phone. That way, you can see incoming orders, as well as follow directions on Google Maps.
A phone holder that you can stick on your windshield is your best bet. There are a lot of affordable options you can choose from, but with cheap phone holders, remember that you get what you pay for. 
One particularly good option that I recommend is the Quad Lock Car Mount. This is a phone holder that requires using the special Quad Lock case that can then easily snap on and off the holder with a simple twist. I use a Quad Lock bike mount for my bike, but the car mount is great for drivers. You can see how the Quad Lock Car Mount works in the below video.
3. Phone Charger 
When you're doing deliveries on DoorDash, you need to make sure your phone has plenty of battery power. Make sure you have a way to charge your phone when you're in your car. A simple charging cord for your car should work fine.
If you want to get fancier, you can also use something like the Quad Lock Wireless Charging Head, which works in tandem with the Quad Lock Car Mount.
4. Drink Carrier  
This is not a necessity for drivers, but it can make things easier if you have to carry a lot of drinks. You don't need to get fancy here. Any simple drink carrier will work. You just need something that can hold a lot of drinks without spilling.
5. DoorDash Car Kits and Travel Kits 
DoorDash sells car kits and travel kits in the DoorDash store. These include some DoorDash magnets to indicate that you are a Dasher, as well as a sign you can stick on your car that indicates you are in the middle of a delivery and will return soon. 
The price of these items in the DoorDash store probably isn't worth it since you're essentially getting a few magnets and a sign you could easily create yourself. I'd probably skip these items or make them myself if I was worried about getting tickets. 
Recommended Gear For Bikers 
Doing DoorDash deliveries on a bike is the only way I do DoorDash. It's way more fun than doing it in a car. And if you live or work in dense areas, you'll move faster than a car and make more money too (plus you won't have to worry about parking or all the expenses that come with cars). 
Here is all the gear I use when I'm dashing using a bike. 
1. A Bike or Electric Scooter 
Of course, the most important thing you need is you're doing DoorDash with a bike is a good bike. You can use a regular bike, but if you want to be even more efficient, consider using an electric bike or an electric scooter. I do all of my deliveries using either option. If you want to be even more creative, you can even do deliveries using an electric skateboard.  
Using an ebike or scooter to do deliveries is far more cost-effective than a car. You won't have to worry about gas or parking. Your maintenance costs will also be far lower than with a car.
The nice thing about doing deliveries with a bike or scooter is that you can think of it as an investment too. If you spend $1,000 or $1,500 to buy an ebike or scooter, you can probably make your money back by doing deliveries with it. 
2. Food Delivery Backpack  
The next must-have item if you're doing deliveries on a bike is a food delivery backpack. I use an Uber Eats delivery backpack that I bought on sale for $10. The bag holds plenty of food and has space to hold drinks too.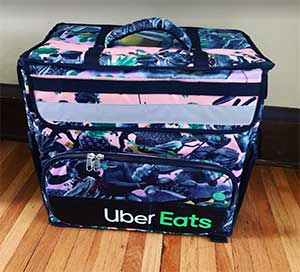 Unfortunately, Uber Eats stopped selling this bag, so you'll likely need to buy a food delivery backpack. You could theoretically use the DoorDash insulated delivery bag that comes in the activation kit. It's a fine option if you want to go that route – especially if you have a front or rear basket on your bike to hold the bag, but I think it's more comfortable to use a food delivery backpack. 
You can find some good options on Amazon. I'll also have a post coming out with some of the best food delivery backpacks you can use.
3. Phone Mount For Your Bike 
Another important piece of DoorDash gear to get is a phone mount for your bike. You attach it to your handlebars, then you can put your phone on it. It'll make it easier for you to see incoming orders and get directions. It's inconvenient and dangerous if you're biking with one hand looking at your phone or reaching into your pocket to grab your phone. 
Without a doubt, the best bike phone mount option has to be the Quad Lock. You'll need a special Quad Lock phone case to use these mounts, but I think it's worth it because of how well the mounts work. The Quad Lock phone case twists into the bike mount, and then you can easily remove your phone by twisting it again.
Here's a video showing how the Quad Lock bike mount works.
There are three different types of Quad Lock Bike Mounts – the Stem Mount, the Out Front Mount, and the Out Front Pro Mount. Get whichever one works best for your bike. I have multiple mounts because I have different bikes and scooters I do deliveries with.
4. Portable Phone Charger  
The last thing you'll want to have is a portable phone charger. The dasher app uses a lot of battery, so being able to charge your phone on the go is a must. 
You can get any portable phone charger that works for you. I've always had a good experience with Anker portable phone chargers, but I don't think it matters too much which one you pick. Just make sure it has enough power to keep your phone charged.
Final Thoughts 
Having the right DoorDash gear can make your delivery experience much better. Hopefully, this post will help you get all the gear you need so you can have a good experience as a Dasher and make more money too.