When you're married to a dentist, you tend to learn a lot about the world of dentistry. Turns out dentists love to talk about teeth and when you hear them talk about it all the time, you end up picking up a few pieces of information here and there.
In addition to learning about teeth, I've also been learning about the crazy amount of student loans that most new dentists graduate with these days.  I'm definitely no stranger to student loans.  Law school is notoriously expensive and in the legal world, student loans are pretty much a given.  When it comes to student loans though, lawyers don't even compare to the type of debt that dentists can graduate with.
Perhaps the craziest student loan story I've heard comes from one of my wife's friends.  This friend is currently a practicing dentist sitting on a mind-boggling $500,000 worth of student loans.  You read that right.  Half-a-million dollars.  It's an absurd amount of debt – and potentially financially crippling.
To understand the impact of that debt, it helps to actually see what it means on a month-to-month basis. Assuming an interest rate of about 7% (which is a pretty fair estimate), $500,000 in student loans comes out to a monthly payment of $3,327 over the next 30 years.  On a standard 10-year repayment plan, my wife's friend would be looking at a monthly payment of $5,805 per month.

A monthly fixed cost that high puts this young dentist in a problematic position.  Just to meet her monthly payments, she'd have to earn a minimum of $39,924 in after-tax money.  With that type of yearly outflow, it'll be a long time before she's financially independent.  She'd need to have a portfolio of over a million dollars just to afford to pay the bare minimum on her student loans for the next 30 years.
The amazing thing, though, is that with a bit of work and some significant sacrifice, it'd be possible for her to pay off all $500,000 of her student loans in just 5 or 6 years.  It definitely wouldn't be easy and I admit that not everyone will have the ability to do this – this dentist just happens to be in a position that makes it possible to achieve an outlandish goal.
Despite this possibility of being debt free so soon, there's a 99.9% chance that she won't do it.  It's just too far out of the ordinary.  In this post, I'm going to discuss how it's possible for a dentist with $500,000 worth of student loans to pay it all off in just a few years and what we can learn from this example.
How Does A Dentist End Up With $500,000 In Student Loans?
Before tackling how to handle this debt, I suppose the first question to ask is how does anyone even end up with this much debt in the first place?  A half-million in student loans seems pretty nuts.  Turns out it's actually pretty easy for a dentist to end up in this position.  Take a look at the expected yearly cost for a school like NYU Dental.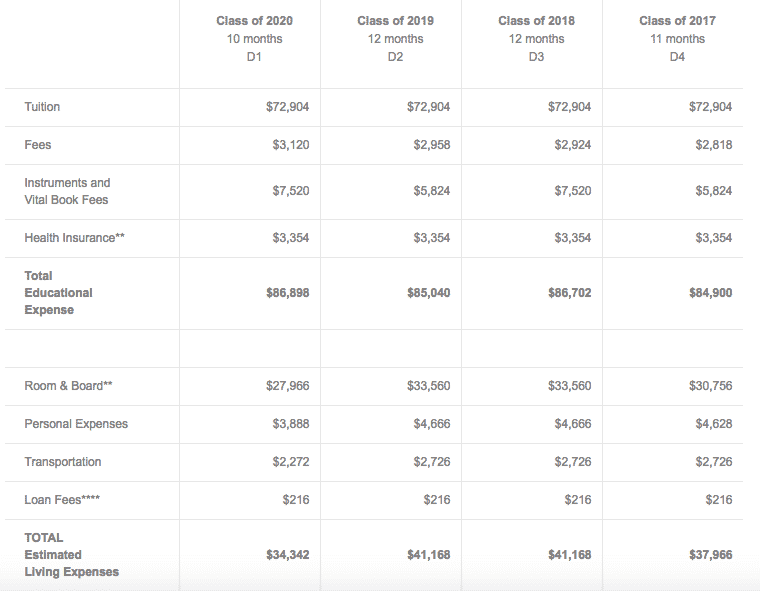 If you're keeping score at home, we're looking at the following yearly costs for those four years of dental school:
D1 – $121,240
D2 – $126,208
D3 – $127,870
D4 – $122,866
Total Cost: $498,184
NYU is pretty ridiculously expensive, but not all that out of the ordinary.  Tufts Dental School – another comparable east coast school – has an estimated four-year cost of $450,412.  Even an "affordable" state school like my own state of Minnesota has a four-year cost of $304,277 for in-state residents.
To make matters worse, not every state has a public dental school, making it even harder for many future dentists to reduce their school cost.  My wife, for example, is originally from Wisconsin and the only options for her were to either attend an expensive private dental school in Milwaukee (Marquette University) or opt to pay out-of-state tuition for another state dental school.  As a result, someone like her was going to end up with significant debt, no matter what she did.
Paying Off $500,000 Worth Of Student Loans In Five Or Six Years?
$500,000 worth of student loans probably seems like an insurmountable amount.  Most people don't even have mortgages that high, let alone student loan debt that isn't tied to any asset and that can't be discharged in bankruptcy.  In a situation like this, the vast majority of people will just continue the status quo and resign themselves to the fact that they'll be paying off their student loans well into their 50s and 60s.
I've never been one to accept the status quo like that.  As I thought about it some more, I realized that if my wife's friend were willing to think just a little bit outside the box, it'd actually be possible for her to pay off all of her debt by her early 30s.  Even if she didn't do that, she could make a significant dent and bring it down to a much more manageable level.
In order to pull this feat off, we'll need to assume a few facts:
She makes $200,000 per year.  This might be high or low depending on where you live. My wife's friend is currently a part owner of her group practice and I'd hope that would mean that she's making somewhere in the $200,000 range.  Personally, I don't think this is an unreasonable assumption.
She chooses to live at home with her parents.  The unique thing here is that my wife's friend has the ability to live at home with her parents, but chooses not to take advantage of that fact.  In fact, she even lived at home for a year after she graduated from dental school and didn't have a problem with it.  Moving out was just the natural process.  Obviously, living at home isn't the ideal situation, but in many other countries, living at home as an adult isn't considered a particularly odd thing.  I think it's a uniquely American thing to choose to live on your own even when you're not in the financial position to do so.
She spends no more than $24,000 per year.  Honestly, if you're single and living at home with no rent or utility costs, spending $2,000 per month seems downright luxurious.
If we take the above assumptions as true, here's what we're looking at in terms of after-tax income.

On a $200k salary, this dentist is looking at $131,660 of post-tax income.  So how does someone making $131,660 in post-tax income pay off $500,000 worth of student loans?
Let's break it down some more.  If we assume a spend of $24,000 per year, that leaves this dentist with a little over $107,000 remaining.  Throw in some insurance costs and other miscellaneous spend and I don't think it's ridiculous to have $100,000 left over.  Honestly, a single person living at home on $2,000 per month can live pretty darn well.  How much can you really spend each month if your only expenses were food, clothes, and travel?
$100,000 per year thrown at student loans means that the debt is gone in 6 years.  And by choosing to live at home so that she can aggressively pay off her debt, she ends up saving almost $600,000 in interest.

If she can figure out a way to bump that income up so that she can throw $10,000 per month towards student loans, the debt is gone within 5 years.  Easier said than done obviously, but it's not completely ridiculous.
What Can We Learn Here?
Think Outside The Box.  There are a ton of ways to reduce your expenses.  Most people making a high income won't even think about living at home – it feels shameful. But, when you consider how much debt she's in, her salary really isn't very much.  She's broke!  And if you're broke, you need to think about what else you can do besides the status quo.
Live Weird While You Can/Pay Off Debt While You're Young.  Your 20s are the time you should be hustling to crush your debt.  Most people don't expect you to live like a baller when you're just starting out your career.  Use that to your advantage.  My wife's friend is currently 28 years old – she spent one year living at home and has since been living in a luxury apartment in a hip neighborhood.  If she'd just been willing to keep living at home, she could have been done with her student loans by the time she hit 31 or 32 years old, then moved out on her own.  Or she could have at least made a significant dent in her student loan balance.  I personally think that's much better than still being a half-million in debt.
You Need To Keep Your Rent Low.  A mistake that this dentist made was opting for a luxury apartment instead of finding a more affordable, normal apartment somewhere.  Obviously, people want to live in a nice place, but you can do that perfectly fine by living in a normal apartment building with normal people.  My sister-in-law is a terrific example of a high-income individual smart enough to keep her rent costs low while living in a solidly nice place.  Instead of luxury, she opted for a top-floor unit in a normal apartment building located in a good neighborhood.  By doing this, she pays half of what most people probably pay, which allows her to save a lot more money.
Get That Interest Rate Lower.  Interest is a killer when you have a student loan balance that high. On a $500,000 loan, this dentist is looking at $35,000 per year of interest or about $95 of interest per day. That amount of interest is going to destroy you.  She might not be able to refinance that debt now, but once her debt to income ratio is a little better, she should seriously consider refinancing and trying to get that interest rate lower. (Related: My Student Loan Refinancing Experience)
You Choose What's Important To You.  Ultimately, when it comes to debt, for the most part, you're the one that chooses whether paying it off is important to you.  If you opt to pay for something else, it means you're choosing that thing over the debt.  There's nothing inherently wrong with that. Just make sure that you are aware of that fact. For my wife and I, we're choosing to spend our money on paying off debt.
I know that this isn't necessarily an ideal situation.  Living at home as a young dentist while everyone else is living it up in their luxury apartments isn't my idea of a great time.  But if you've got that advantage, take it while it's there.
A half-million worth of student loans is serious business.  What's really amazing is that one change – really, just one change – can be the difference between my wife's friend paying off this debt in her 30s vs. paying it off in her 50s.  Just imagine how much wealth she could build with that extra 20 years.