Last month, my wife and I flew to New York for a wedding up in the Hudson River Valley. Neither of us had been to New York in quite some time. The last time I was in New York was for callback interviews in the summer between my first and second year of law school (in 2011) and the last time my wife was there was even longer ago than that. Since it'd been so long since we'd been to New York, and since we were already heading out that way for this wedding, we figured we'd make a little weekend trip out of it.
I don't write about travel much on this blog because, honestly, I don't travel as much as I'd like. Work often gets in the way. And until this year, I was too scared to even try travel hacking, which meant that travel could get pretty expensive.
A lot of my conceptions about how much travel actually costs has changed in the past year as I've dived headfirst into this world of travel hacking. Turns out that if you do it right, you can travel pretty well without spending much.
I thought this trip to New York was worth sharing due to the fact that we were able to do some interesting things to make this five-day trip really affordable – including travel hacking a $1,000 per night hotel and miraculously winning a travel stipend to a SoFi "Payoff" Party that just happened to be held on the same weekend as when we were already going to be in NYC.
*Note, this post is not sponsored in any way by SoFi – I just happen to be a SoFi member that won a nationwide contest. Winning the contest was not related to this blog. In fact, they didn't even know I had a blog.
Free Nights At The Park Hyatt-New York
We planned to go to New York for five days, leaving on a Wednesday and coming back on a Sunday. About a month or two before our trip, I found a decent flight deal using my favorite travel app, Hopper. It tracks ticket prices for you and tells you when it thinks is the best time to book your flight. Since flights to NYC weren't all that expensive, I decided to save my Chase Ultimate Rewards points.
In addition to our flight, we also needed a place to stay for a few nights. Originally, we planned to go with Airbnb since my wife and I have $100 in Airbnb credit that we earned from being Airbnb Superhosts. It's a nice little perk of being a good Airbnb host – for every year that we remain a Superhost, we get $100 in Airbnb credit.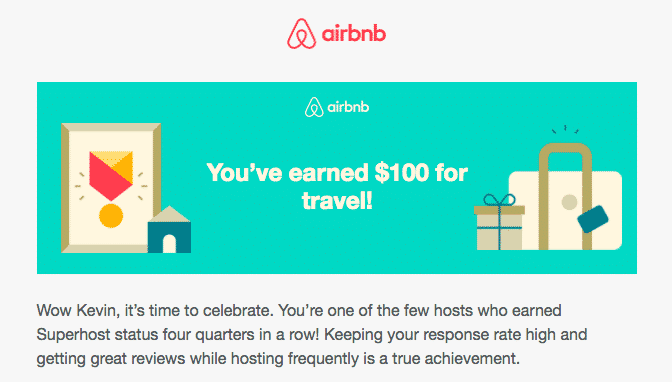 Still, New York is an expensive place, even if you go with Airbnb, so getting a few free hotel nights didn't seem like a bad idea.
To snag our free hotel, we went with the Chase Hyatt Card. At the time, the Chase Hyatt card was offering two free nights at any Hyatt hotel after spending $2,000 on the card in the first three months (note that the current welcome offer on this card will be different than what I got back in 2017). Hitting this spend wasn't a problem – we just put our regular spend on it and we were easily able to earn our two free nights.
With our two free nights in hand, we went ahead and snagged the most expensive Hyatt Hotel in New York City – the Park Hyatt. It's located in the heart of midtown Manhattan, across the street from Carnegie Hall and just a block away from Central Park and Broadway. Rates for this hotel can go for over $1,000 per night, which made the value of our two free nights really extraordinary. Essentially, we spent $2,000 just as we normally would and were rewarded with $2,000 worth of hotel stays.
Without a doubt, the best part of the hotel was its location, just steps away from anything we wanted to do. We ended up seeing two Broadway musicals while we were in the city (snagging rush tickets in order to do it).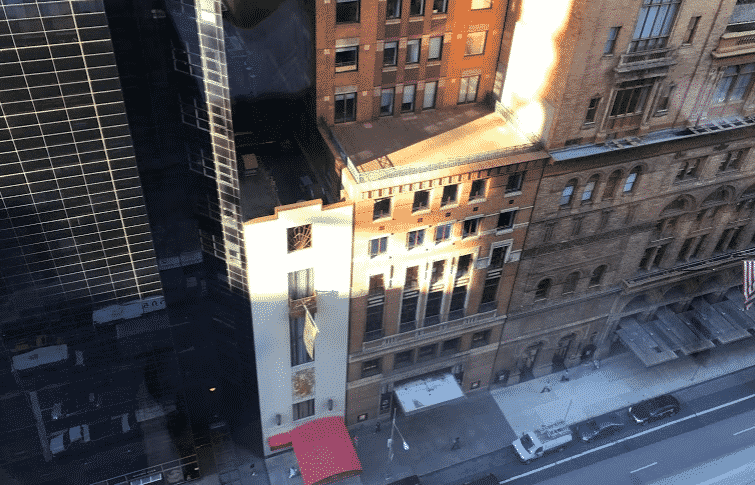 The room itself wasn't bad either – forgive me for the bad pictures, I suck at taking pictures.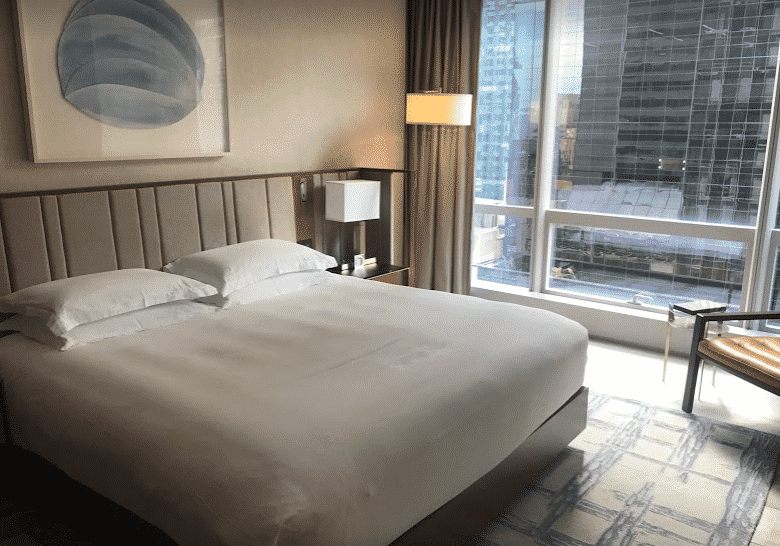 One thing that's annoying about fancy hotels is that if you're a regular chump like I am, you can't really afford to take advantage of the amenities in the hotel. They had a fancy spa for example, but that kind of thing was way too rich for my blood.
Breakfast also wasn't free, which is something that a lot of more affordable hotels provide. When we checked-in to our room, however, they didn't have the exact room that we had signed up for. We had asked for a double room just in case anyone needed to stay with us, but they only had a king room available. As a result, they offered us complimentary breakfast for our stay, which we "reluctantly" accepted.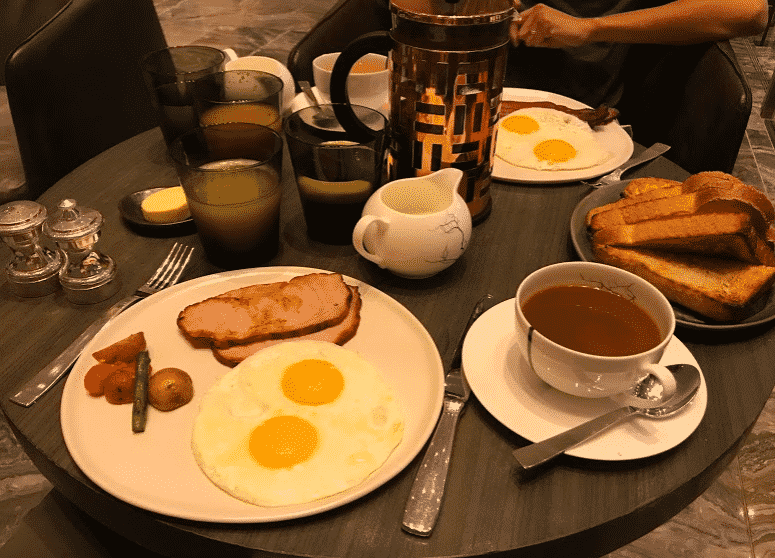 All in all, I think we used our free Hyatt nights pretty well. New York is already an expensive place, so being able to get two nights for free in a $1,000 per night hotel was a nice treat. When it comes to U.S. properties, the Park Hyatt in New York is probably the most luxurious Hyatt hotel you can find.
SoFi Debt Payoff Event
If you're a regular reader of this blog, you know that I'm a huge fan of student loan refinancing companies. If you're earning a good income, then it doesn't make sense to pay more interest than you need to.
I've always been a big fan of SoFi, in particular, because of all of the community events they hold. It seems like every quarter, they hold a fancy dinner, happy hour, rock climbing event, or some other thing that my wife and I like to take advantage of. In the two years that I've been a SoFi member, my wife and I have easily helped ourselves to over $1,000 worth of free food and drinks at SoFi member events. That number went up significantly with our recent trip to New York.

About a month before our trip, I found out that SoFi was planning to host what it was calling a "Payoff" Party in Brooklyn. The idea behind the event was to celebrate all of the SoFi members that have either paid off their student loans or were very close to doing so. As part of the payoff event, SoFi held a contest where ten grand prize winners would win a $500 travel stipend to fly to New York, plus two free nights at a hotel in Brooklyn. As luck would have it, the Payoff Party was scheduled for the very weekend I was already going to be in NYC! This was just too perfect.
The prompt from SoFi was "What does being paid in full mean to you" (or something to that effect, I can't actually remember the entire prompt, to be honest). I wrote up my essay, sent it in, and figured maybe I could get lucky.
To my surprise, a few weeks later, I found out that I was selected as one of the ten grand prize winners! What a score!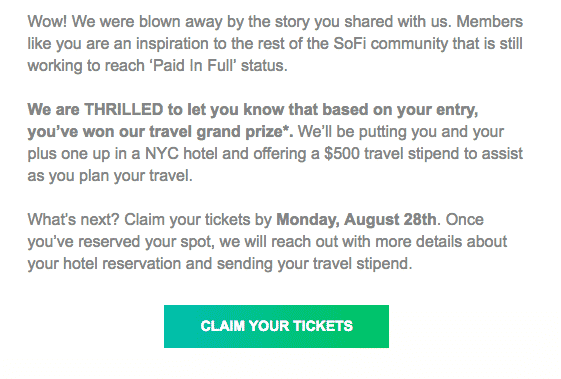 We were already trying to figure out what to do about the other nights, but with the SoFi win, it meant that we had another two free nights of hotels in New York, plus $500 to cover the plane tickets that we'd already purchased!
The actual Payoff Party event was great. It was held at the Green Building in Brooklyn, which is basically a brick, warehouse-looking building that's made for parties.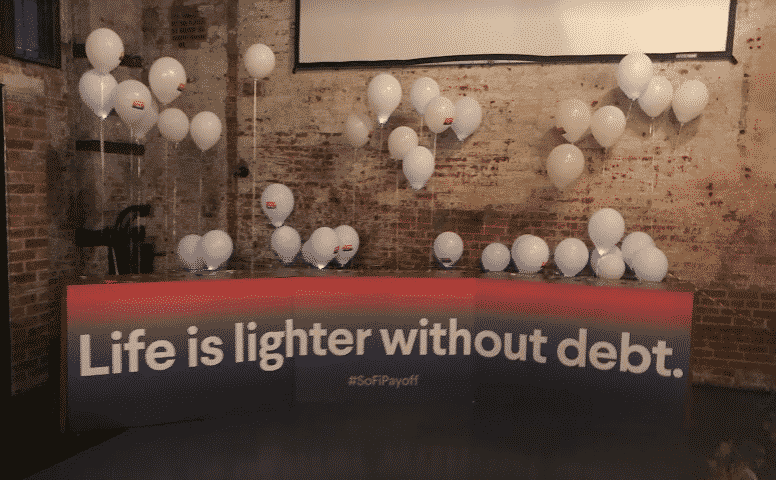 Dinner itself was pretty good – and then as a bonus, they brought an ice cream food truck from Van Leeuwen, which is a popular ice cream in New York.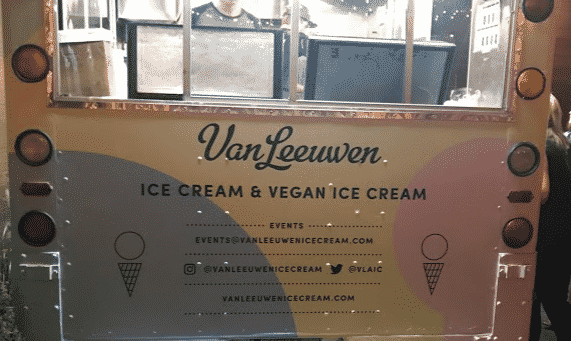 So with this most recent trip that I won from SoFi, I'd say that I've easily received more than $2,000 worth of food, drinks, and now, hotels and plane tickets, from SoFi. This is just another reason why refinancing with SoFi worked out so well for me.
I think this also goes to show that sometimes, it's not a bad idea to just tell your story. You never know what might happen.
Other Things We Did In New York
The hotel and the SoFi event were the two highlights of the trip that I thought was worth sharing, but we also did some other things that worked out well. These included:
An Airbnb On The Hudson River. We had two nights booked at the Park Hyatt, and then two nights booked at a hotel in Brooklyn thanks to me winning that SoFi grand prize. Since we were going upstate for one night with my wife's family, we still needed a place that could hold all of us after the wedding. We ended up finding an Airbnb on the Hudson River that cost $50 bucks per person. Not bad at all.
Met up with Biglaw Investor. The other highlight of the trip was my Sunday lunch meetup with my friend, the Biglaw Investor. If you don't know who he is, I'd say he runs the definitive personal finance blog for lawyers. By sheer happenstance, the hotel that SoFi put us up in was only a few blocks away from where the Biglaw Investor lived. We met up at a restaurant in his neighborhood, grabbed some food and drinks, and talked about blogging, personal finance and biking to work.
My $300 Mistake. Without a doubt, the stupidest thing I did was oversleep and miss my early morning flight to New York. I booked my flight on a budget airline, so the next flight out didn't leave until that evening, which meant I wouldn't get into New York until after midnight. That was too late for me. In order to get there that day, I ended up purchasing a ticket on a different airline that brought me into New York that afternoon. The total cost for the new ticket was $300, which meant that I essentially cut my $500 travel stipend from SoFi down to $200. Don't say that I don't share my money failures too.

Depending on how you travel, a trip to New York can be expensive. We ended up with an affordable five-day trip with some clever travel hacking and some sheer luck (thanks, SoFi). Definitely not a bad way to get our travel game going.