Thanks for tuning in to another edition of the Financial Panther side hustle report! I'm coming at you a little late with this past month's report, but for good reason. As I wrote in my last post, I quit my job a little over a month ago, and as a result, this side hustle report has to be read with a little bit of a caveat.
As a brief recap in case you missed it, after 5 years of working as an attorney, last month, I decided to quit my job and make the move to full-time blogging and content creation. It's a bold move. This blog isn't a behemoth yet by any means – but it has grown a lot over the past three years and it's at the point where it's making a regular monthly income. Quitting my job and going all-in on myself is obviously a high-stakes move, but I think it's the right move for me at this point in my life. I gave lawyering a shot for five years and was never happy with my professional life – it's part of the reason I've had three jobs in five years. At some point, you have to realize that something isn't working out for you and move onto something else.
In the meantime, in order to bring in some more immediate income and just to add a little bit of variety to my day, I'm still going to be doing all of my various side hustles using sharing economy and gig economy apps. For purposes of this post, quitting my job means that I've had a lot more flexibility in my schedule, which means that I have more time to actually do these side hustles. I've always done my best to be transparent on this blog and I didn't want to write a side hustle report for April without giving you, the reader, a full background about what's been going on in my life. In short, I want you to have the full picture so you can understand how I made what I made.
One thing I was debating about was whether to keep calling these posts "side hustle reports." Part of the reason I found these side hustle reports so useful is that, like most people, I was working a full-time, 9-5 job, yet still bringing in an extra $1,000 to $3,000 per month doing things that technically anyone could do. These posts were proof that it was possible – and it provided a framework for how others could do the same.
After some thinking, I've decided to keep the name as it is for now, primarily because I still treat all of these gigs as side hustles. I don't spend 8 hours a day doing these gigs – most days, I still do my gigs on the same schedule as before, working in deliveries and dog walks during lunch and on my way home from work (I have a coworking space downtown that I work from most days).
I'm also trying my best to not rely on any of this income, and based on what this blog is able to bring in, plus what I've saved, I'm in a pretty good position to be able to keep treating this side hustle income as exactly that – extra income I earn on the side while my other projects fund my life. I might change these later down the line, but for now, I'm leaving it as it is.
Now that we have that background out of the way, let's get into the April 2019 side hustle report. 
Side Hustle Income for April 2019
Total Side Hustle Income for April 2019 = $3,919.75
April was a big month for all of my sharing economy and gig economy apps, primarily because I was able to earn much more than usual on Airbnb, as well as bring in more income from all of my food delivery apps thanks to having more time on my hands to do deliveries. 
I ended up making almost $4,000 from 12 different income sources. That's huge! My current expenses aren't very high, and for many people, $4,000 is enough to fully cover your life, even after taking out taxes and everything. It gives me a lot of comfort to know that, even though I've quit my job and am trying to make it out on my own, I still can probably figure out ways to pay the bills if need be. These side hustles pretty much give me a decent floor to work with.
The following is a closer look at how I earned my side hustle income in April. 
Airbnb Income: $2,142.73
Airbnb was booming in April thanks in part to two whole house bookings I had during the month. As a reminder, last year, my wife and I started listing up our entire house on Airbnb for weekend stays, with our first guests staying with us during the Super Bowl in 2018. Since then, we've rented out our entire house a few more times, all with great results.
This year, we had another big sporting event in Minneapolis with the Final Four, which was held during the first weekend of April. I ended up renting out four nights to a group of four 20-something young professionals. This would normally worry me, but these guys had multiple good reviews on their Airbnb profile, including reviews from the last two years when they went to the Final Four in other cities. As a result, I felt pretty comfortable letting these guys stay at my house. They ended up being very respectful and left behind a bunch of Bud Lights and Rockstar Energy Drinks in our fridge…so I guess I'm stocked up now on cheap beer and energy drinks.
I ended up booking those four nights for close to $1,400. That's not bad, but I think I could have done better. Unfortunately, I forgot to manually change my prices for that weekend and while I use Beyond Pricing to keep my prices competitive, I feel like it still underpriced those days. Still, $1,400 for what amounts to simply taking some time to clean my house seems worth it to me.  
I didn't expect any other full-house bookings that month, but surprisingly, I ended up booking a second weekend towards the end of April, this time to a family that was coming into town to visit their cousin. It turned out their cousin owns a brewery that's close to my house and they were coming into town to celebrate the brewery's second anniversary. This was a totally random and unexpected booking, but it goes to show you that there are events in your neighborhood that you might not even think about.
What's big about this month is that I ended up booking just 10 total nights for the month, yet I made over $2,100. That's a pretty extraordinary use of my time, and it's why I think using your house as an Airbnb rental is something worth doing.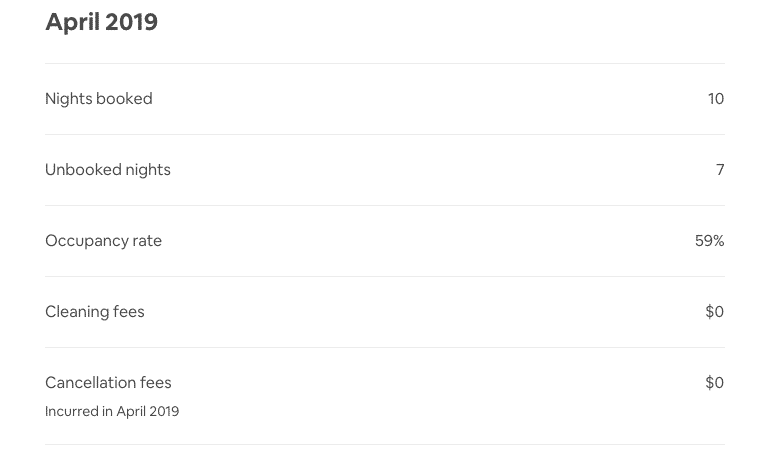 If you have extra space and want to earn extra income from your home, you can sign up to be an Airbnb host using my referral link.
Airbnb is also one of the most affordable ways to travel. If you've never used Airbnb, sign up for Airbnb with my link and you'll get $40 off your first stay.
Rover Income: $191.25
Rover's been a little slower lately but still remains consistent, typically bringing in between $100 and $200 per month. In April, we watched one dog, our repeat elderly Toy Poodle that we've been watching on and off for the past two years. He was 14-years old back when we first started watching him and today, he's 16-years old. So, he's definitely getting up there in age (I sometimes get worried that he'll die during our watch). Still, he's healthy and active, and not a difficult pup to watch.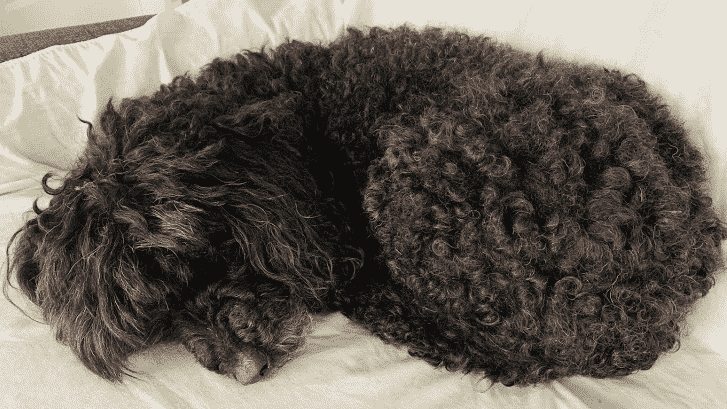 Dogsitting has become really second nature at this point, as I have a sizeable roster of repeat clients that keeps me pretty busy. As I say in every side hustle report, if you're already a dog owner, it makes a lot of sense to create a dogsitting business with Rover. It really doesn't take very much work to watch an extra dog. 
If you feel like supporting this blog, you can sign up to be a dogsitter on Rover using my referral link. 
Postmates/DoorDash/Uber Eats/Amazon Flex Income: $887.87
I had another big month doing food deliveries on my bike. Much of this comes from the fact that I have a more flexible schedule now that I quit my job, but to be fair, I also do a lot of this stuff on my way home from my coworking space or during the noon lunch hour. In other words, while you might not make as much as I do if you're working full-time, you can still make a few hundred bucks per month pretty easily just by utilizing your lunch and commuting hours. And remember, I do all of my deliveries on a bike, so I'm also getting the external benefit of exercise, as well as removing some pollution from the road. 
Here's a breakdown of my earnings on each platform for the month:
You'll notice that this month, I had a pretty even split between all of my delivery platforms. The key with any gig app is to use all of them at once. I've been able to average well over $20 an hour (and at points, as high as $40 an hour) simply by strategically picking and choosing my deliveries. It takes some time to understand how to do this, but once you've mastered this, it's possible to string together tons of consecutive deliveries all going to the same places, which really helps you to boost your earnings.
The big thing you might notice this month is that I finally started doing Uber Eats again. For a while now, my big knock against Uber Eats was that it was the only app that didn't tell you where the delivery was going. Since I'm doing deliveries on my bike and trying to be strategic about how I do my deliveries, I typically couldn't risk taking an Uber Eats delivery since I didn't want to pick up an order, then find myself going to a completely opposite side of town. 
However, I recently discovered a hack that allows me to see where the delivery is going in advance. I'm not going to share it publicly since I don't want this hack to get messed up, but if you want to know how to see where your delivery is going, feel free to email me and I'll explain how it works. In any event, this Uber Eats hack has basically made Uber Eats useful for me again. 
Wag Income: $294.30
Wag remained steady for April. As before, I've sort of figured out a good system of merging it in with my deliveries. As an example of how perfect I've set things up, I had one food delivery that took me to the apartment building where I was walking a dog – basically moving from one gig directly into the next with no wasted time.
For most people that work in dense areas, Wag is something that can definitely be incorporated into your day. I can usually walk at least one dog during the day. And most of us can use the 20- or 30-minute break from our desk.
I've written an in-depth post about Wag and my experience with it. Be sure to check out that post if you're looking for more info about Wag. 
Trash/Flipping Income: $194.88
As explained in my last report, this category basically consists of two types of sales now – (1) things I find in the trash and sell locally or on eBay; and (2) things I buy at Goodwill and flip for a profit on eBay.
In April, I ended up selling $65 worth of stuff that I literally found in the trash. A few things were stuff that I found last summer that I've had sitting in the garage all winter. It felt good to get that stuff gone. 
We were also over at my mother-in-law's apartment during a weekend that we were renting our house out and found a ton of good stuff in the trash. I found these two barstools in perfect condition, listed them up on Facebook Marketplace for $30, and got them sold within a few hours.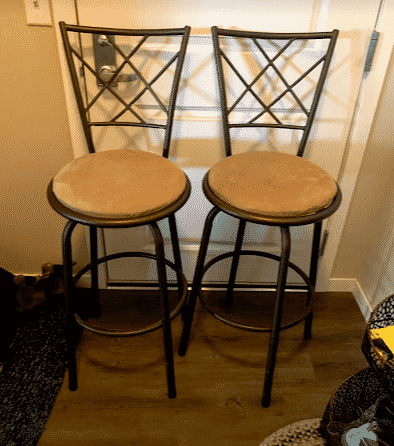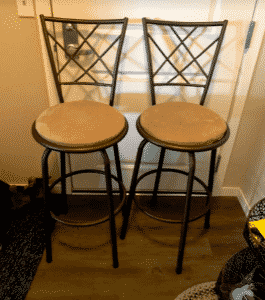 I also got a lot of stuff sold that I bought from Goodwill Outlet a little while ago. If you've never been to a Goodwill Outlet, they're basically where everything from Goodwill goes if it doesn't get sold. You buy things there by the pound, which means you can get a ton of good stuff for a few bucks. It's not like finding something in the trash, but it's pretty darn close.
A few of the interesting finds that I sold include:
A Minnesota Golden Gopher's down vest that I paid $1 or so for, and ended up selling for $22. 
Birkenstocks that I paid a few bucks for and sold for $25.
A University of Oregon hoodie that I paid a few dollars for and sold for $17. 
A Brooks Brothers dress shirt that I paid $1 for and sold for $10.
Altogether, I sold $119 worth of stuff on eBay, which isn't too bad. There's a nice thing about having inventory that you can sell because, in a way, it's like having a little dividend-generating machine working for you in the background. Every once in a while, my little eBay machine makes a sale, and then it's a little bit of money in my pocket.
The other stuff I sold this month included a few random things around the house that we were getting rid of. Most people don't think about it, but you have a ton of stuff in your house that, in theory, can be sold and turned into cash as well.
Job Spotter Income: $32.99
Job Spotter continues to perform very well. If you've downloaded Job Spotter and aren't seeing any hiring signs, all I can say is you aren't looking. The beauty is that I can keep taking pictures of the same hiring signs each month, which helps me keep up a consistent stream of income for this one app.
Read my in-depth review on Job Spotter if you're looking for more info about how Job Spotter works. Seriously, if you're going to only listen to one thing I say, download this app and use it.  
Gigwalk/EasyShift/Field Agent/Merchandiser Income: $28.40
GigWalk, EasyShift, Field Agent, and Merchandiser continue to be decent apps that fit in well with my deliveries and dog walking since I can basically plan my routes around these gigs. 
In April, I made all of my money in this category from Field Agent. I did two gigs which gave me free food and paid me $4 each as well – not a bad thing to do since we all need to eat. I also did two signage audits, which basically involved taking photos of some signs at a fast food restaurant. These were easy to do and fit in well with my deliveries since I could do these gigs while I was biking past the restaurant.
I didn't do any GigWalk, EasyShift, or Merchandiser tasks in April – mainly because I didn't see any good ones near me that were worth doing. 
WeGoLook Income: $32
Honestly, WeGoLook would be worth more if the gigs were all closer to me. The gigs never take me very long to do and they pay very well for the short amount of time they take. I just wouldn't recommend driving out of your way to do these – I only do the gigs that are close to me. 
In April, I did two WeGoLook gigs. One required me to leave a debt collector note on someone's door. That's kind of a weird thing to do since technically, I think that could make me a witness if it ever went to court. I still do these if they're nearby or on my way somewhere.
The other gig involved taking photos of a motorcycle that had gotten into a crash. Both gigs were easy to complete and near where I was, so it didn't take me long to do all of these gigs.
Roadie Income: $12
Roadie is a funny app where you basically deliver lost bags for people. However, people also use Roadie just as a delivery service as well. 
I ended up doing two Roadie deliveries while I was in Atlanta for a friend's bachelor party. Both deliveries were pharmacy deliveries where I picked up the delivery from a pharmacy, then brought it to a customer. One of the deliveries I did in my friend's car while we were driving to the mall to pick up a new phone I had ordered. The other delivery we picked up and did on a Bird scooter. 
Most Roadie deliveries will require a car, which is why I don't Roadie too often. Still, as you can see, it's possible to do Roadie from anywhere – which is one way you can earn some extra income even while you're traveling.
ProductTube Income: $50
ProductTube is another app that fits in very well with my deliveries, dog walking, and other gig apps that take me around the city. This app is very lucrative for the time spent – you get paid $5 to $25 to make a 5-minute review video. That definitely makes it worth most people's time. The only downsides are that there aren't many gigs and you have to be comfortable making a short video in a public space since you have to review a product as you're walking around a store. I'm totally comfortable looking weird, so that's why I use this app.
VoxPopMe Income: $26.76
VoxPopMe is another app where you record short videos of yourself answering specific questions. These videos only take 15 seconds and pay you at least 50 cents, so it's worth the time for the small amount of work involved. You have to earn $15 before you can cash out, so it typically takes me about 2 months before I earn enough to cash out. Still, not bad to bring in a little extra income while I'm sitting on my couch. In April, I ended up cashing my earnings from the past two months or so.
Google Opinion Rewards/Surveys On The Go/1Q Income: $26.57
I continue to use these short survey apps because they pay a decent amount for the tiny amount of work involved. I'm not a big fan of surveys, but these surveys literally take seconds to complete, so I think they're worth doing. 
Here's the breakdown of what I earned on each survey app in April: 
Google Opinion Rewards: $6.63
Surveys On The Go: $19.69
1Q: $0.25
The big one that I've started using now is Surveys On The Go. Based on my usage so far, I think that it won't be difficult for me to earn at least $10 per month from that app. The questions take me a few minutes to do at most and they're easy to do since I can do them while I'm walking around. Importantly, they pay you 10 cents even if you don't qualify for a survey. That's pretty big since most of the time, it takes you 5 seconds or less to find out if you qualify for a survey or not. Obviously, you won't get rich from this type of app, but there's not really any downside to using it either.
Google Opinion Rewards continues to be steady and I've gotten to the point where I earn a consistent $2 to $7 each month from it. 1Q is obviously the strange one for me to keep using, but it pays me a quarter to answer one question each month, so I just keep it on my phone and collect my quarter each month. 
And that concludes the April 2019 Side Hustle Report!
I'm still pretty amazed that I was able to bring in close to $4,000 just from hustling with these sharing economy and gig economy apps in April. Obviously, April was a unique month, since I had a lot more flexibility in my schedule. But, I think most people, even without a completely flexible schedule, have more time on their hands than they think.
What these gigs do for me is to give me a little comfort. I know that, no matter what happens, I can always figure out a way to bring in some income if needed. It sets a nice little floor for me which a lot of people don't have. In turn, that gives me a lot more freedom to take risks and try things.
I hope this side hustle report was helpful to you. Be sure to check out my side hustle report page if you're interested in seeing what I've made in other months. I've been documenting all of my side hustle income since 2016, so there's a lot of information in there that's worth going through, especially if you're looking for ideas on how you can make extra income too.