Something that often gets forgotten in the side hustling discussion is the impact of taxes. If you're like most people, taxes are probably a thing that you don't think about all that much. You get your paycheck, you file your taxes at the end of the year, and you probably end up with a tax refund most of the time.
In its base form, income that you earn from normal employment (W-2 income as its called) is pretty simple. You're taxed on that income in essentially three ways:
Federal Income Tax
State Income Tax
FICA Taxes (employee portion)
These taxes get taken directly out of your paycheck, which is helpful for you since it means that you don't really have to do anything. You just get your money from your employer and you're good to go.
Obviously, you'll pay more or less in taxes depending on where you live. Some places have local taxes (I'm looking at you New York). Other places have no state income tax at all. But in general, federal, state, and the employee portion of FICA taxes are the three taxes that you're going to be paying on your regular, W-2 income.
The landscape looks a bit different when you're earning income from your side hustle, whether that's from creating a business (like a blog) or working on a sharing economy/gig economy platform like Uber, Lyft, Postmates, Uber Eats, Rover, etc.
In this post, we're going to take a closer look at the taxes you need to think about when you're earning money from your side hustle. We're also going to look at how these taxes can impact your earnings and what you can do to keep more of your side hustle earnings in your pocket.
How Independent Contractors Work
When you're earning income on the side, you're most likely going to be earning it in the form of 1099 income. Unlike W-2 income (where your employer takes out your taxes for you), 1099 income flows to you with no taxes taken out at all. That means you're going to have to pay your taxes yourself.
I think the easiest way to think about your side hustle taxes is to imagine yourself as a little company. You're both the CEO and the sole employee of your little business empire.
So, for example, my various side hustles look like this from an organizational standpoint:
Owner/CEO/Boss = Financial Panther
Employee/Minion/Janitor = Financial Panther
On the one hand, I'm the upper management in my little side hustle business – the C Suite executive, if you will. And I'm also the lowest rung worker in my business of me.
Take my Postmates gig as an example. When I'm out doing my lowly delivery man duties on Postmates, I'm both the CEO of my own little delivery business and the only employee of that same business. It's kind of weird to think about it that way, but that's basically how being an independent contractor works.
The Different Taxes You Pay When You're Side Hustling
Now we come to the dreaded thing that everyone hates – taxes. When you're side hustling on top of your day job, the taxes you pay on your side hustle income matter A LOT. That's because your side hustle income will be your highest taxed income.
Let's look at why that is. Below is a list of the different taxes you'll pay on your typical side hustle income:
Federal Income Tax (at your highest, marginal tax rate)
State Income Tax (at your highest, marginal tax rate)
FICA Taxes (employer portion)
FICA Taxes (employee portion)
You might wonder why I say that your side hustle earnings are taxed at your highest marginal tax rate. The reason has to do with the fact that, if it's a side hustle, then by definition, it should be money that you are earning outside of your day job and, importantly, that you don't need in order to survive (hence, why it's called a side hustle). If you actually need your side hustle income in order to survive, it's not really a side hustle – it's basically just a second job.
If we make the assumption that your side hustle income is money that you don't actually need to live, that means we can consider it bonus money and can think of it as the last dollars you earn in any given year. Remember, if you don't need that money to survive, you could have opted not to earn it and paid no taxes at all.
The other thing you'll probably notice is the employer portion of your FICA taxes. Like I pointed out before, when you're running your own little business, you're both the CEO and the only employee of your little company. Since you're playing both roles, you're responsible for paying the other half of FICA that your employer normally pays for you.
How Much In Taxes Are You Paying?
With that background out of the way, let's go through an example to help you understand how much tax you're paying on your side hustle income.
Let's say you make a nice round, $100,000 in your day job. Here's what the federal tax brackets look like as of 2017 for a single person: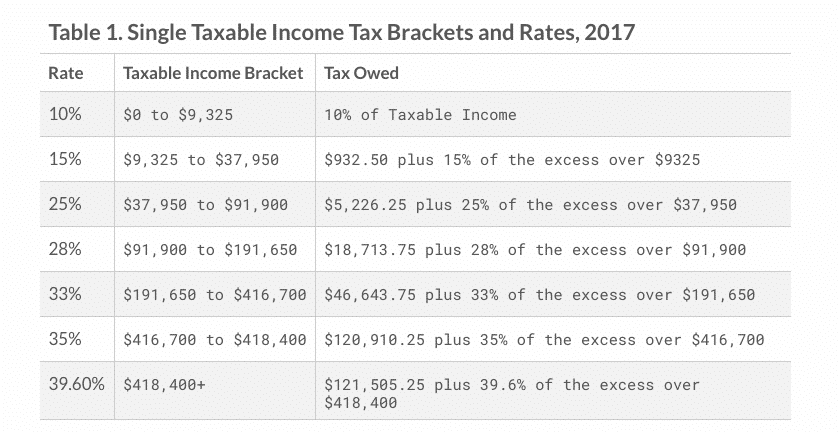 Assuming you take a standard deduction, you'll be firmly in the 28% tax bracket. That means that for every $100 you earn on the side, you'll be paying 28% federal income tax on that money, along with your state income tax, and both portions of FICA.
Here in Minnesota, the $100 that you earned might look something like this:
$28 goes to federal income tax (28% tax rate)
$7.85 goes to state income tax (7.85% tax rate)
$7.65 goes to the employer portion of FICA tax (7.65% tax rate)
$7.65 goes to the employee portion of FICA tax (7.65% tax rate)
So for someone making $100,000 in Minnesota, that extra $100 of side hustle income comes out to $48.85 after you've finished paying taxes on all of it.
That's a really big hit. And it's why it's so important to reduce your tax liability as much as possible.
Ways To Reduce Your Tax Liability On Your Side Hustle Income
Since we know that taxes are problematic for side hustlers, what can we do about it?
Thankfully, when you're side hustling as an independent contractor, you've got a lot of ways to reduce your tax liability. Here are just a few ideas:
(1) Use A Solo 401k. The amazing thing about side hustling is that you get access to extra retirement accounts that normal people don't get to have. In essence, you're giving yourself a bonus retirement account.
Depending on your work retirement plan situation, it's possible that you can save almost the entirety of your side hustle earnings. That's what I was able to do in 2016 since my government job offered a pension and 457 plan, but no 401k.
At a minimum, you'll be able to put away about 20% of your side hustle earnings (after deducting expenses), which can be big. And setting up a Solo 401k is really easy and costs nothing if you use a company like Fidelity.
(2) Deduct Expenses. The other unique factor with side hustling is the ability to deduct expenses. Remember that when you pay for anything normally, you're using post-tax income. Buying a coffee doesn't really cost 2 bucks. It costs more than that because you need to earn $2 of post-tax income.
Your side hustle earnings, on the other hand, give you the ability to pay for expenses related to your side hustle with completely untaxed money.
Take, for example, my upcoming trip to FinCon – probably the nerdiest, gathering around. It's basically a bunch of personal finance bloggers hanging out and talking about money and blogging. This was a trip I was already going to take, but by paying for it with my blog earnings, I'm able to deduct those costs from my blog revenue, and essentially, every dollar I spend on my FinCon trip is spent, completely tax-free.
(3) Get Some Of Your Side Hustle Income On Schedule E.
Most of the income you earn from your side hustles will end up on Schedule C. This is the tax form that you use to report income from a business where you were a sole proprietor. When your income is on Schedule C, you also have to pay the employer and employee portion of FICA (i.e. an extra 15.3% in taxes).
However, not all side hustle income has to end up on Schedule C. The other big form is Schedule E, which is what you use to report income from real estate and partnerships. If you rent out a room in your house, for example, and don't provide any "substantial services" as the IRS calls it, then it's just regular, old, real estate income. That's how my Airbnb income is treated. All I do is provide a room for people and that's pretty much it.
What makes Schedule E income good is that you don't have to pay FICA taxes on it. That's a 15.3% savings if you can put your side hustle income on Schedule E.
Takeaways
There's a lot that goes into the world of side hustle taxes and it's definitely something that can surprise you if you go into it without realizing the tax burden. In the old days, people working for themselves tended to be more sophisticated actors that had access to lots of tax advice. Today, with the rise of the sharing economy, anyone of us can go out there and earn money for ourselves. It can be overwhelming if you don't know what you're doing.
What's important to remember here is that your side hustle earnings will be taxed at your highest tax rates since it's all money you're earning on top of your day job. Your goal, then, is to reduce that income as much as possible in order to keep as much of your money as possible.
What do you think? How do you go about reducing your tax liability on your side hustle income?