Hey everyone. It's time for another side hustle report. Let's take a look at what I was able to earn from side hustling in April 2023. 
Side Hustle Income for April 2023
Total Side Hustle Income for April 2023 = $1,117.87 
I was finally able to crack the $1,000 mark for the month thanks to an uptick in food delivery earnings and some good Rover and secret shop earnings.
Here's a pie chart breaking down my earnings by category for the month: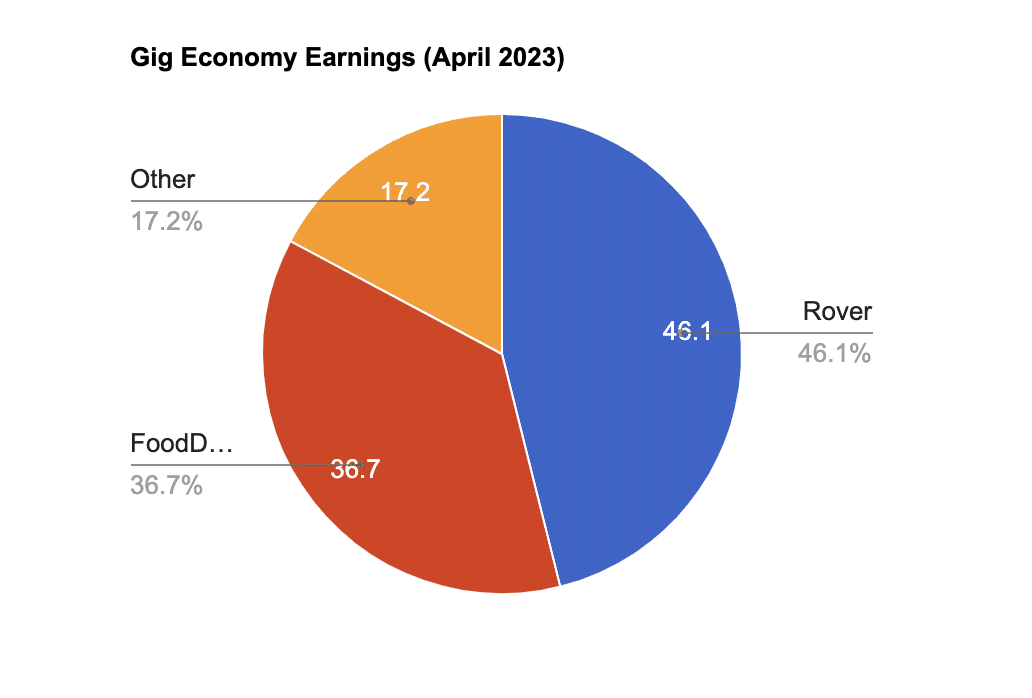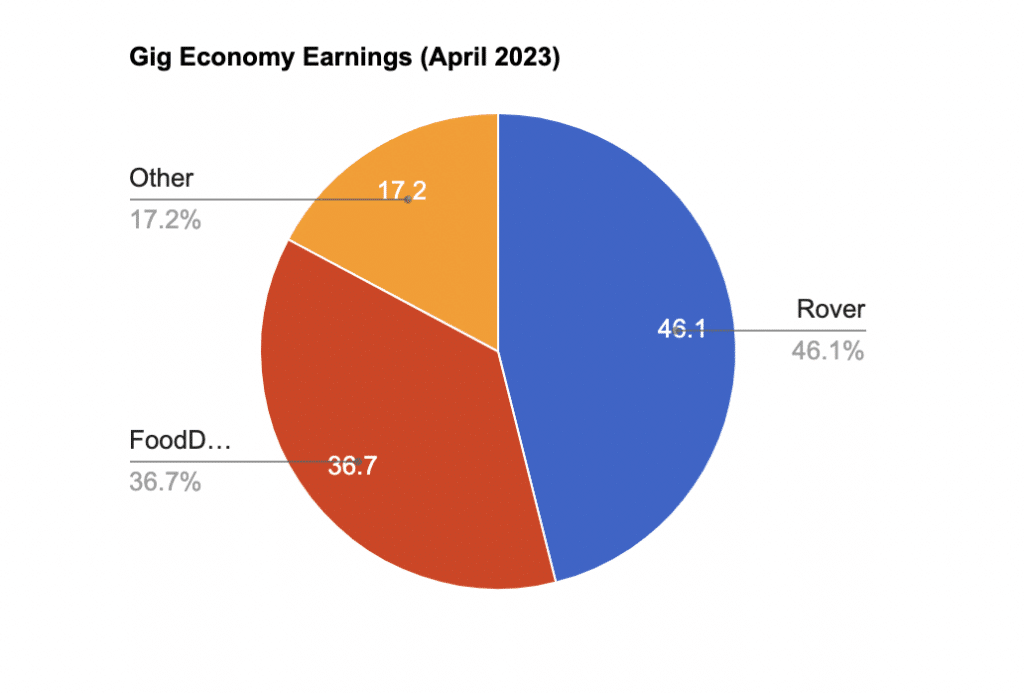 Rover and food delivery made up a fairly even split of my earnings, with the rest being made up of secret shopping and smaller random things. One thing I've noticed is the number of different side hustle sources is coming down as I've been forced to consolidate things more given how busy I am with my kids. Back before I had kids, I had more free time to try out different apps and incorporate new apps into my routine. But with how busy I am now, I'm forced to stick to the main money earners these days, which means smaller apps like IVueIt, Field Agent, or Roadie get set aside.
Let's take a closer look at my earnings for the month.
Rental Income: $2,400
There was no change in my rental income. I did have to pay my yearly insurance, which went up significantly compared to last year. I always pay for my expenses using credit cards, so I do earn some good credit card signup bonuses when I have to make large purchases like this. 
Rover Income: $515.70  
Rover did very well for me in April. I ended up doing a mix of dogsitting and cat drop-in visits. All of the cats and dogs I watched were repeat clients except for one new client I had that worked out well. We ended up watching that dog again, so hopefully this dog will be a new regular that we watch. 
Overall, Rover continues to be a big source of my side hustle income – and indeed – it's probably my most important source of side hustle income now. For someone with two kids and a busy home life, Rover fits in the best of all of them because it doesn't require me to trade my time for money.
If you're living a busy lifestyle like me, Rover is something that you should consider, as it can probably fit in well with your schedule. For more information about Rover and how it works, check out this post I wrote: Rover Pet Sitting – How To Make Money Dog Sitting With Rover.  
DoorDash/Uber Eats/Grubhub Income: $410.71 
Food delivery did decently well for me last month. Here's a breakdown of my earnings with each delivery app. 
I have noticed things have been getting slower for food delivery, although I'm not sure why. In the past, the summer hasn't typically been much slower, even with classes out for the summer. From talking to other people, it seems like things are slower everywhere, so it could simply be a product of the economy and people spending less, or perhaps more people are signing up to deliver for these food delivery apps.
Whatever the case, I'm tempering my expectations with what I can make from DoorDash, Uber Eats, and Grubhub, especially since I don't have as much time to dedicate to these apps as I did in the past. 
If you want to see my food delivery skills in action, check out my YouTube Channel, where I film myself doing food deliveries. 
Trash Finds/Flipping Income: $18 
I sold a pair of AllBirds shoes that my wife picked up at Goodwill. From my research, AllBirds typically sell well, but for some reason, it took me a long time to sell these shoes and I didn't make much from it. It was still fine to pick up these shoes, but I didn't make much from them after my capital costs and fees. 
ProductTube Income: $30
I made a solid $30 from ProductTube last month. ProductTube is still a solid app that I can easily fit into my schedule, so I'll continue using it as I can. They pay in Amazon gift cards, which is as good as cash to me.
Google Opinion Rewards/Surveys On The Go/1Q Income/Facebook Viewpoints: $8.19 
Here's what I made from each short survey app in April:
I'm a bit surprised that 1Q made that much since most of the surveys I get from them only pay a quarter. It goes to show how much little bits of money can add up to over time. 
Secret Shopping Income: $125 (plus free food) 
Secret shopping picked up for me a lot after a down month in March. Usually, secret shopping for me is about getting free food, but it has turned into a legitimate source of side hustle income for me as well. The nice thing is that when you've been doing them as long as I have, it basically becomes second nature and I don't have to think about what I need to do anymore.
Check out these posts if you want to learn how to get started with secret shopping.
ReceiptPal/Receipt Hog/Fetch/CoinOut/Amazon Shopper Panel Income: $10.25
I made $10.25 from Amazon Shopper Panel in April. That's some of the easiest money I make each month. I also have enough to cash out on ReceiptHog and Fetch at this point, but I keep forgetting to cash out. I'll try to remember to do so next month. 
CoinOut has gotten worse since they no longer let you cash out every month and devalued each receipt by switching to awarding points, which you then redeem for cash. I still use CoinOut since I'm already snapping photos of the receipts with my other receipt apps, but it does stink that they made the app worse. 
Medium Income: $0.02
I earned some pennies from Medium for articles I wrote in 2021 and 2022. I'm not contributing to Medium anymore since it's not worth my time, but until this income source disappears, I'll keep reporting it here.
And that concludes the April 2023 Side Hustle Report!   
I'm happy I cracked the $1,000 barrier, as I was struggling to do that earlier this year thanks to a combination of weather and parental responsibilities. Hopefully, I can continue to keep earning around $1,000 per month from these various side hustles. My second son will be starting daycare in June, so that'll free up more of my day, which I can hopefully use to work on this blog more and do more DoorDash and Uber Eats. We'll see how things go.  
So, that's the April side hustle report. To see some of my gig economy work in action, check out my YouTube channel. I film myself doing deliveries on that channel and will start doing ebike and scooter reviews too. For more side hustle ideas, you can check out my post, The Ultimate List Of Gig Economy Apps. It's a huge list I've put together that should give you ideas on how you can earn extra money using gig economy apps