August is in the books, which means it's time for the latest Financial Panther side hustle report. In this post, we'll be taking a look at what I was able to earn in August 2021. 
As a brief recap, for the past five years, I've tracked what I make each month from gig economy apps. For a long time, all of the money I earned from these apps was clearly side hustle income. I had a full-time day job that paid the bills and I fit in these gig economy apps during my spare time. 
A few years ago, however, I quit my job to pursue full-time blogging and writing. These days, I make a living from a combination of writing and gig economy work. It's made these side hustle reports a bit more confusing. Are they really a side hustle anymore? It seems like when you're self-employed, there's really no difference between the types of income you earn. Everything is your job. And everything is a side hustle.
I still call these side hustle reports just for continuity purposes, but it's definitely helpful to be aware of the context around this side hustle income. 
That being said, here's a look at what I made from the gig economy in August 2021: 
Side Hustle Income for August 2021
Total Side Hustle Income for August 2021 = $2,026.17 
August was a good side hustle month, as I brought in a little over $2,000 from various gig economy apps. I didn't expect it to be so high, so I'm pleasantly surprised. 
The big income sources for this past month came from Rover and the food delivery apps (DoorDash, Uber Eats, and Grubhub). A few other surprising income sources included IVueIt and earnings from secret shopping assignments I did with Marketforce and Second To None.
Here's a more in-depth breakdown of my earnings in each category: 
Airbnb/Rental Income Income: $1,329.02 
If you're a regular reader, you know that I used to rent out a room in my house on Airbnb. It was a lucrative side hustle, typically earning me about $1,000 per month. The pandemic and the birth of my son put an end to our Airbnb hosting and it's unlikely that I'll start doing Airbnb again at this stage of my life. It's why taking advantage of house hacking strategies like Airbnb is important to do when you're young and in a stage of life where you can do it.
I'm no longer earning Airbnb income, but I'm still dipping my toe into the real estate world. My wife and I recently bought a new house, and rather than sell our old house, we kept it and turned it into a rental property. I shared some of the numbers and the rationale for my decision in this post: Turning Our Primary Residence Into A Rental Property. 
The new tenants started their lease in mid-August, so the rental income we collected for the month was the pro-rated share of the rent. Assuming no huge issues, we should cash flow about $1,000 per month before expenses. Obviously, big expenses will eat into those profits, but it's still pretty amazing to have a single property cash flow that much. 
One thing I struggled with was how to think about the rental property income in the context of my side hustle income. I'm self-managing the property, so it's not an entirely passive source of income, which makes me think it could reasonably fall into the side hustle income category. That being said, for now, I've opted to share the gross income that I earn from the rental property, but exclude it as part of my monthly income. 
Rover Income: $493 
Rover income was really strong last month. I ended up watching four different dogs and had most of the month booked, which explains why my earnings were so strong. 
I definitely think that Rover demand has been picking up. Part of the reason is that people are starting to travel more. The other reason has to do with my neighborhood. When I lived in a college neighborhood, I think I had fewer people looking for sitters since there aren't as many dogs in college neighborhoods and most of the people don't have the money to pay for sitters. Now that I'm in a new neighborhood with more upscale clientele, I'm definitely seeing more demand.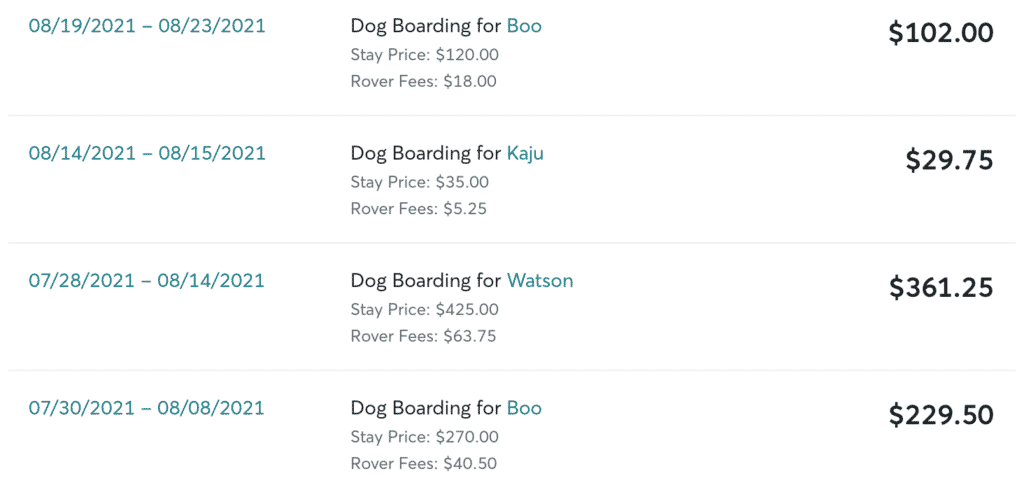 Other than Airbnb or maybe Turo, Rover is a side hustle that I think can be done pretty passively, especially if you already have a dog. I already take care of my own dog – taking care of a second dog really doesn't add much additional work to my plate.
If you're interested in becoming a Rover sitter, check out this post: Rover Pet Sitting – How To Make Money Dog Sitting With Rover.
DoorDash/Uber Eats/Grubhub Income: $829.34 
August was a solid delivery month with DoorDash, Uber Eats, and Grubhub. For the most part, I earned around $35 per hour, although I had one week where things were really slow and I only averaged $25 per hour. 
Here's a breakdown of what I earned with each delivery app last month:
It was a pretty even split between all of these delivery apps, which goes to show how important it is to multi-app. If I relied on just a single app, things would have been really tough. But by utilizing multiple apps, I'm able to earn a solid income, even when things aren't so busy. 
As usual, my deliveries were all done using an electric bike or an electric scooter. I find myself doing most of my deliveries these days using my Varla Eagle One Scooter. While I think electric bikes are more useful as a general transportation vehicle, electric scooters have the advantage of more mobility. It's much easier for me to wheel my scooter into a building. And getting on and off the scooter is definitely faster than getting on and off a bike. 
If you're curious, this is my current lineup of ebikes and scooters. Some of these I bought with my own money. Others I received for free as a review copy. 
I recently bought a GoPro also, so I may start uploading some videos of myself doing deliveries so people can get a sense of how the delivery game works. 
Trash/Flipping Income: $56.75
Most of the stuff I sold last month was old stuff that we're trying to get out of our house (it's really amazing how much stuff can accumulate over the years). I list this stuff on Facebook Marketplace and usually get things sold pretty quickly. 
My one true trash sale last month was for a Sterilite drawer I found on the curb. These things are always worth grabbing because they're lightweight and sell almost immediately. The one I found sold for $10 within a few hours (it costs $25 new, so it's a good deal for someone looking for this type of storage). I didn't even have to be at my house to sell it. The person paid me via Venmo and then I put it outside and they came to pick it up later.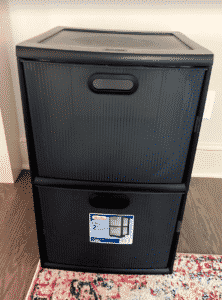 WeGoLook Income: $22 
WeGoLook is an app I like to use in certain situations. For the most part, the gigs are worth doing when they're nearby, but some of them require you to coordinate with a contact at the location, which can be annoying. I usually try to do gigs where I don't need to interact with anyone. 
For August, I completed a WeGoLook gig where I was tasked with taking photos of a building near my house. It took me about 5 minutes to take the photos and I earned $22 for my troubles. It was definitely worth doing. 
ProductTube Income: $10 
ProductTube has been a bit slow lately – or maybe I just haven't been checking it as often. I completed two smaller assignments last month, earning $5 for each assignment. They only took me a few minutes to complete, so while I didn't make a ton of money, it was worth it from a time perspective. 
Gigwalk/EasyShift/Field Agent/Merchandiser/Observa/IVueIt/Pickl Income: $94 
I earned income from three of these apps last month – EasyShift, Field Agent, and IVueIt. EasyShift brought in $8. Field Agent earned me $12. And IVueIt brought in $74. 
EasyShift is the worst of all of these apps and one I generally avoid. The assignments usually take way too long to complete. Even the $8 assignment I completed wasn't worth the time it took. 
Field Agent was a bit of a disappointment for me as well this past month, although it wasn't really the app's fault. One thing most people don't realize is that gig economy apps are perfect to use if you're traveling. Last month, we took a short trip to Chicago to test out how my son did on airplanes (he didn't have any issues). 
In Chicago, I saw a few "buy and try" gigs which allowed me to purchase some beer and get reimbursed for it. I snagged two of these gigs since I can always use the free beer. Unfortunately, the stores were out of the particular products I was supposed to buy. I still got paid $12 for my troubles, but it's really the free beer I wanted, not the money. 
Finally, IVueIt was lucrative for me last month. I'm falling into a groove of grabbing the same gigs each month, which is good because I'm able to complete the assignments faster each time I do them. Of all of these types of apps, IVueIt is quickly becoming my favorite. You can check out my IVueIt review if you want to learn more about it. 
Google Opinion Rewards/Surveys On The Go/1Q/Facebook Viewpoints Income: $16.61
Here's what I made from the short survey apps in August:
Google Opinion Rewards has been picking up again, which is nice because it's usually an easy few bucks each month. 1Q was also surprisingly lucrative for some reason. 
Facebook Viewpoints is an app I use sparingly, but can sometimes be worthwhile. In this case, I earned $5 for answering a few questions about my experience with Covid. It only took a few minutes, so it wasn't a bad use of my time.  
Secret Shopping Income: $108.590 (plus free food) 
Secret shopping is one of my favorite life hacks because it allows me to get free food. Things slowed down dramatically during the pandemic for obvious reasons, but things have been picking up again. And as you can see, in August, I literally got paid over $100 to eat free food. 
As for the breakdown, here's what it looks like: 
I also got free food from A Closer Look, although I didn't earn any money from the shop. 
There's a lot to talk about when it comes to secret shopping – far more than I can get into here. If you're interested, check out these two posts for more information:
ProductLab Income: $16.25 
ProductLab is basically free money for me. Each week, I submit a screenshot of my earnings for the week for DoorDash and Uber Eats. I typically earn around $3 per week and it takes me 3 seconds to submit my screenshots. If you work on DoorDash or Uber Eats, definitely download this app too.
ReceiptPal/Receipt Hog/Fetch/CoinOut/Amazon Shopper Panel/NCP ReCap Income: $22.22
I cashed out $1.97 from CoinOut. For the most part, CoinOut is good for about $1 per month. Amazon Shopper Panel continues to be an amazing app. I earn $10 each month by taking a photo of 10 receipts. It's almost free money.
NCP ReCap, unfortunately, rebranded itself and doesn't seem to be doing the receipt thing anymore. I had some earnings I built up from earlier this year, so I cashed those out for $10.
Freelance Writing Income: $350 
I wrote a freelance blog post about two months ago and finally collected my payment for it last month. Freelance writing isn't something I'm pursuing as a business, but I'm doing it every once in a while to see what it's like.  
And that concludes the August 2021 Side Hustle Report.
August was a good month. When you include all of the different income sources I have – my blog, my side hustles, the rental income  – I'm actually able to make a solid living. I'm not rolling in cash necessarily, but I do have a lot more time freedom, which I value much more. At this stage in my life, I'd definitely opt to make $50k a year and control all of my time versus making $150k a year and controlling very little of it. 
I hope you enjoyed this look into my gig economy earnings and my "side hustle" earnings for last month. If you want to see what I've made in previous months, check out my past side hustle reports. If you're looking for ideas on how you can earn more money using the gig economy, check out my post, The Ultimate List of Gig Economy Apps that has almost every gig economy app I've ever used or heard about.