Can you see who rated you on DoorDash? The short answer is that no, you can't directly see who rated you on DoorDash. However, DoorDash does give you some information that will help you see your ratings and figure out how you are doing. 
In this post, we'll go over how to look at who rated you on DoorDash and give you some strategies you can use to improve your customer ratings. 
Can You See Who Rated You On DoorDash? 
As noted at the beginning of this post, you cannot see exactly who rated you on DoorDash. However, DoorDash does provide detail on your last 100 ratings, including the ratings you received from customers. 
To view your reviews, go to the "Ratings" section of your Dasher app, then click on your customer ratings. This will bring you to a detailed page that provides information about your last 100 delivery ratings. Here is an example of my customer rating screen.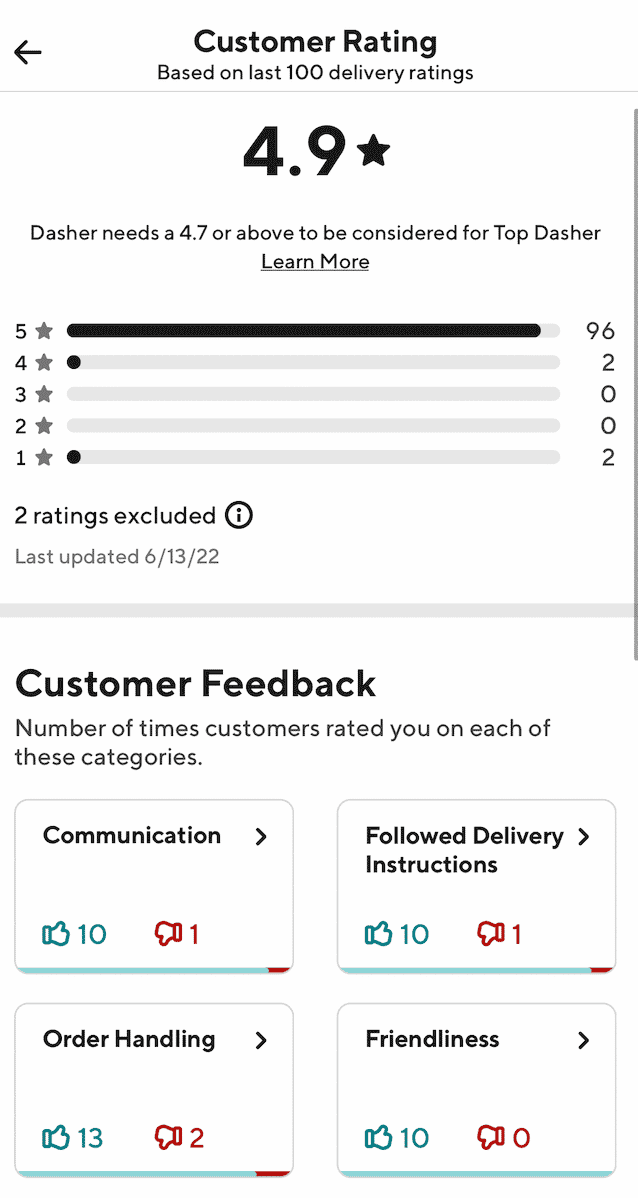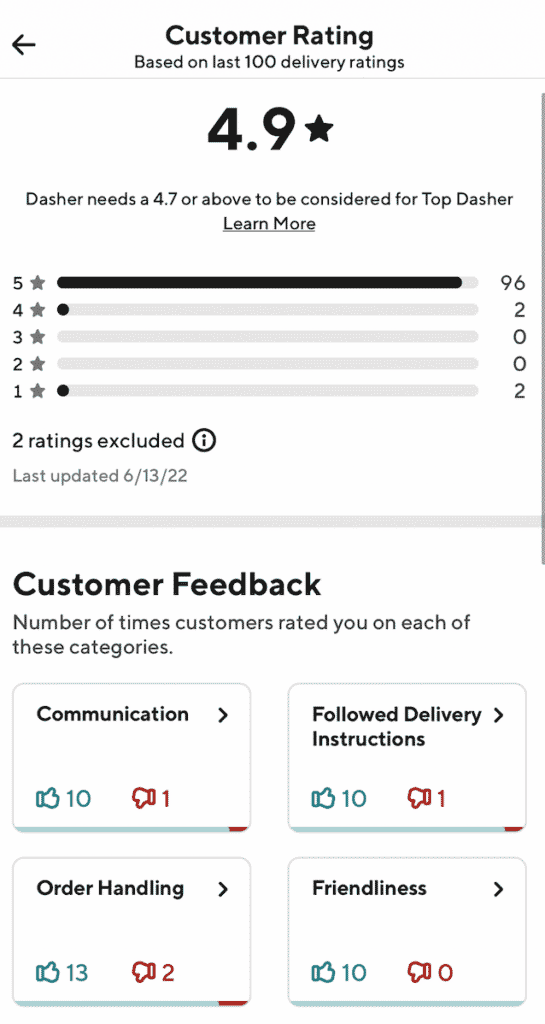 You'll be able to see your last 100 delivery ratings, along with the star rating you received and any customer feedback that you received. Remember that your last 100 delivery ratings won't be your last 100 deliveries because most customers do not rate their deliveries. Based on my experience, I'd say less than 50% of customers rate their delivery.  
You'll notice that this screen does not tell you the rating you received from any specific customer. As a result, you won't be able to tell who rated you on DoorDash. However, if you remember the deliveries you did, you might be able to figure out which customers gave you poor ratings (for example, if you spilled a customer's order or didn't follow their delivery instructions, you can probably assume that a bad rating came from them).  
DoorDash also will exclude orders for which you received a poor rating for factors outside of your control. If the restaurant was slow or the order was picked up late because the customer didn't tip or no one else would pick up their order, then DoorDash will exclude those ratings. 
Strategies To Improve Your Customer Rating 
Your customer rating matters because DoorDash makes clear that if your customer rating dips too low, you are subject to deactivation (generally, you need to keep your rating above 4.2). If you want to go for Top Dasher status, you also need to have a high customer rating. 
You'll notice that in the customer ratings, customers can leave feedback for you in four different categories. These include the following:
Communication
Followed Delivery Instructions
Order Handling
Friendliness
These categories give us a good roadmap on how to keep our customer rating high. If you do well in all of these categories, your customer rating is likely to remain high. 
For communication, you can try texting customers with updates as needed. Sending a text when you're at the restaurant or on the way to the customer is an easy, low-effort way to improve your ratings. Some Dashers even like to text DoorDash memes as a way to improve their ratings and lighten up the mood. 
Following delivery instructions is also an easy way to improve your customer rating. If the customer asks you to leave it at their door, try to do so. It can be a hassle sometimes, but if it's a reasonable request, I recommend doing it. Most of the time, the delivery instructions that matter are where the customer wants you to put the food at their door in an apartment building, rather than leaving it in the lobby or front door. It's a little bit more work, but it's a necessity if you want customers to stay happy.
Properly handling orders is another important thing you must do to keep your customer rating high. You don't want to spill the order or deliver their order to them spilled. If you're delivering a pizza, deliver it properly (i.e. not tipped over). If you're delivering drinks or something that can spill, try to deliver it without spilling it. 
Finally, simply being friendly is an easy thing you can do to improve your ratings. Smile. Treat customers with respect. This is customer service work, so you have to put on a smile and be professional, even if things are going poorly. 
Final Thoughts
When it comes to whether you can see who rated you on DoorDash, the answer is, yes, you can see your ratings, but you can't see exactly what an individual customer rated you. 
That being said, DoorDash gives you some good information in the app that will help you see how you are doing when it comes to your customer rating.  
My best advice is to keep your customer rating high. It doesn't have to be perfect – there are always going to be people that are unhappy with your service. But as long as you keep most customers happy, you'll be fine. Get a lot of 5-star reviews and the 1-star reviews you do get won't matter.