Happy New Year everyone! It's hard to believe that 2021 has come and gone, but here we are. It was a tough year for most of us, but I'm hoping that 2022 starts to look a little better. 
In the meantime, before we get into the new year, we need to first take a look at what I made from the gig economy in the final month of 2021. 
As a brief recap if you're new here, each month, I document what I made from side hustling using various gig economy and sharing economy apps. I have mountains of data here. I've been tracking this income since 2016, so I have over 5 years of side hustle reports detailing all of the different ways I've earned extra money using these different apps.
In the remainder of this post, we'll take a look at what I made for December 2021.
Side Hustle Income for December 2021
Total Side Hustle Income for December 2021 = $1,130.03 
I'm very happy with my December earnings, especially because I didn't do much with DoorDash, Uber Eats, or Grubhub in December. In most months, those three delivery apps usually make up the bulk of my earnings. When winter hits though I often take a step back from deliveries. I bike year-round but as tough as I like to think I am, it's not as fun biking around in the winter. 
Luckily, because I use so many different gig economy apps, I was still able to make over $1,000 for the month. Most of this was due to Rover and the increased demand I typically see during the holiday season. But other apps also came through.
When you break down my earnings for the month, you can see what it's so important to have different sources of income if you're trying to earn money with gig economy apps. Breaking it down, Rover accounted for 53% of my gig economy earnings. DoorDash, Uber Eats, and Grubhub accounted for 11% of my earnings. And all the little apps I use – apps like WeGoLook, Google Opinion Rewards, ProductLab, secret shopping, and the like – accounted for the remaining 36% of my earnings. A lot of these little apps might not seem like much by themselves, but when you combine them, they can become a significant source of income.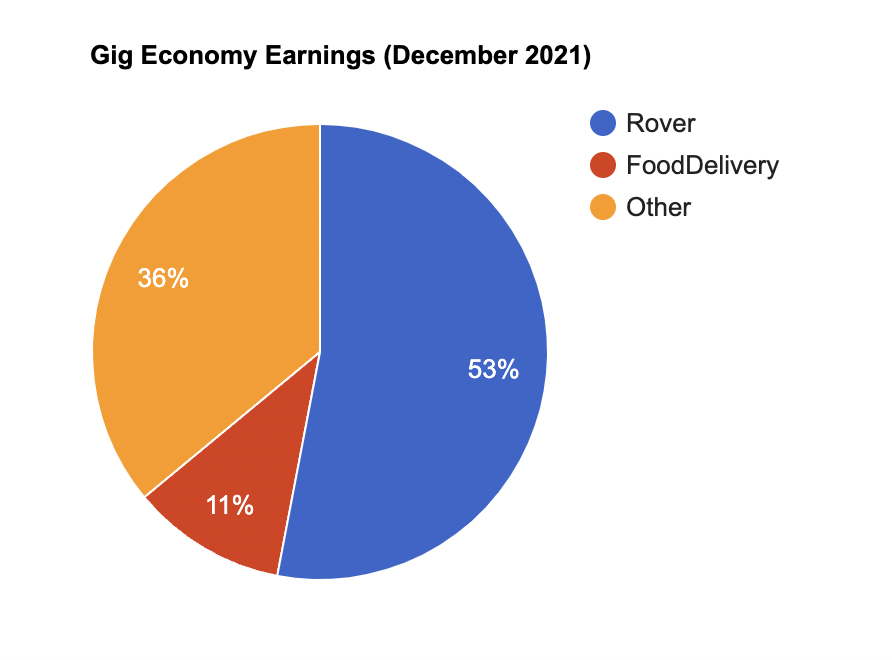 I also want to highlight a new app I started using called Premise. This is another one of these small micro-apps that pay you for completing small tasks. I'll discuss this app in more detail in this post, but if you're looking for another pretty easy side hustle income source, I definitely recommend checking out Premise. 
With that said, here's a more detailed look at my side hustle earnings for December 2021.  
Airbnb/Rental Income Income: $2,400 
I'm not doing Airbnb anymore, but my traditional rental property is doing well. As a bit of a recap, in 2021, my wife and I bought a house and turned our old house into a rental property. We lived in a college neighborhood, so the house is being rented to four college kids. I haven't had any issues with my tenants and everything is feeling pretty passive these days. 
The numbers are working out really well too. After expenses, the property clears about $900 per month. I have all the rental income going into a separate bank account and it's nice to see this account constantly go up each month. I know there will be some maintenance things that will have to be done eventually, and since I don't need the rental income to support my lifestyle, I'm keeping all the money in the bank and will use it to do home maintenance and repairs as needed.
If anyone is interested, I currently use Azibo for my rent collection. I have a separate bank account with Azibo and my tenants pay rent via that platform. They have a referral program where I get some money if I refer a new landlord, so if you're interested, shoot me an email and I can refer you. 
For more info about Airbnb and how I used to use it to house hack, check out this post: Making Money With Airbnb In 2022: Why I Rent Out Our Guest Room. 
Rover Income: $601.30 
Rover was really profitable in December, which makes sense because the holiday season leads to a lot of dog sitting demand. For the month, I watched 3 dogs. It's always fun having different dogs in my house during the holidays. 
In addition to the regular dog boarding clients, I also did a lot of drop-in cat sitting in December. This is a new service I started doing over Thanksgiving and picked up again over the Christmas holidays. It works out pretty well. I get paid $21 for a 30-minute visit. During that visit, I play with the cat for a bit, clean the litter box, and refill food and water bowls. 
I've limited my services to only people in my neighborhood, so I don't have to worry about travel time. One thing that's good about drop-in cat sitting during the winter is that it lets me earn extra income without having to spend a lot of time outside. As you may notice, I didn't make much on the food delivery front in December, but that's because I opted to do these cat-sitting gigs instead. 
If you want to learn more about how Rover works, check out this post: Rover Pet Sitting – How To Make Money Dog Sitting With Rover. You can also sign up to be a Rover sitter using my Rover referral link. 
DoorDash/Uber Eats/Grubhub Income: $127.52 
Here's what I earned from each food delivery app in December.
As you can probably tell, I didn't do a lot of DoorDash, Uber Eats, or Grubhub in December. Weather is the main reason my delivery earnings took a dip last month. It's not that I won't do deliveries when it's cold, but it's definitely not as fun during the winter since I do all of my deliveries using an ebike or scooter. As mentioned in the previous section, I also opted to do more cat-sitting drop-ins, which comes with the benefit of keeping me out of the weather. 
Most of the time, I do deliveries using my Varla Eagle One Scooter, but I'm putting it away for the winter since I don't like using a scooter when there's snow and ice on the ground. For the winter, I'm moving over to doing most of my deliveries with the Himiway Escape. I also have a new fat tire ebike that I'm still testing out – the Gen3 Outcross. I'll be putting together a full review on this ebike at some point.  
For more information about the different food delivery apps I use, feel free to check out the detailed posts I've written about each: 
Trash/Flipping Income: $90.03
Everyone can make a little bit of money selling things, whether that's flipping things you find at thrift stores or selling stuff you have in your house. I try to do a little of both each month. 
The most interesting sale for December was a set of Harry Potter books. Whenever I go to Goodwill, I always check for Harry Potter books. Hardcover books cost $2 each, so completing the 7 book set costs $14. I ended up selling this set for $55. That's a good profit.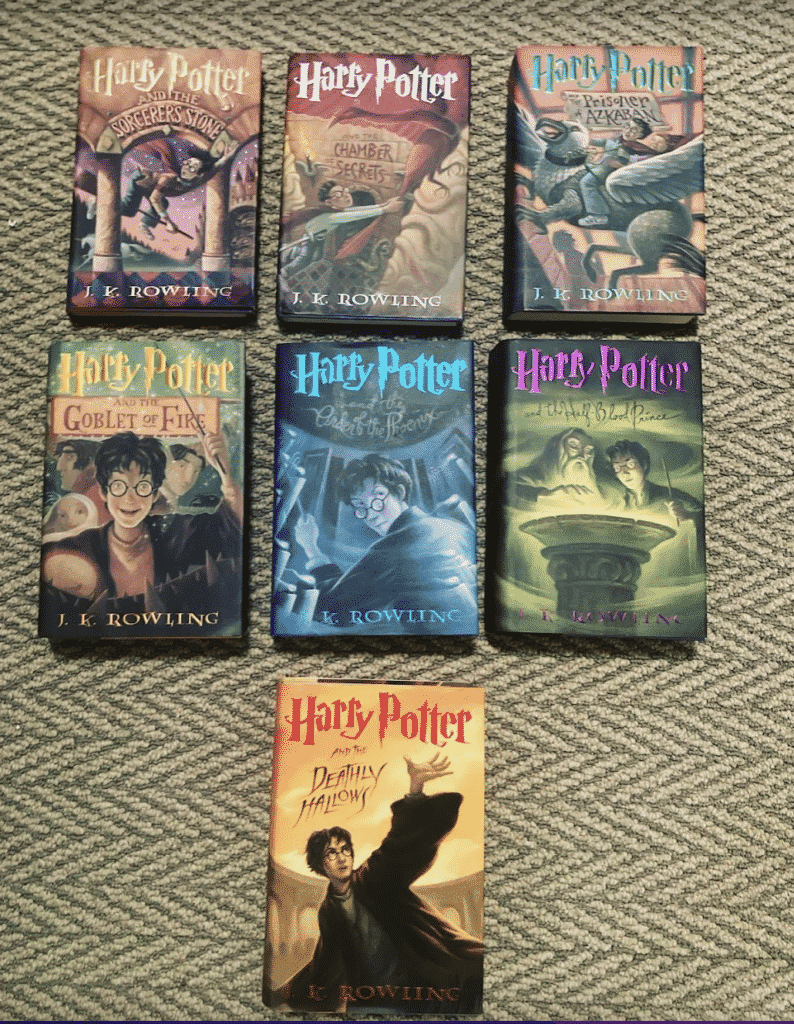 It obviously takes time to complete a set, but I find it fun to slowly do it. It's like a treasure hunt each time I'm at Goodwill. 
WeGoLook Income: $34 
I ended up making some decent money from a scene inspection gig and some exterior photo gigs. The scene inspection gigs require me to take photos of an intersection where there was an accident. The residential exterior gigs require me to take photos of a house or other building. I like doing these gigs because I can do them on my time and don't have to coordinate with anyone else. 
WeGoLook isn't something that will earn consistent money, but if you pay attention and pick and choose your gigs wisely, it can work out pretty well. 
Gigwalk/EasyShift/Field Agent/Merchandiser/Observa/IVueIt/Pickl Income: $45.80  
I ended up making money from Field Agent and IVueIt in December. These are the two apps I tend to earn money with regularly in this category of gig economy apps (I call these photo/auditing apps). Here's what I made with each app.
IVueIt is one of my favorite apps because it pays well and the gigs are easy to do. My favorite IVueIt gigs are the ghost location assignments. There are ones where I go to a closed-down coffee shop and take photos of the store. They always pay at least $20 and don't take much work. Plus, I find it fun to be in an empty coffee shop. 
If you're interested in learning more about IVueIt, check out my post: IVueIt Review 2022 – Make Money Taking Photos.
Google Opinion Rewards/Surveys On The Go/1Q Income: $38.86
I've been making a pretty decent amount of money from these short survey apps. By itself, they might not seem lucrative, but it all surprisingly adds up. Here's what I made in December from these three apps.
Google Opinion Rewards is the best one and seems to be paying more and more lately. I'm also surprised at how much I made from 1Q. 
Secret Shopping Income: $60.50 (plus free food) 
At this point, secret shopping is a legitimate side hustle for me now. There's, of course, a limit to how much it can scale, but earning $50 to $100 per month while getting to eat for free is a deal I'll take. 
All of my secret shopping income last month came from Marketforce. The restaurants on it aren't fancy, but there are usually enough secret shops available that you can stay busy.
For more info about how you can use secret shopping to eat for free, check out these posts:
PrestoShopper Income: $68  
PrestoShopper is a secret shopping app that sometimes has interesting secret shops. Last month, I ended up doing two secret shops at the mall. Both shops required me to take a few photos of a store and then fill out a short survey. 
The did my first PrestoShopper gig early in the month, getting $18 for that gig. The shop took me 5 minutes. Later in the month, I saw the same shop available again, this time paying an astounding $50. Again, the secret shop took me 5 minutes. 
Getting paid $68 for 10 minutes of my time is crazy. These sorts of opportunities don't always come up, but when they do, I like to capitalize on them.
ProductLab Income: $18.75  
I didn't earn enough to cash out in November, so some of my ProductLab earnings for December were a rollover from November. I get paid about $3 per week by taking a screenshot of my DoorDash and Uber Eats earnings. It's not a lot of money obviously, but it's easy enough for me to do it once a week. 
ReceiptPal/Receipt Hog/Fetch/CoinOut/Amazon Shopper Panel/Tada Income: $15.25
Every time I get a receipt, I snap a picture of it using these apps. It's fairly passive income at this point. 
In December, I cashed out $5 on Fetch and $10.25 from Amazon Shopper Panel. Check out this post for more info about how to use these receipt apps: 7 Best Cashback Apps That Everyone Should Use. 
Premise Income: $25.50
As mentioned near the beginning of this post, Premise is an app I discovered that is quickly becoming an important part of my side hustle toolkit. It gives you a few ways to earn money. The first is through short surveys that pay 25 to 50 cents. It's not a lot of money obviously, but the surveys only take a minute or less to complete. 
The second way to make money is by taking photos of specific things. These pay $1 to $2.50. And like the surveys, they only take a minute or less to complete. Once you hit $10, you can cash out your earnings via PayPal.
Some of the ways I made money in December was by taking photos of houses with "For Rent" or "For Sale" signs. Each of these assignments pays $2.50 and I'm able to easily complete them while I'm biking. That's one of the advantages of using a bike to get around – it's easy for me to stop and snap photos of things when I pass them. 
So far, my experience with Premise has been good and I recommend everyone download it. 
Medium Income: $4.52 
I increased my Medium earnings last month! After not publishing anything since June, I decided to republish an old post of mine on Medium. It did fairly well. 
Medium is an interesting writing platform. I like that it forces you to write a lot – the highest-earning writers on Medium are those that write new posts every day.
My plan for the new year is to start writing on Medium more, not necessarily to make a ton of money on it, but mainly to try to increase the number of followers I have. I currently have 250 followers, and my ultimate goal is to get to 1,000 followers.
And that concludes the December 2021 Side Hustle Report!
December was a good side hustle month and I think a good example of why it's important to have different sources of gig economy income. If I didn't have Rover, my earnings would have been much less. But because I have so many gig economy apps, I was able to make a solid income even though I didn't make much from DoorDash, Uber Eats, or Grubhub. 
For the year, I ended up making over $18,000 from the gig economy. I'm very happy about that. When combined with what I made on this blog, 2021 is looking to be a solid income year for me personally. I'm not making big law money or anything, but I'm making enough to feel comfortable. And between the choice of making more but working those crazy lawyer hours, I'll always opt to do this, where I can bring my son to daycare and write and do gig economy stuff during the day. 
There are so many gig economy apps out there, so if you're looking for ideas on how you can earn money using the gig economy, check out my post, The Ultimate List of Gig Economy Apps. Thanks for reading and here's to a better 2022 for all of us.