A friend of mine recently remarked to me about how much his Amazon stock has grown over the past two years. He bought his shares back in 2015 when Amazon was selling at around $400 per share. Today, Amazon sits at over $1,400 per share. As my buddy made clear, that's well over a 200% increase. He's killing it, as he likes to tell me.
The thing is, I know this friend. He's what you'd call an average millennial – no retirement savings, very little knowledge about finances, and essentially a non-existent savings rate. Still, in his mind, he was killing it since this one investment he'd made three years ago – buying a few shares of Amazon – had paid off so well. And no doubt, it did. He turned $1,200 into over $4,000. It's nothing to sneeze at. 
At the same time, celebrating turning 1,000 bucks into 4,000 bucks misses the point. In the grand scheme of things, a $3,000 gain really doesn't move the needle much when you think about what we're really trying to do. We're out here trying to save up enough money so that we never have to work again! A few measly thousand dollars isn't going to be enough to do that. We need many, many thousands of dollars. And to do that, we need to do the most important thing – save A LOT of money!
It's this emphasis on getting big returns that I think a lot of new investors mistakenly focus on. The truth is, in the beginning, your rate of return basically means zilch since you're starting out with so little money. It doesn't matter if your early investments go up 100% or tank tomorrow.
What really matters is that you're brute force saving as much money as you can so that someday, in the future, your rate of return will actually mean something.
200% of Nothing Is Still Nothing
I've always been confused about why new investors care about their investment returns so much. Most likely it comes from a misunderstanding of how investment returns work. Most people know that rate of return matters, but a lot of people don't understand that it really doesn't matter until your numbers get meaningfully large.
The example I always use to illustrate this is the magic doubling penny hypothetical. For those of you who are unfamiliar with this example, the magic doubling penny goes like this. You start off with a penny, and each day, your penny doubles. On day two you have two pennies. On day three, you have four pennies. And so on, and so on.
Here's what it looks like if your penny doubles every day, for 30 days: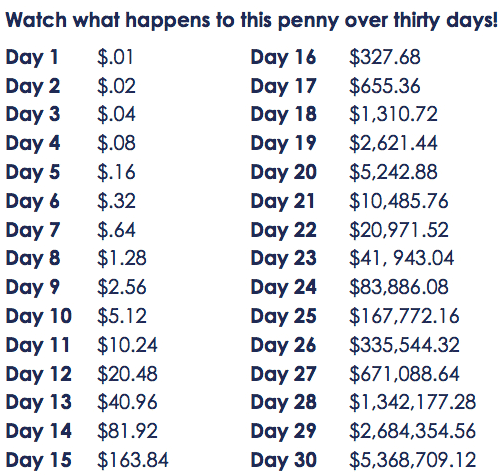 The magic doubling penny is typically used to show the awesome power of compound interest. And it works to do that. As we can see, given enough time, a small amount of money can become a really large amount of money. 
But I think an example like this can also encourage the wrong type of thinking. Instead of focusing on the thing that really matters early on (actually saving money), a lot of people focus too much on the thing that doesn't really matter early on (their rate of return).
Just look at the doubling penny again. Most people ignore or don't really look at how small those numbers are early in the compounding process. Even a 100% return means very little in the early stages –  a penny becomes two pennies which becomes four pennies. 100% or 200% of nothing is still exactly that. Nothing.
You can see that the growth really only starts to happen towards those last few days when there's actually a significant amount of money saved up. What that means is that, instead of focusing on the rate of return, we should focus on the only thing that we can control – putting as much money away so that we can get to those big numbers.
Build Up Your Stash Of Money First – Worry About Your Rate Of Return Later
The fact is, the rate of return just doesn't really matter all that much when you begin your investing career. Losing or gaining a few thousand dollars isn't going to change your life. Even a few hundred thousand dollars won't matter that much. I saved over $30,000 by myself last year. Even if my investments dropped by $30,000 this year, I'd make it back up just by the brute force savings I put in each month. As a result, I really don't care what my rate of return is right now – even with over a $100,000 invested right now, it's still ultimately small potatoes to what I really need.
When the crypto-currency stuff was going crazy, I remember people online and in person bragging about the few thousand dollars they'd made because their crypto had gone up by a couple thousand percent in a few days. I remember one YouTuber online bragging about how he'd made $3,000 or so in a week.
Honestly, it never impressed me that much. It's fun, sure. But will a couple thousand dollars change your life? Does it really matter that you made a few thousand bucks on your tiny investment when you consider that you need to be making way more than that every year if you want to never have to work again?
Sure, your rate of return can matter – it especially matters when you have a lot of money saved up. A 10% return on a million dollars is $100,000 dollars. That's significant money that will change your life. A 10% return on $10,000? Well, that's $1,000 – it's nice, but does it really do anything for you?
Get to those big, unfathomable numbers first. Then you can go and worry about your rate of return. Until then, you're just playing with numbers.