DoorDash Earn by Time is a feature that DoorDash offers in some markets. Dashers that opt for Earn by Time can earn a guaranteed rate in DoorDash pay, along with keeping 100% of customer tips. It's a bit of a convoluted system – you aren't paid hourly for the time you're logged into the Dasher app, but rather you're guaranteed a proportion of a base hourly rate for the time that you're actively doing deliveries. 
In this post, we'll go into detail about what DoorDash Earn by Time is, how it works, and whether it's worth doing. The short of it is, DoorDash Earn By Time is a bit of a gamble and while it's not inherently bad, the convoluted payment system and the fact you can only reject or unassign one order per hour makes me question whether it's worth it.
What Is DoorDash Earn By Time?
As previously stated, DoorDash Earn By Time is a new payment model DoorDash introduced in select markets. DoorDash states that "In select cities in the US and Canada, Dashers will have the option to earn a guaranteed rate in DoorDash base pay while on a delivery (from the moment they accept an order until they complete it) plus 100% of customer tips and any applicable promotions on top."
To choose the Earn by Time option, first, log into your Dasher app. You'll see two choices if DoorDash Earn by Time is available in your market – (1) earn per order, or (2) earn by time. You'll select "earn by time" if you want to opt for DoorDash Earn by Time.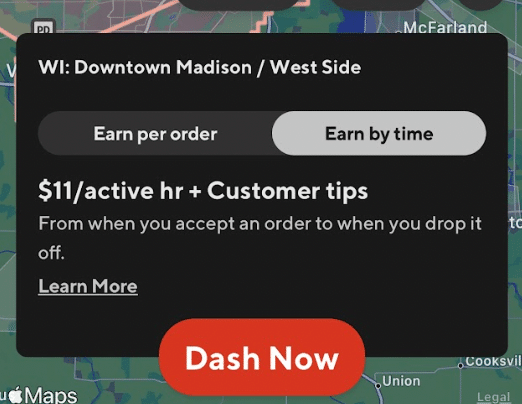 The terms for DoorDash Earn By Time state that you can decline or unassign up to one offer per hour. Once you've declined or unassigned more than one order in an hour, your Dash will end, but you can log back in and Dash under the Earn per Order mode. 
If you are on Earn by Time mode, DoorDash will pay you a proportionate base rate for each delivery based on your active delivery time and the current hourly rate. In addition, you keep 100% of your tips and any promos being offered at the time (although DoorDash states that you might not be eligible for Peak Bay bonuses when you're doing Earn by Time).
As most Dashers know, your DoorDash pay for each order is made up of three parts: (1) the DoorDash base pay; (2) the Peak Pay, if any; and (3) customer tips. Under the DoorDash Earn by Time mode, your DoorDash base pay would be different than what it normally would be based on the active time you're doing the delivery and the hourly rate being offered.
How Does DoorDash Earn By Time Work?
All of this probably sounds confusing – I know it's confusing to me – so some examples will probably help explain how DoorDash Earn by Time works. 
DoorDash provides a few examples on its website. For example, if the current Earn by Time being offered is $14 per hour, here's how you'd get paid. The active delivery time begins from the moment you accept an order to when you mark the order as delivered. So, if you accept an order and it takes 30 minutes from acceptance to completion, the base pay rate DoorDash would pay you is $7. If you received a $6 tip for that order, your total pay for the order would be $13 ($7 base pay from DoorDash plus a $6 tip from the customer).
Another example from DoorDash is if the hourly rate is $14 per hour and you complete an order in 8 minutes. In that scenario, your base pay from DoorDash would be $1.87. To do the math there, 8 minutes is 13.3% of one hour. So 13.3% of the $14 per hour hourly rate is $1.87. If the delivery also came with a $4 tip, you'd make $5.87 for that 8-minute order. 
You'll notice that the base pay from DoorDash can be more or less than what you'd get under the normal "Earn per Order" model. The typical base pay DoorDash offers for orders is between $2 and $4. Thus, shorter orders seem to perform worse under the Earn by Time orders while orders that take a longer time to complete are potentially better. 
Is DoorDash Earn By Time Worth It? 
So, with all this said, the important question is this – is DoorDash Earn by Time worth it? In my opinion, most people would be better served avoiding Earn by Time. There are two main reasons why I would not opt for Earn by Time.
The first has to do with the acceptance requirement. If you're Dashing under the Earn by Time mode, you can only reject one order per hour. If you reject more than one order, your Dash will automatically end and you'll have to log back in under the Earn per Order mode. The fact is, making the most money you can from DoorDash requires being smart with the orders you accept (and ideally multi-apping if you can handle it). My acceptance rate typically hovers around 20-40%. If you're only rejecting 1 order per hour, it probably means you're accepting unprofitable and bad orders. 
The second main reason I wouldn't do Earn by Time is that it's simply too complicated. The Earn per Order system is far easier to understand what you're going to make, especially since you can see exactly what you'll make before you accept the order. I'd rather take the straightforward and transparent earnings than gamble on the fairly confusing payment system offered by Earn by Time. 
One thing you might be thinking is if DoorDash is paying by time rather than per order, perhaps you can stretch orders out longer to earn a higher base pay from DoorDash. Theoretically, this is possible. However, DoorDash states the following on its website:
We reserve the right to delay payment for purposes of investigation and to withhold payment or deactivate the account(s) of any Dasher if we determine in our sole discretion that a Dasher has used or attempted to use Earn by Time mode in a fraudulent, abusive, or otherwise suspicious manner or in violation of any applicable law or regulation.
What this means is DoorDash knows that Earn by Time does come with a perverse incentive for Dashers to take longer to complete orders. And while you could try stretching out orders longer to increase your Earn by Time pay, it could backfire and lead to delayed payments or even deactivation. I'd rather accept good, profitable orders, complete them quickly and move on to the next one.
Final Thoughts
Earn by Time is an interesting payment model, but it comes with some downsides, mainly that you can't reject many orders and that you might limit your earnings if you're doing long orders. It's also far more confusing compared to the basic pay model where you know exactly what you're going to earn for each order.
And even though you're getting "paid" for your time, you can likely make more by being strategic with the orders you accept and multi-apping, if you can. 
That being said, there's no harm in trying it out to see if it works for you. I did try it out once and it didn't work well for me, but your situation may be different. I personally am going to stick with the normal Earn per order payment model.