Welcome back to another edition of the Financial Panther Side Hustle Report. For those of you that are new here, each month, I document exactly what I made using different sharing economy and gig economy apps. 
In the past, these reports were mainly about showing what I made side hustling while working a full-time job. However, since I quit my job, these side hustle reports have transformed into more of a gig economy "hustle" report, demonstrating what I've been able to make to support my life while I transition from an attorney to a full-time, self-employed blogger, writer, and business owner.
There's a lot of value in having this sort of income, as it basically gives me a sort of income floor while I pursue my online business. 
So, let's take a look at what I made in July from all of the different apps I use.
Side Hustle Income for July 2019
Total Side Hustle Income for July 2019 = $3,872.60
In July, I made over $3,800 from 14 different income sources. This was similar to last month, where I made over $4,100 from the same number of income sources. I'm very happy with this level of income. When you combine my blog income and my side hustle income, I'm actually making as much as I made when I was working full-time as an attorney.
Admittedly, I'm not sure how sustainable this is, especially when winter eventually comes around. During the winter, Airbnb slows down, I do fewer deliveries since the weather is usually worse, and the scooters leave the streets in late fall. This is why it's important for me to always live on less than I earn. When you have variable income like this, you need to be prepared for the slower months too. 
Let's take a look at what I made in more detail.
Airbnb Income: $1,079.61 
July was another solid Airbnb month. I ended up with 17 nights booked for an average nightly rate of $63. I could've booked more nights, but I blocked out the first week of July for a friend that was coming to visit me that week.
The guests for the month were the standard guests for our location, with everyone coming into town for some sort of university-related activity. It's really remarkable how much traffic a large university brings. At some point, we're likely to buy a new house and it really is making me wonder how much our current house could bring in if it was converted solely into an Airbnb rental. Most likely we won't do that, but it's an interesting thing to think about.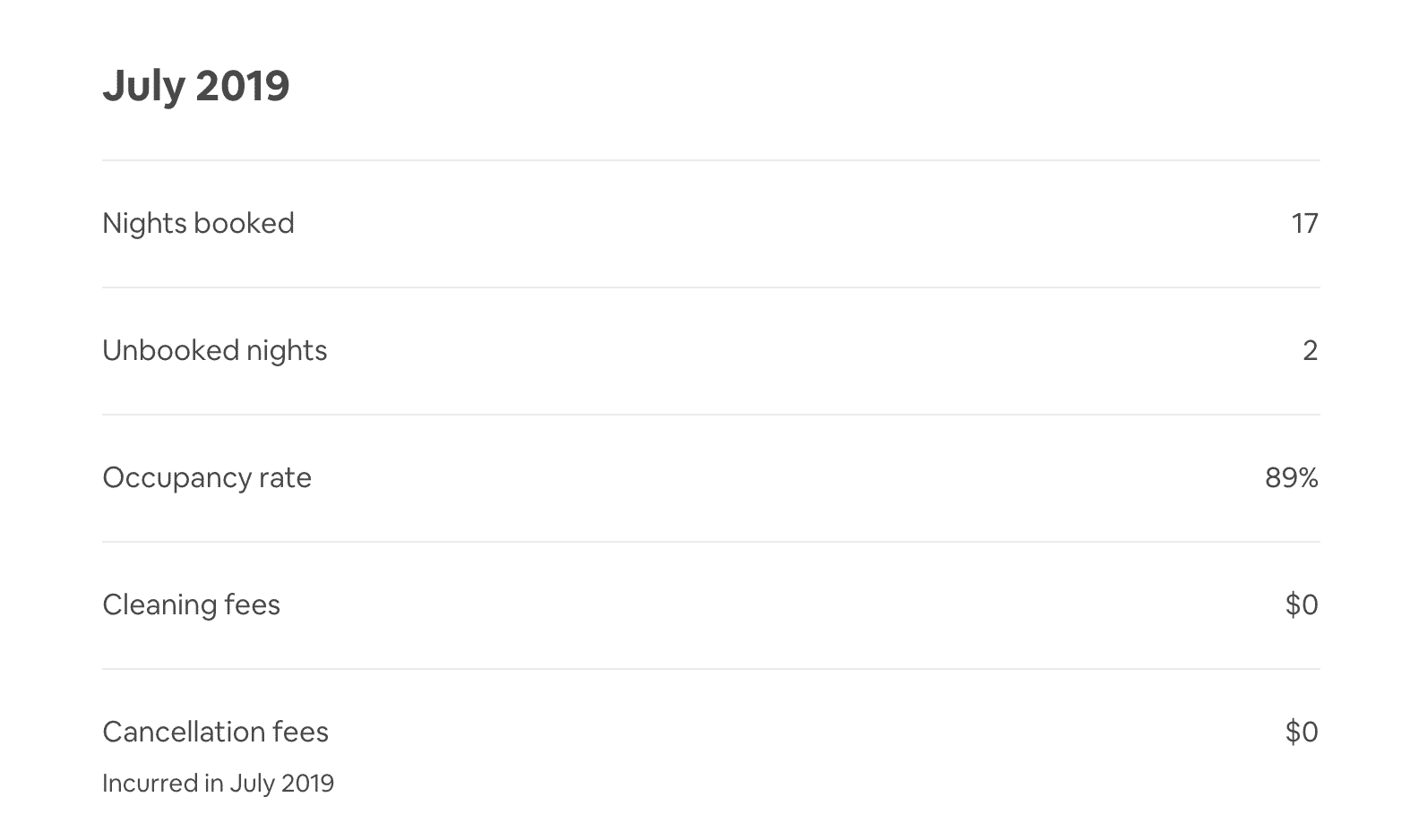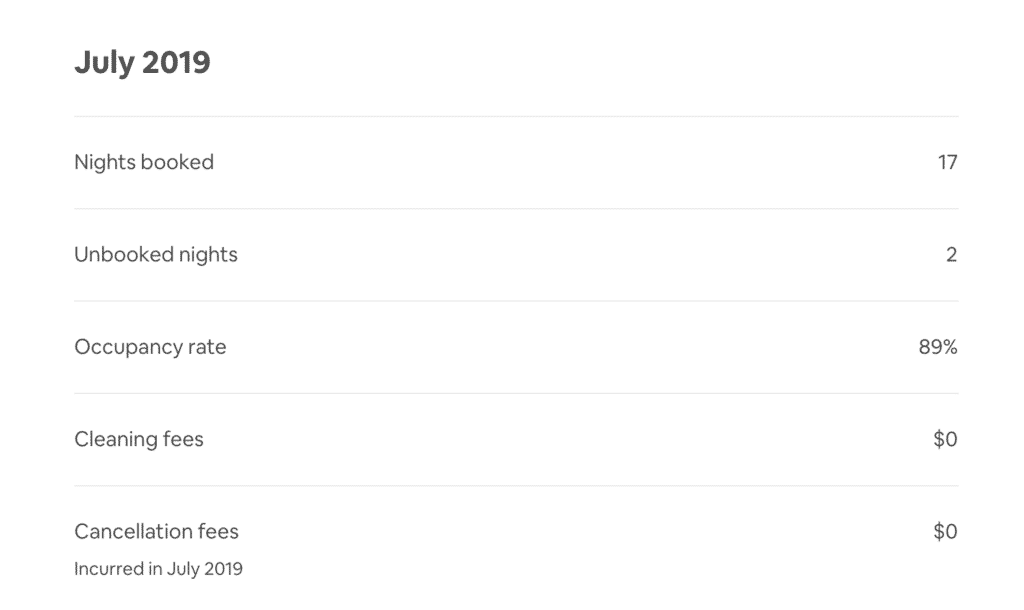 Overall, house hacking using Airbnb has worked out very well for me, especially since I've done a few things to really make this as passive an activity as possible.
Remember one thing, you don't need a duplex to start house hacking. If you want, you can use Airbnb and house hack with your own house.
If you have extra space and want to earn extra income using your home, you can sign up to be an Airbnb host using my referral link.
Airbnb is also one of the most affordable ways to travel. If you've never used Airbnb, sign up for Airbnb with my link and you'll get $40 off your first stay.
Rover Income: $374
July was a strong Rover month. I ended up watching three pups over the month, with two repeat pups and one new pup. The two previous pups were toy poodles that I've watched regularly over the past two years, so that was just business as usual. 
The new pup this month was also a winner – a beagle named Otis that looks a lot like Financial Pup. He fit in very well with our lifestyle. Below is a picture of Financial Pup with our guest pup. They're two peas in a pod!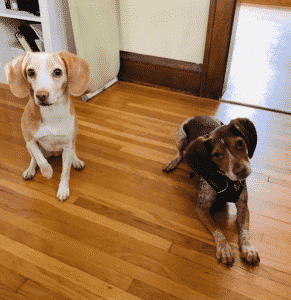 Dogsitting is a pretty passive activity for me, primarily because I have a dog and have to do all of the stuff that comes with owning a dog anyway. If you're in a similar position, Rover is definitely a good way to add some extra income into your life without a ton of work. You can sign up to be a dog sitter on Rover using my referral link. 
Postmates/DoorDash/Uber Eats/Amazon Flex/Grubhub Income: $995.29
Here's a breakdown of my earnings on each delivery platform in July:
I had a pretty even breakdown between all of my delivery apps. As usual, I made the most money with DoorDash mainly because it tends to be the busiest app in my market. Uber Eats tends to be the second busiest for me and it works out better for me now that I know how to see where the delivery is going in advance (email me if you want to know how this hack works). Grubhub also did very well this month. Postmates was pretty standard. 
As you can probably see, I didn't make anything on Amazon Flex since they closed down the food delivery portion of their business. I can still do alcohol deliveries and deliver stuff for Amazon Prime, but both of those require me to be very picky since I do these deliveries on my bike and can't hold a bunch of heavy stuff.
Ultimately, I don't really care much about which delivery app I use. My strategy with these apps has always been to use all of them at once and to create a string of deliveries all going in the same direction. This is something that you have to do if you want to maximize your delivery earnings. 
Also, if you live in a dense city, use your bike to do deliveries. Depending on where you live, you'll make more money, have no expenses, and get the added benefit of improving your health by biking, rather than driving. I've been doing deliveries for almost four years now and I've never used a car to do my deliveries. 
Wag Income: $75.10
As you can probably tell, I had a slow month with Wag. I ended up primarily walking my usual pups for the month, so nothing really interesting to report here.
Wag makes a little less sense for me lately since I often feel like I can make more doing deliveries. It makes a lot more sense to do Wag if you have a day job and are doing this over your lunch break since walking dogs is something that you can do in work clothes.
Still, Wag is good for filling in gaps in my schedule. And it's also fun if you're a dog lover like I am.
Bird/Lime Scooter Income: $858.59 
It was a profitable month with Lime and I almost hit my career high for scooter charging earnings. I averaged about $28 per day charging scooters, typically charging between 4-7 scooters per day. Below is a snapshot of my Lime earnings for the month.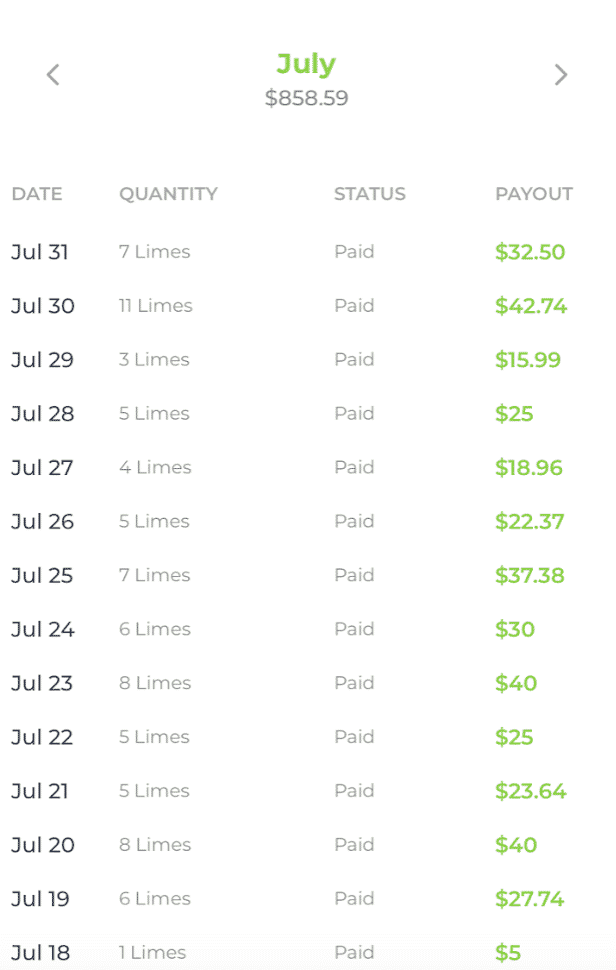 As a quick recap, I'm only charging Lime scooters this year because Bird no longer operates in my city. The two other scooter companies that operate in my city – Spin and Lyft – both use employees to charge their scooters, so that doesn't work for me. 
Scooter charging isn't something that will work for everyone, but if you live in a dense neighborhood, then this is something that is very easy to incorporate into your life. I live near a large university, so there are always tons of scooters close to my house. It's very easy for me to grab 6 scooters every night. And remember, I do all of my scooter charging on foot, without a car.
As a side benefit, I've also been able to ride scooters for free all summer, so that's a nice little side benefit of becoming a scooter charge. In fact, whenever I need a scooter for the day, it's not too hard for me to find a scooter that's low on battery, bring it home, charge it up, then ride it around until I need to drop it off in the morning.
Trash/Flipping Income: $104.35
The big sale for July was a set of dining room chairs that we picked up near my sister-in-law's house. She knows that my wife and I are into the trash game and called us up after she saw these chairs on her block. We ended up driving over there, loaded these chairs into our Prius, and sold them on Facebook Marketplace within 24 hours for $80. It was definitely worth our time.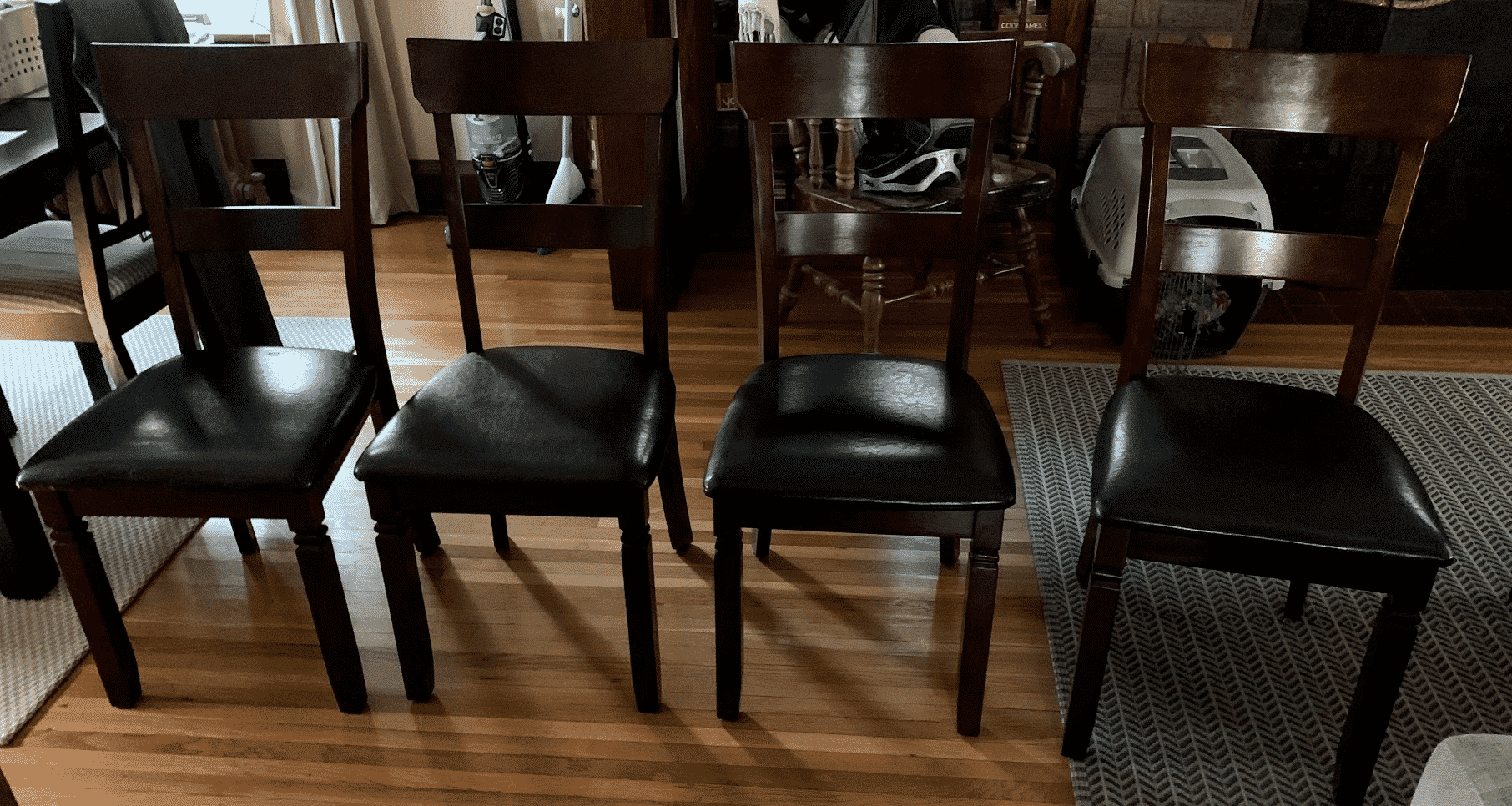 I also sold a Nespresso Machine for $20 that we found in the trash a while ago. These machines are pretty expensive, but it seems like the market for a used one isn't so strong, as I had this sitting in my basement for months and wasn't getting any bites. 
The final trash sale this month was an old Brett Favre Vikings jersey I found in the trash. It didn't have much value but I managed to sell it pretty quickly on eBay for $5. Clothes like this are very easy to ship. All I had to do was just stuff it into a small bubble mailer.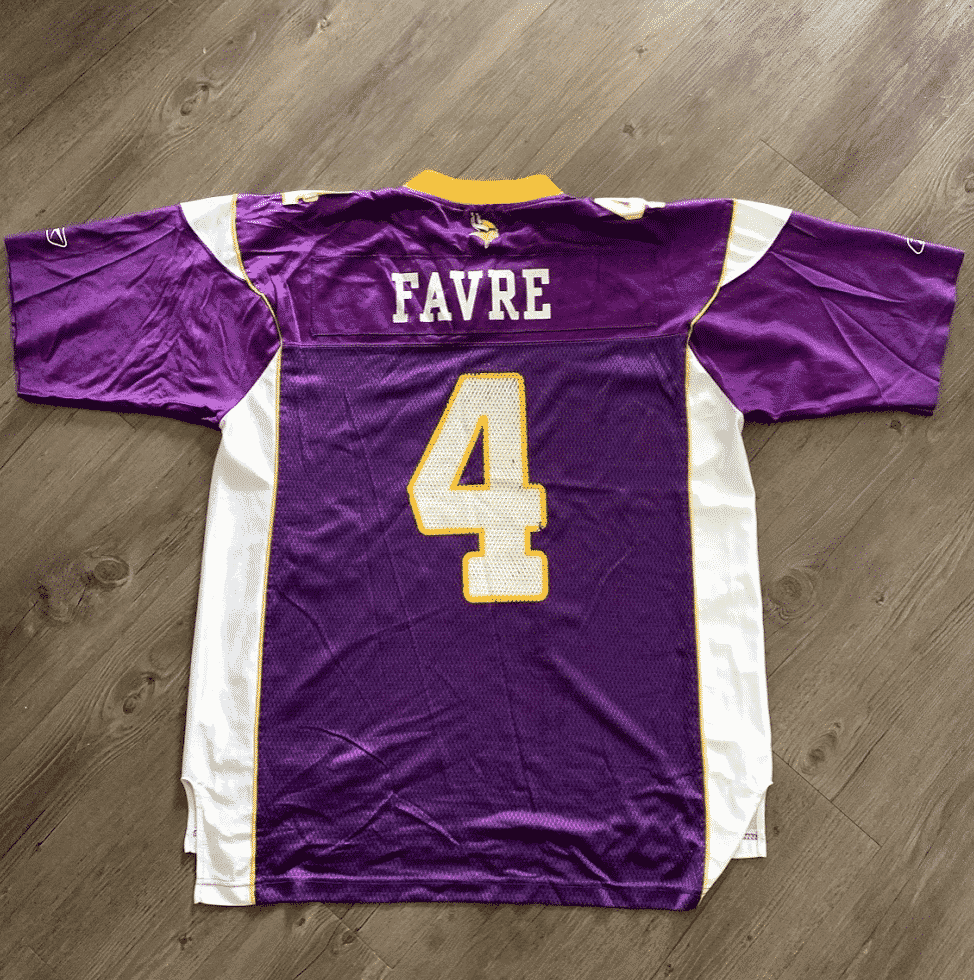 TaskRabbit Income: $179.55
TaskRabbit is an app that I've used in the past, but haven't done in a while. When I last used TaskRabbit, the only skills I could sign up for was snow shoveling and moving gigs, both of which were not fun to do. As a result, I stopped doing TaskRabbit gigs and then my account got deactivated since I hadn't done any gigs in a long time. 
This past month, I decided to reactivate my account to see if anything had changed and found out that I could sign up for a bunch of new gigs. These included delivery gigs, personal assistant gigs, event staffing, and various other miscellaneous gigs that are much more in my wheelhouse. 
I ended up getting hired for three gigs in July. One was a personal assistant gig for a woman working out of her home office where I just needed to make copies for her and then shred some stuff. I had another funny gig where I was tasked to go the courthouse to pick up divorce papers and mail them to the client.
Perhaps my most interesting gig was working event staffing for an architecture conference. My tasks for that gig were to check people in for the conference and keep track of time for the panels. This was actually something I did at my previous job, so it was sort of funny for me to go back into this world. I ended up making $20 per hour for the 6 hours I worked, which isn't too bad considering I didn't really have to do much (and I ate some free food while I was there too).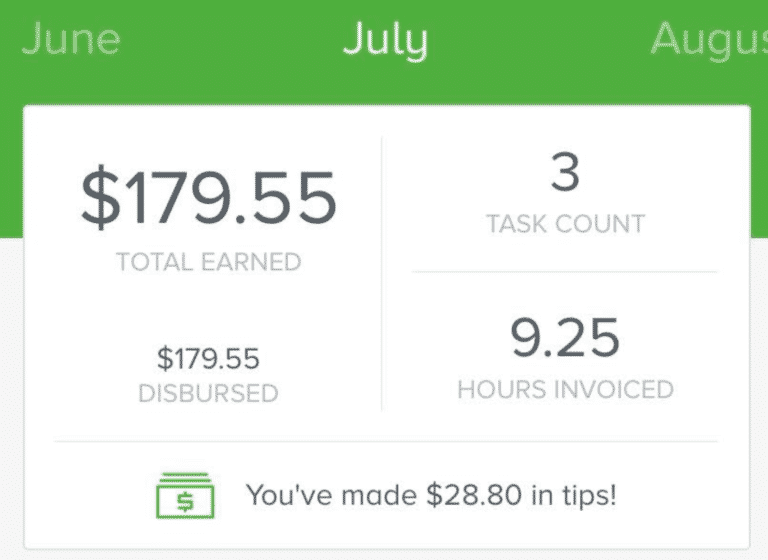 I'm keeping TaskRabbit active to see what it's like and if I get any other interesting tasks. I don't think TaskRabbit is as good for folks with a day job since there's a lot less flexibility on when you can do some tasks, but for folks like me that have a lot of flexibility, it can work out. 
Job Spotter Income: $25.18
I made a solid $25 from Job Spotter in July. This is an easy, no-brainer app that everyone should have on their phone. It literally takes 5 seconds or less to take a photo and I think most people should be able to make at least $10 per month if they live in an urban area and get outside regularly. 
You can read my in-depth review on Job Spotter if you're looking for more info about how the app works and why you should use it. 
Gigwalk/EasyShift/Field Agent/Observa/Merchandiser Income: $17.90
Below is a breakdown of my earnings on each of these picture taking apps in July:
As you can see, I made all of my income from Field Agent. They had had some interesting gigs this month where you had to go and take exterior photos of apartment buildings. I grabbed a few that were near me and ended up getting paid $7 for each one. It took me about 5-10 minutes to take the required photos of each building.   
These apps aren't always worthwhile, but they can work out if you're already close to a location with a gig. GigWalk, Field Agent, and Observa gigs are almost always worth doing if you're already close to the location.
EasyShift and Merchandiser are both apps that you need to learn about, as not all of the gigs they have are worth doing. I try to stick to EasyShift gigs that don't require a ton of pictures. And I only do Merchandiser gigs that ask me to audit a certain section of a store without having to speak to any store employees. You'll learn which of these are worth doing as you use these apps more. 
WeGoLook Income: $71
I had some pretty standard WeGoLook gigs in July, although I don't really remember what I did (note to self, I really need to keep better track of these WeGoLook gigs). Most of the gigs I do are car inspection gigs where I take photos of a car that has been in an accident. I also do scene inspection gigs, where I take photos of an intersection where an accident took place. The scene inspection gigs are always the best ones because I can do them entirely on my own time without having to schedule anything with the property owner.
Roadie Income: $31
I ended up delivering a few bags with Roadie in July. To quickly recap, Roadie is an app where you can deliver stuff to people. Here in Minneapolis, the gigs are almost all luggage delivery where I'm delivering lost bags to people from Delta Airlines. I only do Roadie gigs if they're going where I want to go and I happen to be passing by the airport. 
This past month, my wife and I were over at Ikea buying some stuff and I happened to see two gigs that were both going back towards our house. It worked out perfectly for us and essentially paid for our trip to Ikea. 
ProductTube Income: $10
ProductTube worked out well again. This month, I made $10 doing a ProductTube video while I was at the Target by my house. It took me less than 5 minutes to do, so this paid very well for the amount of effort I put into it. 
Google Opinion Rewards/Surveys On The Go/1Q Income: $30.45
I made a really good amount of money from these short survey apps this month. Here's a breakdown of how much I made with each app in July:
Google Opinion Rewards: $6.34
Surveys On The Go: $23.61
1Q: $0.50
I'm not usually a fan of doing surveys for money, but these apps take so little time that I find them worth doing. Each of these survey apps only make you answer a few questions, so you can do them in a few seconds while you're walking around. You won't make a ton of money, but when you look at how much money you make for the time spent, it's actually a very high hourly rate.
Receipt Pal/Receipt Hog/Fetch/TruNow Income: $20.58
The receipt apps are something that I've been using for the past four years. They work out really well since I pick up a lot of receipts from doing deliveries. I always snap a picture of those receipts before I toss them.
In general, I make about $100 per year just from taking pictures of all of my receipts with three primary apps – Receipt Pal, Receipt Hog, and Fetch. I also use an app called Coin to take pictures of my receipts, although I've never cashed out my earnings with that app. 
This past month, I finally cashed out my earnings with an app called TruNow. This is a receipt app that only works for gas station receipts, so it's more useful if you're someone who needs to get gas pretty regularly. I rarely drive, so I don't get a lot of gas station receipt. The app doesn't pay a lot, but it's better than nothing and literally takes 2 seconds to snap a picture before tossing the receipt. 
And that concludes the July 2019 Side Hustle Report!
July was another big side hustle month, as I brought in over $3,800 from the various apps that I use. I made $57,000 per year or about $4,750 per month at my last job (I was working for a non-profit, so I was not highly paid), so with my side hustles alone, I'm almost able to earn the same amount. When you add in my blog income, I'm actually currently making more than I made at my regular day job.
A quick note on blog income. I get a lot of questions about my blog income and why I don't share it. My main reason was that I didn't think it fit in with the nature of these posts, which was always about how you can use the sharing and gig economy to make money. Even more important, these posts always showed things that anyone can do to make money right away. 
I think at some point, I may follow in the footsteps of some other bloggers and share my blog numbers in some sort of quarterly email form. I don't want this blog to become a blog about blogging, which is where I feel like a lot of these sort of income reports trend towards. 
Anyway, I hope this recap was helpful for you. It's pretty incredible to see what sort of income you can make just using the various sharing and gig economy apps at your disposal. I'm having a lot of fun figuring out ways to make money and support myself with my own wits. Life is feeling pretty good and I'm a lot happier on a daily basis with what I'm doing.