Hello everyone and welcome to this month's side hustle report. As a quick recap, every month, I write a new post detailing exactly what I earned from side hustling using various sharing economy and gig economy apps. I've been tracking this information since 2016 and it's been interesting to see how consistent I've been able to be during that span. In this post, we'll be taking a look at what I was able to earn from my various side hustles in March 2021.
March was a good side hustling month, which is nice considering how bad February was for me. As a reminder, February was the worst side hustling month I've ever had, primarily because of how bad the weather was (most of my side hustles take me outdoors, so bitter cold can make it difficult for me to side hustle as much as I might normally). Anyway, the weather warmed up a lot in March, so I was able to dramatically increase my earnings last month.
Here's the breakdown of my side hustle income for March 2021.
Side Hustle Income for March 2021
Total Side Hustle Income for March 2021 = $1,906.85 
March was a marked improvement from February when I only made around $600. I ended up more than tripling my side hustle earnings in March. The vast majority of my income came from my food delivery apps, but I also brought in a few hundred dollars of income from various other apps. 
There are a few new apps that brought in some extra income for me this month, a few of which I'm very excited about. None of these are going to be huge earners by any means, but they're generally easy enough to use that they're worth adding into your side hustle repertoire. Specifically, a reader mentioned Amazon Shopper Panel, which is a very easy receipt app that's worth using. It's by invitation only from what I understand, but I was able to signup as soon as I downloaded the app.
Another app I tried out was Pickl. This is a picture-taking app that is similar to Gigwalk, EasyShift, Field Agent, and Observa. You won't get rich from this type of app, but it's easy enough to use. I'll go into more detail about both of these apps later in this post. 
The rest of this post will go into more detail about how I earned my side hustle income this month.
Rover Income: $47.60 
Rover has continued to be pretty slow, which is usually fairly expected early in the year when people are still waiting to get into the summer travel season. The fact that we're still in a pandemic is also impacting my dogsitting business, although it seems like things are starting to pick back up as people get vaccinated and start traveling and needing sitters again. 
I ended up watching two different dogs in March, each for just one night. One was a repeat dog that we've been watching for years. Another was a new dog that we enjoyed watching and hope will return in the future. For the most part, watching both dogs was fairly passive. Of all my gig economy side hustles, dog sitting can essentially be passive income assuming you already have a dog and are watching a dog that fits in well with your lifestyle.
If you're interested in Rover, you can sign up to be a Rover sitter with this link. 
Postmates/DoorDash/Uber Eats/Grubhub Income: $1,585.18 
My delivery earnings dramatically increased in March due to improved weather. As a reminder, I do all of my deliveries using a bike, so the weather is an important factor in how many deliveries I complete in any given month. Extreme cold and rain are the two things that can slow me down.
For the past year, my general strategy has been to do one hour of deliveries per day (or about 7 hours per week). I do my deliveries during peak hours, typically over the lunch break on days when my son is at daycare, and then in the evening on days when I'm watching my son. I aim to make around $40 per hour, with the goal of hitting $250 of earnings per week. My thinking here is that if I hit $250 per week, I'll make $1,000 per month.
Anyway, here is the breakdown of my food delivery earnings with each delivery app in March: 
My hourly earnings for the month ranged between $35 and $45 per hour, working between 7 and 10 hours per week. As you can see, DoorDash made about half of my delivery earnings, with the remaining earnings split between Uber Eats and Grubhub. Postmates, as usual, was my worst-performing delivery app. 
I think it's really important to track your data when using these delivery apps, so I definitely recommend downloading an app like Gridwise to do that. It's a free app and it's really given me a clearer picture of what my delivery earnings really look like (before I was always sort of guessing).
If you want to deliver for any of these apps, feel free to sign up using the links below.
I've also written a few in-depth articles about each of these specific apps, which goes into more detail about how these apps work and the specific strategies I use for each of them. You can check them out below: 
Shipt/Instacart Income: $8
For the most part, I've shied away from grocery delivery mainly because I find them too time-consuming for the pay. Some people are good at doing grocery delivery and have figured out a way to make money with it – I'm just not one of them. But every once in a while, I'll check my Shipt app just to see if anything good is there.
This past month, I was able to pick up a CVS prescription delivery gig that paid $8. The prescription gigs are good because you don't have to do any shopping. Instead, you just walk to the pharmacy and pick up the prescription. It's basically the same as doing food delivery, so I find them worth doing when they fit into my delivery routes. In this case, this prescription gig took me right back to my house, so it worked out perfectly.
You can sign up to be a Shipt shopper with this link. And you can sign up to be an Instacart shopper using this link. I've also written an in-depth post about Shipt that you can read here: Shipt Shopper App: My Grocery Delivery Side Hustle.
Trash/Flipping Income: $69.07
My trash and flipping income remained steady in March. On the local sales side, I sold one old suitcase for $10 on Facebook Marketplace. It's always nice to get a little bit of money for old stuff you don't use anymore. 
The flipping income this month is actually all from my wife finding things to sell. Even though she makes a huge income from her job, she still enjoys going to thrift stores and finding things that we can flip for profit. I think this is a good example of how side hustling isn't always about money. We're not all robots that optimize our time based solely on what pays the most. Sometimes, you do things because you find them fun to do. And in this case, for whatever reason, my wife enjoys thrifting, even though it's not a lot of money. 
The best sale this month was a North Face jacket that I was able to sell for a good profit. My wife's also been finding a lot of brand-name baby clothes that have some good resell value.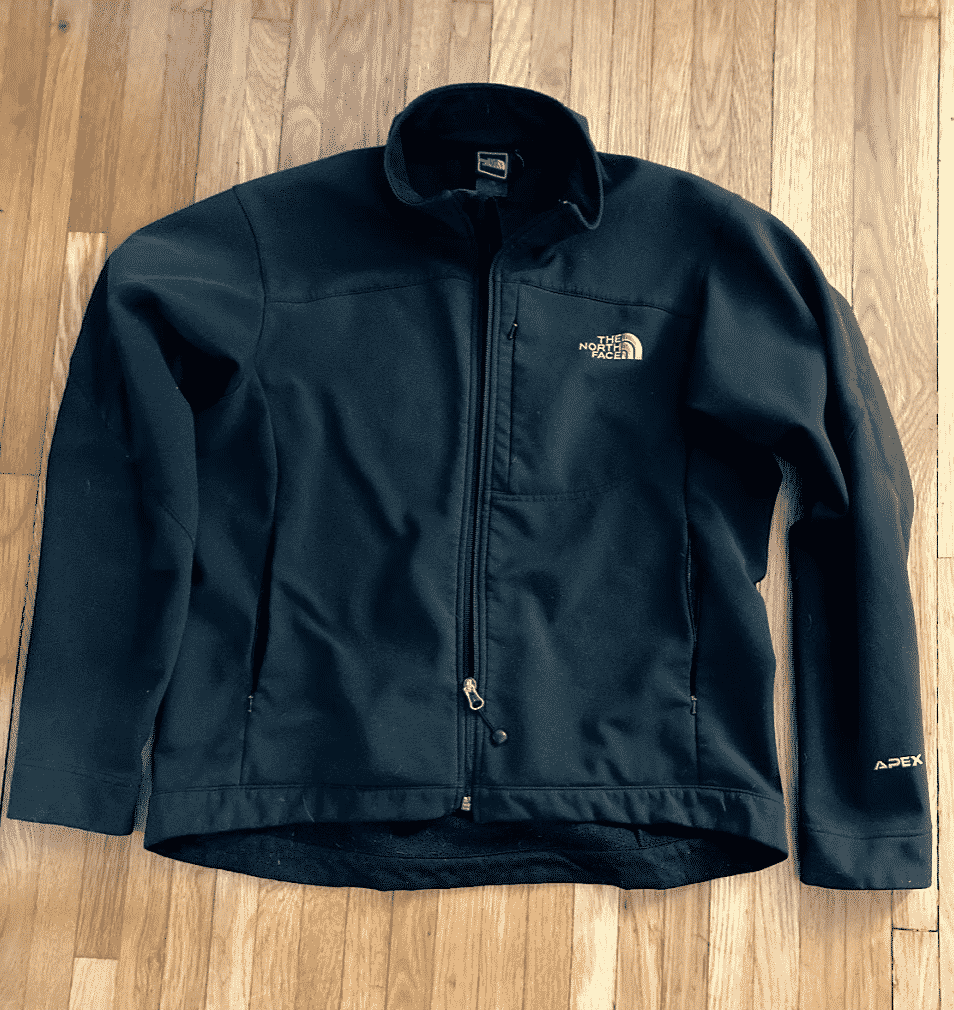 ProductTube Income: $0 
ProductTube laid a big fat goose egg in March. Part of this was that they made some updates to the app and I think my app wasn't sending me new assignments. I deleted the app and reinstalled it, and I think that solved the problem. April is looking stronger as I've already completed a few assignments and have many more in the pipeline, so this should be back to normal in the coming month. For those of you that aren't using this app, I highly recommend downloading it. 
Gigwalk/EasyShift/Field Agent/Merchandiser/Observa/IVueIt/Pickl Income: $13
These picture-taking apps are never going to be big moneymakers, but they have their role in my side hustle repertoire. This past month, I made money with two of these apps – Field Agent (which is an app I regularly use and seem to earn money with each month) and a new app I found called Pickl. 
Field Agent is an app I always like because the gigs are fast and easy to complete. Of all of these picture-taking apps, I generally rank Field Agent as the best one. I did two "buy-and-try" gigs this past month, where I got paid a small amount and was also fully reimbursed to buy some cases of beer and hard seltzer. These beer buying gigs are always the best because I'm getting $15 to $20 worth of free beer. I'll sometimes go slightly out of my way to do these types of gigs because of how valuable I think they are. 
The other app I used this past month was Pickl. This is an app that works similarly to all of these other picture-taking apps. Every gig pays you $5 to take a handful of pictures at certain stores. The gigs don't take long, so they're easy enough to do if you're already in the area or going to the store anyway. 
I did have one issue where I discovered that I couldn't cash out my Pickl earnings until I hit $10, which sounds unfair to me since it essentially requires users to do two gigs to get paid (not to mention that it creates a potential of the app not having to pay out a percentage of users that never hit the $10 mark). To be fair to Pickl, when I raised these concerns, they actually addressed them and lowered the cashout amount to $5. I'm definitely happy with that and have to give them credit for addressing my concerns. 
I've done a few more Pickl gigs since, and while I never expect it to be a big moneymaker, I do think it has easy assignments that are worth completing if you're in the area. I recommend downloading it and trying it out yourself. 
Google Opinion Rewards/Surveys On The Go/1Q Income: $28.51
I had a good month with my short survey apps. Here's what I made with each of these apps this past month:
Google Opinion Rewards used to be very consistent for me but has slowed down dramatically for me over the past several months. That said, I did finally get a few surveys last month after a few months with no surveys at all. 
Surveys On The Go was also a surprise earner for me. I'd only made a few dollars by the middle of the month, but then got a few easy, high-paying surveys that pushed me into the $20+ earnings. Not bad at all. 
Finally, 1Q has also remained steady. Making $5 for literally seconds of work is not a bad use of my time. 
Secret Shopping Income: $59 (plus a lot of free food) 
The secret shopping income was solid once again. I made $49 from doing secret shops on Marketforce, which is the secret shopping website that I tend to use the most right now. I also made $10 doing a funny GPS tracking assignment with Intellishop. For this assignment, I had to go to a business not too far from my house and drop a GSP tracking device into the recycling dumpster. Intellishop paid me $10 for my time (and it did not take me long to complete this assignment). 
ProductLab Income: $15 
I make $3 per week from ProductLab, so by the end of the month, I make $12 to $15. This is an easy app to use and one I highly recommend if you do DoorDash. All you have to do is upload a screenshot of your earnings to the website. You get paid $3 for doing this and it shouldn't take you more than a few seconds. It's fairly passive and gives me a little bit of extra income each week. 
ReceiptPal/Receipt Hog/Fetch/Coinout/Amazon Shopper Panel/NCP ReCap Income: $31.58 
I have 6 different receipt apps that I keep on my phone. These are apps that pay you small amounts to take photos of your receipts. A few times per year, I'm able to cash out my receipt earnings. It's not a lot, but it usually adds up to a few hundred dollars per year, all from taking pictures of random receipts I get.
The key with these receipt apps is they don't require you to make any specific purchases. For the most part, they work with receipts from anywhere. I like that because it doesn't require me to think at all. I can just buy whatever I normally buy, snap photos of my receipts with each of these apps, then toss the receipt.
This past month, I was able to cash out $21.08 on CoinOut and was also paid $10.50 by Amazon Shopper Panel. CoinOut was a long, drawn-out process that started years ago. They pay you a few cents for every receipt, so as you can imagine, it takes a long time to get any significant income from it. They offered a $1 bonus if you cashed out at $20, so for the past few years, I've been saving my CoinOut earnings until I hit that $20 mark, which I finally did in March. I'm not sure when I first downloaded this app, but it had to have been 2 years ago probably (I'm sure I could find exactly when I downloaded this app if I went through all my old side hustle reports). 
Amazon Shopper Panel is a new app that a reader recommended to me. This app is almost too good to be true right now. You get paid $10 per month if you upload 10 receipts in the month. That's super easy to do and it's essentially a free $10. They also occasionally offer short surveys that pay 25 cents. The only catch with Amazon Shopper Panel is that they aren't open to everyone. My understanding is that it's by invite only. For some reason, I was able to download it right away, but I know others get put on a waiting list.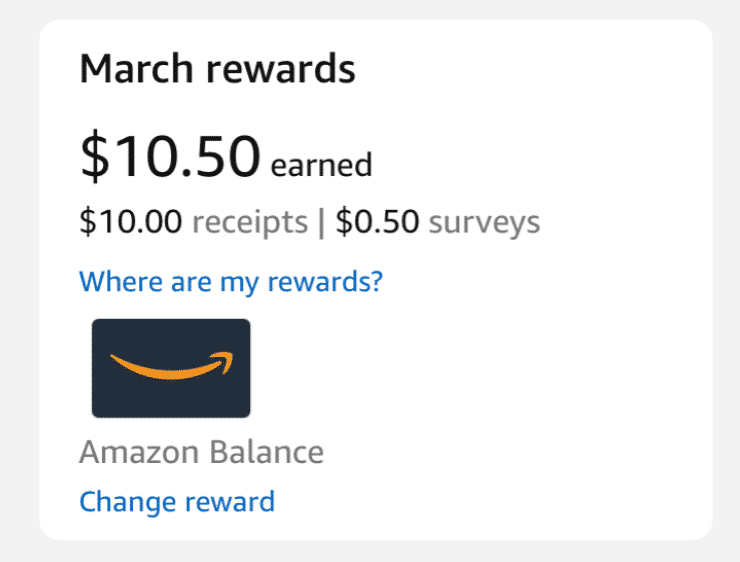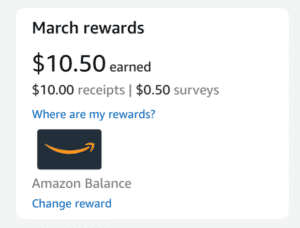 In any event, I put all of these apps in a folder on my phone and have gotten into the habit of snapping a photo of all of my receipts with each app before I toss them. It's not a huge amount of money, but I've been able to make a few hundred dollars over the years from my receipts, so I think it's worth it. 
You can download each of these apps using the links below: 
Influence (Formerly VoxPopMe) Income: $17.50 
VoxPopMe is a market research app where you take 15-second videos of yourself answering a short question. You get paid 50 cents for each video. The downsides are that they make you wait until you hit $15 to cash out your earnings and there usually aren't that many assignments. As a result, it can take a while before you hit the $15 mark. I'm usually able to cash out my earnings about twice per year. 
VoxPopMe recently rebranded to Influence, so if you look it up, you'll find that is its new name. The app looks slightly different, but everything still works the same. My thought is that this is easy money and I'm always happy when I can cash out my earnings from this app. 
Medium Income: $47.41 
Since the beginning of the year, I've been retooling some old blog posts and putting them up on Medium. It's an interesting platform. In my opinion, you'll make more in the long run from writing on your own blog, but writing on Medium is definitely a faster way to start making some money from writing. It took me well over a year before I made my first $100 from this blog. I was able to do the same on Medium in just 3 months.
In March, I wrote 11 articles on Medium and managed to make about $47. I'm obviously not getting rich from that, but it's sort of interesting to see what's possible. My goal is to see if I can get to $100 per month on Medium. It's not taking me too much time either because I'm using things I've already written. 
If you want to check out what I'm doing on Medium, you can see my work here.
And that concludes the March 2021 Side Hustle Report. 
March was a much better month than February, so I'm happy about what I was able to earn. Making almost $2,000 doing a bunch of random stuff is pretty satisfying. And I really think that if I can do this, you can probably do the same too.
You can check out what I've earned in prior months in my previous side hustle reports. If you're looking for ideas for gigs you can try out, I also have a huge post titled The Ultimate List of Gig Economy Apps. I update this post regularly with all of the different gig economy and sharing economy options out there, so be sure to check it out if you're looking for different ideas that can work for you. 
I hope this month's side hustle report was insightful. As always, if you have any questions or comments, please feel free to reach out to me.