Hey everyone. It's time for another side hustle report. Let's take a look at what I was able to earn side hustling in March 2023. 
Side Hustle Income for March 2023
Total Side Hustle Income for March 2023 = $928.44 
I've had a slow start to the year compared to prior years. A lot of this is simply due to a lack of time. I'm busy with this blog and juggling two young children at home, so time is at a premium for me these days. I was also one of the featured speakers at the EconoMe conference this year, which meant a lot of the free time I might have had was spent preparing my speech and traveling to the conference (my speech will be up on the EconoMe YouTube channel soon, so check that out if you want to see my talk). 
Still, even with a busy schedule, I did manage to make nearly $1,000 in side hustle income for the month. I think that's pretty good for most people. And let me say – if I can do this with the limited free time I have – I'm certain that most of you reading this can probably do the same. You don't have to make thousands of dollars every month for it to mean something either. Even an extra $500 per month can make a big difference to your financial life.  
Here's a pie chart breaking down my earnings by category for the month: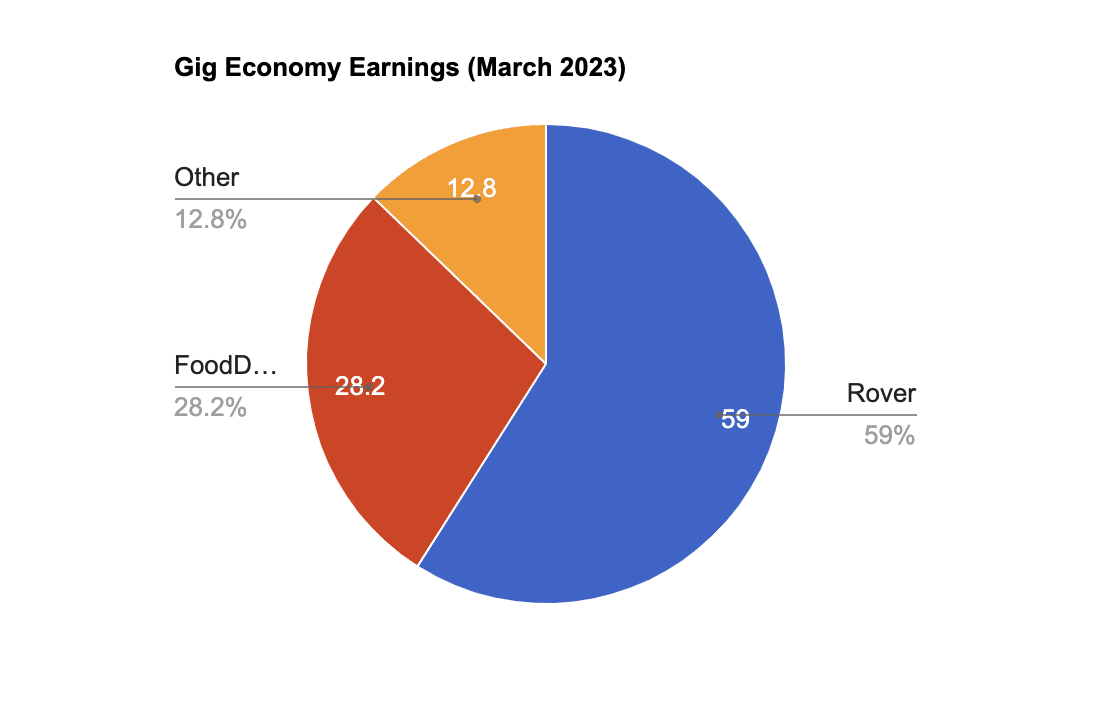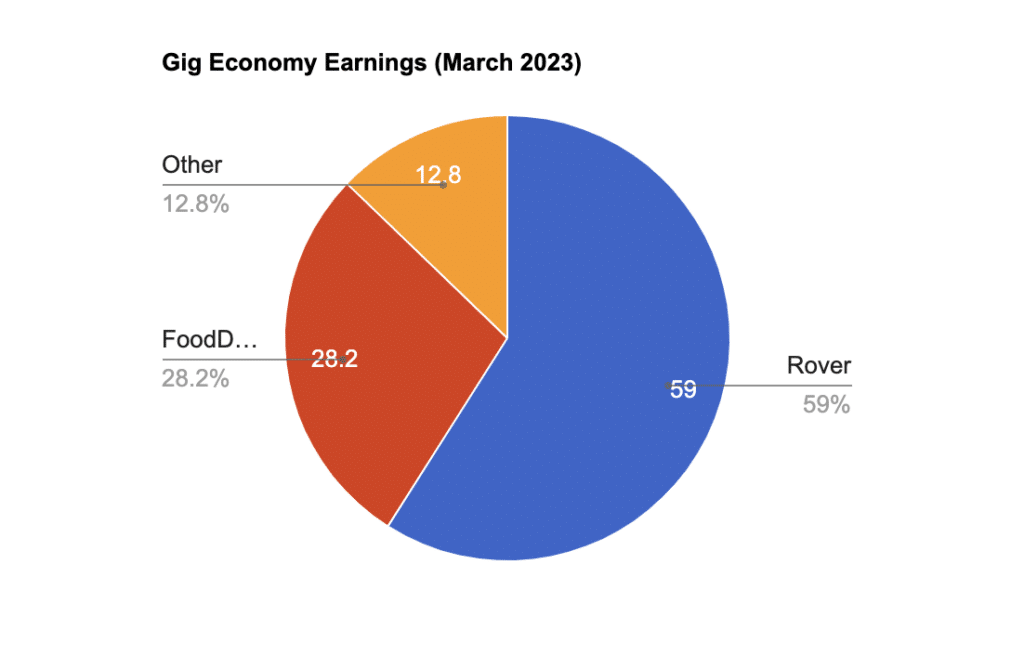 As has been the case for a while, Rover made up the bulk of my side hustle earnings for the month. The reason for this is that Rover is a fairly passive side hustle – in contrast to most gig economy work I do, dog sitting is something I can do without actively having to trade my time for it (i.e. when I'm dog sitting, I can still do other things, so I'm not actively working the entire time I'm doing Rover). 
Food delivery made up the next big chunk of my side hustle earnings for the month. DoorDash, Uber Eats, and Grubhub were relatively slow for me, but most of this was due to weather conditions. We've had a rough winter here in Minneapolis, so I did fewer deliveries. I also lost a bunch of potential food delivery days when I was out of town at EconoMe. 
The remainder of my earnings for the month came from the various small gig economy apps I use. These included ProductTube, secret shopping, receipt apps, and short surveys.
In the remainder of this post, we'll take a closer look at my earnings for each category. 
Rental Income: $2,400
I don't have much to report on the rental income front. I didn't have to do any maintenance tasks in March and there were no unexpected maintenance expenses to deal with either. The only work I did have to do was shovel snow a few times. I have some spring maintenance tasks I'll need to handle in the next few months, but for now, it's nice to have a low-key month like this.
Rover Income: $547.85  
Rover income was strong again for the month. Most of my Rover clients were repeat clients, although I watched one new pup for a neighbor that will likely turn into a repeat client.
Demand for Rover has been strong since I moved to my new house two years ago. I think it demonstrates how important location is when it comes to how much business you'll get on Rover. Basically, the highest-demand places are going to be higher-income neighborhoods. This makes sense when you think about it as people with more disposable income are probably going to be going on trips more often and have the money to pay for dog sitters.
For more information about Rover and how it works, check out this post I wrote: Rover Pet Sitting – How To Make Money Dog Sitting With Rover.   
DoorDash/Uber Eats/Grubhub Income: $262.48 
Here's what I made with each delivery app in March: 
Food delivery earnings have still been down compared to what they are during the spring and summer months. A lot of this has to do with a lack of time and poor weather conditions (remember, I do all of my deliveries using an ebike). 
Things are starting to pick up a bit, although I don't think I'll ever get back to the $1,000 or more per month I used to earn. I just don't have the time to do deliveries like I used to. Still, I think I should be able to make at least $500 a month, so that should get my total side hustle earnings back over the $1,000 mark most months. 
In terms of how I approach food delivery, during the week, I aim to work for an hour during the lunch hour, with the goal of making $30 or more in that hour. I'm generally able to do this pretty easily by being strategic and multi-apping.
If you want to see how I deliver for DoorDash, Uber Eats, and Grubhub on my ebikes, check out my YouTube Channel, where I regularly film myself doing food deliveries.
ProductTube Income: $60
After a down month for ProductTube last month, ProductTube came back strong for me in March. ProductTube is great because it pays well for very little work – the videos I film for ProductTube are typically 3 minutes or less. A typical ProductTube gig pays $10, so spending 3 minutes making a video for the app is very well worth it. 
One other nice thing is that I can usually do these ProductTube gigs in the morning right after I drop my son off at daycare. This lets me earn a few bucks to start my day at a time when I otherwise wouldn't be earning any money. ProductTube is never going to be a significant source of income, but it is a nice extra source of income for very little work. I need to put together an in-depth article on ProductTube at some point, especially since this is a regular app I use.
Google Opinion Rewards/Surveys On The Go/1Q Income/Facebook Viewpoints: $10.87 
Here's what I made from each short survey app in March:
Like with many of my other small side hustle apps, these apps aren't going to make you significant amounts of income, but they pay well for the time they take. In this case, I earned over $10 from these apps for literally seconds of work. Over the course of a year, I'll end up making $120 or more from these apps while spending minutes using them. It's a no-brainer for me.
Secret Shopping Income: $35 (plus free food) 
Secret shopping seems to be down, although I can't really tell why. All of these secret shops pay for the month prior, so the earnings I made from secret shopping in March came from secret shops I completed in February. That's a short month, so it could explain why my earnings were down compared to what I've been making before. Still, making $35 and getting free food is a win in my book.  
At some point, I think I'll put together an email course or some sort of guide to secret shopping that distills all this stuff in easy-to-follow steps. But until then, check out these posts if you want to learn how to get started with secret shopping.
ReceiptPal/Receipt Hog/Fetch/CoinOut/Amazon Shopper Panel Income: $11.70
In March, I earned $10.85 from Amazon Shopper Panel, plus 85 cents from CoinOut. Amazon Shopper Panel continues to pay huge dividends, paying me at least $10 per month for my receipts. That's over $120 in a year for taking a few pictures of receipts. 
CoinOut made some changes that I think are negative, as before they were paying cash for receipts and letting you cash out at any amount. They've now switched things up to where you get coins for your receipts, which you can then redeem for Amazon gift cards. In practical terms, it means I won't be able to cash out as often with CoinOut and it'll end up being more like ReceiptPal, Receipt Hog, and Fetch, where I'm able to cash out once a year or every few months (depending on which app I'm using).
Medium Income: $0.54
Medium keeps paying me a few cents each month for some articles I wrote for the site a few years ago. I don't plan to do anything with Medium anymore, as it's not worth my time, but I'll keep this section of the side hustle report active so long as I'm earning something from Medium.
And that concludes the March 2023 Side Hustle Report!   
I'm a bit disappointed that I didn't crack the $1,000 mark in March, but it's also understandable given how little time I had last month. The fact that I almost hit $1,000 speaks volumes about what you can earn from these apps if you're strategic. And even if you have very little time, you can still earn some extra income (and this is coming from a guy with two kids and his own business).  
I hope you enjoyed this month's side hustle report. If you want to see more of my gig economy work in action, check out my YouTube channel. I film myself doing deliveries on that channel and will start doing ebike and scooter reviews too. For more side hustle ideas, check out my post, The Ultimate List Of Gig Economy Apps. No matter what your situation, you can probably find an app there that can work for you. Thanks for reading.