One of the things that travel hacking has allowed me to do is to travel a lot more – and to do so in ways that I wasn't able to do before. Back in December, I wrote about a spontaneous trip I took to Indianapolis to watch the Big Ten Championship and how I was able to do it all for free thanks to combining SoFi experiences and travel hacking. 
I've taken some other interesting trips as well that I thought might be worth sharing. Over Thanksgiving, my wife and I took four days and flew to Arizona, where we spent some time at Miraval Arizona, an all-inclusive resort and spa located outside of Tucson.
Cash prices for Miraval are extravagant, with nightly rates hovering around $1,400 per night for a two-person stay. Taxes and fees add another 35% or so to the nightly rate, which means you're looking at nightly rates of around $1,700 to $1,900 per night if paying out of pocket. 


That, unfortunately, is well out of my price range.
A Thanksgiving Trip To Miraval Arizona Resort & Spa
Luckily, Miraval joined the World of Hyatt rewards program a few years ago, which opened up the ability to use Hyatt points to stay at Miraval. One night at Miraval costs 45,000 Hyatt points. If you add a second person, it raises the cost to 65,000 Hyatt points per night.
I ended using 130,000 Hyatt points to book two nights over the Thanksgiving holiday. That's obviously a lot of points, but I've accumulated a lot of points by strategically opening cards and earning signup bonuses. Hyatt hotels also work out particularly well for me since I tend to focus on Chase Ultimate Rewards points, which transfer to Hyatt at a 1-1 rate.
My conclusion after spending two nights at Miraval is that it was worth the cost. Here's why:
All food and non-alcoholic drinks are included. This includes three meals per day at the on-site restaurant, all the food and snacks you want, and a great smoothie bar. Miraval is a health and wellness resort, so the food there is healthy and really good (there's a heavy emphasis on plant-based food). Getting a lot of good, high-quality food means that the points you're using stretch a lot farther. 
You get $175 worth of resort credit per day. Some of the activities cost money, but when you book at Miraval using your Hyatt points, the booking includes $175 of resort credit per day, per person. This means that my wife and I each had $350 of resort credit that we could use for ourselves ($175 x 2 nights = $350). I ended up getting a massage and a facial.
There are a lot of activities you can do. There's a daily schedule with a lot of activities from morning until evening. I signed up for some workout classes, did a pretty cool tightrope activity, and took a few mindfulness courses. 
The facilities and grounds are excellent. It was a little cold while we were there, so my wife and I didn't spend too much time in the pool, but it looked very nice. The spa was great and it had a nice sauna and hot tub. The area around the resort was also great, with great views and good spots to walk around.
Miraval has a no-tipping policy. One aspect of Miraval that I really liked is its no-tipping policy. The idea behind this policy is that since Miraval is a wellness resort, they don't want you to stress out with carrying cash and tipping people. This makes it feel much more all-inclusive since you don't have to worry about tipping expenses either.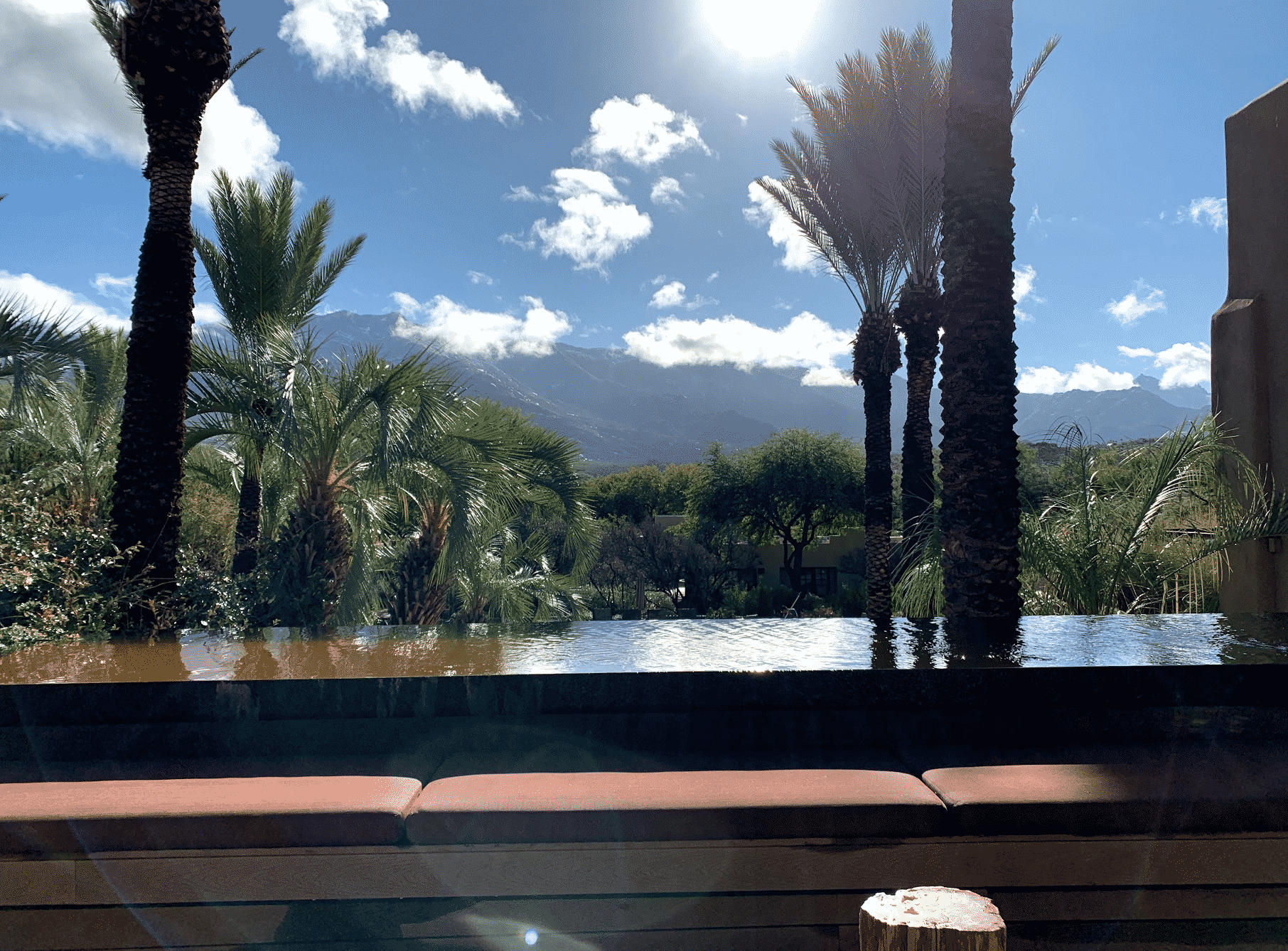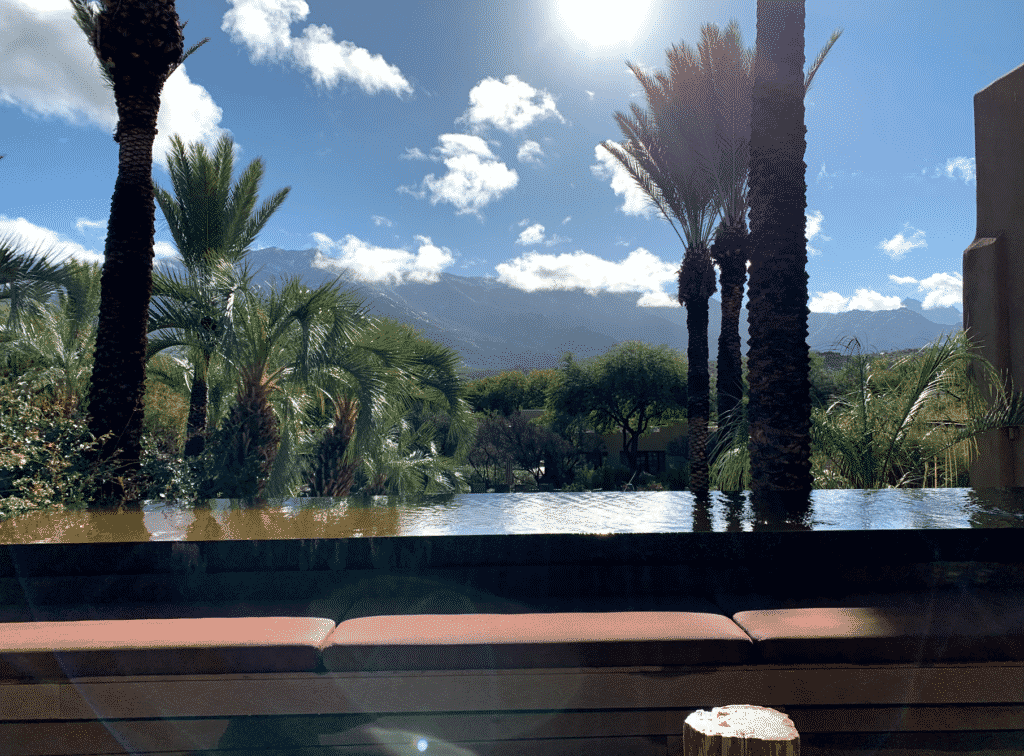 As for our trip itself, here's how it went. We landed in Arizona on the day before Thanksgiving, flying on Southwest from MSP to PHX. My wife had the Southwest Companion Pass at the time, so we used Southwest points to book her plane ticket and then booked myself as the companion for free. 
At the time, I was in the process of earning myself the Southwest Companion Pass for 2020-2021. which meant that I was using the Southwest Business Performance Card for my daily purchases. One of the benefits of this card is that it gives you four upgraded boardings per cardmember year. To use this benefit, you go up to the counter before the flight and ask to pay for an upgraded boarding, which then puts you in Boarding Position A1-A15. Upgraded boarding costs between $25 to $40. However, the Southwest Business Performance Card reimburses up to four upgraded boardings per cardmember year. 
Thanksgiving travel is a good time to use this benefit since the plane is probably going to be full. The upgraded boarding meant that we were in Boarding Position A5 and A6. This meant that we were one of the first people to board the plane. As luck would have it, we managed to get the coveted seat 12A, which is an exit row seat that has no seat in front of it (it's one of the few special seats on Southwest planes). My wife ended up getting a lot of legroom for this flight.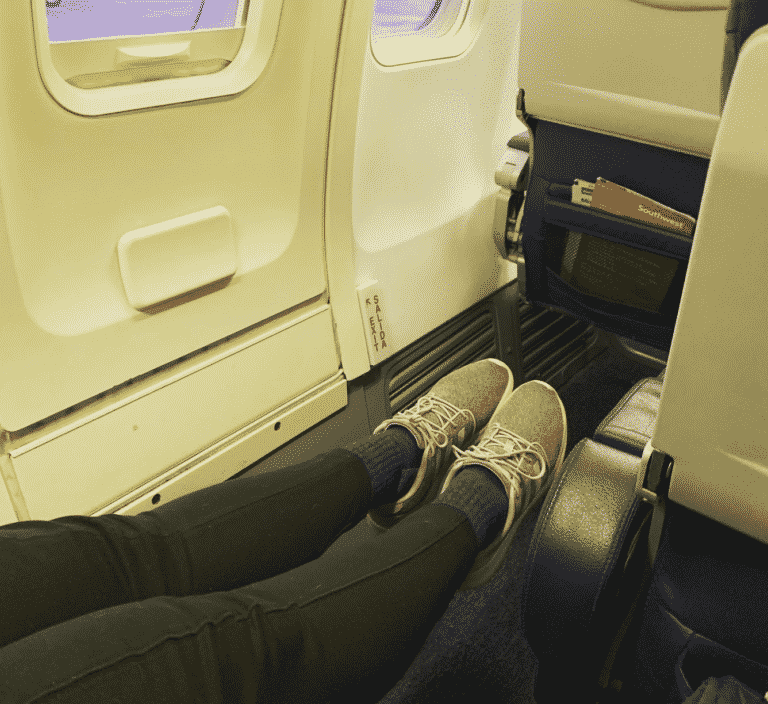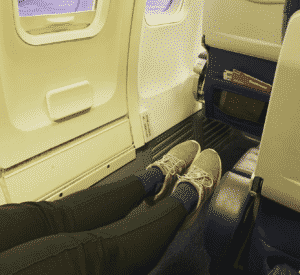 Miraval allows you to check-in beginning at 11 am on the day of your check-in, so ideally, in order to get the most bang for your buck, you want to arrive at 11 am. We landed the evening before, so we had to spend one night at a cheap Marriott hotel outside of Phoenix that I booked using 12,000 Marriott points. It was a crappy hotel, but fine for what we needed. 
We drove down to Miraval the next morning and arrived at 11 am. They have a free valet that takes your bags and parks your car for you, and the staff greets you with a refreshing juice drink and then gives you a tour of the grounds. Our room was great, with a big comfortable bed and a little patio area that faced a fountain.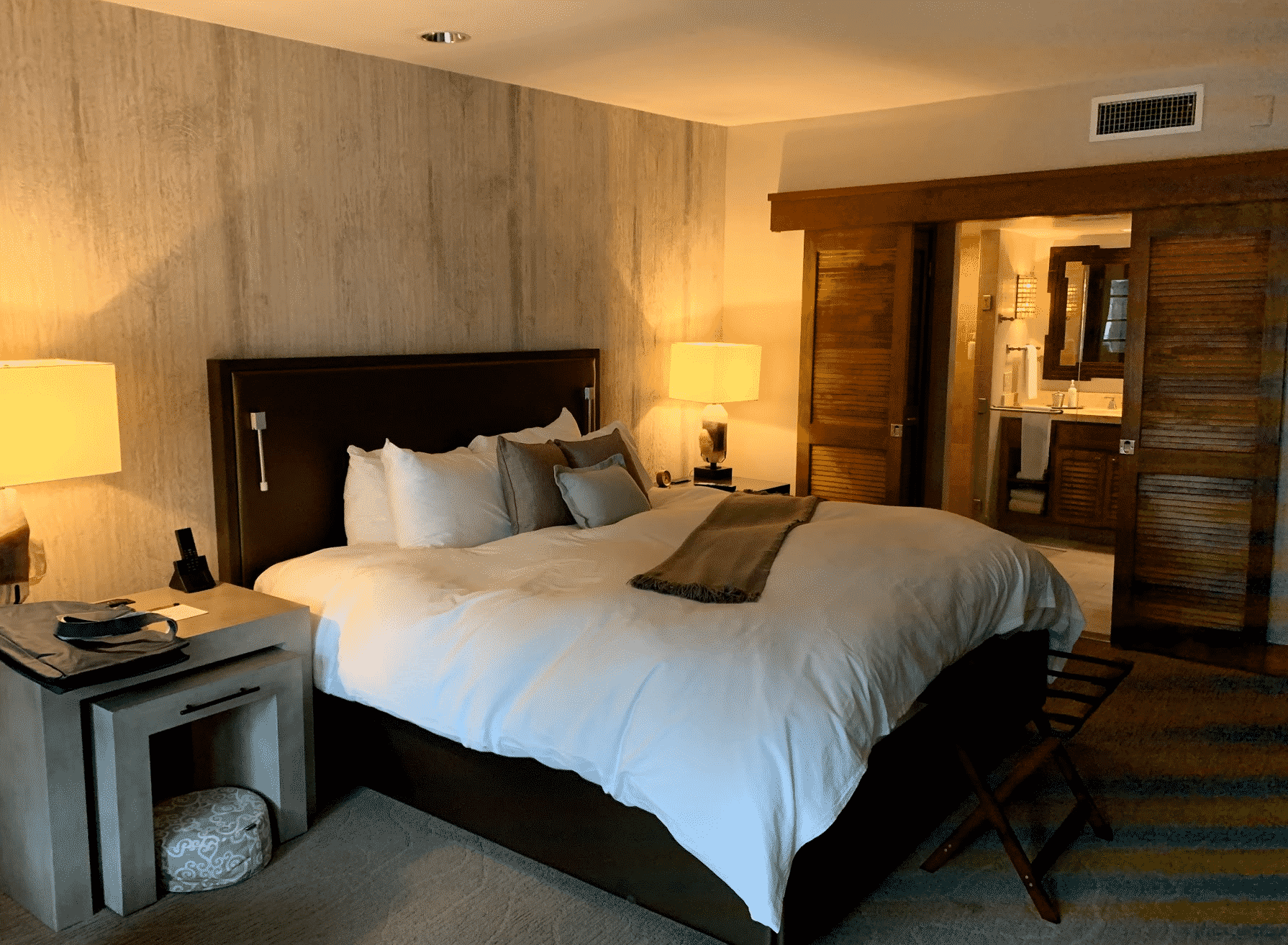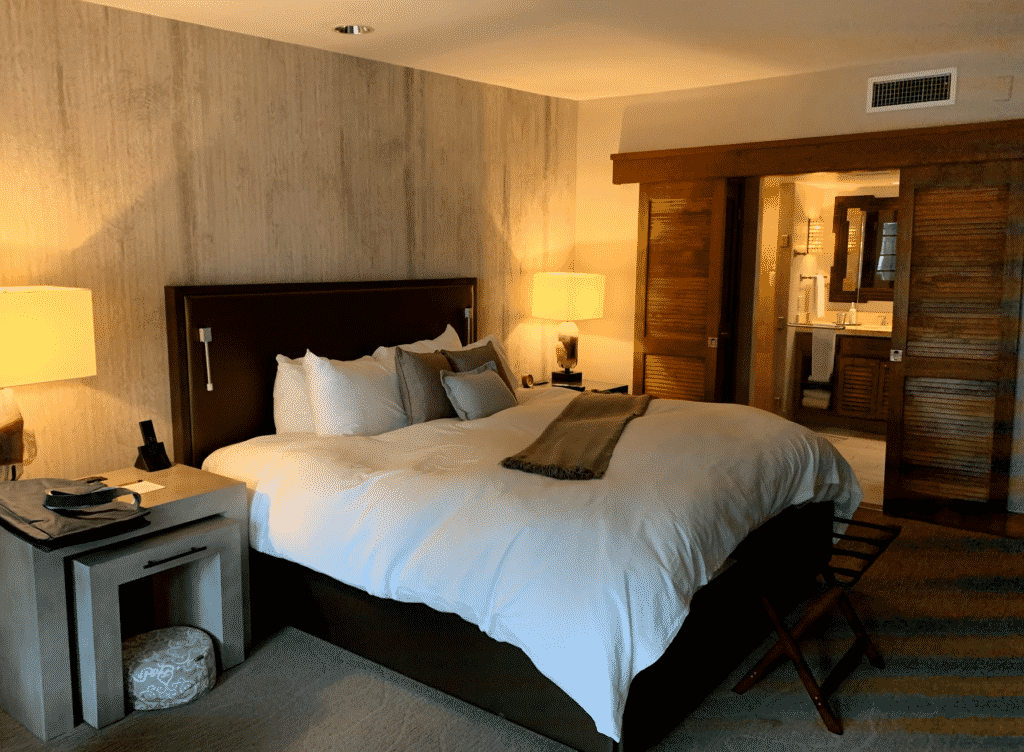 The food at Miraval was excellent. The restaurant is a full-service restaurant that's open at breakfast, lunch, and dinner. You order off a menu and servers bring the food out to you. This is all included, so you don't pay anything unless you want to order alcohol (and since this is a wellness resort, there's not really a lot of need to order alcohol).
I spent my two days there doing some workout classes and relaxing in the hot tub and sauna. I also used my resort credit to get my first ever massage, which I really enjoyed (I can see why people do this now). In terms of activities, one of my more interesting activities was this tightrope exercise I did, where you had to try to go across this rope that was about 30 feet off the ground (I didn't make it across).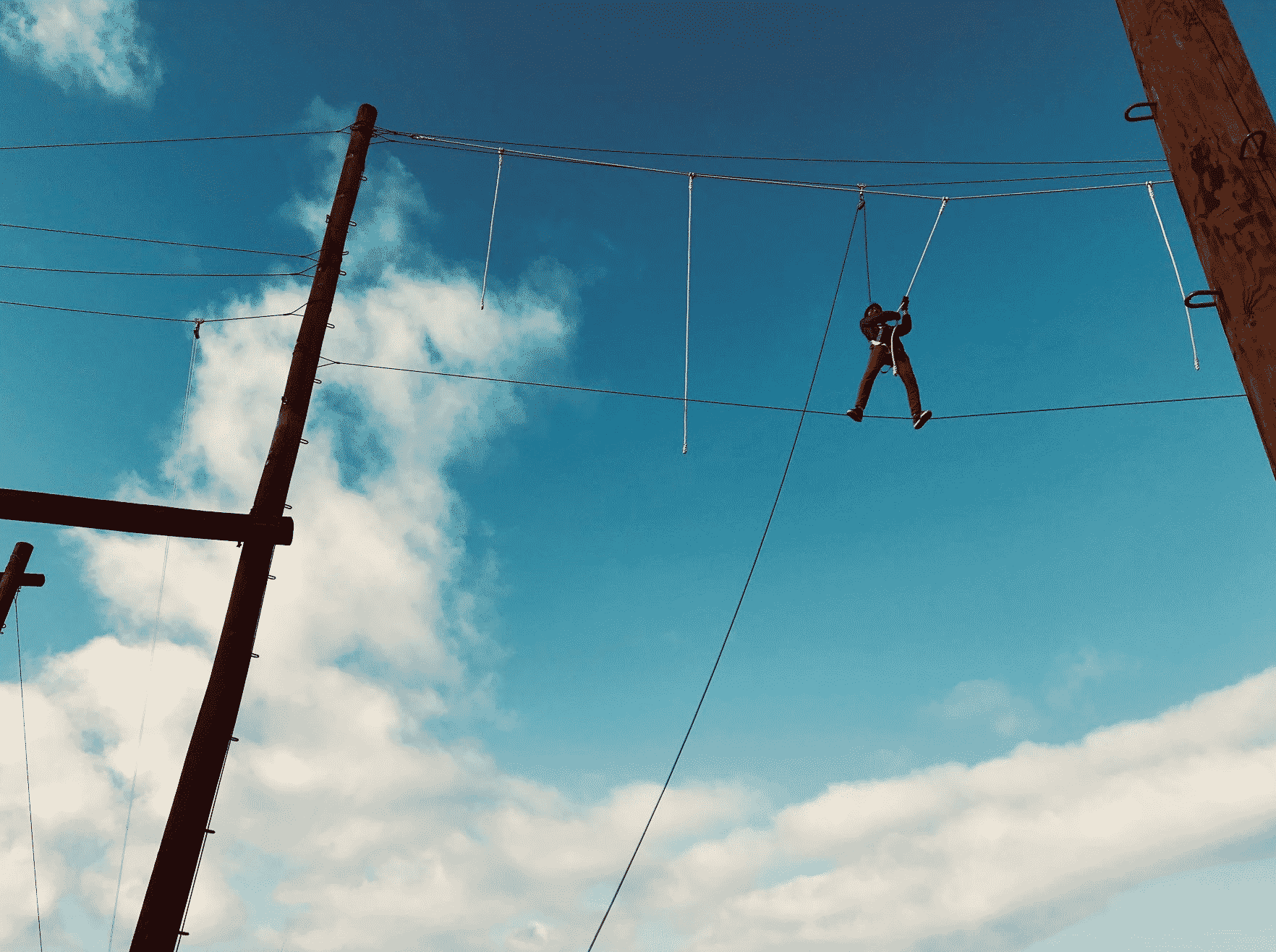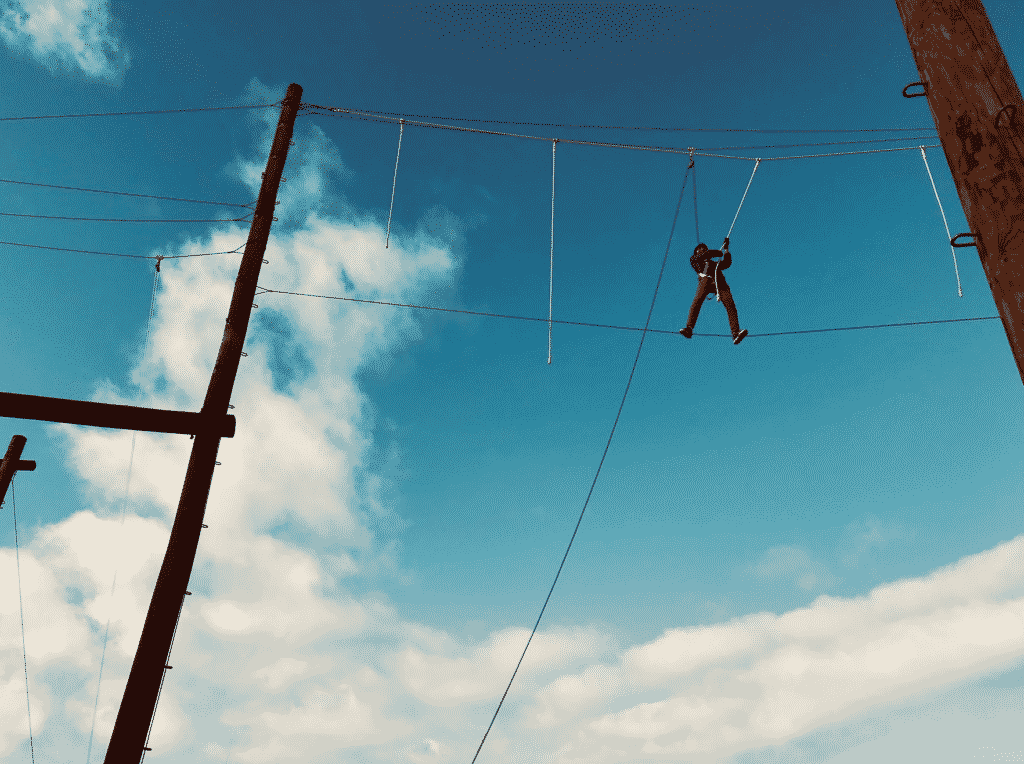 The checkout time at Miraval is 2 pm, which gives you time to get lunch, do some morning activities, and grab some smoothies before you hit the road. We definitely enjoyed our time here and we'll probably be back one day, especially if we could spend one extra day there.  
In summary, here's what this trip cost:
Plane Tickets on Southwest from MSP to PHX: 17,682 Southwest Rapid Rewards Points + $11.20 in taxes and fees.
One Night at Four Points Sheraton Hotel: 12,000 Marriott Points.
Rental Car (Three Days): 8,838 Chase Ultimate Rewards Points
Two Nights at Miraval Arizona: 130,000 Hyatt Points
The interesting thing is that while we were traveling, we also rented out our house on Airbnb. Those guests paid us $1,054 to rent our entire house. We literally made money while we were traveling.
A Canceled Flight Saved By Trip Delay Insurance
We planned to fly back to Minnesota on Saturday night and spend the evening at the JW Marriott near the Mall of America. Unfortunately, around noon on Saturday, we received news that our flight had been canceled due to weather. I called Southwest to ask about rescheduling and was told that the next available flight back to Minneapolis wasn't until Tuesday.
Waiting until Tuesday was out of the question, as my wife needed to get back home in order to see patients on Monday. We ended up rebooking new flights for Sunday morning on Delta. This was expensive and we ended up having to use 73,000 Delta Skymiles in order to get us on the next flight. This is one of the understated benefits of accumulating points and miles – when you're in a pinch, it can act almost as a sort of emergency fund. 
The one benefit of this trip cancelation was that it gave me the chance to try out the trip delay insurance benefits that I get via my Chase Sapphire Reserve. If you pay for any portion of your flight (included taxes) with your Chase Sapphire Reserve, you're eligible for trip delay insurance if your flight is delayed by 6 hours or more. If that happens, the insurance will reimburse you up to $500 per person to cover reasonable expenses for hotels, food, and transportation caused by the delay. In this case, we needed to spend one more day in Arizona so that we could catch our morning flight out of PHX.
We ended up booking a night at the Waldorf Astoria Arizona Biltmore, which was the most expensive hotel I could find that was in the Phoenix area and relatively close to the airport. I also specifically chose this hotel since it's a Hilton hotel and we have Diamond status. This got us an upgrade to a room with club access. The hotel grounds were great. The room wasn't as good as we would have liked, but it did the job.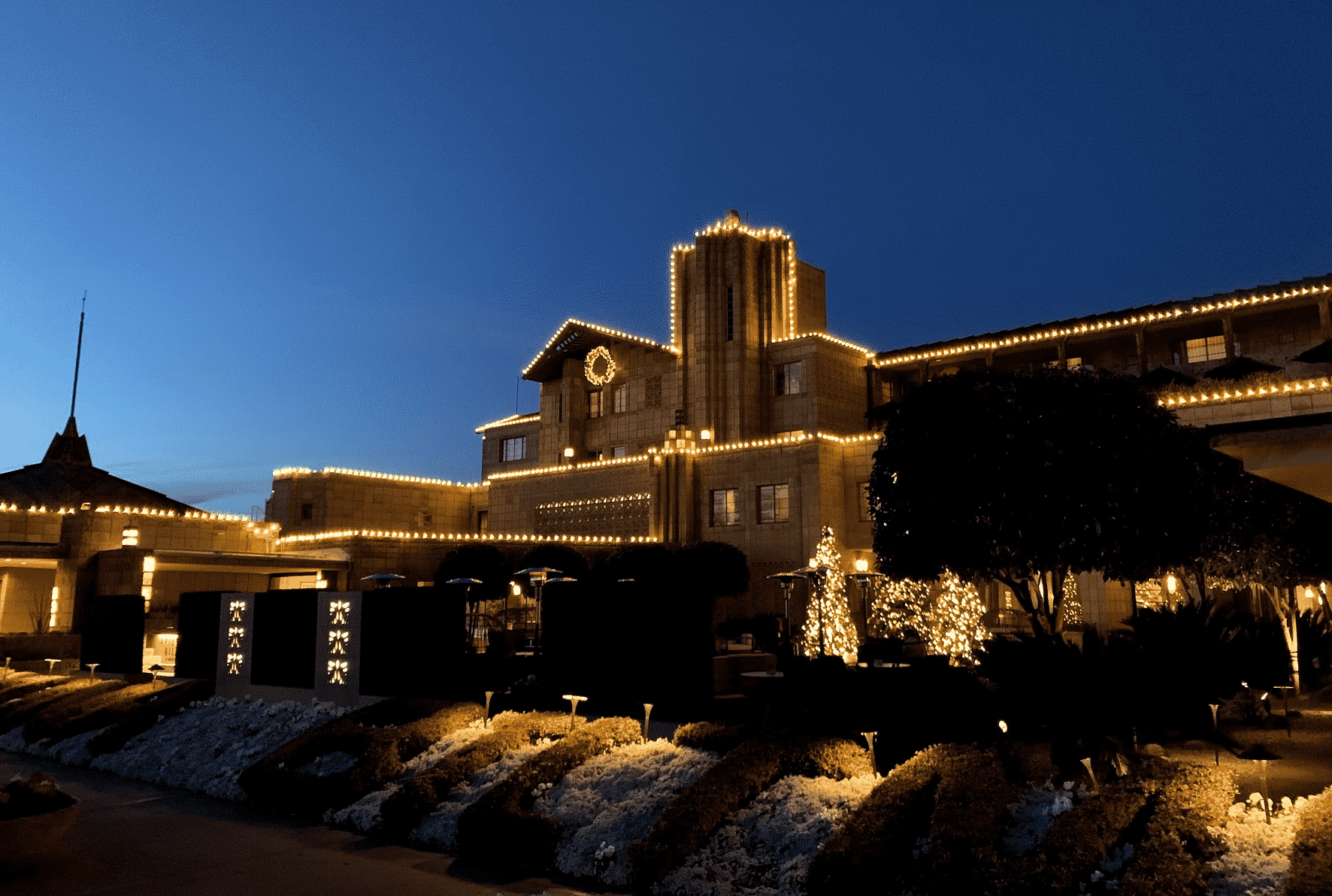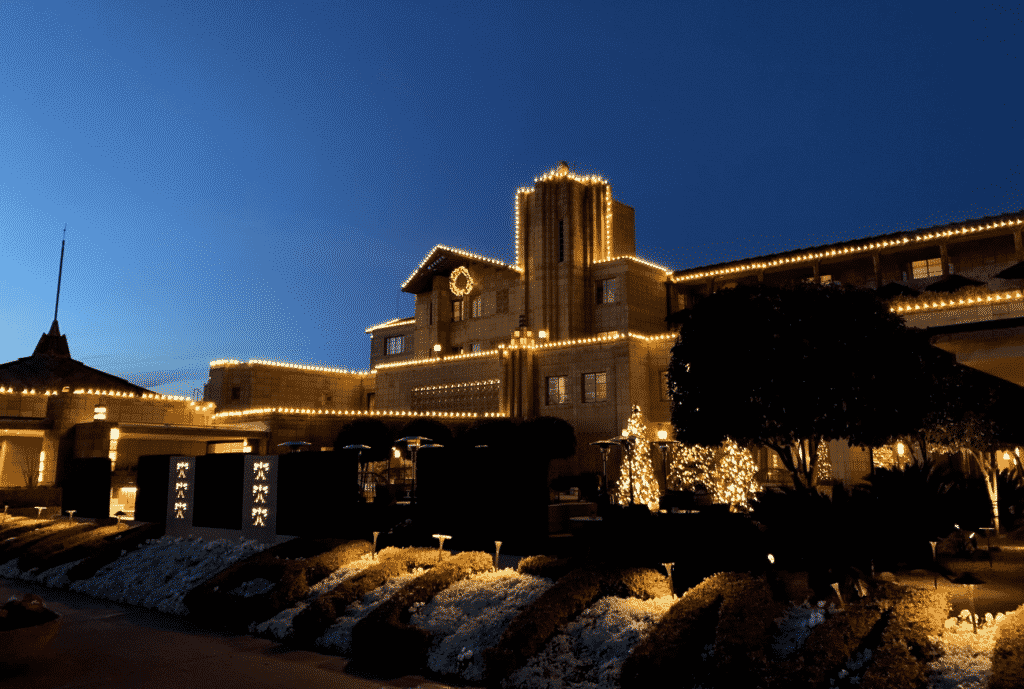 For dinner, we had a three-course meal at the most expensive restaurant at the resort. Our Hilton Diamond status also let us grab $30 worth of food for breakfast, which we spent on Macaroons.
So, what could have been a disaster was saved by my trip delay insurance. It's why I always pay for the taxes and fees for any trip I take with my Chase Sapphire Reserve. The reimbursement process was really quick also – it only took a week or two to approve my claim. 
The total costs for this last night (which were all reimbursed by the trip insurance) were as follows: 
One Night at the Waldorf Astoria Arizona Biltmore: $294.61
Dinner for Two at Wright's: $182.04
Uber Rides and Other Transportation Expenses: $52.45
The total cost for this extra night was $529.10, so I wasn't even close to spending the $1,000 that we conceivably could have spent. I was a little nervous about the "reasonable expenses" language, so that's why I didn't go all out and get the $700 per night suite.
Final Thoughts
I have some exciting trips planned for this coming year, including two international flights in business class, which I am extremely excited about. I haven't done any luxury flying yet, so this is going to be a new experience for me. 
There are a few takeaways and thoughts to think about with this trip: 
If you can, I always recommend paying for airfare or taxes with the Chase Sapphire Reserve. The trip delay insurance really got me my money's worth and made what could have been a disaster turn into a fun extra night. 
Miraval is expensive, but I think it's worth it if you have the points to spare. You get a lot of value for your points since you're getting food, activities, and lodging taken care of. Note that Hyatt is instituting peak and off-peak pricing starting in March 2020, so the pricing may change depending on when you go. 
Accumulating Hyatt points is pretty easy. The World of Hyatt Credit Card is the most obvious way to earn Hyatt points. You can also transfer Chase Ultimate Rewards Points to Hyatt at a 1-1 ratio (and this is a transfer option that I use a lot). The Chase Sapphire Reserve or Chase Sapphire Preferred are two personal cards that I recommend for earning Chase Ultimate Rewards Points. The Chase Ink Preferred is the business credit card that I typically recommend. If you were to open a few of these cards, you'd earn enough points to do 2 nights at Miraval.
Miraval is a pretty accessible aspirational trip that most people can fit into their schedules. Not all of us have the time to go check out really amazing properties on the other side of the world. But Miraval is one that most of us can fit into a long weekend pretty easily. 
Addendum: One thing I forgot to add, you have to call Hyatt in order to book a stay at Miraval. When I called, I confirmed that the dates I was looking for were available. I then transferred my Chase points over to Hyatt, then called again to have my stay booked.
Financial Panther has partnered with CardRatings for our coverage of credit card products. Financial Panther and CardRatings may receive a commission from card issuers.
Responses are not provided or commissioned by the bank advertiser. Responses have not been reviewed, approved or otherwise endorsed by the bank advertiser. It is not the bank advertiser's responsibility to ensure all posts and/or questions are answered.