It's time for another edition of the Financial Panther Side Hustle Report! In today's post, I share exactly how I earned extra income from side hustling in November 2018.
The goal of these side hustle reports is two-fold:
To show you exactly what someone can make side hustling while also working a full-time job; and
To inspire you and give you ideas so that you can do the same thing. 
Regular readers of this blog know that I'm a big believer in using the sharing and gig economy to generate extra income. I think the legitimacy of these side hustles as a builder of wealth gets underappreciated because the amount you earn from each side hustle doesn't necessarily seem all that big, not to mention that earning money by doing food deliveries, walking dogs, or charging scooters doesn't really seem all that challenging.
But there's a lot more to the sharing economy and gig economy than most people think, and I truly think it can be a real and viable strategy to push yourself closer to financial independence as long as you're strategic about how you do these different gigs. The impact of these side hustles is bigger than you think.
Indeed, over the past couple of years, I've been able to make between $1,000 and $3,000 per month of extra income (all while working a full-time, 9-5 job). That's a significant amount of money for most people, and over the course of a year, it adds up. I keep a running tally of all of the side hustle income I've made since I started keeping track of it, and it's added up to over $50,000 over the past couple of years. Imagine what that could mean for you if you did the same thing.
With all that said, let's get to the good stuff. Below is a break down of all of my side hustle earnings in November:
Side Hustle Income for November 2018
Total Side Hustle Income for November 2018 = $2,771.37
As you can probably tell, November was a busy month for me on the side hustle front. I brought in over $2,700 for the month, which makes it four months in a row that I've earned over $2,000 from side hustling. That's a pretty big deal for me – since I switched to a non-traditional legal role, my day job income has gone way down, which means that this side hustle income has a bigger impact on me financially. 
One thing you might notice is that, for the first time in a while, my biggest income earner wasn't Airbnb. Instead, this month I was able to pull in over $1,000 from charging up Bird and Lime scooters. That's made even more impressive by the fact that I pick up all of my scooters without using a car. Instead, I stack my scooters and ride them all home, then drop them all off on my way to work each morning.
The rest of this side hustle report will go into greater detail about how I earned my side hustle income in November. Let's take a closer look: 
Airbnb Income: $843.90
November is always medical school and dental school interview season for my Airbnb, with the majority of my guests coming into town for a night or two for interviews. These are, without a doubt, my favorite guests to host – they're always really friendly, clean, and they basically only stay in my house to sleep since the rest of their time is spent doing interviews and other events. 
In terms of specifics, my wife and I hosted 11 different guests for a total of 18 nights. That adds up to an average nightly rate of between $46 and $47, which I think isn't too bad for November. I use Beyond Pricing to automatically set up my daily pricing, so my pricing goes up and down based on supply and demand.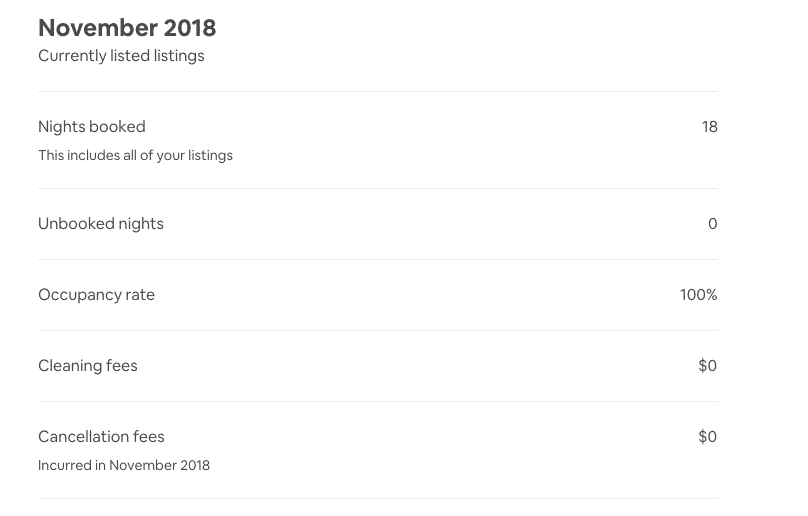 For the most part, the Airbnb business basically runs itself. I'm able to keep the house clean pretty naturally just by picking up after myself instead of letting things pile up. Most of the Airbnb work is just changing sheets and making sure the bathroom is clean – none of which takes up too much time. I've also automated basically everything else by using Hostfully for my online house manual and AvivaIQ for automated messages. 
As can be expected, the next few months will be slow on the Airbnb front since we don't get a ton of people coming to Minnesota during the winter. We also always block off the holidays for family coming into town, which naturally results in less revenue. Still, that's exactly the reason why I think renting out a room on Airbnb is way better than finding a traditional roommate. Yes, it requires a little more work, but it really doesn't feel like you're living with someone else. And when you want the house for yourself, it's yours.
Rover Income: $314.50
November turned out to be a good Rover month. We ended up dogsitting three dogs in November. All three dogs were new pups that we'd never watched before. That always carries a little risk, but thankfully, they were all great pups that we'd happily watch again.
Here's a breakdown of my Rover earnings for the month: 

The first pup we watched was a hound-mix named Apollo. We ended up watching him for four days at the beginning of the month. He's one of those pups that I'm always a little nervous about because he's sort of medium size and seemed like he might have some energy. He turned out great and got along very well with Financial Pup.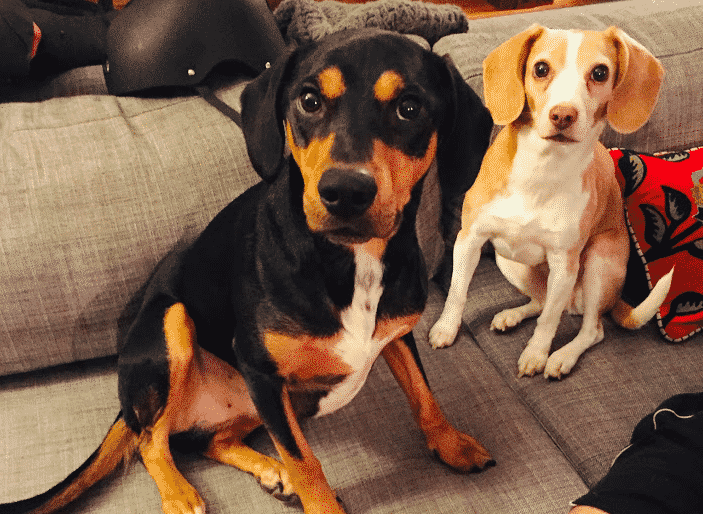 The second pup we watched in November was a French Bulldog named Fancy. This pup might be our new favorite pup to watch now. We've had some good luck with Frenchies lately.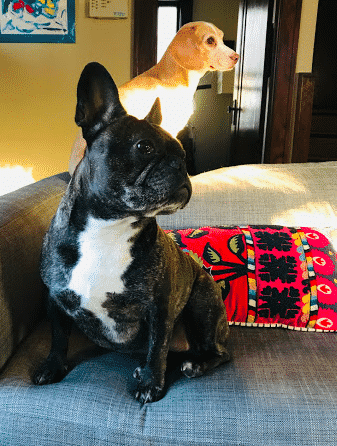 The final pup we watched in November was a Yorkshire Terrier named Wally. We ended up watching him over the Thanksgiving holiday. This Yorkie worked out pretty well for us because my niece was in town for Thanksgiving, and a small pup like this is a perfect size for her to handle.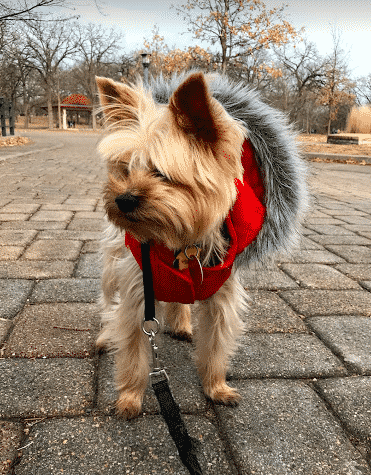 Rover continues to be one of those side hustles that I think I could do pretty much forever. When my wife and I eventually have kids, some of these side hustles will be harder to do – we'll probably stop doing Airbnb, deliveries will be fewer and farther between, and even charging scooters won't be as easy for me to do. But dogsitting on Rover is something that we can easily keep doing no matter what stage in life we are at. This is especially true since we already have a dog and have to do our daily dog tasks anyway.
If dogsitting sounds like a good way to make some extra cash, be sure to sign up to be a dogsitter using my referral link. It helps to support this blog. 
Postmates/DoorDash/Uber Eats/Amazon Flex Income: $171.90
I'm always happy to see the delivery game stay strong even as the temperatures drop. Since I do all of my deliveries by bike, it gets much harder to do deliveries when the weather gets colder. As hardy as I am, even I don't like biking around in freezing cold temperatures.
Here's a breakdown of my earnings on each platform in November: 
DoorDash continues to be my primary focus, mainly because they always seem to offer good bonuses during the dinner hour (which happens to be when I'm on my way home from work). Importantly, DoorDash also shows me where the delivery is going, which is really key – I don't want to get stuck picking up an order, then having to bike way out of my way to complete the delivery. 
I do Postmates way less now mainly because the pay in my area is getting really crappy. The minimum pay is only $4, so if I don't get a tip, I can basically end up spending 15 minutes of my time to make $4. I still do Postmates for the exercise and just because I find deliveries to be fun, but in terms of making money, Postmates seems to be the worst now. 
Uber Eats was a big fat zero this month because unlike Postmates and DoorDash, the Uber Eats app doesn't tell me where the delivery is going until I actually pick up the order. That's not as big a deal in the summer when the weather is nice, but when it's winter, I really don't want to take the risk of picking up an order only to find that it's going way out in the opposite direction. I probably won't do a lot of Uber Eats until temps warm up again. 
Amazon Flex is a delivery app I'm trying to do more of. It seems like more people are starting to use Amazon for food deliveries, and like Postmates and DoorDash, Amazon tells you where the delivery is going. I find that Amazon seems to pay pretty well for their deliveries, so it's not a bad thing for me to add to my delivery game. My only issue with Amazon is that they don't technically allow you to use your bike to do deliveries. I still do my food deliveries for Amazon on my bike, but since the app isn't optimized for a bike, I get a lot of requests that are way too far away to do. Basically, my strategy with Amazon is to leave the app on and decline everything until an order comes in that makes sense for me to do. 
Most of these delivery apps offer some sort of bonus when you sign up and complete a certain number of deliveries, so use my links above if you're thinking of trying these out.
Wag Income: $270.80
I've been doing Wag for over a year now, so I have a lot of regulars that I'm able to get walks from during the day. In particular, I have a couple of pups around my office that I'm able to walk almost every day, which keeps my income stream from Wag pretty steady.
The key is that once you've walked a dog once, you become the preferred walker for that dog. That means that whenever the walk comes up again, I essentially get first dibs on it. With almost 200 walks completed now, that means that I get first dibs on a lot of walks. 

Be sure to read my in-depth post about Wag here. In that post, I go through how Wag works and how I've incorporated it into my daily routine. 
Bird/Lime Income: $1,025.56
As a quick bit of background, Bird and Lime are both companies that run electric scooter systems. The scooters are charged by independent contractors that grab scooters that are low on battery, charge them up at home, then drop them back off on the street in designated places (called Bird Nests and LimeHubs). Whether Bird or Lime makes sense for you really depends on where you live – this gig really only works well if you live in a neighborhood that has a lot of scooters and a lot of nests and hubs to drop them off at in the morning.
My goal at the beginning of the month was to see if I could make $1,000 charging up electric scooters. To do this, I needed to average about $33 per day charging scooters ($33 x 30 days = $1,000). That's about 7 scooters per day. As you can see, I ended up hitting my $1,000 goal with room to spare! 
Here's a breakdown of my scooter earnings for Bird and Lime respectively: 
Bird: $634.11
Lime: $391.45
Below is a screenshot of some of my Bird earnings for the month.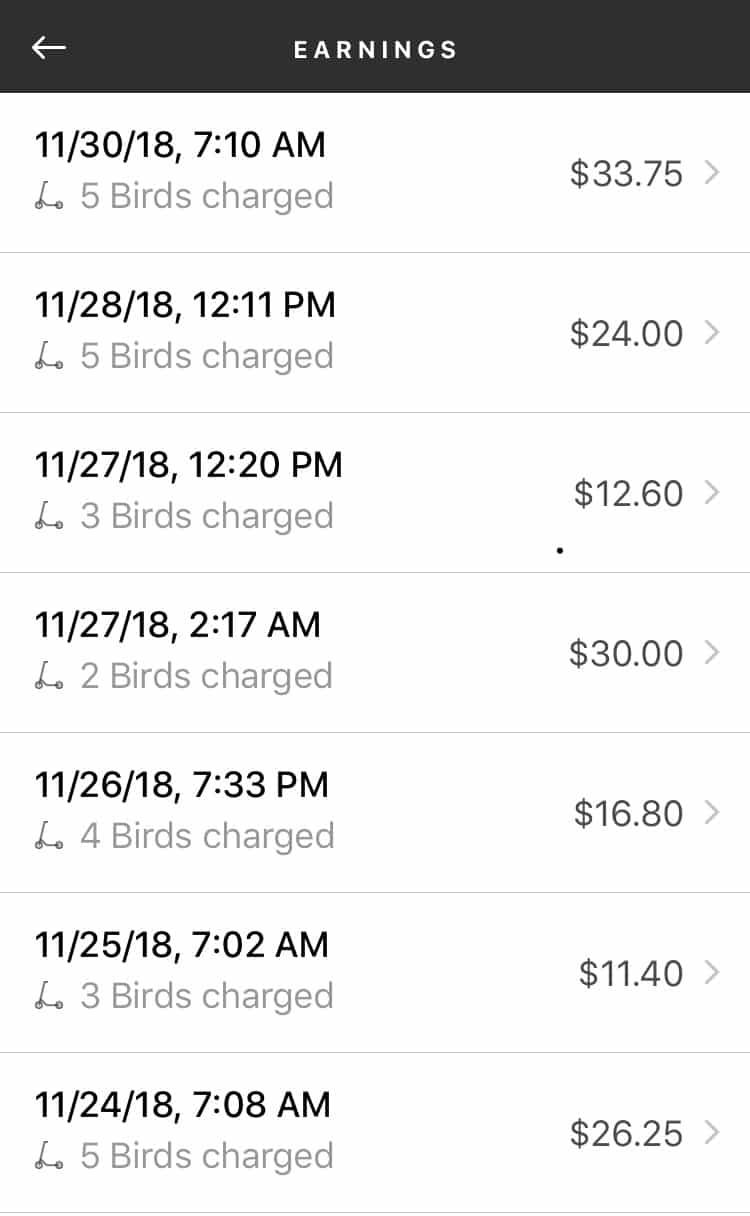 And below is a screenshot of my Lime earnings if you're curious about what the daily breakdown looks like: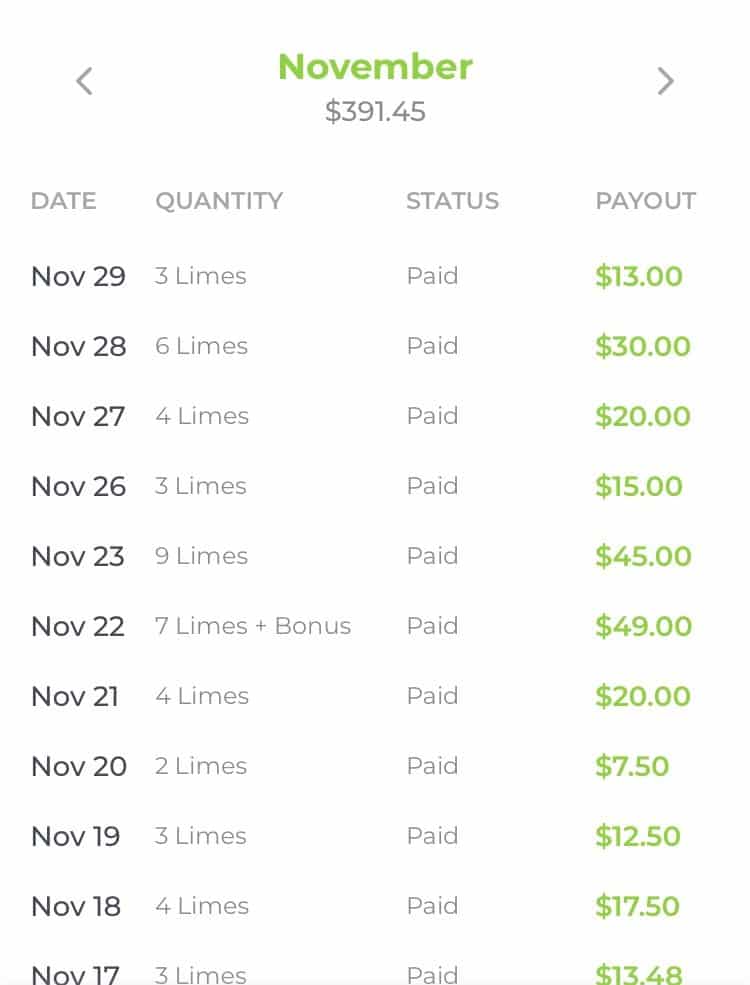 The key that made my $1,000 month possible was the fact that Lime added a LimeHub a block away from my house. Before they did this, I pretty much couldn't do anything with Lime because the LimeHubs were all too far away from me to make it worthwhile (remember, I do all of my charging on foot, which means that I need the LimeHubs to be close to me). Lime also has the advantage of allowing you to drop off scooters at any time of the day, which means that when I grab scooters on my way home from work, I can usually have them charged up and back out on the street before I go to bed.
Unfortunately, winter has officially come to Minnesota, so Bird and Lime have both pulled their scooters for the season. They should be back in the spring, but obviously, not having Bird or Lime means that my side hustle income will drop a bit in the coming months.
Make sure to read my post about Bird and Lime to see if scooter charging makes sense for you. We're still in the early stages of the scooter charging world, so you should get in on it while things are good. 
Trash Income: $10
I didn't do much with trash finds, and my only sale this month really doesn't even count as a trash find. A while ago, my sister-in-law gave us a bunch of old toddler shoes to sell. I ended up selling a group of four shoes on Facebook Marketplace for $10. It's not a lot, but it is a free $10.
Job Spotter Income: $23.19
As usual, Job Spotter continued to do well. I went to the Mall of America in November and so I was able to take pictures of a ton of hiring signs while I was there. That led to a pretty high earning month for me.
My only other interesting thing this month was that I ran into my first person on the street that was also using Job Spotter. I was doing a delivery and was taking a picture of a hiring sign that I saw on my way out of the restaurant. Another guy had also just picked up his order and pulled out his phone to take a picture of the same hiring sign. I've never actually seen a random person using Job Spotter before, so I found it funny.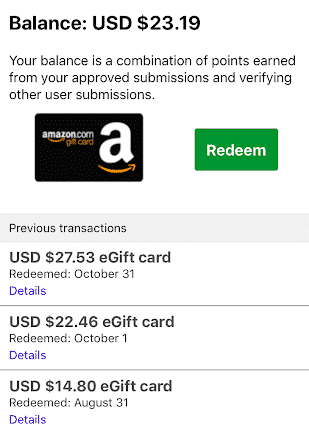 If you haven't used Job Spotter yet, you definitely need to download the app. Read my in-depth review on Job Spotter if you're looking for more info about how the app works. 
Market Force Income: $21 (plus $36.63 worth of free food)
Market Force is a secret shopper app that I've been using for the past few months. It's worked out pretty well so far and the more I use it, the easier I find it to be. That's because once you've done a secret shop once, you know what the questions are and know how to answer them faster. 
At the moment, I only use Market Force for the restaurant secret shops. These secret shops are always at certain fast food restaurants, so I grab them if they're nearby. You don't get paid a ton for doing the shop, but it doesn't take long and you get the cost of your food reimbursed. So, if you need free food, this seems like a good app to use. 
These secret shops were from October, but they paid out in November, so that's why I've included them in my November Side Hustle Report. Below is a screenshot of my earnings using this app: 

It seems like most months, I should be able to do a few secret shops, which works out well for me since I get free food for doing it.
Gigwalk/EasyShift/Field Agent/Merchandiser Income: $12.50 (plus $1.98 of free stuff)
You don't see these apps on all of my side hustle reports, but in essence, they're sort of like a secret shop app. In general, most of the gigs on these apps require you to go into certain stores and take pictures of certain products. These are mainly done for inventory and audit purpose – companies spend a lot of money to get certain placement in stores, so with these apps, you're basically going into certain stores and making sure that the product is placed in the store properly. 
In November, I earned $6.50 doing an easy Field Agent gig. I also earned $6 on a Merchandiser gig.
The Field Agent gig required me to go into a Walmart, buy this breakfast food product, and then fill out a survey explaining what I thought about the product. It didn't take me long to do – I stopped into a Walmart that I was passing by on my way home from visiting a friend in Wisconsin, then ate the food later that day as a late night snack.
The Merchandiser gig required me to do pictures of an energy bar display at a CVS. I was already going into this CVS to buy some stuff, so that worked out pretty well for me.
I don't recommend going out of your way to do any of these picture-taking gigs, but they're easy to do if you happen to be near the store or have a reason to go to that store anyway. 
WeGoLook Income: $18
WeGoLook is an app I use where I get contracted to take pictures of cars or houses for insurance companies. I've been using WeGoLook on and off for a few years now, and it works out pretty well in certain situations. 
In November, I had what might have been my easier WeGoLook gig ever. I received a notification for a WeGoLook gig that was literally across the street from my office. The gig involved taking pictures of a damaged car. I gave the owner a call and scheduled a time to meet during the day. This worked out perfectly for me – the car that I needed to take pictures of was literally parked on the same street as my office! The whole thing took me about 10 minutes and resulted in 18 bucks. Not a bad hourly wage at all. 
Receipt Pal/Trunow Income: $26.96
I have a set of apps on my phone that I call "receipt apps." Basically, these apps involve taking pictures of your receipts, for which you earn a little bit of cash. These apps don't pay much, but they also only take a second to do. I've been using all of these receipt apps for years now and it's just become second nature to me to quickly snap a picture of my receipts before tossing them.
Some of you might be familiar with apps like Ibotta, which give you cash back for buying certain things and taking pictures of the receipt. The reason I don't like Ibotta is that it requires you to buy specific items, and I just feel like its a hassle to have to look through the Ibotta app to see what things I can buy.
Receipt Pal is different because it lets you take pictures of any receipt, regardless of what's on it. I make about $50 per year using Receipt Pal (about $25 every 6 months). In November, I accumulated enough points to cash out for a $25 Visa gift card. Given how quick it is, I think the Receipt Pal app is worth using.
Trunow is another receipt app I use, although it's one that I don't use very often. The Trunow app gives you a small amount of cash for taking pictures of gas station receipts. I don't drive very often (I don't even own my own car), so I rarely use Trunow, but if you are someone that drives regularly, this is probably an app you should keep on your phone. I made $1.96 from Trunow in November.
There are two other receipt apps that I use that are a little more limited than Receipt Pal, but that I still recommend you keep on your phone. Receipt Hog and Fetch both only give you cash back for grocery store receipts. It's not a lot of money, but if you're already getting the receipt anyway, you might as well snap a picture of it before you toss it. 
So, to sum it up, I recommend using these four receipt apps:
ProductTube Income: $15
ProductTube is another new app that I've been trying out and that I can say is legit and worth using. This app is sort of weird – you have to film yourself either trying out certain products or film yourself buying certain things at the store. So, if you use this app, you have to be comfortable with talking into a camera.
The reason this app is worthwhile is due to the fact that it pays you at least $5 for a video that takes you maybe 5 minutes to complete. You basically get paid $60 an hour to create these videos. 
In November, I ended up doing one gig where I had to buy a specific pack of gum and review it. It took me about 5 minutes to record the video and I got paid $15 for my time. The gum was a fancy gum that cost me $4, so I ended up making $11 to make a video that took me 5 minutes. 
ProductTube pays you via Amazon gift cards, which I consider to be basically as good as cash. I've done a few more of these gigs and they're definitely worth doing. I will admit that it's a bit weird filming yourself while you're in a store, but if you put on headphones, it isn't really so bad. To most people, it just looks like you're talking to someone on the phone.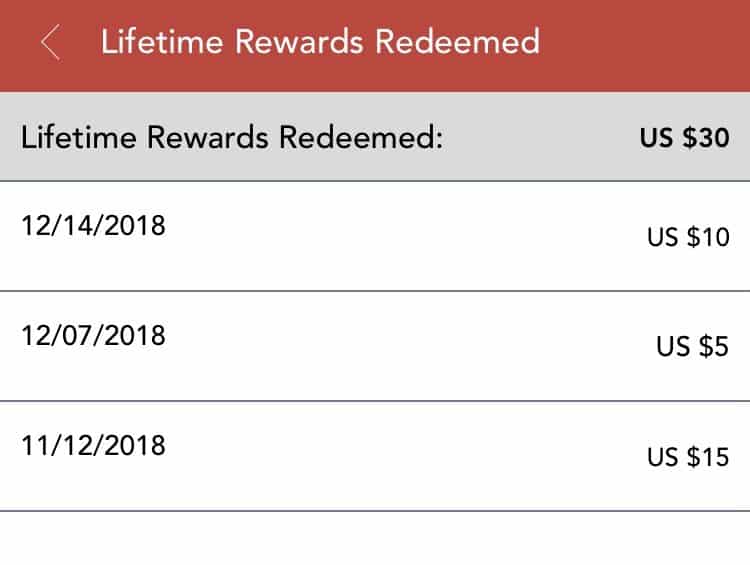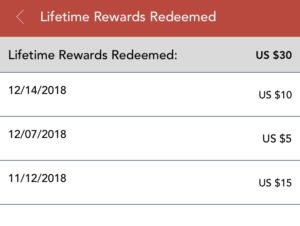 VoxPopMe Income: $15.28
VoxPopMe is another new app that I think people should take a closer look at. With this app, you get questions that you answer by recording a 15-second video. Each video pays you at least 50 cents, which means that from an hourly wage standpoint, you're making an effective hourly wage of $120 per hour.
Like ProductTube, this app is a little weird because you have to record yourself, but considering how easy it is, this app is also a no-brainer to have on your phone. Payment is by PayPal and you can cash out once you hit $15 in your VoxPopMe account. It took me a few months to earn my $15, but I could have earned it faster if I had answered the survey questions more often. I just kept forgetting.
Use my link to sign up for VoxPopMe and you'll get a $1 bonus once you use the app.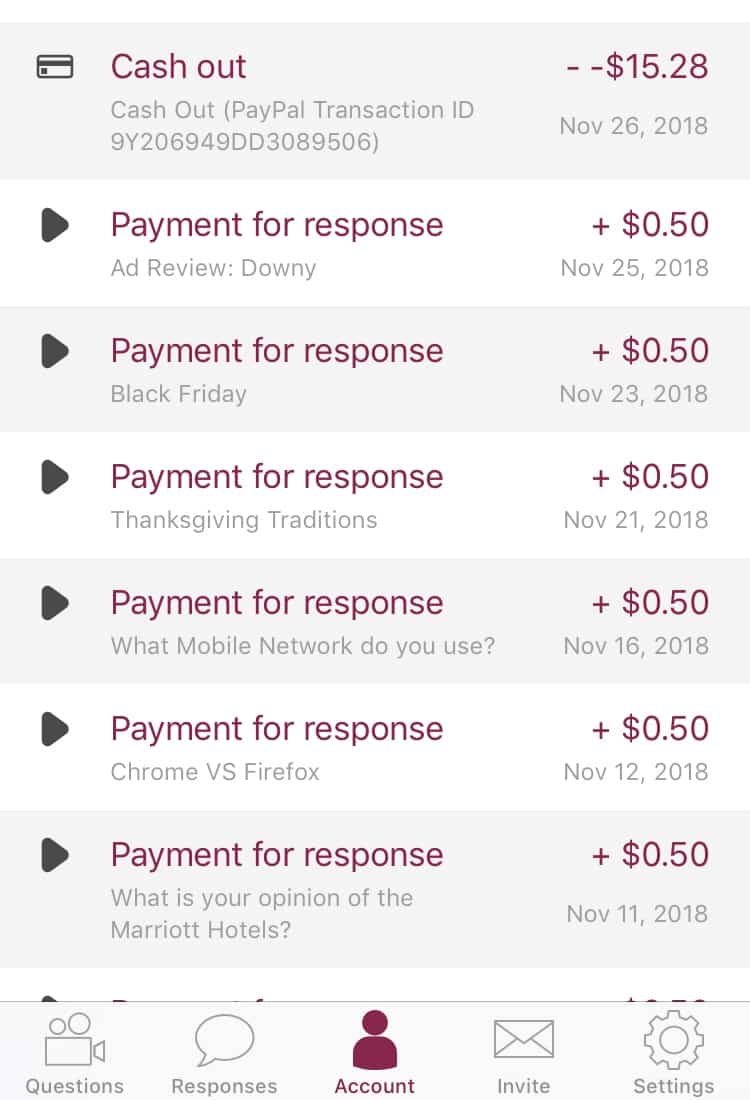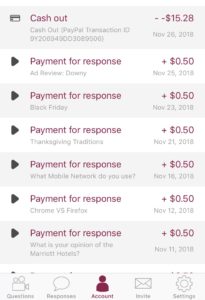 Google Opinion Rewards/Dabbl/1Q Income: $2.78
As usual, I made about $2 from Google Opinion Rewards and a few quarters from 1Q. Dabble is kind of crappy because they pay so little, but I still keep it on my phone since it doesn't take me very much time to answer the survey questions.
These apps obviously won't make me rich or anything, but they're so easy to do that I think they're worth using. From an hourly wage standpoint, these apps are high paying when you consider that they take 5 seconds or less to complete.
And that concludes the November 2018 Side Hustle Report! 
It's good to head into the end of the year with a big money side hustle month, especially since the winter months are typically my lowest earning side hustle months. A lot of my side hustles involve me being outside in the elements, so of course, when the weather gets worse, I spend less time outdoors. 
I hope you found this post helpful. Be sure to check out my side hustle report page if you want to see what I've earned in other months. I also keep track of all of the side hustles that I've done in my Side Hustle List page. I don't do all of my side hustles every month, so be sure to check out that list if you want to get a full picture of all of the possibilities out there. 
Whew, that was long! But hopefully, this post gave you enough information so you can understand exactly what I'm doing.
If you have any questions about any of these side hustles, feel free to hit me up in the comments below.