Hey everyone! I've been way behind on the blogging front, with my hands full with a new baby and an increasingly rambunctious toddler. Things are going well at home and the family is doing well, but unfortunately, my schedule and general fatigue meant that I didn't get the November side hustle report out last month.
To catch up, this post will include both the November side hustle report and the December side hustle report. It'll also have a recap of my total side hustle earnings for 2022. Overall, I was very happy with my numbers for the year. Let's take a look.
Here are the numbers for November 2022:  
And here is what I earned in December 2022:
November and December both ended up being pretty good months. I was able to earn $1,181.73 in November 2022 and $1,214.13 in December 2022. That comes out to a total side hustle income for the two months of $2,395.86. That's pretty good and the fact that I was able to make close to $2,400 is pretty remarkable considering how busy I was.
I think what made it work is that most of the side hustles I did were ones that I was able to do while I was doing something else. For example, most of my Rover income is fairly passive since I'm watching dogs in my house. I already have a dog, so watching a second dog doesn't add much additional work to my plate.
Similarly, almost all of my delivery earnings in November and December were done while I was commuting. Most mornings, I would drop my son off at daycare, then turn on my food delivery apps and see if I could get any orders heading back towards my house. When I picked up my son in the afternoon, I would do the same thing, turning on the food delivery apps to see if I could get a delivery heading home. I earn small amounts from this each day – $5 to $8 usually, but it adds up when you do it every day.
That's the important thing you can take away from my experience with these apps. Even with a busy schedule, it's possible to bring in extra income by strategically incorporating these different apps into your day-to-day life. What works for me might be different for you, but it's likely something will work for you. The beauty of these apps is you can try them out and see what works without having to risk much of anything other than a bit of time.
Here's a pie chart breaking down my earnings for the past two months by percentage. Rover made up 54% of my earnings, while food delivery made up just 14%. The remainder of my earnings (31%) consisted of secret shopping, flipping, and the various other smaller apps I use.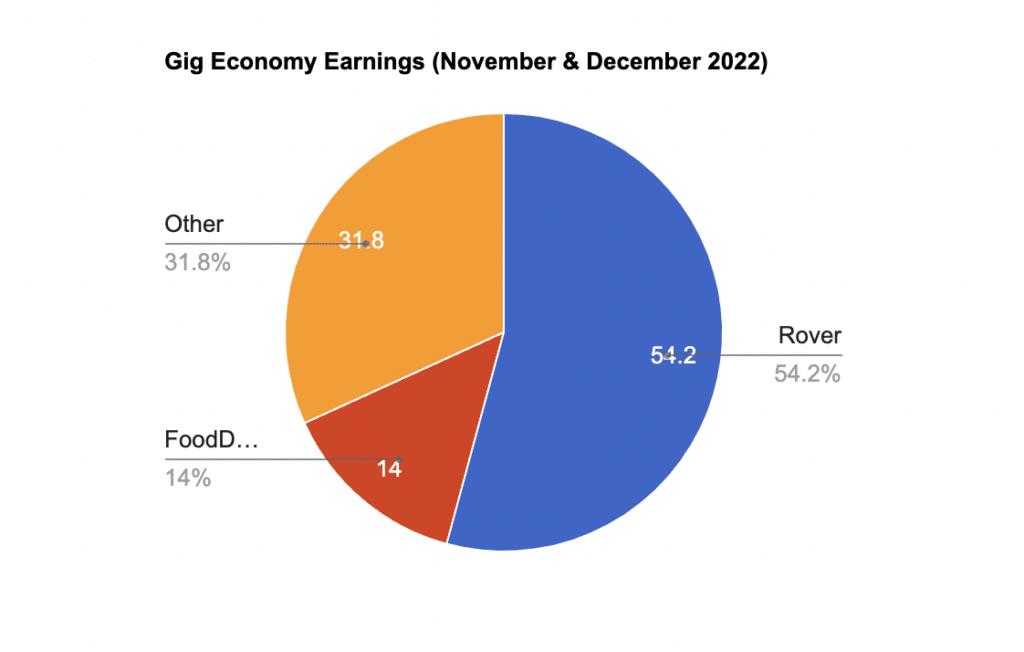 In the remainder of this post, we'll take a deeper dive into my earnings in each category for the past two months.
Rental Income: $4,800
I charge $2,400 per month for rent, so for November and December, I collected $4,800 in total rent. My expenses for the last two months were low, which was fortunate since I had some fairly high-expense months earlier in the year. The only things I had to spend money on the past two months were some leaf bags so I could rake the leaves and some snow shovels since I wasn't happy with the snow shovels I was using. Other than those purchases, I didn't have any other expenses beyond paying the mortgage. 
One great thing about owning real estate right now is that the interest rates on my mortgages are incredibly low. My primary residence has a 3.1% interest rate and my rental property has an even lower interest rate at 2.75%. Currently, normal high-yield savings accounts from banks like Ally and Discover are paying 3.3%, which means that my money in the bank is earning more than the cost of my mortgages. 
For the year, the rental property brought in $28,800 of gross revenue (i.e. before expenses). I had some decent expenses for the year, so my net profit won't be that high, but I still gained some equity over the year and was able to use the rental income to do some maintenance on the home.
Rover Income: $1,299.25  
Rover did very well in November and December, as is generally the case at the end of the year. Thanksgiving and Christmas are the two busiest times of the year for Rover since people are traveling and need sitters to watch their pets, so if you're a Rover sitter, this is the time you want to try to work. 
I made money in two ways with Rover. The first was dogsitting, where things were pretty normal. I watched several repeat clients over the holidays, so there weren't any surprises I had to deal with on that front.
The second way I made money from Rover over the holidays was with catsitting. This is when I stop by a client's house to feed their cat (typically once a day). I have a few clients within a few blocks of my house I regularly provide this service.
Catsitting was particularly lucrative in December because all of the catsitting gigs I did were for homes with multiple cats. I have it set up where I charge extra for each additional cat. Since all of the catsitting gigs I did last month were for houses with 2 or more cats, that meant I got paid between $28 and $34 for each 30-minute visit. There's some lost time for travel to each house, but since I only catsit for people that live near me, it's not a ton of travel time (typically 5 or 10 minutes to bike to each house). 
2022 ended up being my best year on Rover, mainly because catsitting brought in additional revenue. For the year, I ended up making $5,276, or an average of $439 per month. I'm very happy with that number. 
DoorDash/Uber Eats/Grubhub Income: $337.45 
DoorDash, Uber Eats, and Grubhub were slow for me in November and December. I only made $259.77 in November and just $77.68 in December. There are two main reasons why my food delivery earnings were so low these past two months:
I didn't have a lot of time to do deliveries. Since I was on quasi-paternity leave (I'm self-employed, so any leave I give myself is self-imposed), I spent most of my time at home with my wife and newborn son. The few deliveries I did do were mainly ones that I did while I was commuting somewhere – usually while I was commuting home after dropping off or picking my oldest son up at daycare.
My DoorDash, Uber Eats, and Grubhub earnings always take a dip in the winter because I do fewer deliveries when it's cold outside. I always do my deliveries on an ebike, and while I still bike through the entire winter, I'm less motivated to get outside when it's really cold. Food delivery – as you can imagine – is much more fun in the spring and summer. 
That being said, I'm now back at work and trying to get into the swing of things, so hopefully, I should get the delivery earnings back up again. One thing I've been thinking about is transitioning to grocery delivery with Shipt and Instacart during the winter. Grocery delivery has always been more difficult for me to do on a bike, but since I have my Urban Arrow cargo bike, I can easily carry a lot of groceries now. It could be an interesting experiment to see how I do (plus it lets me stay indoors more and gets me out of the cold). 
If you're interested in seeing how my food delivery on an ebike works, check out my YouTube channel. I'm trying to upload more content there so people can get an idea of how I do these gigs.
Flipping/Trash Income: $175
I flipped a few things in November and December and also sold one small trash find that I found while I was out and about. The trash find I sold was a small cat carrier that I listed on Facebook Marketplace for $5. I found it while I was biking home one day, listed it up for $5, and had a buyer soon after. I had them Venmo me the money and left it outside my house for them to pick up, so it didn't require much work on my part. 
On the flipping front, I sold a board game I found at Goodwill for $50 and then sold two sets of Harry Potter books for $50 each. The board game cost $10, making that find a good profit margin. The two Harry Potter book sets cost $18 each (there were 9 books in the set at $2 each). I'd hoped to make more from the Harry Potter Books, but it's still not bad to turn $18 into $50.  
WeGoLook Income: $12  
I made $12 from WeGoLook in November. The WeGoLook gigs I do are always easy ones that I can usually complete while I'm doing something else, typically while I'm commuting somewhere. This isn't an app that most people will earn a ton of money from, but it's a nice app that can fill in some of the in-between time you might have.
Roadie Income: $86.59  
I did a surprisingly large amount of Roadie gigs in November and December. Much of it was because I was using a car to drop my son off at daycare during some really cold days and decided to grab a few nearby Roadie orders since I was already out and about. 
In my city, the main Roadie gigs are airport baggage delivery and Home Depot gigs. I don't often do the airport bag delivery gigs because the airport is too far away from me, but the Home Depot gigs can work out well. Most of the time, the things people are ordering from Home Depot are small enough that you can easily deliver the orders using a regular bike. And with a cargo bike, you can basically deliver anything. 
I ended up doing a few Home Depot delivery gigs in November and December and also did a Hello Fresh delivery gig that I picked up while I was on my way home from doing a secret shop. Roadie isn't something I do all the time, but like a lot of the apps I use, it can be a nice filler app when things are slow or one that you can use when it's convenient. 
ProductTube Income: $125  
ProductTube did fairly well in November and December. I ended up making $90 in November and $35 in December. As usual, these were easy gigs that I didn't go out of my way to complete. For the most part, I did most of my ProductTube gigs in the morning after dropping my son off at daycare. 
For 2022, I ended up earning $655 from ProductTube. Considering how little time each assignment takes, it was well worth it. 
IVueIt/ProxyPics Income: $27  
I made $7 from IVueIt in November and $20 from ProxyPics. December was slow and I didn't earn anything from either app that month. With these two apps, I basically just check them every once in a while to see if there are any good gigs nearby. If something looks good, I'll grab it.
Google Opinion Rewards/Surveys On The Go/1Q Income/Facebook Viewpoints: $11.96 
It was a relatively slow two months for my short survey apps, but I still made a few bucks from them. Here's what I made with each app in November and December: 
Google Opinion Rewards was slower than usual. I think part of the reason it was slow was that I was at home for much of the last two months and many of the surveys from Google Opinion Rewards are based on your location. If you go near certain stores, it'll send you surveys. Since I wasn't out and about much, I didn't receive as many surveys.
Facebook Viewpoints is an app that I get surveys for periodically, so I was able to make an easy $5 from that.
Secret Shopping Income: $277.50 (plus free food) 
Secret shopping with the Marketforce app has become a good source of income for me every month. I ended up making $117.50 in November and $160 in December. 
For the year, I ended up earning $1,718 in payments from Marketforce and received an astounding $3,590.89 in reimbursements for food for the year. In other words, from Marketforce alone, I was able to make an average of $143 per month of income, plus $299 worth of free food each month. 
That also doesn't include all of the free food I received from my other secret shopping websites, mainly Bestmark, A-Closer-Look, and various other smaller secret shopping websites I use. When you add those secret shopping companies into the mix, I was likely getting $400 to $500 worth of free food each month. It's not necessarily the healthiest way to eat, but I can't resist getting free food.
There's far more that goes into secret shopping than I can write about here, but it's something that you should seriously consider if you want an interesting way to reduce your food expenses. You don't have to do it as often as I do it, but even a few free meals a month can be good for your finances and give you some free nights out too.
For more information, check out the below posts I wrote about secret shopping and how it works.
ReceiptPal/Receipt Hog/Fetch/CoinOut/Amazon Shopper Panel Income: $25.50
Amazon Shopper Panel paid me $12.75 in November and the same in December. For the year, I ended up making $137.95 from Amazon Shopper Panel. All it required me to do was take pictures of 10 receipts each month. That's easy money that adds up over the course of a year.  
Medium Income: $0.11
I still generate tiny amounts of passive income from the few articles that I wrote on Medium a year ago. If I wanted to, I could probably dedicate a lot of time to Medium and make some decent money, but my time is better suited working on this blog, instead of starting over on a new site where I technically wouldn't really own my content.
If I were a new blogger that just wanted to write interesting content and could churn out at least 5 posts a week, I'd do that. But at this point, it makes more sense for me to write SEO content on this blog and earn "passive income" from the ad revenue and traffic.
And that concludes the November and December 2022 Side Hustle Reports!  
November and December both worked out well. My main goal has always been to make at least $1,000 per month from gig economy apps, so it's nice that I was able to hit that mark even despite the fact I didn't spend much time working the past two months. It goes to show that if I can do this, even with a busy family life, most people probably can do the same. 
For 2022, I ended up making $16,360.63 from my various side hustles. Most of that income came from Rover and the food delivery apps (DoorDash, Uber Eats, and Grubhub). The rest came from the various smaller side hustles I do, such as secret shopping, IVueIt, and ProductTube. 
Bringing in over $16,000 is very good. When you combine it with my blog income, I'm making more than I did at my last full-time job and even as much as I made when I was working as a government lawyer. I'd make more if I stuck to biglaw, but there's no way I'd trade the time and control I have over my life now for the money I'd make working at a big law firm. 
Anyway, I hope you found this interesting. I've got more posts I plan to get out there this year, so stick around. And if there's anything you want to learn more about, please let me know and I'll see what I can put together.