When you live in Minnesota and are a year-round bike commuter like I am, having a good winter jacket is indispensable. For the past few years, I've worn a North Face puffy jacket as my primary winter coat, often paired with a smaller Patagonia jacket as a secondary layer. This combination has worked out well for me and I've been able to get through the long Minnesota winters without much issue. I'm still always on the lookout for new gear though (especially new electric gear). So when a company called Ororo offered to let me try out their Ororo Heated Jacket, I had to take them up on it.
Ororo offers a lot of different heated jacket options. I ultimately opted for the Ororo Men's Heated Down Jacket. And I have to say, I've been really impressed with this coat. So impressed, in fact, that my Ororo Heated Jacket has become my new go-to winter coat. It's a sweet jacket, and one I've been using for all my outdoor winter adventures. That includes biking my son to daycare (yes, even in the winter), delivering food with DoorDash, Uber Eats, and Grubhub on my ebike (yes, even in the winter), and doing whatever else it is I may be doing outside in the cold.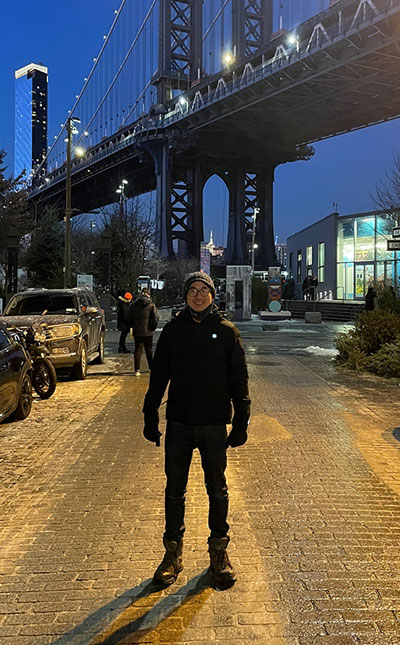 In this Ororo Heated Jacket review, I want to go over some of the features of this coat and provide some insight into why it has become my favorite winter coat. 
Ororo Heated Jacket: Brief Overview
Ororo Heated Apparel sells heated jackets, coats, vests, and other heated accessories, including heated gloves, socks, scarfs, and hand warmers. 
The heated jackets and coats are powered by a removable battery. When in use, the battery goes into a zippered pocket located in the interior lining of the coat. 
The heated jackets and coats can be set to three temperatures: hot, warm, and cool. Ororo advertises that you should get 3 hours of battery life on the hot setting, 6 hours on warm, and 10 hours on cool.
I found the down coat (which is the one I tested in this post) to be warm and able to handle even the coldest conditions. I live in Minnesota and have used the jacket in temperatures as cold as negative 20 degrees Fahrenheit and had no issues keeping warm.
The short of it – the Ororo Down Jacket looks great, can handle even the coldest temperatures, and has a pretty affordable price point, in my opinion. 
Pros:
Ororo Heated Jackets are stylish jackets that look pretty good.
The down jacket I got can handle really cold temperatures without issue. 
Having a heating element to my jacket is awesome. 
Cons: 
The battery in the interior pocket can feel a bit off and can make the jacket feel a little unbalanced (as if you have too many things in one pocket). It took me a little time to get used to it. 
The jacket seems to be sized a bit smaller than I expected. I typically wear a small with most brands but had to exchange my Ororo Jacket for a medium. 
Having a battery means you have another thing you have to remember to charge.
What Is The Ororo Heated Jacket?
The Ororo Heated Jacket is, as the name suggests, an electric heated jacket. The jacket is lined with heating coils that are powered by a 5200 mAH battery pack. The battery pack is removable and sits in an interior pocket on the bottom left side of the jacket.
When you want to recharge it, you remove the battery pack, then plug it into a USB-C charging cord. Ororo provides a charging brick and cord with your jacket, but any USB-C charging cable works to recharge it.
Here's a look at the battery pack. It's pretty small and has the Ororo branding on it.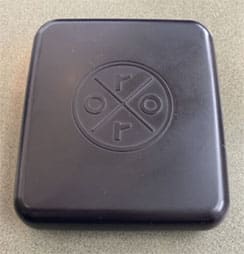 To control the heat on the jacket, you simply plug your jacket into the battery pack, then hold the Ororo button on the front of the jacket for a few seconds. The button will eventually start blinking, indicating that the jacket is heating up. It heats up pretty fast – a few minutes and you'll start to feel the heat on the interior of the jacket.
Other than the battery, button, and heating coils, everything else about the jacket is what you'd expect for a winter jacket. It's made with 750-fill down, which makes it warm enough to use in just about any climate. I live in Minnesota and have been using it all winter, with temperatures as low as minus 20 degrees Fahrenheit on some days. I've felt plenty warm in it, so long as I'm properly layered underneath. And believe me, if a jacket can stand up to a Minnesota winter, it can stand up to just about any winter weather in the world.
Ororo Heated Jacket Features
Since the Ororo Heated Jacket isn't your typical winter coat, I figure it might be useful to go over some of the features of this jacket so you understand what it's all about. Here are the main features I've noticed with my Ororo Heated Jacket.
Multiple Heating Levels. Ororo Heated Jackets come with three temperature levels – hot, medium, and cool. To change the temperature, you simply push the button on the front of the jacket. The light on the jacket will change color to correspond with the temperature. Red is hot. White is medium. And blue is the coolest temperature level. 
I'm a big fan of the button lighting up because I think it makes the jacket look cool. During the day, you can't really see the light, but at night, it's definitely noticeable.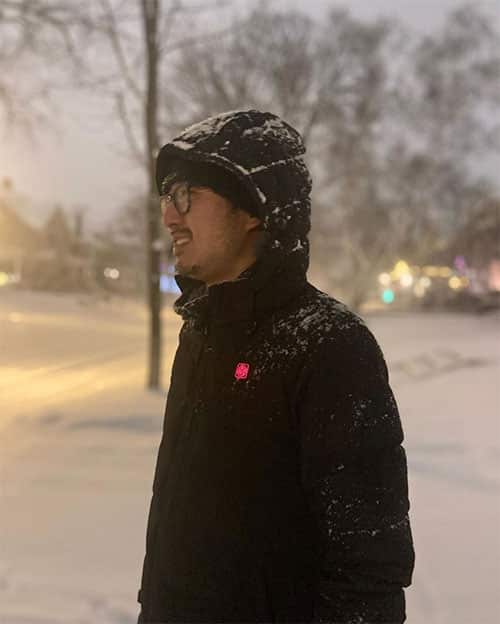 The heating coils are located in the interior of the jacket and in the pockets, so it'll keep your core and hands warm. There are also heating coils around the collar, which makes my Ororo Heated Down Jacket very comfortable when I have it zipped up all the way.
Removable Battery Pack. As I already mentioned, the Ororo Heated Jacket is powered by a removable, 5200 mAh battery pack. Ororo advertises that you can get 3 hours of heating on high heat, 6 hours on medium heat, and 10 hours on low heat. I haven't done any formal tests to see how long the battery lasts, but I can say that when I'm out and about, the battery can last me the entire day. For the most part, I keep the temperature at medium unless it's really cold outside, in which case I'll turn it up to high heat. 
The battery back can also double as a phone charger, as it has a USB port to plug in your devices. Obviously, if you use it to charge your phone, you're going to shorten how long it can power your jacket.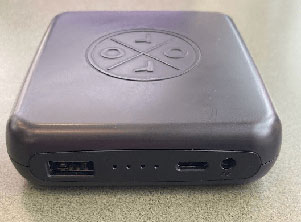 The battery pack includes a USB charging port, so you can charge your phone if you find yourself in a pinch.
When plugged into your jacket, the battery pack goes into a small interior pocket located near the bottom of the coat. This can feel a bit weird. When I first got the jacket, I kept feeling like something was falling out of my coat pocket. I've gotten used to it at this point, but it is something that did take some getting used to.
I know that having another battery pack to think about isn't ideal for some people. I have a lot of things to charge when I'm out and about – my computer, my phone, my ebike battery, an extra battery pack for my phone, and now the battery pack for my coat. I'm used to carrying all of these things in my backpack, but I can understand that some people would rather carry fewer things.
A Word On Sizing. One thing to note is that I think the sizing on the Ororo Heated Jacket runs a bit smaller than I expected. I initially ordered a size small because that's the size I wear with all of my other jackets, but I found the small to be a bit tight on me. I'm 5'10" and about 150 pounds, so that can give you an idea of how big these jackets run. I ended up exchanging the jacket for a size medium, which I find fits me much better. My advice is to consider sizing up when you order this jacket.
Taking A Look At The Ororo Heated Gloves
In addition to the Ororo Heated Jacket, I also got my hands on the Ororo Twin Cities Gloves. Naturally, because I live in the Twin Cities, I had to go for the gloves named after my city. 
The Twin Cities gloves are two sets of gloves – a thinner interior glove that's more of a performance glove, suited for mild weather, and then a larger, thick pair of gloves that's better suited for winter. The thick pair of gloves are regular gloves and don't have heating coils. The interior glove is the one with heating coils. Similar to the jacket, the gloves are powered by two small batteries (one for each glove) and are controlled by a button on the glove. When you turn it on, the button lights up and tells you the temperature setting – red for hot, white for medium, and blue for cool.
If you have mild winters or want to use gloves in the spring or fall, these will do the trick. Unfortunately, they aren't thick enough for the Minnesota winter, even when using the heating elements of the glove, so for the winter, I've found myself turning back to my regular, analog mittens. If I could redo the gloves I picked, I probably would have considered going with the Amsterdam Heated Mittens, which are not only less expensive than the Twin Cities gloves, but also look better suited for winter weather. 
Another thing to remember, similar to the jacket, I found the gloves ran smaller than I expected, so I recommend sizing up if you order any of the gloves.  
Final Thoughts
The Ororo Heated Jacket is a brand of jacket that I like. I think the jacket looks cool. Plus, I'm a tech person, so I enjoy that there's some level of technology in this jacket, even if it's as simple as putting heating coils inside the jacket. 
My Ororo Down Jacket can definitely stand up to any winter weather too. I'm a bike commuter, even in the winter, and I've had no issues biking in even the coldest Minnesota weather with this jacket. Even without the heating technology, the jacket feels plenty warm with just the down filling. With the heat turned on, it feels even better. Of course, you still have to wear proper layers under the jacket, but assuming you're doing that, the Ororo Heated Jacket will keep you warm. 
For now, I've put my other jackets in the closet and am sticking with my Ororo Heated Jacket as my everyday winter coat. If you're in the market for a new jacket or coat and want to try something different from your typical brands, I think it's worth taking a look at Ororo. I've had a good experience with my coat. 
If you're interested in checking out the Ororo jackets, you can check them out here.