Hey folks and welcome to another edition of the Financial Panther side hustle report! As regular readers know, each month I document exactly what I made from side hustling using various sharing economy and gig economy apps.
Some of these apps are ones you've probably heard of before. Others might be new to you. My hope is that if you're interested in making extra income, maybe something I'm doing can work for you too. 
Let's take a look at my side hustle earnings for last month.
Side Hustle Income for September 2020
Total Side Hustle Income for September 2020 = $3,187.22
September was another high earning month for me in the gig economy. As has been the case since the pandemic started, food deliveries continued to be very high earning, making up the bulk of my gig economy earnings this past month.
That said, even though most of my side hustle income came from doing food deliveries, I was still able to bring in over $600 from various other smaller gig apps. Whether that's a lot of money to you or not depends on your situation, but at a minimum, I think it shows that there are a lot of ways to make extra money out there.
If you take a look at the different apps I used this past month, you'll notice that there are a few new gig economy apps that I haven't had on here before. Specifically, IVueIt and the PrestoShopper app were new apps this past month that worked well for me. I'll discuss how I discovered these apps and how I made them work further down in this post. 
Let's take a deeper dive into my earnings this past month.  
Rover Income: $225
After a bad Rover month in August where a dog I was watching ran out the front door (she was eventually found safe and sound), things went back to normal in September. I ended up watching three repeat pups in September. All of these dogs are ones I've been watching for a few years now and that all fit in very well with my lifestyle. 
Our favorite pup for the month was Fancy, the French Bulldog that we've been watching for several years. This pup gets along so well with my son. And I think of her as sort of baby proof – she's thick and doesn't have fur or a tail that a baby can grab onto.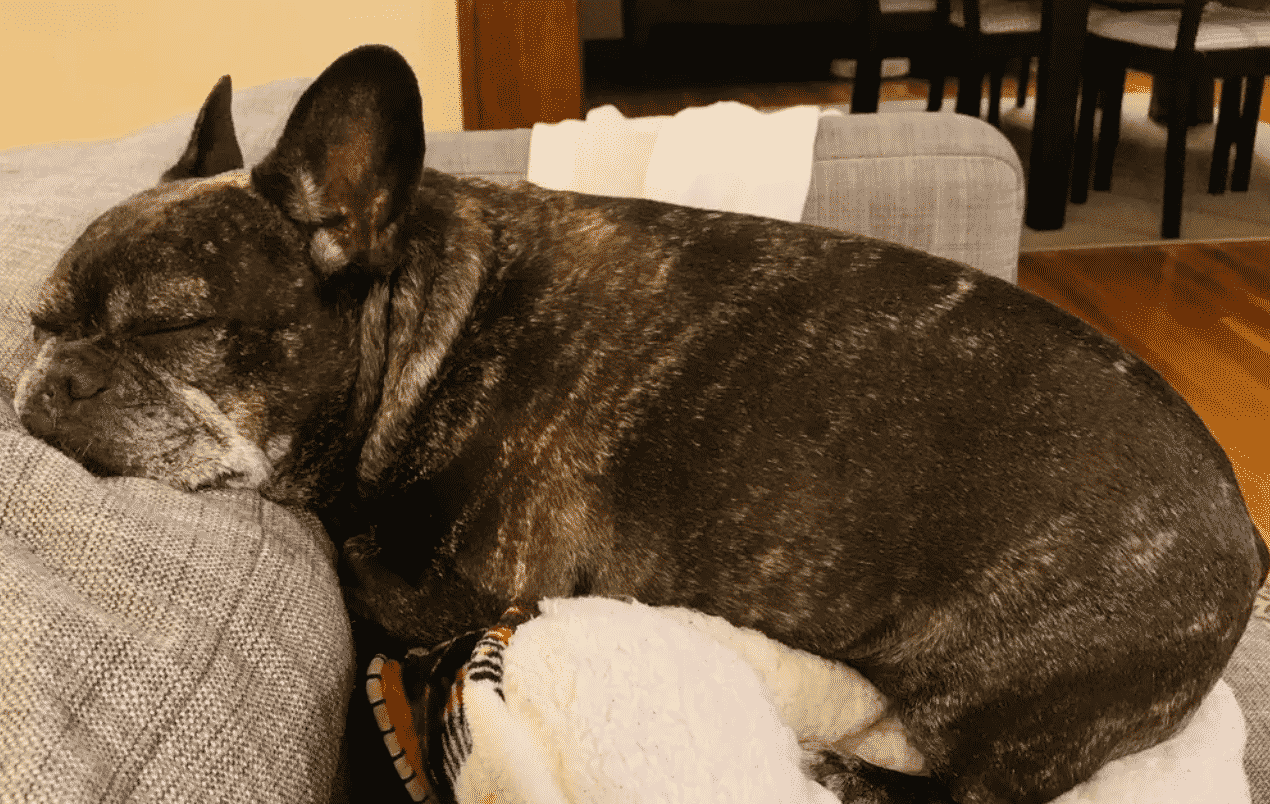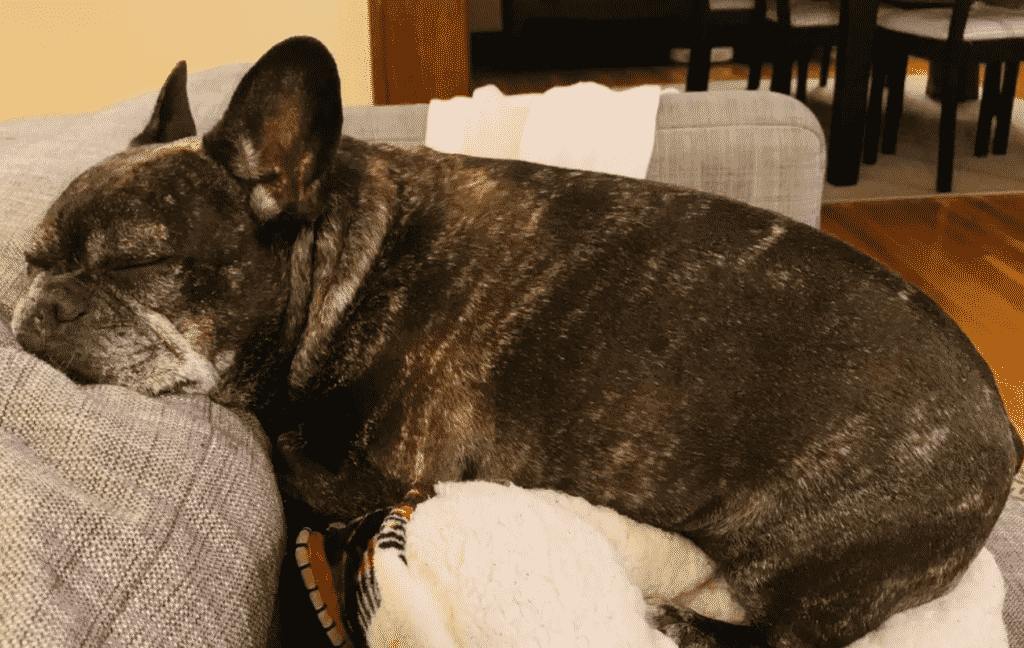 Overall, making over $200 watching pups that we'd probably watch for free works out really well for us. We're obviously not going to get super rich from doing this, but when you're looking for side hustles that fit into your life, dogsitting is one that can definitely do that, especially if you already have a dog. You can sign up to be a Rover sitter or dogwalker using this link.


Postmates/DoorDash/Uber Eats/Grubhub Income: $2,494.09
Food deliveries remained consistent in September. Here's the breakdown of my earnings on each delivery platform last month. 
As usual, DoorDash and Uber Eats remain the two busiest platforms in my market, with Grubhub one that I try to do when the demand is there. Postmates is dead last in my food delivery power rankings and one I only do if it's literally on my way to another delivery and I know it'll only take me a few minutes to pick up the food and drop it off.
I track my delivery earnings using Gridwise, which is a great free app that you can use to track your mileage and time. It also provides some great data sets as well.
For the month, I worked about 10-15 hours per week and averaged between $33 to $49 per hour. For the most part, if I work during prime hours (i.e. lunch and dinner), I always seem to make $40 per hour or more. 
It takes a little practice and knowledge to make this much consistently doing deliveries, but once you understand how to think about these delivery apps, it becomes a lot easier than you think. The key is to multi-app – that is, run multiple delivery apps at once and do multiple deliveries going in the same direction at the same time.
Once you get the hang of multi-apping, you then simply need to think about what you need to do in order to earn the type of income you want. Since I'm able to average 5-6 deliveries per hour during peak times, it means I need to average $6-$8 per delivery to bring in $30-$48 per hour. This is very doable in my market and location, especially during prime hours. It could vary in yours, but try to experiment and see what works for you. 
If you want to sign up for any of these apps, simply click on the links below: 
Wag Income: $9
Wag is an app that I don't do as much these days because I find I can make more money with the food delivery apps. In my opinion, Wag works best when you're traveling or when you're walking dogs during a lunch break. It works well when you're traveling because you can often pick up a walk while you're in another city and use Wag to essentially explore different neighborhoods. And Wag works well when you're walking dogs during your lunch break because you can get a little exercise outside without breaking a sweat. 
The small amount I made from Wag this past month was from a Wag walk I did at the end of August when I was visiting my parents in Washington DC. The walk was for a dog down the street from my parent's house. I ended up making $9 for the walk and was able to walk around the neighborhood and catch up with a childhood friend of mine as well.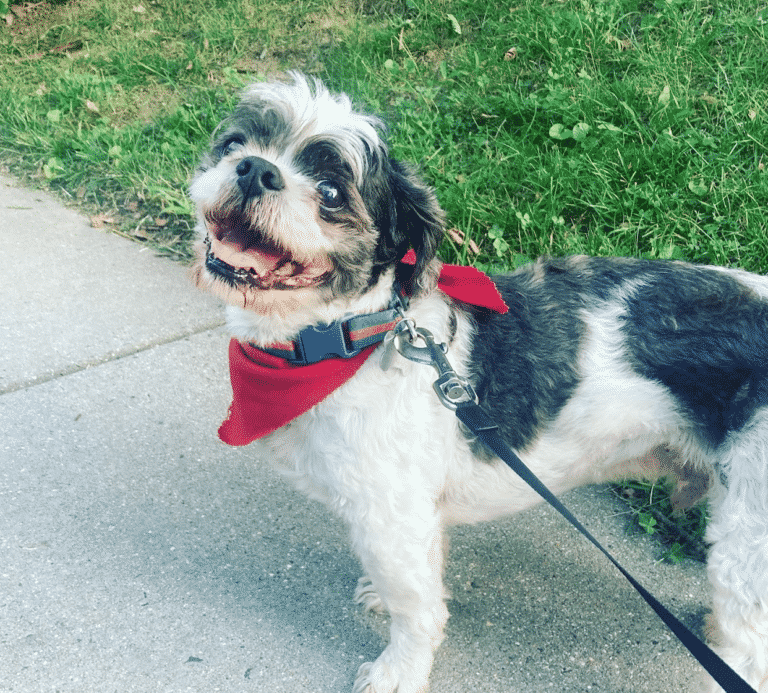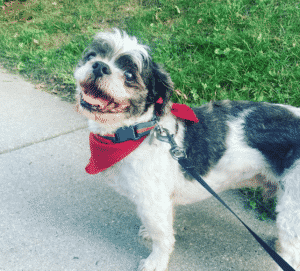 Shipt/Instacart Income: $0
I didn't do any grocery delivery gigs in September. I know that some people are able to make a lot of money doing grocery deliveries, but for whatever reason, I can't figure out how to make it work well for me. A lot of this comes down to the fact that I'm simply not a fast shopper. Since it takes me longer to complete these shops, I earn less as a result. I also don't use a car, so that means I'm not able to do really big deliveries (but I probably wouldn't do those deliveries anyway, however).
Last year, I did more grocery delivery gigs during the winter since that was one way for me to stay out of the elements. I'm not sure if I'll be doing that this year, but it's possible I shift towards grocery delivery if the weather gets too tough for me to bike for extended periods. If you're interested in trying out these grocery delivery apps, feel free to use my referral links below:
Lime/Bird Income: $0
I've got nothing to report with Bird and Lime. Bird no longer uses independent contractors in my city and Lime is only in St. Paul this year. I still grab the occasional Lime scooter and charge it up, but I do this solely to ride it around for free and do deliveries with it. The drop off spots are too far away for me feasibly make the scooter charging game work this year. Hopefully, things change next season.
Trash/Flipping Income: $75.88 
In September, I sold an old lamp, a suitcase, and a little shelf on Facebook Marketplace. The lamp is one that I've had sitting in my basement for a long time, so it was nice to get that out of the house. 
On eBay, I sold some more old clothes that I found at my parent's house. I also sold an old, non-functioning iPod Nano.
When I think about it, it's really amazing how many old electronics most of us have sitting around. Interestingly enough, people will buy them, so assuming they don't have any sensitive information on them that you're worried about, you might as well get rid of them. My old iPod Nano had a bunch of mp3s that I downloaded back in the Limewire days, so I'm not too worried about someone getting their hands on that information.
Here's how my trash/flipping sales break down for the month: 
Facebook Marketplace: $45
eBay: $30.88 
WeGoLook Income: $12 
I made $12 this past month on WeGoLook by taking a few exterior photos of a commercial building. The building was about 2 miles from my house, so I took a few minutes to scoot over there and take these photos. This was very easy work that was worth doing. 
Roadie Income: $7 
Roadie is a delivery app that I use sparingly. In the past, it was a person-to-person delivery app, but then they transitioned over to doing lost baggage deliveries for airports. Recently, they've started doing deliveries from big box stores as well. 
In September, I did one Roadie delivery from Home Depot. This one worked out really well because we were on our way to see my sister-in-law and this Roadie gig was literally on the way to her house. I picked up the Home Depot delivery from the pickup counter at the store, then dropped it off on the front stoop at the delivery address.
If you're someone who's out and about anyway, you should download Roadie just in case gigs pop up that work for you.
ProductTube Income: $95 
I made a lot on ProductTube this past month – in fact, it might be the highest-earning ProductTube month I've had. I don't remember all of the gigs, but I can say that they all were very easy to complete and were well worth the time I spent to complete them. 
The one memorable gig I do remember was a gig where I had to order some San Pellegrino from Amazon and have it delivered to my house. The San Pellegrino cost $18, but the gig paid $30, so I essentially made $12 and got a free case of San Pellegrino water in exchange for making a video about my experience ordering the water.
Gigwalk/EasyShift/Field Agent/Merchandiser/IVueIt Income: $35
In September, I did a few Field Agent gigs, which made me a total of $20. These gigs involved buying some burgers at Burger King and taking a picture of these burgers. Each gig reimbursed me for the burger and paid me $10 as well. They took a minute or less to complete, so these gigs were lucrative. 
I also tried out IVueIt for the first time. IVueIt is an app similar to GigWalk, EasyShift, and Field Agent. The app pays you to take pictures of various businesses. The difference with IVueIt is that this app has you take pictures of the exterior of certain buildings. The purpose is to check that the store is maintaining the landscaping around the building. 
I ended up completing two IVueIt gigs in September, making a total of $15 for my work. One gig involved taking pictures around a big box pet store. I had to take about 20 pictures of the exterior of the store. It didn't take long to complete, but I did have to run around to all sides of the building, which was a little annoying since it was a big store. 
The other gig I did involved taking pictures of the exterior of a church. This church was right down the street from my house and was much easier to complete because I had a scooter with me. So, I was able to scoot around the building taking the required pictures, which made things much faster.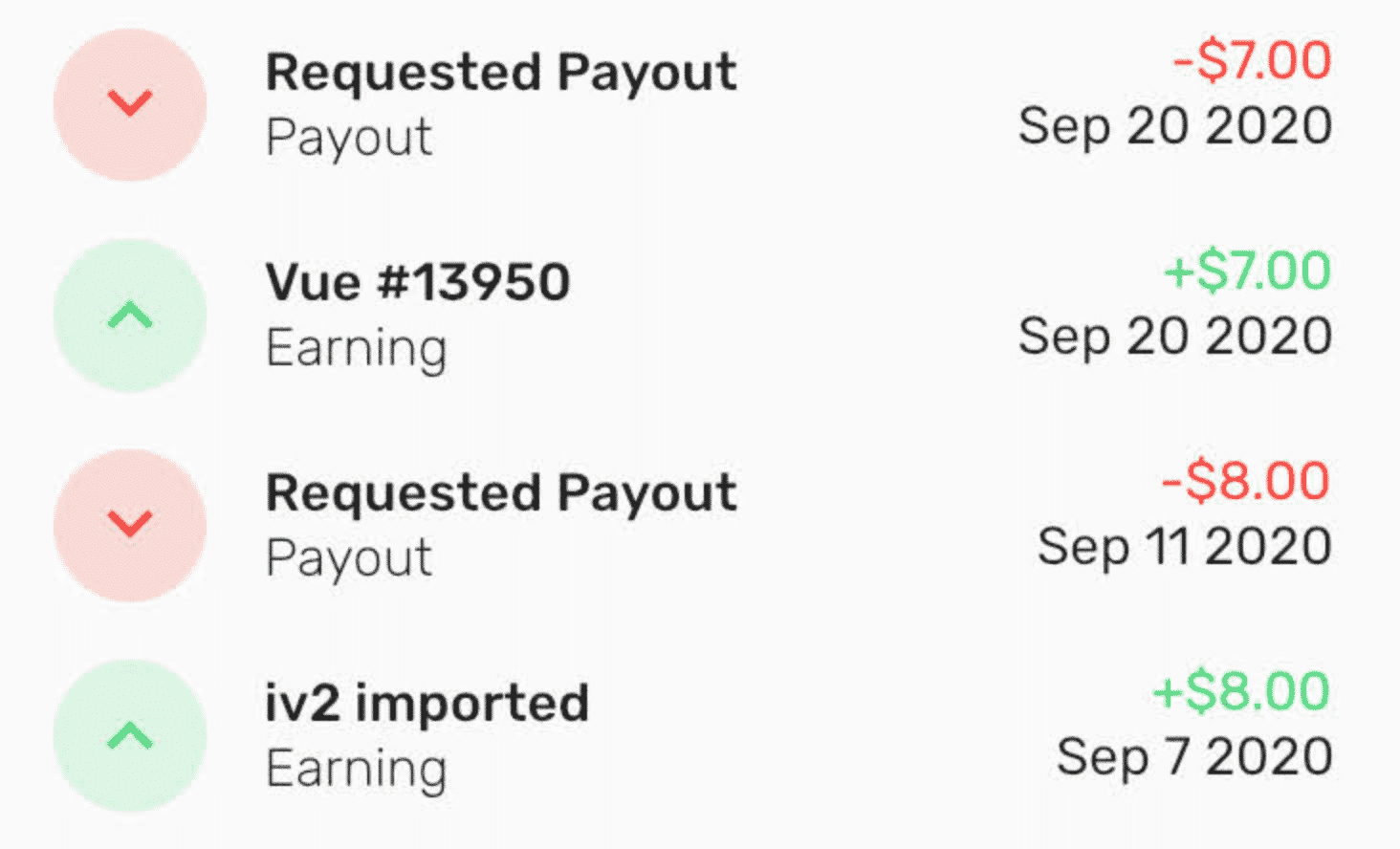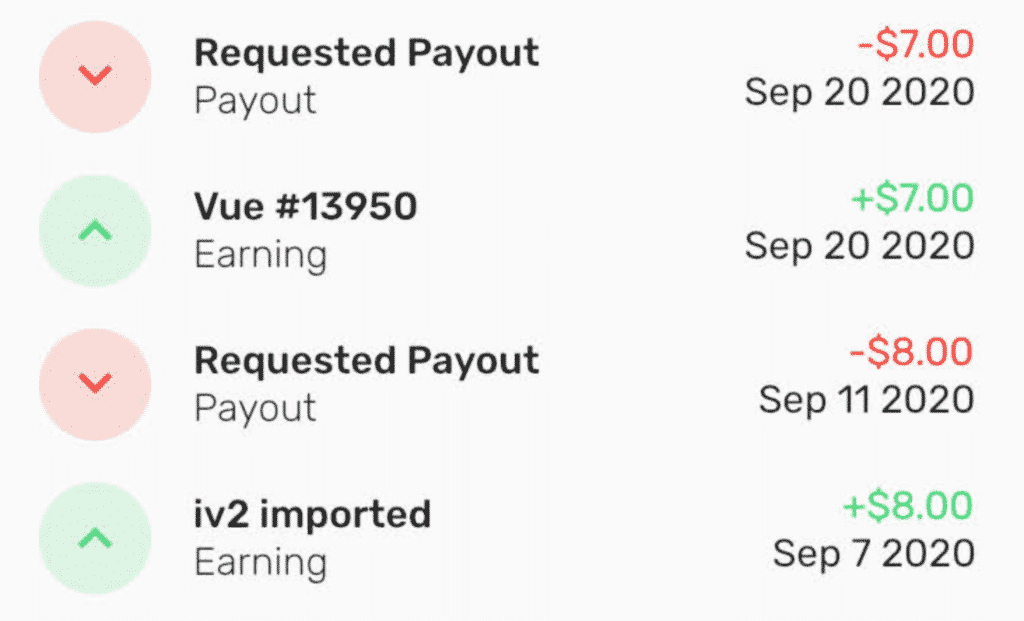 I'm definitely very intrigued by IVueIt, so I'll be checking this app a lot more now that I understand how it works. In the past, the gigs always seemed so far away from me, but I've started to notice ones that are a lot closer to home. I wouldn't go out of my way to do these gigs, but if they're near you, they make sense to do.
Google Opinion Rewards/Surveys On The Go/1Q Income: $26.90
I made some solid, easy extra money from these short survey apps that I keep on my phone. Here's the breakdown of my earnings with each app.
Of course, you won't get rich from these apps, but they're a nice way to earn a little extra income each month without a ton of work.
Google Opinion Rewards and 1Q are very straightforward and easy to use. Surveys On The Go takes a little more thought to understand which surveys are worth doing. The key with that app is that you get 10 cents automatically if you don't qualify for a survey. For the really long surveys, it's typically better to answer the questions in a way that disqualifies you quickly. That way, you collect your 10 cents for a few seconds of work. 
Secret Shopping Income: $67 (and a free fancy dinner)
Secret shopping isn't back to what it was before the pandemic, but it's starting to slowly come back with some restaurants. The one that has really come back is Marketforce, which I find has a ton of secret shops now. The only problem is that the restaurants on Marketforce are fast food places, so if you're trying to eat healthily, that could be a problem for you.
Marketforce always pays you for the gigs you completed the month before, so I got paid in September for the secret shops that I did in August. As you can see below, I got 8 free meals in August. The interesting thing is that I was road tripping back to Washington DC towards the end of August and by taking advantage of Marketforce, I was able to get 4 free meals while I was driving to DC and then driving back to Minnesota. This is one way you can lower your food costs while you're traveling.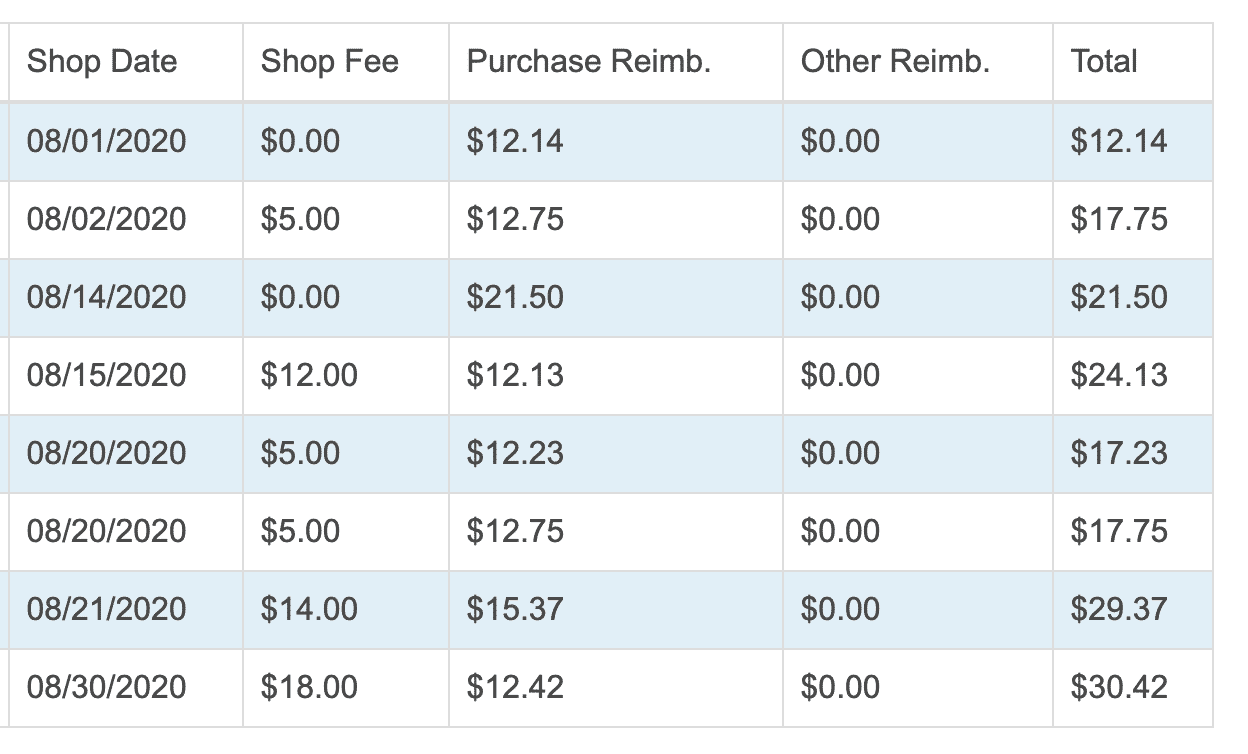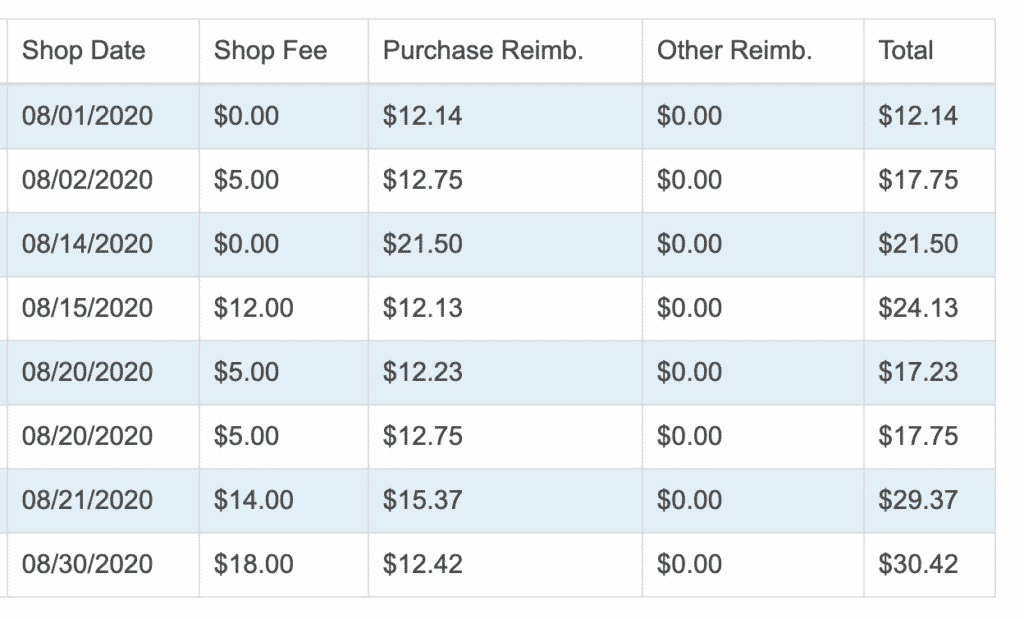 I also got paid $8 for another secret shop. The restaurant was closed because of the pandemic, but I still got paid $8 for attempting to complete it.
Finally, my wife and I had our first fancy meal at a restaurant since the pandemic started. This secret shop was via Bestmark and it reimbursed up to $100 for our meal. We ate outside on the patio and felt comfortable with it (everything was spaced out well and everyone wore masks when they got near us).
If you're interested in learning more about how to take advantage of secret shopping, read my post, Restaurant Secret Shopper Jobs – A Strategy To Eat For Free And Hack Your Food Expenses. In normal times, you can really live large by taking advantage of secret shopper apps. And even in pandemic times, there are opportunities out there. 
PrestoShopper Income: $130 
This is really part of the secret shopping income above, but I'm breaking this out into its own section because the gigs I did with this app are slightly different than the regular restaurant secret shopping gigs I usually do. 
As a little background, PrestoShopper is an app where you can see secret shop gigs from various other secret shopping companies. PrestoShopper itself also has some of their own gigs that you complete using their app. 
This past month, there were a ton of gigs where you take photos of phone stores to make sure they're following social distancing and mask rules. I ended up doing a bunch of these gigs while I was traveling around the city on my ebike. Each gig paid $10 and I was able to complete them really quickly. 
Random Surveys: $10 
Rounding out my month, I ended up doing two random short surveys that I received in my email. One was an infant care survey that I did when my son was born, then again at the 6-month mark. The survey paid me $5 and took me a few minutes to complete.
The other survey was an Uber Eats survey that paid me $5 for a few minutes of my time. This was also very easy to complete. I'm not exactly sure how I got these surveys, but they were legit and did pay me. 
And that concludes the September 2020 Side Hustle Report!
September was a good and profitable side hustle month, made more interesting by some of the different types of gigs I did this past month. Food delivery will likely continue to be my main side hustle gig, with the other ones filling in when they make sense.
What's really important is how well I make these different gigs fit into my day-to-day life. There's a lot of value in doing things that can monetize the things you're already doing.
The other to consider is that I'm having a blast doing all of these different things. There's a lot to be said about doing things you find fun to do.
Hopefully, you can take something from these side hustle reports and work it into your life as well. You might even find them fun to do.
Well, that's all for this month's side hustle report. Stay safe out there everyone!