One of the things about moving towards self-employment and full-time side hustling (admittedly an oxymoron) is that I'm on the hook for paying all of my taxes. When you're employed in a regular job, taxes often seem like an afterthought – they just get taken out of your paycheck by your employer without you really noticing it (and a good reason why automating your savings is the key to actually saving money).
But when you're self-employed or earning income from a side hustle, the responsibility for paying taxes lands squarely on you. And that tax bill can be hefty. You not only have to pay federal and state taxes, but you're also on the hook for self-employment taxes, which adds another 15.3% to your tax bill. 
Since taxes on self-employment income and side hustles are such a big deal, it's important to take steps to reduce our tax burden however we can. Some of the more common strategies are to take advantage of tax-advantaged accounts like a Solo 401k or to be aggressive with deducting expenses. But perhaps one of the lesser-known ways to reduce the impact of taxes is to pay your taxes using a credit card.
I recently did just that, using a number of credit cards to make a large payment towards my federal taxes. The idea here isn't to use credit cards because I can't afford to pay my taxes. Indeed, I've been purposefully setting aside money for taxes with every bit of income I earn by using apps like Catch and bank accounts like Lili, which all automatically set aside money for me that's earmarked for taxes.
Rather, the point (pun not intended) is to use credit cards as a way to optimize my tax payments, allowing me to get a significant amount of money back in the form of points and miles, which I can then use for free travel.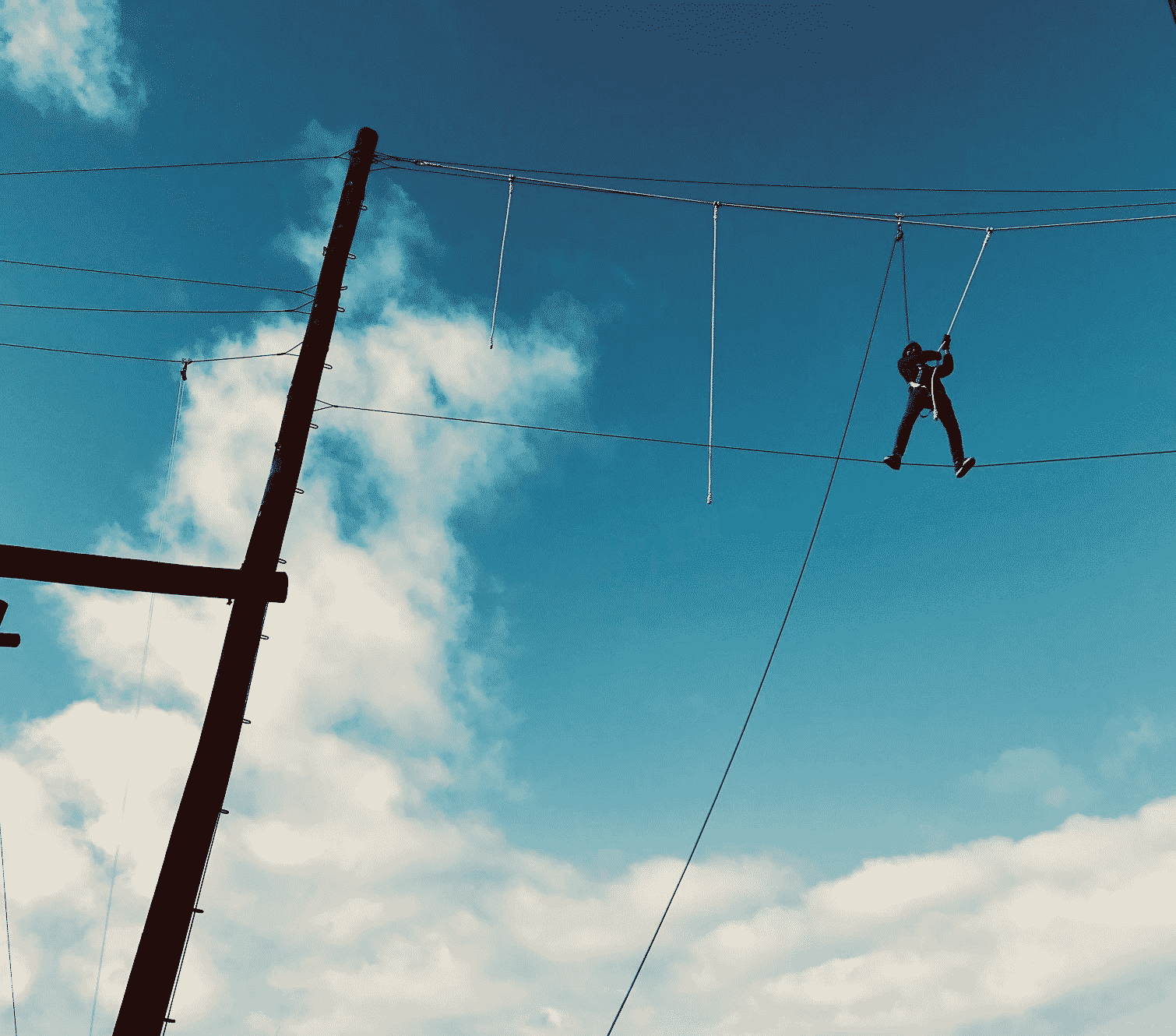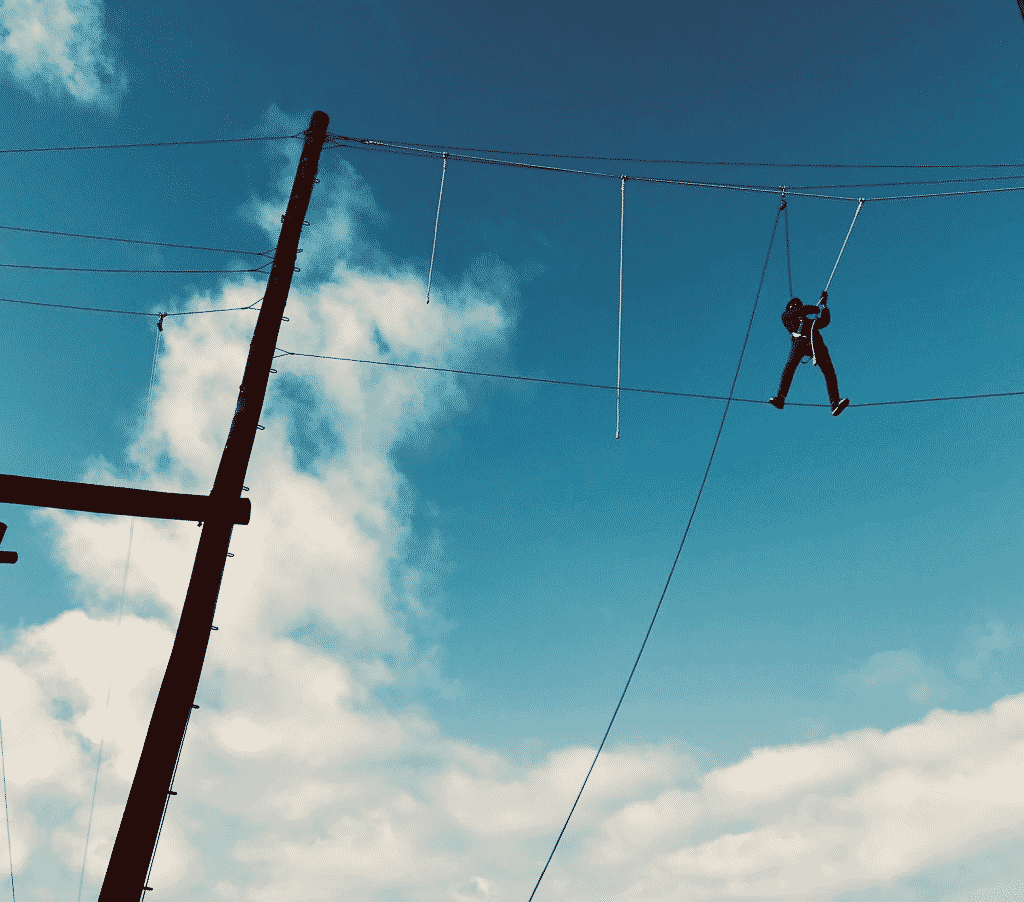 The way I see it, paying taxes using credit cards is a smart way to handle your necessary tax payments and take some of the sting out of your taxes. And it can help you reduce your tax burden by giving you something back in return.
Why You Should Pay Taxes With Credit Cards 
You can take a lot of steps to reduce your tax burden, but the fact is, even if you take advantage of everything at your disposal, taxes will still likely be your single largest expense each year.
Most people will simply pay any taxes they owe by writing a check or doing an ACH bank transfer. If you're a little savvier, though, you might take advantage of the government's credit card processing system to pay your taxes with a credit card and earn a large number of points and miles. You can then use these points and miles for free travel, which helps offset some of the taxes that you had to pay. 
The key to this strategy is to open credit cards that offer high signup bonuses and then use your tax payments in order to hit any minimum spend requirements. Here's an example based on my own experiences.
I recently made a few tax payments in order to hit the minimum spend requirements on a few credit cards – in particular, the Southwest Performance Business Credit Card. This card required me to spend $5,000 within 3 months, and in order to earn the bonus in the most optimal way possible, I needed to hit the minimum spend requirement as close to the beginning of the year as possible. By making a large tax payment with this card, I was able to hit the minimum spend with one large payment and earn the bonus early in the year. 

As you can see, paying taxes with a credit card did come with a fee, but when you do the math, it makes sense for me to do this. Here's how the math works:
Paid $3,900 towards my federal taxes + $72.93 in fees for using a credit card
Hitting the minimum spend earned me 80,000 Southwest Rapid Rewards points, which typically can be valued at 1.5 cents per point (I signed up for this card back when it offered a signup bonus of 80,000 Southwest Rapid Rewards points).
At 1.5 cents per point, 80,000 Southwest Rapid Rewards Points are worth $1,200.
Since this helped me earn the Southwest Companion Pass, I can now fly two people for free for the next two years. This makes the 80,000 Southwest Rapid Rewards points worth twice as much since I can use them to fly two people. As a result, the points are worth double, or $2,400
This all comes back to me in the form of tax-free travel rewards, which I can then use for free travel.
The power of this little hack is important. I had a large tax bill that I had to pay. If I had used a regular bank account, I would have received nothing back. By strategically opening up new cards with high signup bonuses and then using those cards to pay my taxes, I was able to get back a significant amount in points and miles. Even though I paid $72.93 in fees, I received a much higher return on that spending, which makes paying that fee well worth it.
I haven't paid for a flight in over three years. And it's using strategies like this that have helped me do that.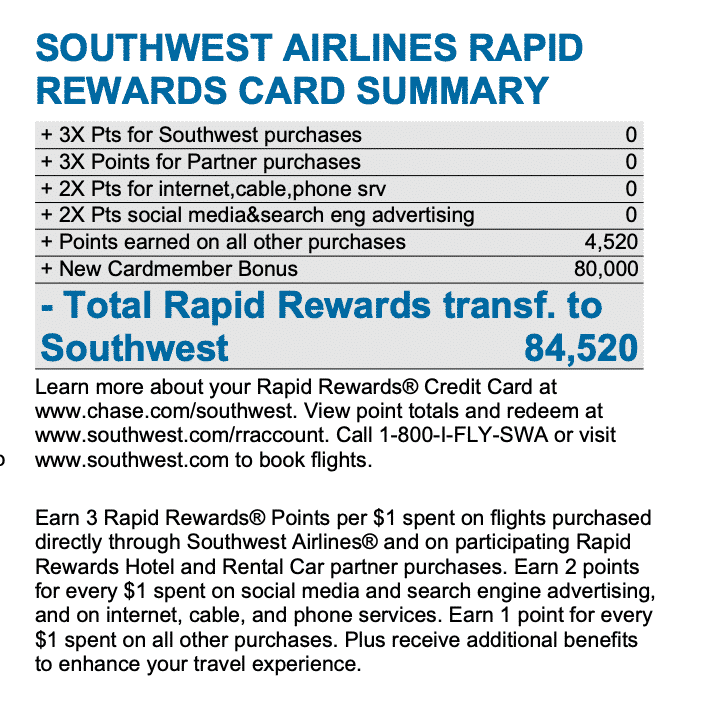 Other Advantages To Paying Taxes With Credit Cards
There are a few other things you might want to think about that makes paying taxes with your credit card worthwhile.
First, I think it's important to remember that credit card rewards are tax-free. For almost every consumer purchase you make, you'll have to use post-tax money, which means that anything you buy actually costs more than what you actually paid for it since you have to pay taxes on your income first before you can buy anything. If you're a high-income earner like I am, your consumer purchases are even more expensive. What makes credit card rewards so valuable is that the IRS classifies those points and miles as a rebate, which means you don't have to pay taxes on those rewards. And when you use those points and miles for a plane ticket or hotel, you're essentially making those purchases using tax-free money.
Second, depending on your situation, any credit card processing fees you pay may be a tax-deductible business expense. This isn't that big of a deal, but it means that the cost of using your credit card to pay your taxes can be lower than it seems.
Third, it's important to remember that it's okay if you overpay your taxes (assuming you have the money on hand to pay off your credit card bill). You'll get the money back as a tax refund, so even if you're not sure exactly how much you owe, it's worth just paying more if you have to and getting it back later, especially if you're paying near the tax filing deadline anyway and won't have to wait long for your tax refund.
How To Pay Taxes With Credit Cards 
With all that said, you're probably wondering how you go about paying your taxes with a credit card. Luckily, this isn't difficult and the IRS has a section on their website where you can do just that. You can find the IRS credit card payment website here. 
There are three payment processors that the IRS partners with. Each payment processor charges a different fee, so of course, you'll want to use the one that charges the least and work your way up from there as needed.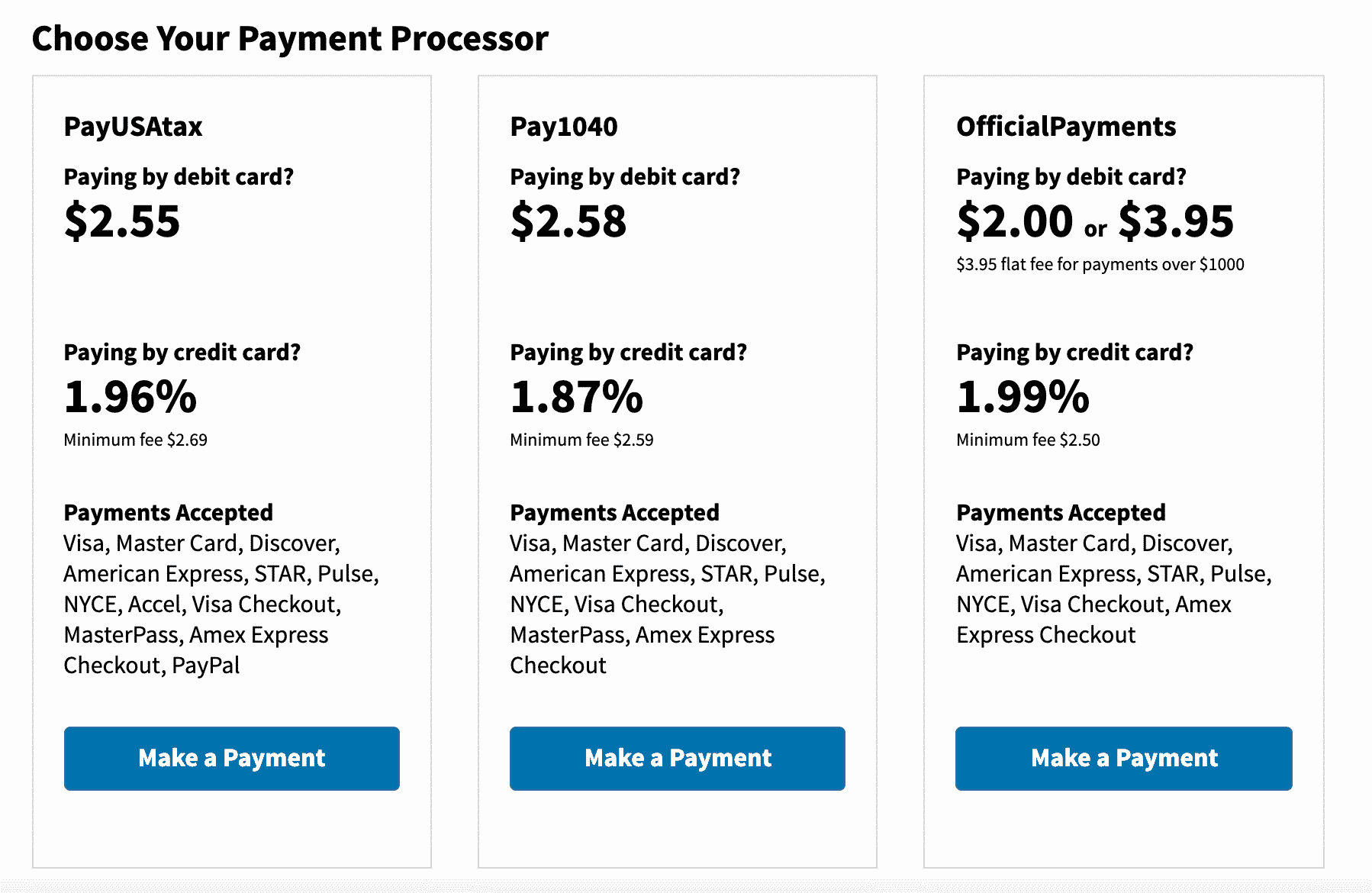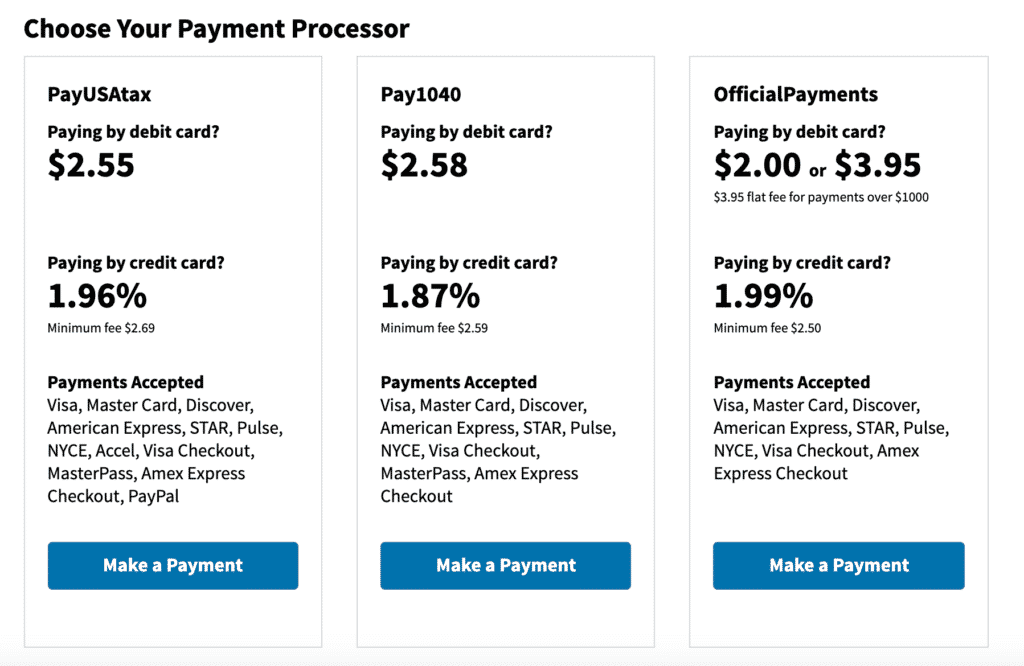 Each processor allows you to make two tax payments with a credit card each quarter. In practice, that means it's possible to make up to 6 tax payments in a quarter using the official IRS credit card payment processors. I've only ever used Pay1040 since I haven't ever had to make more than two tax payments in a quarter.
And remember, even though Pay1040 charges a 1.87% fee, you're also getting back at least 1 cent per point (and likely more) on your spending, which makes the effective fee of any of these processors under 1% in practice. When you combine that with any signup bonus you're earning, you're going to get back much more than any fee that you pay. 
When you make your tax payment, be sure to keep any receipts and keep a record of how much you paid. The IRS does have a tax account where you can keep track of your tax payments, but you'll want to keep your own records just in case. Importantly, you'll also need the information so you can input it when you file your taxes. Basically, there's a section on your tax return that asks you about any tax payments you've made, so you'll need to input that information into your tax return when you file. I keep all of these receipts in an Evernote folder that I created for taxes, but you can use any filing system that works for you.
Suggestions 
The key to making tax payments using your credit card is that you need to be doing the payment in order to meet a minimum spend requirement to earn a signup bonus on a new card. If you're not doing that, then it generally won't be worth paying your taxes this way. 
Below are a few suggestions on cards that you can get some good value out of: 
There are a ton more options out there, and this is by no means an exhaustive list. The point is simply this. If you're going to pay taxes anyway, you might as well take these small actions to get something back in return and effectively lower the impact of your taxes. That's the Financial Panther way.
Financial Panther has partnered with CardRatings for our coverage of credit card products. Financial Panther and CardRatings may receive a commission from card issuers. Responses are not provided or commissioned by the bank advertiser. Responses have not been reviewed, approved or otherwise endorsed by the bank advertiser. It is not the bank advertiser's responsibility to ensure all posts and/or questions are answered.