If you recently placed an Uber Eats order and have found that no one has picked it up, you might ask yourself – why is no one picking up my Uber Eats order? In this post, we'll explain exactly why this is happening and what you can do about it. 
At the outset, I can understand that it's frustrating when this happens. You're hungry and your order is taking forever to get picked up. So what's going on? Let's look at the main reasons why this might be happening.
Why Is No One Picking Up My Uber Eats Order? 
There are three main reasons why your Uber Eats order might not be getting picked up by anyone. Below are the main reasons you might encounter this problem:
1. You Didn't Tip, So The Payout For Your Order Is Too Low 
Many customers don't understand that Uber Eats couriers are independent contractors. That means they don't work directly for Uber Eats and they have the right to accept or reject any orders that are sent their way. If your order is paying too little, most Uber Eats delivery drivers are going to reject your order. 
In general, Uber Eats pays a low base payout for delivery drivers – only a few dollars. The rest of their earnings come from tips. For most drivers, tips make up the majority of their earnings. And while Uber Eats drivers can't see the exact tip that a customer leaves until after the delivery is completed, they can see what the expected earnings will be, which means that a driver can get a sense if the customer tipped.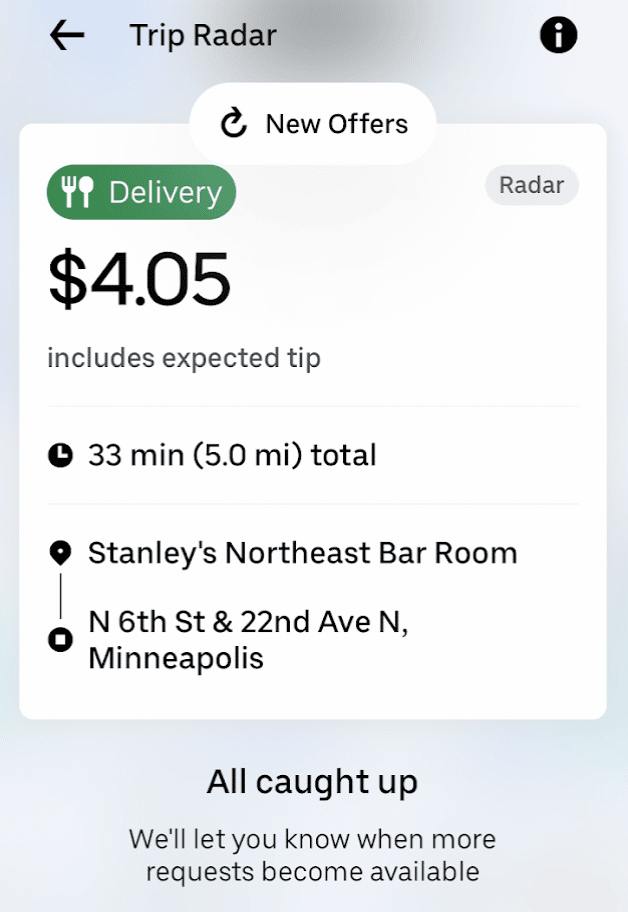 If the expected earnings are too low, most drivers will reject the order and wait for a higher-paying order. That means your order will sit there until someone is willing to take the order or until Uber Eats increases the base amount they pay for the delivery. Either way, it means you're going to be waiting a long time for someone to accept your order. 
Here's what I can tell you. If you're ordering food delivery, you should tip. Your delivery person relies on your tip and it won't be worth it to deliver your order if you're not tipping. If you can't afford to tip, I'd recommend reconsidering having your order delivered – perhaps consider picking up your own order instead and avoid the tip and delivery fees Uber Eats charges you.
2. You Live Far Away From The Restaurant You Ordered From
If you live far away from the restaurant, many Uber Eats drivers may reject your order because the payout won't be worth the distance and time it takes to deliver your order. Remember that Uber Eats drivers are paid per order, so if you are asking a driver to deliver your order a long distance, the payout needs to be worthwhile to cover the extra time and mileage. 
Unfortunately, the only real way around this problem is to make sure your order is enticing enough to get someone to accept it. That means if you live far away from the restaurant you're ordering from, you need to make sure your tip is large enough to get someone to accept it and travel that long distance.
3. There Aren't Enough Couriers Available to Pick Up Your Order 
In rare circumstances, your order might not get picked up because there aren't enough couriers available to deliver your order. This usually only happens during off-peak hours, when fewer Uber Eats delivery drivers are working. If you're ordering late-night food or placing early morning orders, for example, it's possible there simply aren't any nearby drivers working. 
That being said, if you're ordering during normal hours and find that your order isn't getting picked up, it's more likely that the restaurant is either too far away for most drivers to want to accept the order or you didn't tip (or left a low tip). 
What To Do If No One Is Picking Up Your Uber Eats Order 
If no one picks up your order, you can contact Uber Eats and they'll cancel the order for you and give you a refund. You usually have to wait until it's been a while – i.e. you can't cancel your order if you haven't been waiting very long. Canceling your order is pretty easy – there's a section in the app that'll let you chat with support and cancel your order.
If you've been waiting a long time for your order, Uber Eats will often offer you a credit of 20% of the order total to keep your order and wait. To qualify for this credit, it needs to be at the point where the delivery time is beyond the latest delivery time they originally listed.
If you really want to get your order delivered, you can place the order again after canceling it and hope that it gets picked up the second time around. If you didn't tip or ordered from a far away restaurant, it can make sense to either leave a good tip or switch to a closer restaurant.
Final Thoughts – If You Want Your Order To Be Picked Up, Leave A Fair Tip 
The general takeaway from this post is that you should give a good tip if you want to ensure your order gets picked up quickly. At a minimum, you should be tipping 15%. I recommend tipping 20% – which is what most people tip when they order food at restaurants. 
Uber Eats delivery drivers are independent contractors and have the right to accept or reject any orders they want. When you are ordering food via the Uber Eats app, you're putting your order out there amongst hundreds of other orders. If your order isn't appealing, no one will accept it. And that means you'll be waiting longer for your order.