I'm always on the lookout for tools that I think can make investing easier for people. WiseBanyan used to be one of those tools – an excellent, free roboadvisor that you could use to start investing. Unfortunately, Axos Bank purchased WiseBanyan a few years ago and has since made some significant changes that have dramatically impacted the quality of this once great roboadvisor. In this WiseBanyan Review (now known as Axos Invest), I'm going to go over what WiseBanyan is, how it works, and let you know why this roboadvisor is okay, but not great. 
(If you're looking for a great roboadvisor, I recommend checking out M1 Finance).
As a bit of background, when it comes to investing, those of us that write about personal finance often think of investing as straightforward. The truth, however, is that while investing as a concept is straightforward, the actual process of investing can be harder than we make it out to be.
In an ideal world, investing would be as easy as opening up a bank account. You'd be able to open an investment account, put money into it, and walk away without having to make any decision other than deciding how much money to put into your account.
This is why I'm such a big fan of roboadvisors. These investment platforms are basically the closest we can get to having investing be as easy as opening up a bank account – just open up an account, put in some money, and walk away. Your money is then automatically invested for you in a well-diversified portfolio appropriate to your needs and risk tolerance.
One of the investing apps that I used to use is WiseBanyan. I first started using it in 2015 and had a good experience with this under the radar roboadvisor. A few years ago, WiseBanyan was purchased by Axos and rebranded as Axos Invest (so be aware that WiseBanyan is technically now called Axos Invest). For purposes of this post, I'm still calling it WiseBanyan, but the official name for WiseBanyan is now Axos Invest. 
WiseBanyan was a good investing platform and app. Unfortunately, the newly rebranded Axos Invest has some problems – none are so terrible that WiseBanyan is unusable, but they're enough for me that I'm no longer using WiseBanyan.
What Is WiseBanyan (Now Called Axos Invest)?
WiseBanyan (now Axos Invest) is a roboadvisor similar to Betterment, Wealthfront, or M1 Finance.  You provide WiseBanyan with some information about yourself – things such as your risk tolerance, age, goals, how much you're trying to save, etc. – and WiseBanyan will provide you with a recommended asset allocation of stocks and bonds appropriate to your situation.
After that, all you have to do is deposit some funds into your account and WiseBanyan will automatically invest your money for you according to your asset allocation. WiseBanyan currently supports taxable accounts, as well as tax-advantaged accounts such as IRAs, Roth IRAs, and SEP-IRAs. 
Previously, what made WiseBanyan really good was that, unlike other roboadvisors, WiseBanyan did not charge any management fees. Unfortunately, WiseBanyan has since changed course and now charges a 0.24% management fee for balances above $500. This is still very low and comparable to roboadvisors like Betterment or Wealthfront, which each charge a 0.25% management fee. 
However, M1 Finance still charges no management fees and is also a good roboadvisor that you can use for your investing needs. M1 Finance requires a slight bit more work to understand how to invest, so if you wanted to opt for the absolute easiest investing platform, the 0.24% management fee could make still make WiseBanyan worth it for you.
WiseBanyan's Investment Philosophy
WiseBanyan's investment philosophy is similar to the philosophy that most smart financial folks adhere to these days: diversify, keep costs low, and go for passive index investing. WiseBanyan uses modern portfolio theory, which is a fancy way of saying that you're maximizing your return for a given asset allocation while taking on the least amount of risk. The goal in modern portfolio theory is to stay on the below line – what is called the efficient frontier.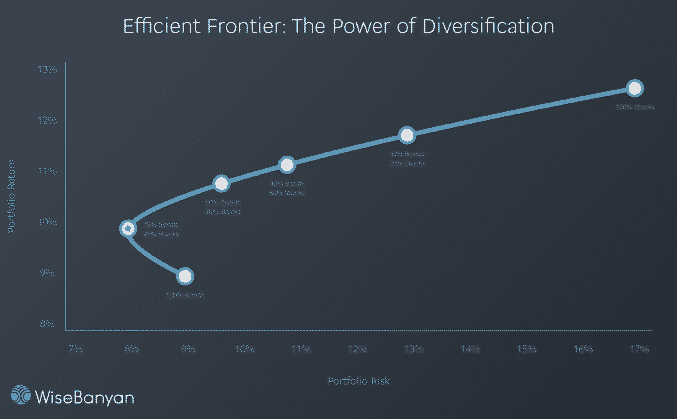 In keeping with its philosophy of low cost investing, WiseBanyan will generally invest in low-cost Vanguard exchange-traded funds (ETFs), although it'll also sprinkle in ETFs from other companies if you opt to activate tax-loss harvesting. According to WiseBanyan, the average expense ratio of the funds it invests in is 0.12%. That's pretty darn low.
If you're curious, here are the primary ETFs that WiseBanyan uses in each asset class:
US Equities: VTI
International: VEA
Emerging Markets: VWO
US Bonds: VGIT
Short-Term US Bonds: VGSH
Corporate Bonds: LQD
Short-Term Corporate Bonds: VCSH
Short Term High Yield Bonds: SJNK
Treasury Inflation-Protected Securities: TIP
Real Estate Investment Trusts: VNQ
WiseBanyan's investment options are good because the bulk of their investment choices are Vanguard ETFs, which are the lowest cost and best index funds currently available. The other options they use are also low-cost and are good investment options.
Is WiseBanyan Safe?
Yes. WiseBanyan is an SEC-registered investment provider and your funds are insured for up to $500,000 by SIPC. In other words, if WiseBanyan were to become insolvent, you'd still be covered by the SIPC insurance.

WiseBanyan Portfolio Examples
There are two options when it comes to setting up your stock/bond allocation with WiseBanyan. You can either manually set it to whatever you want or you can answer a few questions and WiseBanyan will choose an appropriate portfolio for you based on your particular situation.
For example, here's a portfolio that WiseBanyan put together for my own account. I have a long-term view when it comes to investing, so I opt for an aggressive allocation of 100% stocks. In this portfolio, it divided up my allocation into 60% US equities, 32.5% international equities, and 7.5% emerging market equities (overall, that's 60% domestic, 40% international). That's a fine allocation that you can't go wrong with. And the investments are all Vanguard ETFs, which is good.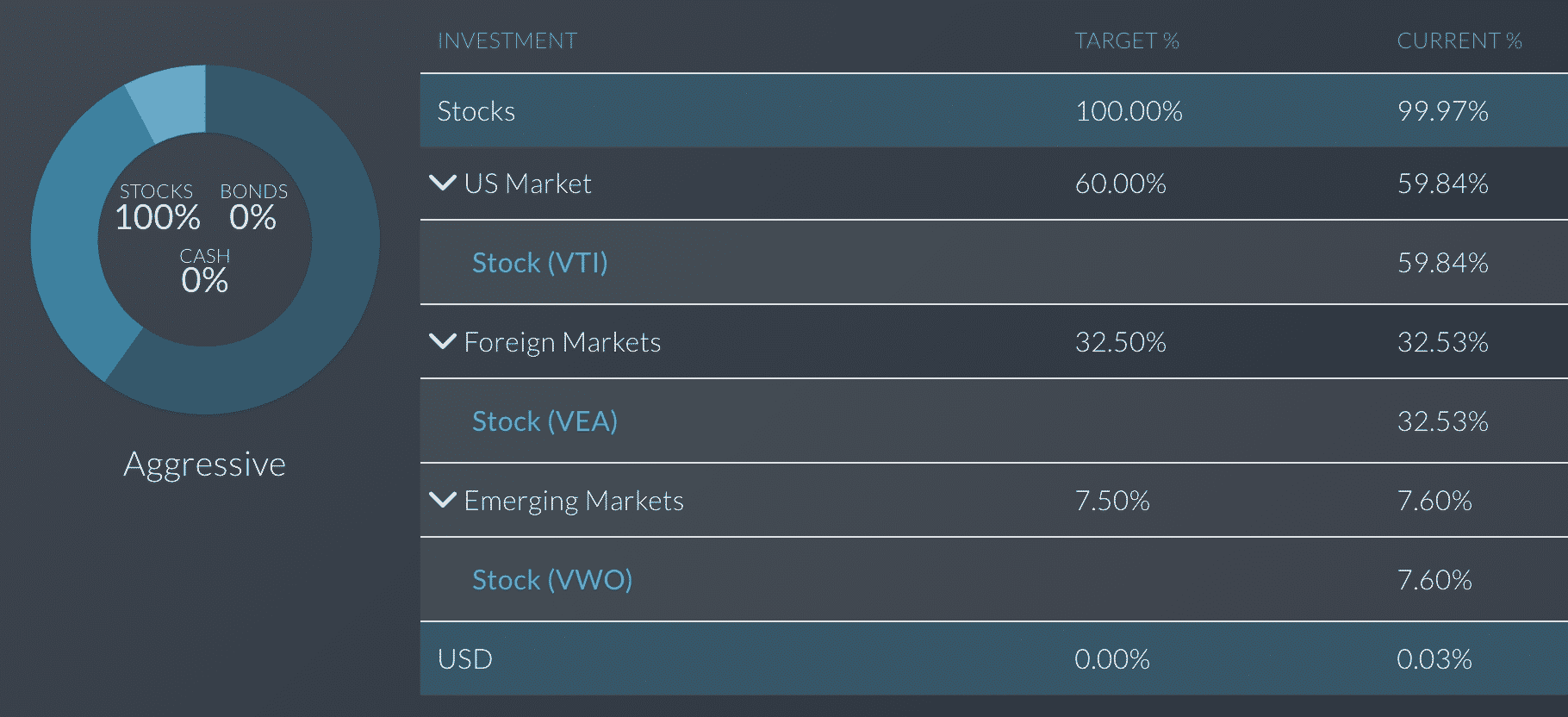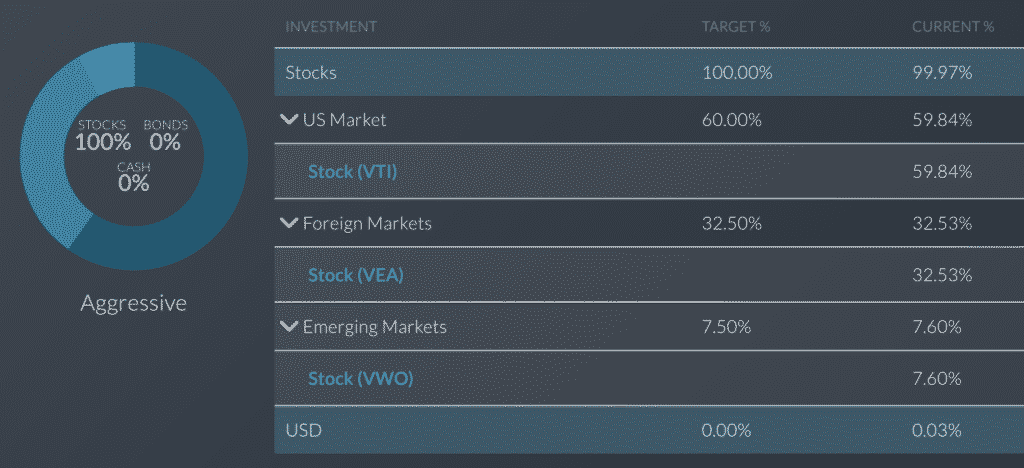 In terms of allocation, WiseBanyan does let you tinker with how you want things to look like. You can set it to be as aggressive as 100% stocks or as conservative as you'd like as well.
Things To Consider If You're Thinking About WiseBanyan (Now Called Axos Invest)
When I first wrote this review several years ago, I pointed out that WiseBanyan was taking a novel approach to roboadvisor services by opting not to charge a management fee. My prediction was that at some point, they'd either shut down or would have to start charging a fee. 
It turns out I was right. In 2020, WiseBanyan updated its pricing structure to charge account holders a 0.24% management fee. This is still a very fair price and is actually a slightly lower cost compared to most other roboadvisors. If you're already using WiseBanyan, I wouldn't close your account simply because they're now charging this fee. 
At the moment, I'm only aware of one roboadvisor that truly charges no management fees at all. M1 Finance is the best roboadvisor option currently available and the investing platform I recommend if you're looking for a roboadvisor with no costs at all.
One other thing worth noting is that WiseBanyan doesn't link to Mint or Personal Capital, which is a bit of a bummer for those of us that like to track our accounts in one place. They keep saying that it's something that's in the works, but I haven't seen any progress on that front in all the years that I was a WiseBanyan client. However, the switch to Axos Bank might mean that it can now connect to Mint and Personal Capital since Axos is a bigger financial institution.
Finally, I need to note that WiseBanyan recently finished making the move to Axos, integrating itself into Axos Bank's website. In my opinion, the new interface is terrible and borderline unusable. A good website and app are really important to me, so this makes Axos Invest not worth using for me personally anymore. That isn't to say it's unusable – they're still a fine, low-cost advisor. It's just that there are better roboadvisors out there.
Who Should Use WiseBanyan?
As a product, WiseBanyan is fine. The fee is reasonable and it generally invests in good, low-cost Vanguard ETFs. If you did use WiseBanyan, I wouldn't be too upset about it.
When WiseBanyan charged no fees, I often recommended WiseBanyan above all other roboadvisors. Now, however, the small 0.24% fee does have to weigh into my recommendation. For the most part, I now recommend people use M1 Finance if they're looking for a roboadvisor that makes investing very easy and is accessible to anyone looking to start investing and that wants to make sure they're doing it correctly.
Finally, as mentioned previously, the switch over to Axos was not positive for WiseBanyan. The new interface is pretty bad and when you combine that with the fact that M1 Finance charges no management fee and has a beautiful website and app, I'd always opt for M1 Finance over WiseBanyan. It's a shame because WiseBanyan was one of the first roboadvisors I used and one I was very happy with during the 5+ years that I used it. Now, it's just a run-of-the-mill roboadvisor that is okay, but not great.
I hope that information helps. Feel free to drop a comment if you have any questions about WiseBanyan.