It's a new month, which means it's time to take a look at my side hustle/gig economy earnings for April 2022.
For new readers, each month, I document exactly what I earned from all of the different gig economy apps I use each month. I've been tracking this information since 2016, so there's a lot of data in these posts that can give you an idea of what you can earn doing this type of work on a part-time basis. If you're looking to earn some extra income, there's probably something in here for you. 
With that said, below is a breakdown of my earnings with each app in April 2022. 
Side Hustle Income for April 2022
Total Side Hustle Income for April 2022 = $2,182.27
April was a lucrative month for me, with me bringing in over $2,000 from the various side hustles and gig economy apps that I use. 
With the weather warming up, you can see that my DoorDash, Uber Eats, and Grubhub earnings are on the rise. During the warmer months, I aim for $1,000 per month from those apps (about $250 per week or about $33 per day). I can usually hit those numbers doing deliveries for about an hour per day. 
Meanwhile, some of the other apps I use were strong too. Rover remained consistent. IVueIt and ProductTube were both more lucrative than usual. And then I also brought in a few hundred dollars from some freelance writing. 
Here's a pie chart showing my main side hustle/gig economy income sources for the month.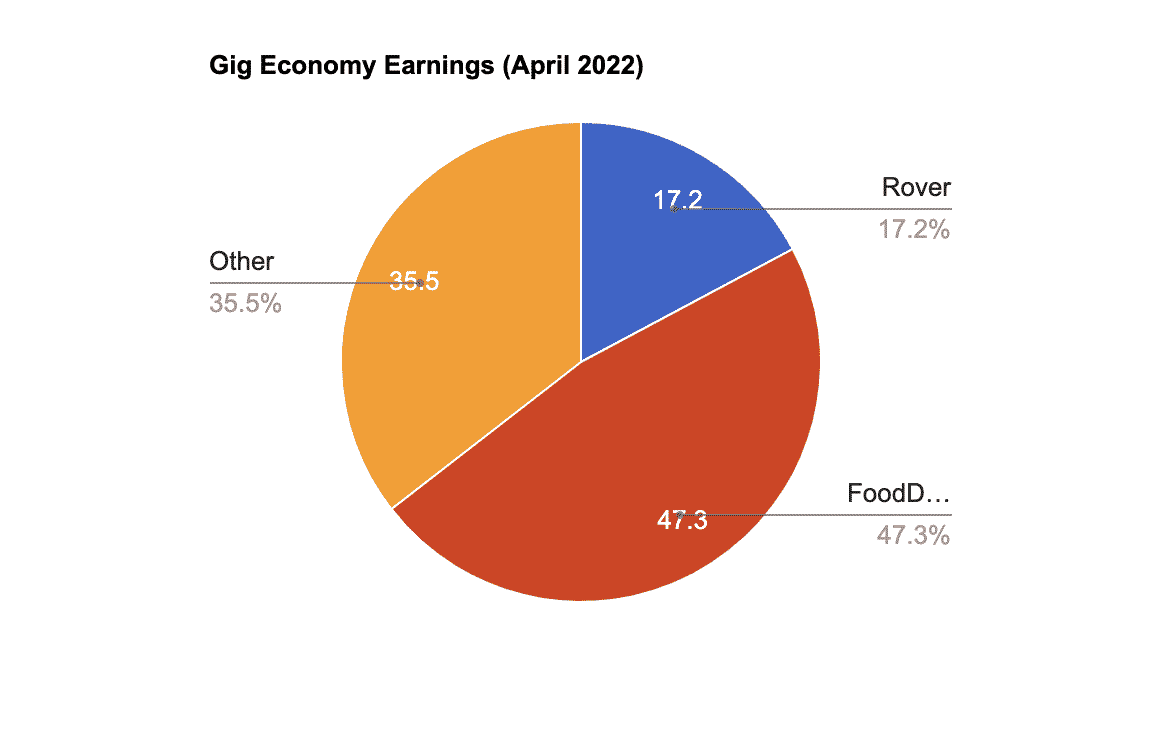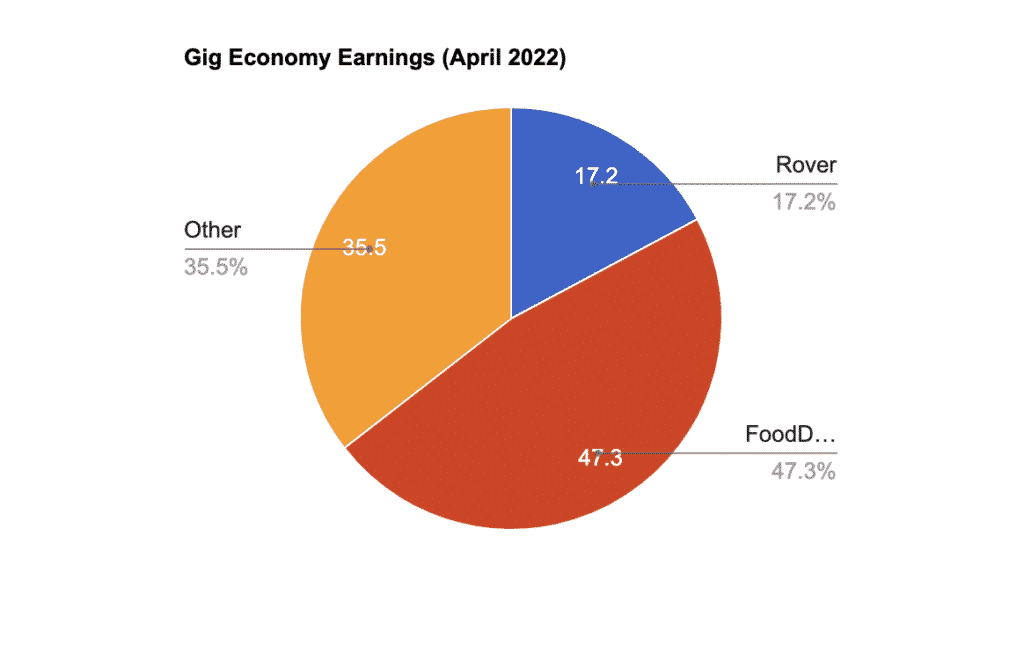 In prior months, Rover made up a lot of my monthly side hustle earnings (for example, in March 2022, Rover made up 57% of my monthly side hustle earnings). You can see how much things can change with the improved weather, with DoorDash, Uber Eats, and Grubhub making up almost 50% of my side hustle earnings for the month compared to just 26% last month).
You can also see the value of the various "little" side hustles I do. Even though they don't seem like much individually, my earnings from apps like WeGoLook, IVueIt, etc, added up to over $700 – or 35% of my monthly earnings.  It goes to show that small amounts add up. 
In the remainder of this post, we'll take a closer look at how I earned my side hustle/gig economy income in April 2022. 
Airbnb/Rental Income Income: $2,400   
The rental property brought in $2,400 of rent for the month. I've been renting it out to four college students for about 8 months and haven't had any issues with them. They pay the rent on time, seem to be respectful of the house, and I haven't had any complaints from neighbors. 
The warmer weather means I'll be over at the house more often mowing the grass and doing other yard work. It's something I can handle myself because the yard is small and my son's daycare is a few blocks from the house. It usually only takes me 10-15 minutes per week to take care of everything. 
Rover Income: $377  
It could have been a bigger income month on Rover, but I had a client cancel at the last minute. Since Rover is really less about the money for me and more because I find it fun, I have a lenient cancelation policy that lets people cancel pretty much up to the last second. Still, even with the cancellation, my Rover earnings were good.


The pups I watched in April were all repeat clients, which is always good since I know what I'm getting into. With Rover, once you get a good base of repeat clients, it becomes pretty easy. Of all the gig economy apps I use, Rover is the one that can be the most passive.
I have more information about Rover in this post: Rover Pet Sitting – How To Make Money Dog Sitting With Rover. If you're interested in becoming a sitter, you can sign up to be a Rover sitter using my Rover referral link. 
DoorDash/Uber Eats/Grubhub Income: $1,033.09 
DoorDash, Uber Eats, and Grubhub dramatically picked up in April thanks to the improved weather (at least compared to February and March). That's not to say it was great weather – it was below average temperatures for most of the month and cloudy and rainy most of the time. But anything above-freezing feels warm to me, especially after dealing with a long winter. 
Here's a breakdown of my earnings with each delivery app last month:
Uber Eats was the most lucrative for me last month, with DoorDash and Grubhub coming in 2nd and 3rd respectively. In most months, I find DoorDash is the one I make the most with, but Uber Eats has been pretty busy for me lately. 
I also did more Uber Eats because I was trying to reach Platinum status in the app. Uber Eats has an interesting feature where you get some added benefits if you do enough deliveries in a month. One of the benefits that I saw in the app is a free 1-year membership to Costco if you reach Platinum status.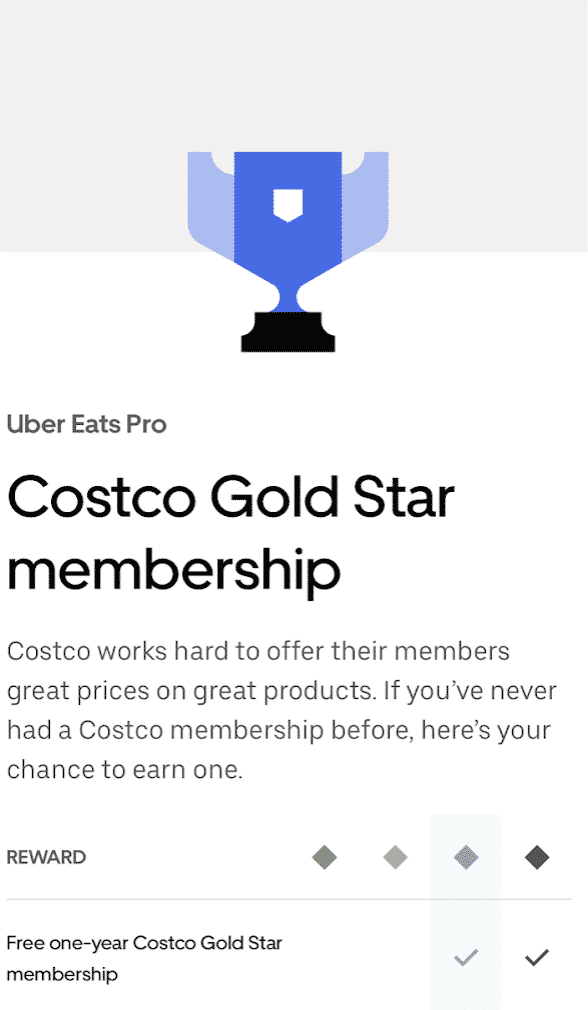 I ended up hitting Platinum status near the end of the month, which qualified me for the Costco membership. After enrolling, I got my promo code about a week later, so as of now, I have a free 1-year Costco membership that's good until next May. It's exactly what I needed – I was planning on getting a Costco membership at some point – so I'm happy about this unexpected bonus.
I did most of my deliveries last month using my Espin Sport and the GEN 3 Outcross. With the weather warming up, I'm now taking my son to daycare on our RadCity, so I'll likely be doing more deliveries with the RadCity. I'll also use my Varla Eagle One now that conditions are better for scooting, as well as my Fucare H3 scooter.
My goal for the remainder of the warm months of the year is to hit $1,000 per month, or about $250 per week or $33 per day. It isn't difficult for me to do this – usually I can hit $33 in an hour or less. 
If you want more information about the different food delivery apps I use, feel free to check out the detailed posts I've written about each app: 
For tracking my earnings, I use Gridwise, which is a good free app for tracking your gig economy earnings and mileage if you're a driver.
Trash/Flipping Income: $40.89
The flipping game was decent last month. Earlier in the year, my wife found a pair of AllBirds shoes at Goodwill that she bought for a few dollars. They were practically new too. It took a few months, but I finally got them sold for $40.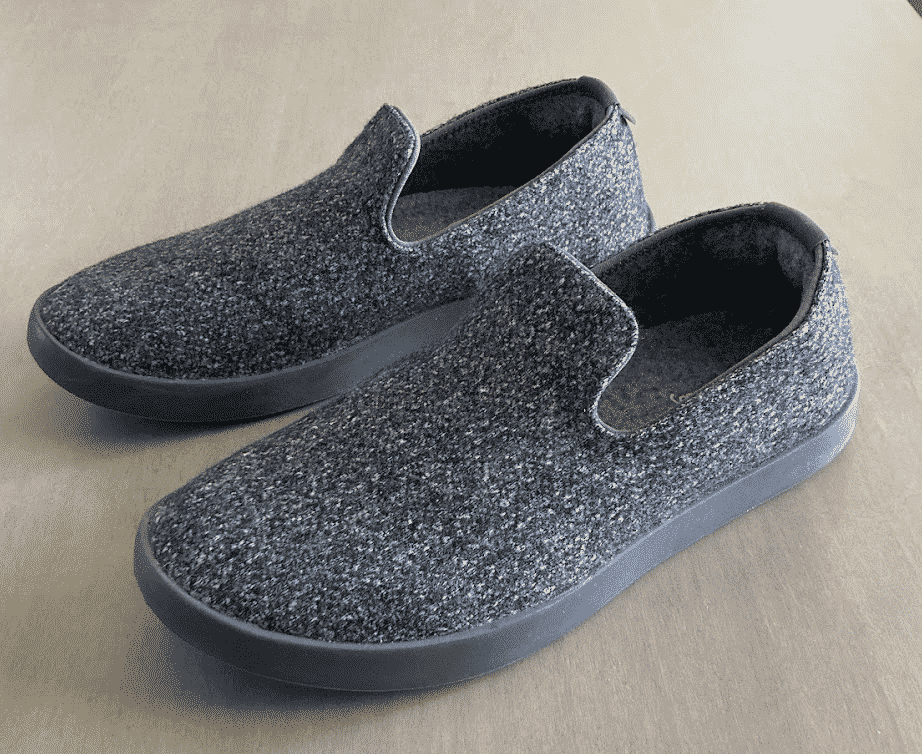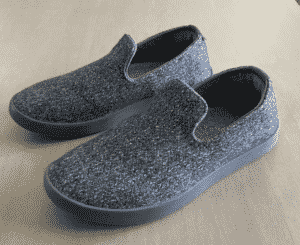 Another interesting sale last month was an iPhone box. I bought an iPhone 13 Mini earlier in the month and listed the empty box for sale on eBay for $5. It's not a lot of money obviously, but it's at least something for what ultimately was trash for me. It's an interesting market – but people will buy empty Apple boxes. 
WeGoLook Income: $23 
I earned $23 from an easy WeGoLook gig I completed last month. This was an exterior look gig where I needed to take a few pictures of a building. It wasn't far from my house and didn't take me long to complete, which is why it was worth doing.
ProductTube Income: $90 
ProductTube was lucrative, bringing in almost $100 in April. I did most of my ProductTube gigs in the morning after dropping my son off at daycare. Most of these gigs pay $10 or more, so it's a good way to put some money in my pocket to start the day. These gigs don't take long to complete – less than 5 minutes – so they're good money for the time spent on them. 
Gigwalk/EasyShift/Field Agent/Merchandiser/Observa/IVueIt/Pickl Income: $103  
I also had a lucrative month with these picture-taking/auditing apps. Most of my earnings for the month came from IVueIt, which brought in an amazing $98 for the month. I also made $5 from Pickl, which is an app I use sparingly. 
IVueIt is one of my favorite apps and if you've been following these side hustle reports, you can see they regularly feature in my side hustle reports now. You can read more about IVueIt and how it works in this post: IVueIt Review 2022 – Make Money Taking Photos For Businesses. 
Google Opinion Rewards/Surveys On The Go/1Q Income/Facebook Viewpoints: $35.73
The short survey apps did well for me in April. Here's what I earned with each app last month:
Surveys On The Go made a nice comeback for me. I haven't been doing much with it lately, especially since you need $10 to cash out your earnings. Luckily, I had a few decent surveys last month and was able to cash out my earnings.  
Secret Shopping Income: $99.50 (plus free food)
Secret shopping remains consistent. I'm earning a good amount of money from Marketforce, which is the only secret shopping app where I tend to earn income (the other apps only reimburse me for food, but rarely pay me extra to complete the assignment). 
Food is one of the major expenses that most of us have, so if you can do anything to reduce your food expenses, it can make a big difference in your finances. The main thing that stops people from doing this is a lack of knowledge. Fortunately, I've written a few posts that should hopefully help you out. Check them out below:
ProductLab Income: $19.05
ProductLab pays me $3 per week for a screenshot of my DoorDash earnings. That might not seem like much, but it only takes me a few seconds to upload the screenshot, so it's well worth my time. They changed the app so you can only cash out your earnings after reaching $15, which is a bit annoying. It means I'll likely cash out my earnings every two months going forward.
ReceiptPal/Receipt Hog/Fetch/CoinOut/Amazon Shopper Panel Income: $10.50
Amazon Shopper Panel paid me $10.50 last month for my receipts, which I'm quite happy with. It's probably the easiest $10 I earn every month. If you can, be sure to sign up for Amazon Shopper Panel. Sign up for all of these other receipt apps too. It's an easy way to earn some extra money for the receipts you're probably already collecting. 
Medium Income: $0.51 
I'm not doing anything with Medium these days, but I still earn a few cents each month from the articles I already wrote on there. If I were a new blogger, I'd consider writing exclusively on Medium. It's definitely an easier place to monetize your writing, especially if you aren't interested in writing SEO posts. 
Because I've been writing on this blog for so long, it's not worth my time to make the switch to Medium at this point. But again, if I were starting from scratch today and wanted to write interesting posts about whatever I felt like, I'd probably go to Medium. 
I do have some urban design and bike infrastructure posts I'd like to write, so maybe I might do that over there if I have some extra time. It's finding that time that's the problem for me right now.
Freelance Writing Income: $350 
I do a little bit of freelance writing, which is always a nice way to generate some extra income from writing. I'm able to get these occasional gigs because of my blog, which serves as a nice portfolio of my work. This isn't consistent income for me, but it could be if I put more effort into it. At this point, most of my income comes from this blog, so I don't need to spread myself too thin with my writing.
And that concludes the April 2022 Side Hustle Report!
April was a good side hustle month. I'm always happy when I can hit $2,000 or more of side hustle income. When you combine my blog income and rental income, I end up with a pretty solid annual income.  
For more ideas on how you can use the gig economy to earn extra income, check out my post, The Ultimate List of Gig Economy Apps. It's a good resource that can give you some more ideas on things you can do to earn extra income. 
Thanks for reading! Feel free to drop any questions and comments below.