Hey everyone. It's time for another side hustle report. In today's post, we'll take a look at what I was able to earn from side hustling with gig economy apps in March 2022. 
I mention this in every side hustle report, but just to quickly recap, each month, I recap what I was able to earn from side hustling using gig economy apps. I've been tracking this income since June 2016, so there's almost 6 years' worth of data in these posts. If you're looking for ideas about how you can earn extra income, hopefully, these posts can give you some ideas.
Below is a breakdown of my earnings with each app in March 2022. 
Side Hustle Income for March 2022
Total Side Hustle Income for March 2022 = $1,256.96 
March was a solid month, especially after two fairly slow months to start the year. My goal for most months is to bring in around 1,000 of extra income, so I'm happy I was able to do that this month. 
Since I moved to my new neighborhood last year, Rover has been very profitable. This past month might have been my strongest Rover month yet, bringing in over $700. Rover feels pretty passive compared to some of my other side hustles, so getting $700 of extra income from Rover is not bad at all. 
The rest of the month was pretty standard. Things are starting to pick up again with the food delivery apps as the weather starts to warm up. We're still in the shoulder season of Minnesota weather, so it's hit or miss about what the weather is like these days, which impacts if I make money doing deliveries or not. 
The remaining smaller side hustles rounded out my income for the month. Here's the breakdown of what my side hustle earnings looked like by percentage: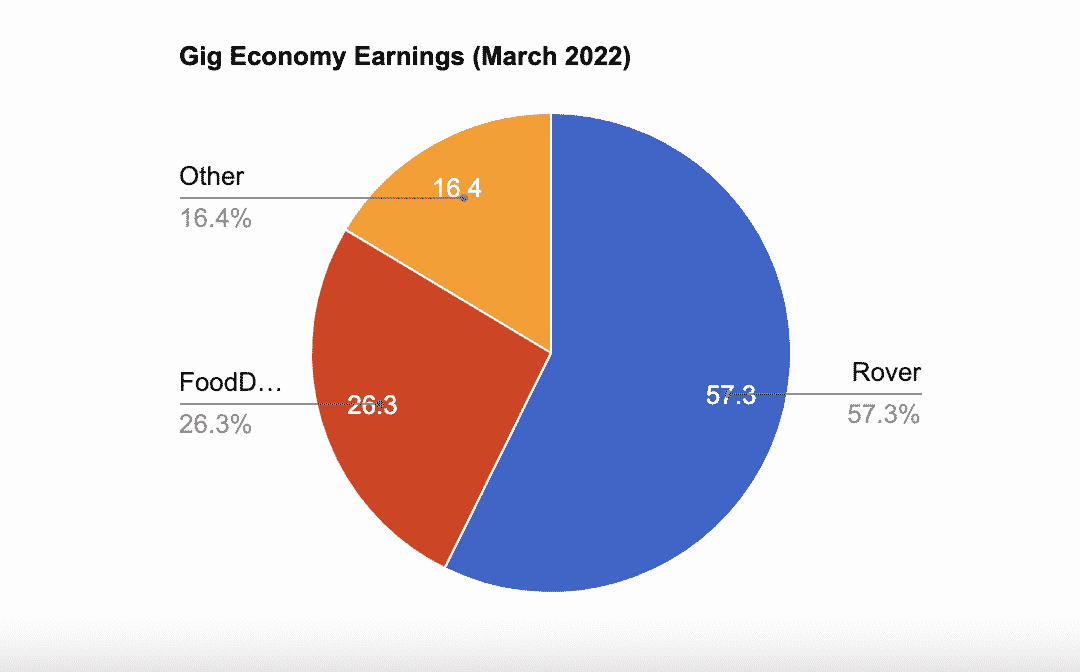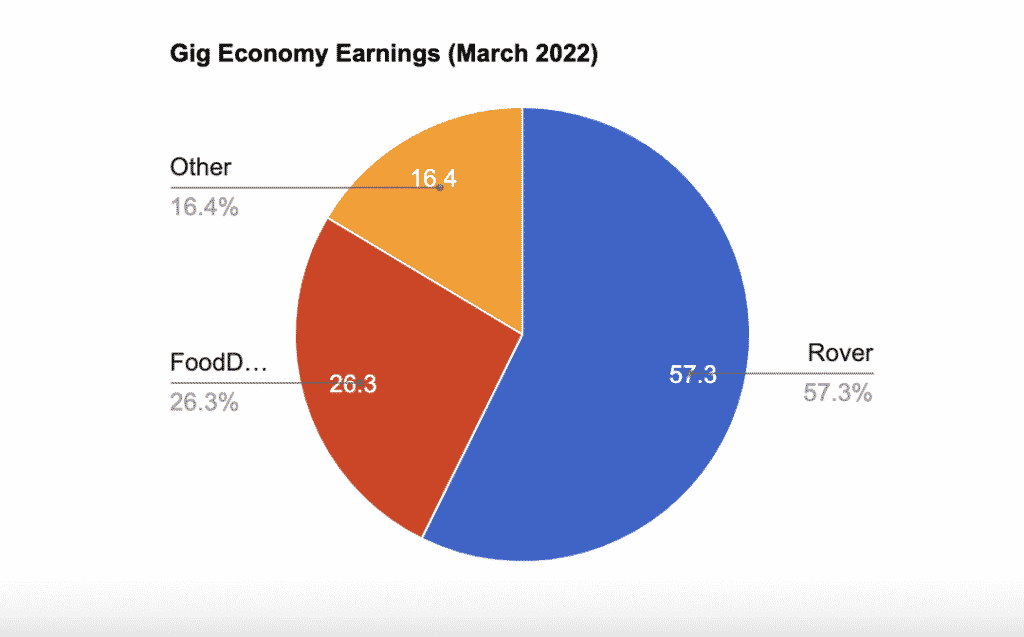 You can see the "other" category has a significant impact on my side hustle earnings. While the amounts from these small gig apps might not seem like a big deal, they add up when you put them together. 
Let's take a closer look at my side hustle earnings. 
Airbnb/Rental Income Income: $2,400  
The rental property continues to be strong, cash flowing about $900 to $1,000 per month. I'm definitely happy about that. 
One of the things that I think people don't really understand about rentals is that cash flow isn't the only way your rental generates income. Each month, I pay down more of my mortgage, which increases the equity I have in the house. At the same time, the house also generally appreciates each year. Yes, a lot of the "income" is only on paper. But having paper value is better than no value at all.
Rover Income: $721.25  
Rover has been very lucrative the past few months, and March might have been the highest-earning month I've ever had on Rover. I watched three dogs last month. Two of the dogs were neighborhood dogs that we'll likely continue watching for years to come. In addition to dogs, I also did some drop-in catsitting too for a neighbor.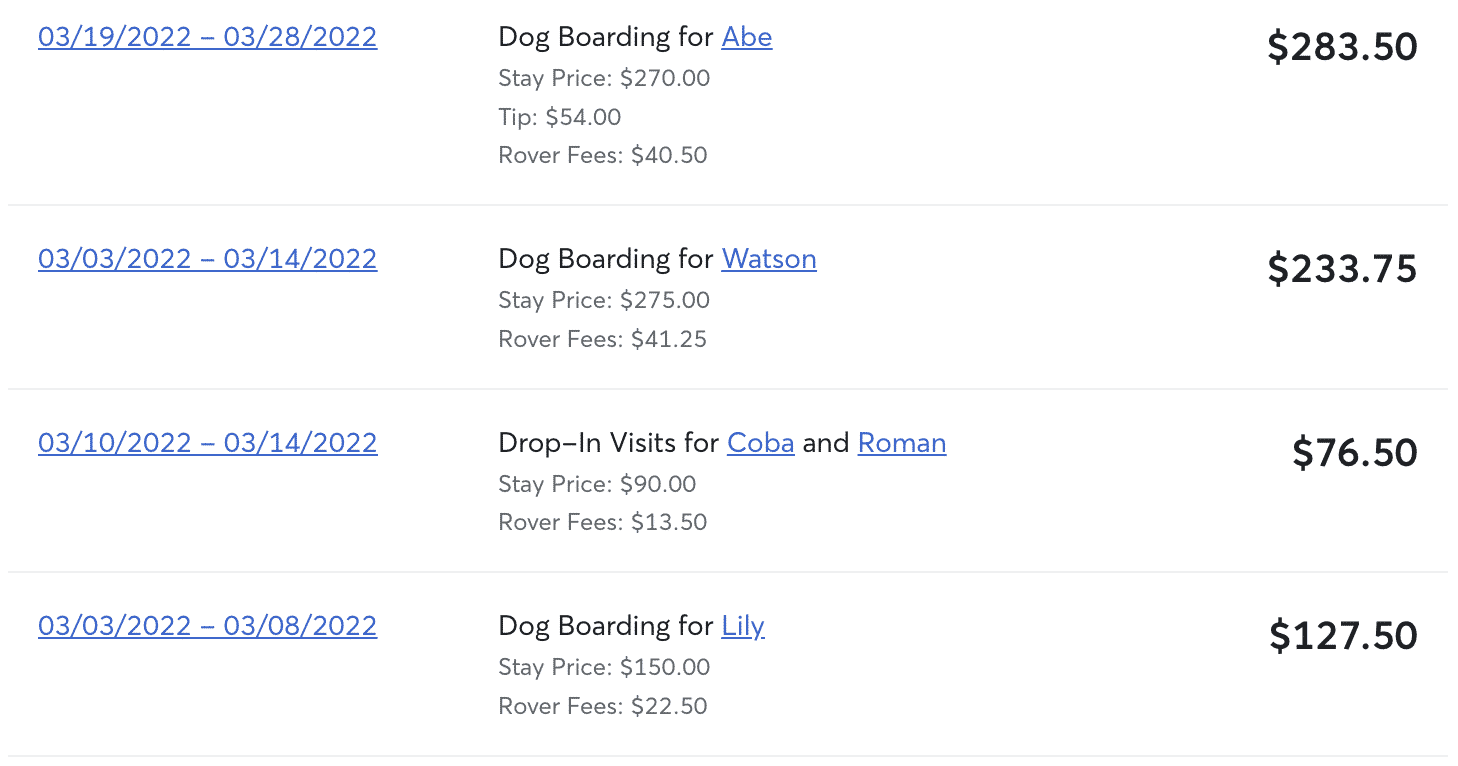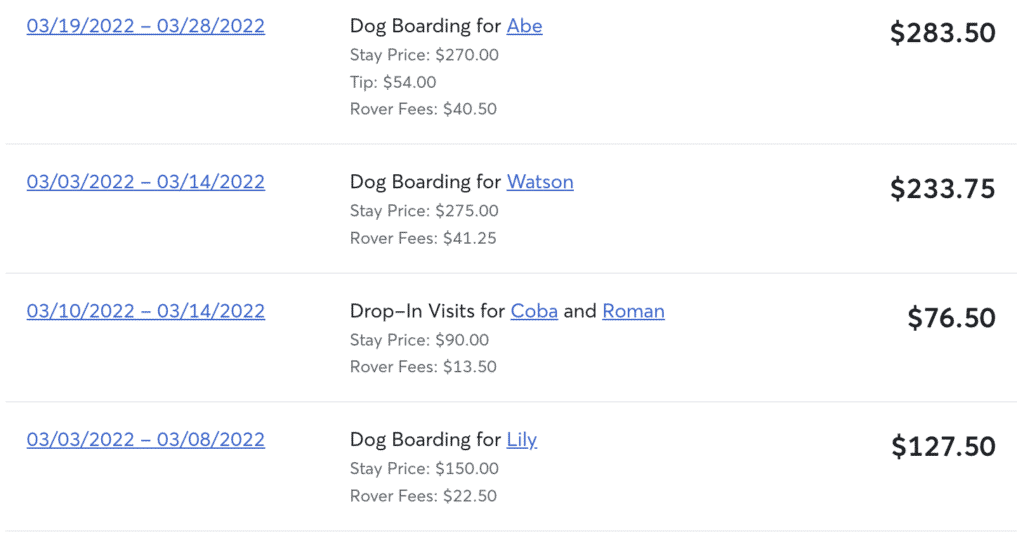 Last month was particularly lucrative because all the stays we had were pretty long. They lined up well too. 
Rover is definitely the most passive of all the side hustles I do. It's nice to have this consistent cash flow each month without having to do much. 
If you want to learn more about how Rover works, check out my post: Rover Pet Sitting – How To Make Money Dog Sitting With Rover. You can also sign up to be a Rover sitter using my Rover referral link.  
DoorDash/Uber Eats/Grubhub Income: $331.79 
Food delivery earnings are still pretty low – at least compared to what I'd like to earn each month. My goal is typically to earn  $1,000 per month, which means I need to make $250 a week or about $33 per day. March was still pretty cold though, so I didn't do as many deliveries as I normally would have. 
Here's a breakdown of my earnings with each delivery app last month:
DoorDash has historically been my busiest delivery app, but things have been pretty slow lately on DoorDash. These days, Uber Eats has been the busiest for me while DoorDash has probably been the slowest app for me. It goes to show why multi-apping is so important when it comes to this type of work. By using multiple delivery apps, I'm able to increase the number of delivery requests I receive.
As usual, I did all of my deliveries using ebikes and electric scooters. While a lot of people have had issues with gas prices and increased vehicle costs, I haven't had to worry about that at all. I did most of my deliveries last month using the Espin Sport and the GEN 3 Outcross, both of which I've been using with my Burley Bee Trailer to get my son to daycare.
If you want more information about the different food delivery apps I use, feel free to check out the detailed posts I've written about each app: 
Trash/Flipping Income: $9.57
The trash and flipping game has been slow for me lately but could pick up as we get into spring cleaning season. I made one small sale last month, selling some pieces in a Catan Jr game I got at Goodwill. This sale wasn't really about making money, rather I was mainly looking to cover the cost of a board game I bought there.
I usually look for cool board games at Goodwill and found a Catan Jr. game I figured I could play with my son when he gets older. The only issue is that the game I bought was missing the dice – not a big deal, but I do like having all the pieces. I ended up finding another Catan Jr. game that did have the dice, and to make my money back I'm selling all the pieces on eBay. The one sale I made covered my costs for the game. 
WeGoLook Income: $20 
WeGoLook worked out well again. The $20 I earned this month came from a new WeGoLook task this month where I had to get a video from an insurance client. I ended up calling the contact, who then texted me the video they had on their phone. I was then able to email the video to WeGoLook. This assignment worked out very well since I didn't even have to go anywhere to complete the task. 
ProductTube Income: $60 
ProductTube has been doing well recently. I usually do these assignments in the morning after dropping my son off at daycare. There's a Target next to my son's daycare, so when there are ProductTube assignments available, I'll usually stop in there, do the assignment, and grab a snack or drink to start my day. The nice thing about ProductTube is that the assignments are quick, pay well, and they allow me to start my day off with some solid income.
Gigwalk/EasyShift/Field Agent/Merchandiser/Observa/IVueIt/Pickl Income: $60  
Once again, the income I earned in this category all came from IVueIt. That app has quickly become my favorite app in this category. The assignments pay well. They're easy to complete. And they fit in well with my travel patterns. 
Last month, I made all of my money completing "ghost store" assignments. These IVueIt gigs involve going to a store that has closed down and taking photos of the interior and exterior. Basically, the store wants to make sure that the place is secure and that there isn't any water leaking or other damage to worry about. 
What makes these IVueIt gigs good is that I can complete them when I'm on my way home with my son. I'll usually let him run around in the empty store while I snap some photos. These assignments are regular enough that I'm consistently doing the same assignments each month, which is nice.
IVueIt is one of the more underrated gig apps out there. Check out the post I wrote about it for more details: IVueIt Review 2022 – Make Money Taking Photos For Businesses. 
Google Opinion Rewards/Surveys On The Go/1Q Income/Facebook Viewpoints: $15.15
It was a slight down month for me on with these short survey apps last month. Here's what I made with each app in March:
1Q has been strong lately, so that's a nice source of extra money. I also made a bit from Facebook Viewpoints. The surveys there are sporadic, but they're quick and easy to complete when I get them. 
Secret Shopping Income: $28.50 (plus free food) 
My secret shopping income was lower than in previous months, although I'm not sure why that happened. It didn't feel like I was doing fewer secret shops than normal, but I guess I must have. 
As usual, my earnings for secret shopping mainly come from Marketforce, which gives me a lot of fast-casual and fast-food restaurants. I do these shops so often that it's second nature to me at this point. I basically write the same thing each time and rarely have to think about it (which saves me a lot of time). 
Secret shopping is something I think more people should take advantage of. Check out these posts for more info.
ReceiptPal/Receipt Hog/Fetch/CoinOut/Amazon Shopper Panel/Tada Income: $10.25
I earned $10.25 from Amazon Shopper panel. As usual, I always make at least $10 per month from Amazon Shopper Panel just by taking pictures of 10 receipts each month. Getting $120 per year from a few receipts is a no-brainer to me. 
Medium Income: $0.45 
I've given up on Medium at this point. If I were a new blogger and just wanted to write thinking posts, I'd probably do it there. But given that I've spent six years building up this blog, it really doesn't make much sense for me to split my time writing on Medium too. I still think Medium is an interesting platform that would be good for someone who can write in volume and wants to write what I call "thinking" posts. But for me, my time is better spent here. 
And that concludes the March 2022 Side Hustle Report!
March was a good side hustle month and with warmer weather on the horizon, I expect that side hustle earnings will pick up. During the summer, I aim for around $1,000 per month from the food delivery apps. Combined with Rover and my other side hustles, I should be able to make around $1,500 per month when things warm up. For now, making over $1,000 will do just fine. 
If you want more ideas on how you can use the gig economy to earn extra income, be sure to check out my post, The Ultimate List of Gig Economy Apps. I have a lot of ideas there you can use.
Thanks for reading the side hustle report this month! Feel free to drop any questions or comments below.