Okay, this post is getting out there late, but better late than never! In this post, we'll take a look at what I was able to earn from my side hustles/gig economy apps in August 2022.
Side Hustle Income for August 2022
Total Side Hustle Income for August 2022 = $1,777.69 
August ended up being better than I expected for side hustling. As usual food delivery and dog sitting made up the bulk of my monthly earnings, with various other smaller gigs making up the rest. 
Here is a pie chart breaking down my earnings for the month by category: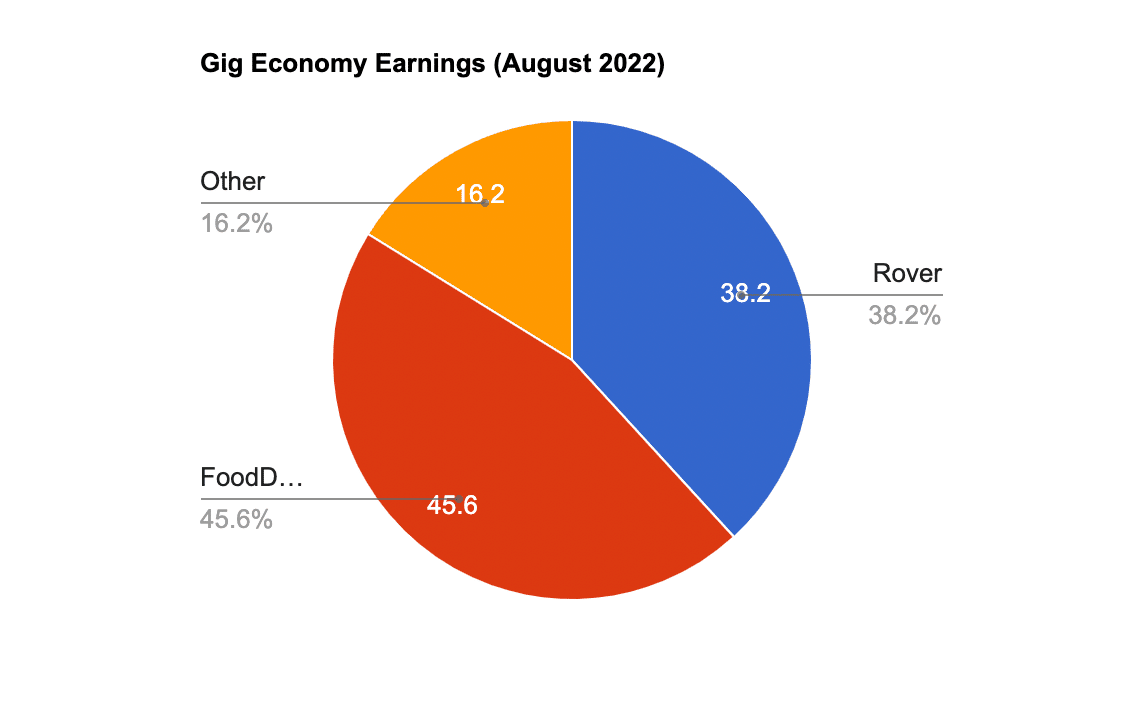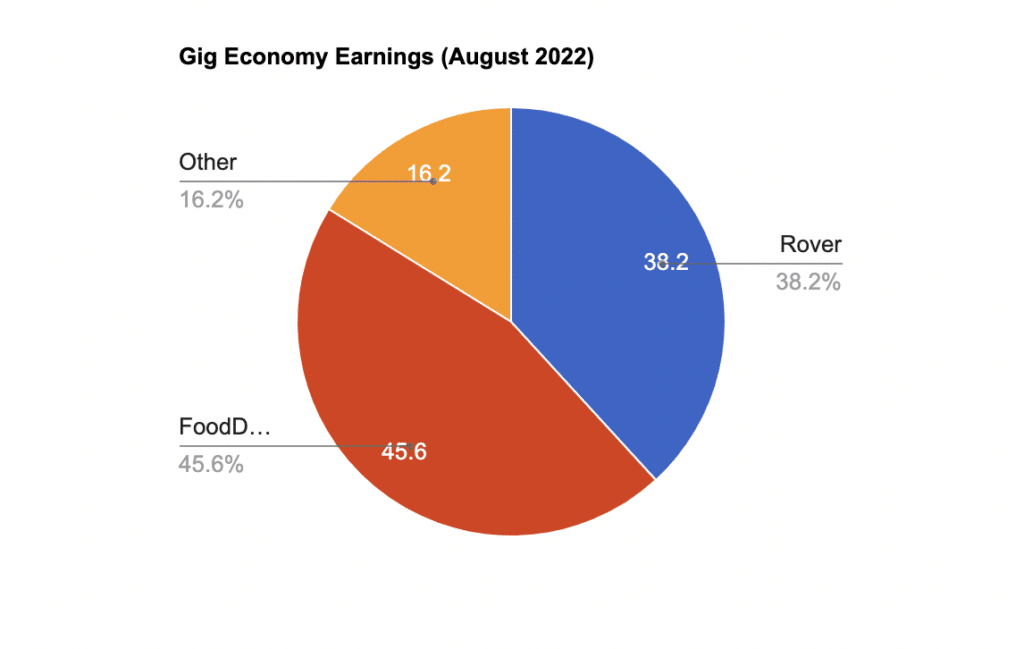 I find it interesting that while Rover and food delivery made up most of my earnings, the various other small side hustles I did last month brought in around 16% of my monthly income. Individually, each of those other side hustles doesn't seem like much, but they do add up. It's why even small side hustles can be worthwhile so long as they fit into the things you enjoy doing.
The remainder of this post takes a more detailed look at my earnings for the month. 
Airbnb/Rental Income Income: $2,400  
My tenants renewed their lease for another year, which made things a lot easier for me since I didn't have to spend time finding new tenants. I opted to keep the rent the same, so the convenience factor does come with a trade-off, as it's likely I probably could have rented the house for a bit more. That being said, I'm trying to keep things simple with this rental property. Plus, the cash flow is already good and I'm just keeping all the money in the house to do maintenance and improve things later if needed. 
August required a bit more work than usual due to a bunch of maintenance I had to take care of. The main issue last month was a malfunctioning dryer. I ended up spending some money trying to get it fixed, before ultimately determining that I needed to replace it. It's a costly expense, but that's what you get when you start getting into rental real estate. I'll get into more details about the new dryer I had to buy in next month's side hustle report since the dryer was installed in September.
Other than the maintenance issues I had to take care of, everything else with the house has been running smoothly. Rental income isn't passive. But it's not too difficult either when things are going well. 
Rover Income: $679.58  
Rover became a much bigger source of my income this year and has become increasingly more important since I moved to my new house last year. The main reason this happened is that I live in a wealthier neighborhood compared to my last one, which means there are more people with disposable income to hire pet sitters.  
My Rover earnings for this month came from a combination of dog boarding and cat drop-in visits. Most of the dogs were repeat clients, but I did have one stay from a new dog that worked out well.
My cat drop-in clients included one regular client that lives down the block from me and then a new client that also lives a few minutes away. The new client worked out well, so I'll likely keep that cat in my regular cat visit roster. 
So far this year, I've made over $4,000 from Rover, which is really good considering how well it fits into my life. Depending on how things work out for the rest of the year, I suspect that I'll be able to hit $5,000 by the end of the year, which would be a record for me with Rover. 
DoorDash/Uber Eats/Grubhub Income: $811.81 
The delivery game was normal for me last month, resulting in a solid $800 of extra income for the month. That comes out to about $200 per week, which I find pretty easy to do. Below is a breakdown of my earnings for each app in August.
I do most of my deliveries during the lunch hour around a large university campus. In general, I can easily make $30 to $40 in about an hour. 
In addition to working during the lunch hour, I also usually try to do a delivery on my way home after I pick my son up at daycare. Most of the time, I'm able to get 1 or 2 deliveries heading back towards my house. 
As usual, I did all of my deliveries on an ebike or electric scooter. I've been talking a lot recently about how valuable ebikes can be. In my case, I not only save a ton of money by getting around with an ebike, rather than a car, but I also earn a lot of money from my bike as well, turning my ebike into not only a money-saving machine but also a money-making machine. 
Flipping/Trash Income: $60 
Selling trash finds isn't a big portion of my side hustle income these days, but I still seem to sell a few things most months. Last month, I finally got around to selling a Memphis Pellet Grill that a neighbor had put on the curb. The sign they put on it said "free," which led me to believe that it worked, but when I plugged it in, I couldn't get it to stay on. 
These grills are expensive. Memphis Grills go for $2,000 or more, so it would have been a huge score if I could get it working. If I had the time or inclination, I probably could have spent some money to have it repaired, but I ultimately decided to buy a new grill and put this one up for sale. I ended up making $50 for it – and hopefully, the guy that picked it up can get it working again.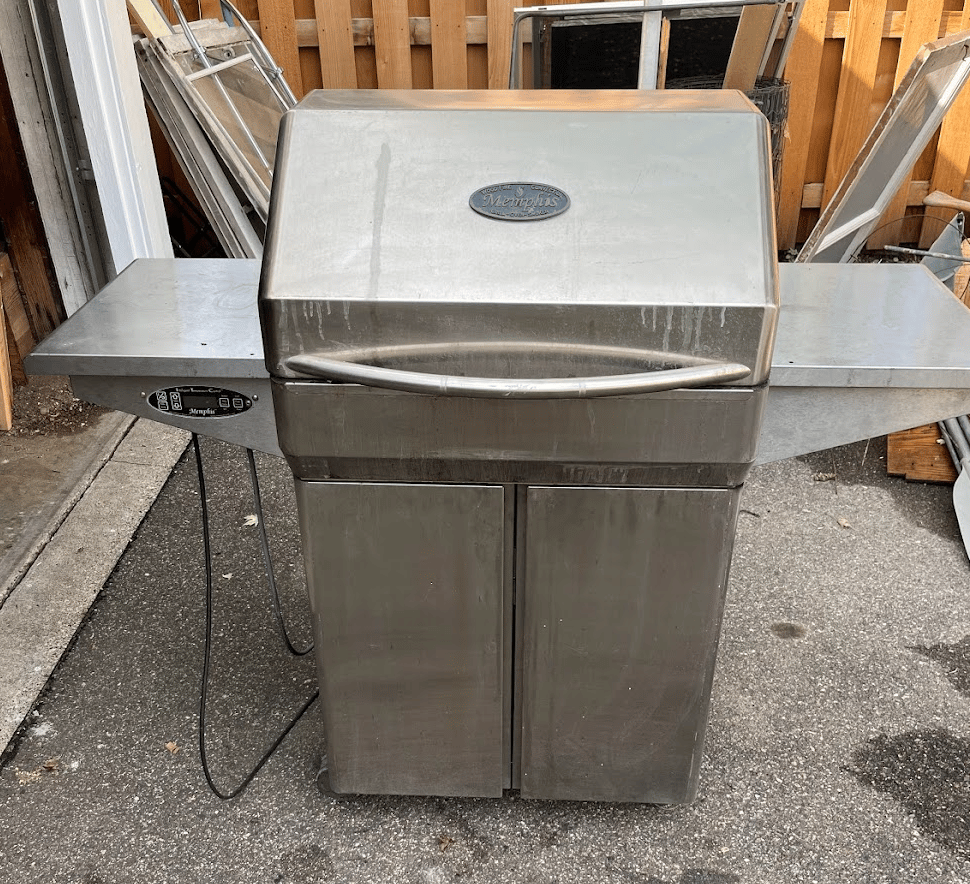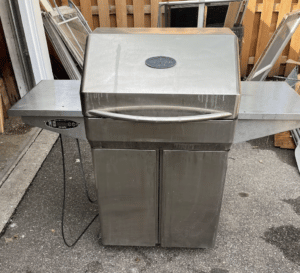 Other than the grill, I also sold a few random things on eBay. There wasn't anything of major note, but it's nice to clear some stuff out of the house and put a little bit of money in my pocket at the same time. 
ProductTube Income: $75 
ProductTube was solid in August. As usual, I do most of my videos at a Target next to my son's daycare. They take me a few minutes to complete, so they're good money for the time I spend on these videos and it's a good way to put some money in my pocket to start the day. The payouts are in Amazon gift cards, but I consider that as good as cash given my spending patterns.
IVueIt/ProxyPics Income: $93.65  
IVueIt and ProxyPics both did well last month. I ended up making $34 from IVue and $59.65 from ProxyPics. I usually end up doing these gigs with my son, typically on our way home from daycare. Since I bike to these gigs, they make for a nice little adventure when we do them.
Google Opinion Rewards/Surveys On The Go/1Q Income/Facebook Viewpoints: $6.63
Here's what I made with each of these short survey apps last month:
This coming month, I'll have enough to cash out my earnings with Surveys On The Go, so that'll see a nice boost next month. Otherwise, there's not much to talk about here. These apps are quick, easy-to-use apps that take seconds to complete and are usually good for a few bucks each month.
Secret Shopping Income: $40 (plus free food) 
I made $40 from secret shopping with Marketforce, as well as doing some secret shops with A Closer Look and some other secret shop companies. Marketforce is the only one where I get paid along with the reimbursements. The payments are good enough that it's often worth doing the secret shop, even if I didn't even want the food. 
Secret shopping is an excellent way to reduce some of your food costs. Most months, I'm able to get a few hundred dollars worth of free food.
Check out the below posts for more information about how secret shopping works.
ReceiptPal/Receipt Hog/Fetch/CoinOut/Amazon Shopper Panel Income: $11
The only one of these apps that paid me this month was Amazon Shopper Panel, where I made $11 by submitting photos of 10 receipts and doing two short surveys for 50 cents each. Amazon Shopper Panel is the best receipt app currently available and I'm shocked they can continue to pay so much for photos of random receipts. By the end of this year, I'll earn over $120 from taking photos of my receipts each month.
Medium Income: $0.02
I don't write on Medium anymore, but I still had 2 cents of residual income come in. Passive income!
In all seriousness, Medium would be interesting if you're someone starting out blogging who is interested in churning out content. The problem with Medium is that you have to ask yourself if you really own the writing you put on there. I'd argue not. I could sell this blog for a decent amount of money. If this content was on Medium, I doubt I could sell it. (See this post for some thoughts about jobs and whether you own them or rent them: Do You Rent Or Own Your Job?)
And that concludes the August 2022 Side Hustle Report!  
August was a solid month of side hustle/gig economy income for me. Bringing in over $1,700 from these gigs that I enjoy doing is a no-brainer for me. I wouldn't do these gigs for free, but getting paid and enjoying it at the same time makes it worthwhile for me. 
I hope you enjoyed this look into my gig economy earnings for August 2022. If you have any questions, feel free to leave them in the comments.