Welcome to another edition of the Financial Panther side hustle report! I've now been tracking my side hustle income since 2016, and it's just incredible to me how I've been able to earn significant income outside of my day job, all by utilizing the sharing and gig economy. Today's post marks the final side hustle report for 2018.
I've written in the past about why I write these side hustle reports, but as a refresher, I write these side hustle reports for two reasons: 
To show you exactly what someone can make side hustling while also working a full-time job; and
To inspire you and give you ideas so that you can do the same thing. 
Anyway, without further ado, here is a breakdown of my side hustle earnings in December 2018: 
Side Hustle Income for December 2018
Total Side Hustle Income for December 2018 = $1,493.83
December turned out to be a surprisingly good month for side hustling, bringing in close to $1,500 of extra income. What made December an interesting month is that my wife and I travel hacked our way to Paris for the Christmas holidays, which meant that I wasn't able to do any side hustling for about half of the month. The fact that I was still able to make about $1,500 seems pretty good to me when you take that into account.
My side hustle income also tends to dip during the winter months simply because most of the gigs I do require me to be outside. As tough as I like to think I am, even I don't like doing deliveries or walking dogs when it's cold and dark. Luckily, we've had a really mild winter so far, so I actually haven't had any trouble biking or walking around outside. 
Let's take a closer look at how I earned my income this past month.
Airbnb Income: $568.42
December is typically a slower month on the Airbnb front due to the fact that I usually block off the last two weeks of the month for family coming into town for the holidays. Still, even with a slow month, I ended up with 12 nights booked at an average rate of $47 per night. Not too shabby at all for a room that would otherwise sit empty. I can only rent out that room for about $600 per month (which comes out to a nightly rate of about $20 per night for a long-term tenant). So, by renting that room out on Airbnb, I'm basically able to double the nightly value of the room compared to a long-term tenant.
The interesting thing is that I likely could have earned more from Airbnb in December if I had made my house available during the Christmas holidays. As I mentioned, my wife and I went to Paris for the holidays, but we left our house blocked off on Airbnb just in case any family members needed to use it. No one ended up coming to our house, which meant that it just sat empty the entire time we were gone. I don't think it would have been hard to get it rented out over Christmas.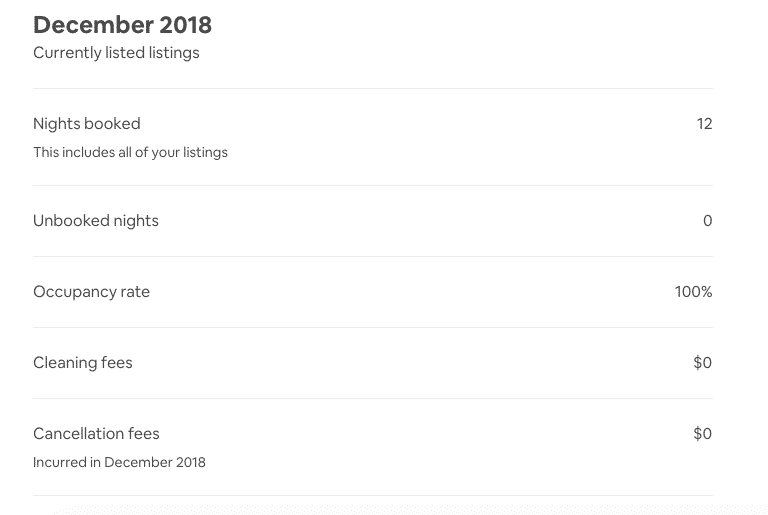 As usual, most of our guests stayed for just a day or two, but we had one couple that ended up booking our Airbnb room for 6 nights. I always have mixed feelings about guests that stay that long. On the one hand, it's technically less work since we don't have to turn over the room during that time. But on the other hand, it sometimes wears on you when someone stays in your house for more than a few days.
Housing expenses are going to be one of your largest monthly expenses, and Airbnb is still one of the best ways to get into house hacking and reduce those expenses. If you're like most people, you probably have a spare room in your house that rarely gets used. You can take advantage of that space.
If you have extra space and went to earn extra income from your home, sign up to be an Airbnb host using my referral link.
Airbnb is also one of the most affordable ways to travel. If you've never used Airbnb, sign up for Airbnb and you'll get $40 off your first stay.
Rover Income: $127.50
December was a fun Rover month, as I got to watch two of my favorite pups. As regular readers know, I've been dogsitting on Rover for over three years, which means that I've got a nice base of repeat pups at this point. 
My favorite pup we watched in December was a pup we also watched in November – a French Bulldog named Fancy. I'd probably watch this dog for free, so the fact that I can get paid to watch a dog like this is a nice bonus.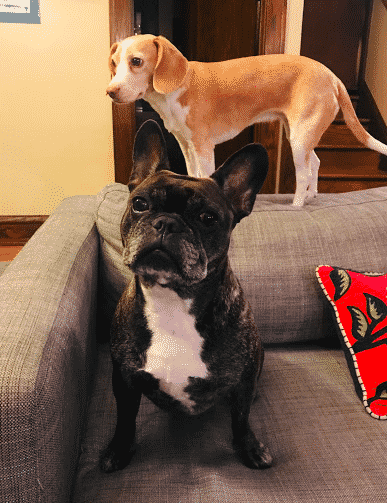 Besides that French Bulldog, my wife and I also watched our regular Toy Poodle client, Watson, seen below (he's like a teddy bear):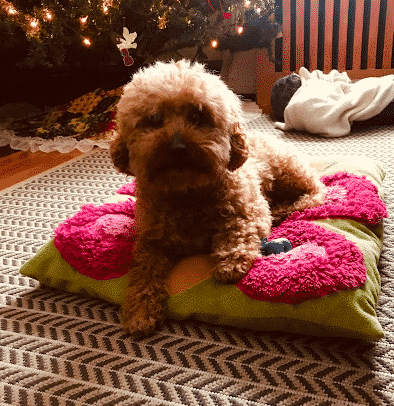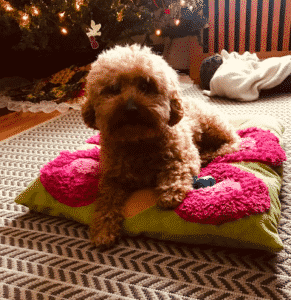 Rover earnings for the month were lower than usual, but only because we were out of town for the holidays. Most years, December is actually a pretty high earning month on Rover, since a lot of people go out of town during Christmas and need sitters to watch their pups. This was the first time in years that we haven't been home during the holidays. 

The fact that I already own a dog is what makes Rover work out so well for me. I already have to take care of my dog, so getting paid to watch another dog isn't really much more work.
If dogsitting make sense for you, be sure to sign up to be a dogsitter on Rover using my referral link.
Postmates/DoorDash/Uber Eats/Amazon Flex Income: $232.44
We've had unseasonably warm weather this entire winter, which has benefited my ability to do deliveries. Remember, I do all of my deliveries on a bike and because of that, my delivery income typically dips during the winter months. Last year around this time, temperatures in Minnesota hovered around 0 degrees, but so far this winter, we've seen temperatures hovering in the high 30s most days. That might seem cold to those of you from warmer climates, but for me, temperatures like that in December are downright balmy – making biking much easier. 
Here's a breakdown of my earnings on each platform in December:
Once again, I continue to do Uber Eats the least among the four delivery apps in my delivery roster, simply because Uber Eats is the only delivery app I have that doesn't show me the drop-off location before I accept the order. A lot of the time, I'm just not in the mood to grab an Uber Eats order when I don't know where it's ultimately going. 
Amazon Flex continues to be a good delivery app that I'm working with more. As I've noted in previous side hustle reports, the only real downside with Amazon Flex is that they don't actually let you sign up to do deliveries on a bike. As a result, all of the orders are routed for a car, which means that I often get sent orders that are too far away to do on a bike. My solution to this has just been to decline all of those orders and wait for orders to come in that are bikeable. 
One question I have received from some folks is why I don't do GrubHub. In terms of market share, GrubHub is actually the largest of the delivery services. I've actually tried to sign up for GrubHub for years, but I've never been able to get on their platform – each time I apply, I get denied or I'm told that I've already applied. I have no idea why this is the case, but I guess with a new year starting up, maybe I'll try again. 
Wag Income: $234.60
Things are still nice and steady on Wag, and I continue to get regular walks that I typically do during my lunch hour. Each walk by itself might not seem like a ton of money, but as you can see, over the course of a month, it starts to add up. 
One surprising thing that happened on Wag is that I received a $40 Christmas bonus from one of my regular clients. That was a totally unexpected bonus that helped to boost my December wag income. 
Wag is still one of my favorite side hustles, and it's one that I think a lot of people could do. Read my in-depth post about Wag here if you're looking for more info. 
Bird/Lime Income: $52
Bird and Lime both shut down for the winter, but I had some carryover income from Lime that posted in December. 
All of my scooter income in December came from Lime and involved me bringing scooters back to the Lime warehouse here in Minneapolis. Conveniently, the Lime warehouse is located right by my office, so I was able to grab a bunch of scooters after work and scoot them over to the warehouse. 
As of now, it's unclear when Bird and Lime will be back in the Twin Cities, but I imagine that they'll bring them back in April. 
Trash Income: $107.50
Trash finds picked up in December due to some interesting sales I made. Here's a spreadsheet of all of the stuff I found in the trash and sold in December: 

My big sale of the month was selling a shoebox of Magic the Gathering cards that I found in the trash last year. I had no idea why they were in the trash, but my guess is that someone's parents were cleaning their house and decided to throw these out. Those Magic cards ended up sitting in my basement for a year before I finally remembered to get them listed up and sold.
I don't know anything about Magic cards and didn't really want to go through the entire box trying to figure out their worth, so I decided to put up the entire box for $50. After getting a bunch of crap messages from people who basically wanted to come over and root through the entire box, I ended up getting them sold to a guy who wasn't a collector and was just looking to start a collection so he could play the game. I probably could have earned more if I individually went through each card and researched them, but honestly, I just didn't really feel like doing that. 
One other interesting sale I made was this hockey bag I found. It sells new for $100, but I wanted to get this bag sold, so I ended up putting it up for $30, then accepting an offer for $20. It was a big bag, so that's the main reason I wanted to get it sold quickly.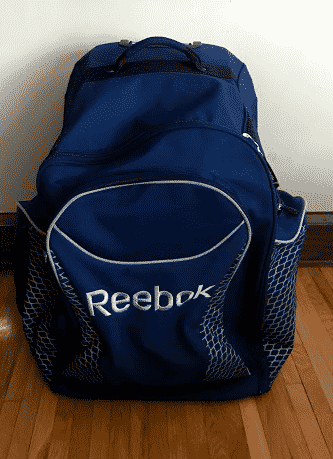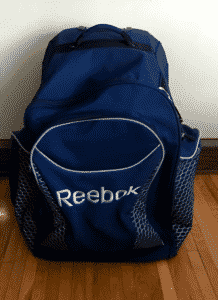 Another funny sale I had in December was a pair of shoes that I found in the trash while I was out doing a Wag walk. These shoes were in really good shape, so I listed them up on eBay and got them sold really quickly for $10.  
Overall, the trash sales were pretty good in December.
Flipping Income: $70
This is the first time I've included money I've made from flipping things, but I thought it was worth sharing.
In December, there were a ton of deals that allowed you to get a free Amazon Echo Dot or Google Home Mini with a subscription to Audible or other similar subscription services. These subscriptions could all be canceled right away, so in essence, I was paying a reduced rate to buy an Amazon Echo Dot or a Google Home Mini.
After it was all said and done, I ended up with two Amazon Echo Dots and one Google Home Mini that I paid $24 to purchase. I sold all three devices for $70, giving me a total profit of $50. Essentially, I was able to turn a $24 investment into $70 with very little work. I sold these using Facebook Marketplace and OfferUp, so I was able to save on shipping costs and commisions that come with selling on eBay.
This whole flipping and arbitrage world is something that I find really interesting, and I'm slowly testing the waters here to see how it works.
Job Spotter Income: $16.82
It was another very typical month from Job Spotter, and I continue to make a consistent $10 to $25 every month from it. One thing I can confirm is that Job Spotter works internationally too. When my wife and I were in Paris over the holidays, I took a few pictures of French hiring signs with no issues. This is definitely a must-have app for travelers – might as well make a little bit of money while you're out and about. 
Read my in-depth review on Job Spotter if you're looking for more info about how the app works. 
Market Force Income: $15 (plus $23.64 worth of free food)
I've been using the Market Force secret shopper app for a while now, and it continues to be an easy way to snag some free food and make a few bucks. I wouldn't go out of my way to do these gigs, but there have been enough in my neighborhood that it's worth taking the 10 minutes to do them (and get some free food in the process). 
Below is a screenshot of my earnings with the Market Force app in December. The gigs I got paid for this month were all done in November, but they only pay out once per month and typically pay out about a month after you complete the gig.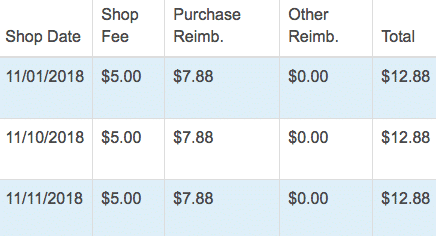 Gigwalk/EasyShift/Field Agent/Merchandiser Income: $3
These apps are picture taking/secret shopper type apps that I've had on my phone for years. I earned a quick $3 on Field Agent by surreptitiously taking a few pictures at a phone store that I was walking past. The entire gig probably took about 5 minutes. 
None of these gigs are worth going out of your way to do, but if happen to see them and am in the area, I'll complete them.
WeGoLook Income: $57
WeGoLook is an app where users (called Lookers) get contracted to take pictures of vehicles and buildings for insurance or underwriting purposes. The work isn't super consistent, but when I see a gig that's nearby, I find that it's pretty lucrative given how much time each gig takes.
In December, I had a day where I grabbed seven WeGoLook gigs that were all clustered downtown. These gigs all involved taking exterior shots of buildings for what I can only guess is some sort of underwriting purpose. Each gig took me about 5-10 minutes and I was paid $19 per gig. I ended up spending a morning biking around taking pictures, making $133 for about 2 hours of biking around and taking pictures of buildings. Definitely well worth my time. 
The income I earned this month represents a partial payment. I got paid for the rest of my WeGoLook gigs in January, and those will be reflected in the next side hustle report.
ProductTube Income: $5
ProductTube is an easy app that I've been using and that I think is worth doing when convenient. The app requires you to either take pictures or film yourself explaining why you prefer buying certain products. I ended up doing a really easy ProductTube gig that earned me $5. I honestly can't even remember what it was, so it must have been an easy one.
Google Opinion Rewards/Dabbl/1Q Income: $4.55
Once again, I made a few bucks from Google Opinion Rewards and 1Q. Google Opinion Rewards continues to be a no-brainer app that I think everyone should download. I also think that 1Q is good to have on your phone also, but you don't get a lot of surveys from them when compared to Google Opinion Rewards. Dabble that I still use, but it's definitely the least rewarding of the three.
What makes these apps worthwhile is how little time they take. You get periodic surveys from these apps, and each survey literally takes seconds to complete. 1Q only asks you a single question when you get a survey from them. And the Google Surveys are never more than 3 or 4 questions. You can't live off of these apps, but they are very high earning when you consider the time it takes to do these surveys. 
And that concludes the December 2018 Side Hustle Report! 
This side hustle report wraps up all of my side hustle reports for 2018! I'll probably write a 2018 side hustle recap post later for anyone that wants to see all of this information in one spot. 
For the year, I ended up making over $26,000 from side hustling! I've taken a whole bunch of pay cuts over the last two years, so that side hustle income has a really big impact on my financial life. In fact, it represents 45% of the income I earn in my day job. And right now, since I'm totally fine living on my day job income, I can basically save 100% of my side hustle income. That's a big deal. 
Anyway, I hope this post and all of my side hustle reports in 2018 were helpful to you. If you want to look over my other side hustle reports, check out my side hustle report page, where I keep all of my side hustle reports I've written since 2016. 
I also maintain a list of all of the side hustle apps I use on my Side Hustle List page. Check that page out if you are looking for side hustle ideas.