A few weeks ago, I finally went ahead and made my 2017 tax-year contribution to my Solo 401k. Being the lazy guy that I am, I ended up making my contribution at the very last minute, literally overnighting a cashiers check to my Solo 401k company so that I could meet the contribution deadline (I applied for a tax extension back in April, so my 2017 Solo 401k contribution deadline was October 15, 2018). 
This latest contribution marks the second year that I've contributed to my Solo 401k – I made my first contribution last year after I learned what a Solo 401k was and how it worked. The year before that, I contributed to a SEP-IRA, but only because I missed the deadline to create my Solo 401k. (Pro-Tip: You need to open up your Solo 401k in the calendar year that you plan to make your first contribution. I messed up two years ago because I didn't open up my Solo 401k until April of the next year.) 
As a quick recap, a Solo 401k is a self-employed retirement plan. It's essentially a retirement plan that you create for yourself if you're self-employed and have no employees. If you earn any income as an independent contractor, you are eligible to contribute to a Solo 401k.
What makes the Solo 401k advantageous is that it gives you access to an extra tax-advantaged retirement account. While most people will just have a 401k from their employer, plus an IRA that they might make on their own, those of us who are side hustling can save a little bit more by using a Solo 401k. It's the side hustler's bonus retirement account!
Beyond just opening up your ability to save more into tax-advantaged accounts, opening up a Solo 401k has another interesting aspect that I think gets overlooked. There are a lot of people out there with day jobs that give them bad 401k plans or that work in jobs that don't offer a 401k. By side hustling and using a Solo 401k, it's possible to have it act as a sort of a replacement retirement account for your bad or non-existent 401k. It's a strategy that I've been doing for the past year to some extent.
The Problem of Bad 401k Plans
Regular readers of this blog know that I switched jobs around the middle of last year. I started off my career as an associate attorney in biglaw, then worked as a government attorney, and now work at a non-profit in a non-traditional legal role. My biglaw and government jobs both had great, easy to use retirement plans, with access to low-cost index funds from companies like Fidelity and Vanguard. 
My current job is a little bit different. Instead of a 401k, I have a 403b, which is basically the non-profit version of a 401k. It's used primarily by non-profits and teachers. Oddly, 403b plans have fewer protections compared to traditional 401k plans, which means that these plans are often worse and can be riddled with high fees and sleazy salespeople types. The New York Times wrote a great article about the problem with 403b plans a few years ago, something that I think anyone with an interest in this stuff should read. It's things like the below, a quote from the New York Times article, that angers me a lot:
The teachers were each charged a fee of at least 2 percent of their savings to manage the money, in addition to sales charges of up to 6 percent each time they made a deposit, the analysis found. Moreover, the calculations didn't include the expenses of the dozens of mutual funds they were invested in, some of which exceeded 1 percent.
The 403b plan I have at work is unlike any other employer-sponsored retirement plan I've ever had. Signing up for it was weird since I couldn't just open it up online. Instead, I had to talk to some financial advisor "guy" from a local financial company. There's no online interface for me to choose my investments or change my contribution amounts. I can't even see a list of all of my investment options. Instead, if I want to invest or do anything, I have to go through this "guy" to do it.
This actually isn't uncommon in the 403b world. One of my friends is a teacher, and from what she's told me, her 403b plan works in a similar manner. There's no easy way for her to see or change her investment options, and anytime she wants to mess with anything, she has to go through her school's financial "guy." 
In itself, having to go through some "guy" isn't necessarily a problem, except for the fact that these financial "guys" don't really work for you – they work for themselves, as far as I can tell. In fact, the agreement I signed when I opened my 403b makes it quite clear that the financial "guy" did not serve as a fiduciary. Naturally, I had my guard up when I read this, and sure enough, when I set up my 403b, this financial guy sent me a list of actively managed index funds with expense ratios all over 1% and 5.75% frontloads. I wasn't happy about this. It makes me wonder whether the "guy" my teacher friend has to go through did the same thing to her.
Eventually, I told this guy to tell me what was the cheapest, passively managed index fund I could invest in. He sent me a prospectus for the Blackrock iShares Total U.S. Stock Market Index Fund (ticker symbol BASMX).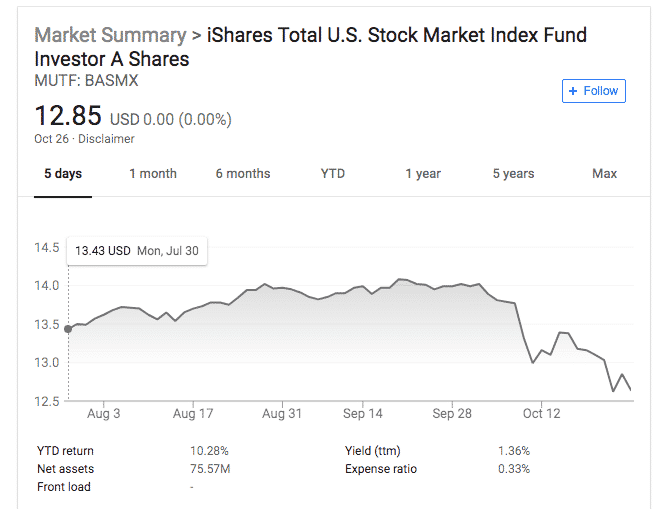 It's a perfectly acceptable fund, but with an expense ratio of 0.33%, it's still 15 to 20 times more expensive than any similar fund that I could invest in with Vanguard or Fidelity. Plus, there's a principle thing in play here about the fact that this guy tried to have me invest in such crappy funds in the first place. It rubs me the wrong way and makes me not really trust him. I wonder how many people at my office are in those funds he sent me initially.
Creating My Own Solo 401k Instead
One thing I've been doing this year is to put a little bit less into my 403b, and instead make more of my retirement plan contributions in my Solo 401k. Here's how it works. 
A Solo 401k consists of two parts – an employer portion and an employee portion. When you're earning income as an independent contractor, you're allowed to make contributions to your Solo 401k as either an employee or as an employer. The employee contribution is fairly straightforward. Simply take what you made in self-employment income, subtract expenses, and whatever is left is what you can work with to make your employee contribution. You can use this online calculator to figure out this number or read my post here if you want to learn how to make this calculation on your own. 
It's important to remember that the total employee contribution you can make to your Solo 401k is limited to $18,500 between all of your 401k accounts (as of 2018). For example, if you've already contributed $10,000 to your day-job 401k, you'll be limited to $8,500 as an employee contribution to your Solo 401k. 
What this means though is that, instead of putting more of our paycheck into what could be a crappy workplace 401k or 403b, we can instead take more of our side hustle income and put that into our own Solo 401k, essentially replacing our workplace contributions with contributions into our own retirement plan.
Take the example of someone that makes $10,000 from side hustling each year (that's not that hard to do – it only requires $833 per month of side hustle income). A calculator shows that in this example, our side hustler could contribute up to $9,293.52 as an employer contribution. If you're maxing things out, rather than put all $18,500 into your employer-sponsored retirement plan, you could instead put $9,206.48 into your work plan, and put as much as you can into your Solo 401k. You've now maxed out your employee 401k contributions, but you've now put a lot of your contributions into a 401k that you control and that (ideally) has the fund options that you want. 
That's exactly what I ended up doing over this past year. I use Fidelity for my Solo 401k because it has no annual fees, gives me access to really low-cost Fidelity index funds, and most importantly, allows rollover contributions from other pre-tax retirement accounts. All of my Solo 401k contributions go into Fidelity's Total Market Index Fund (ticker symbol FSTMX). With an expense ratio of 0.015%, it's practically free. And way cheaper than the cheapest option offered in my 403b plan.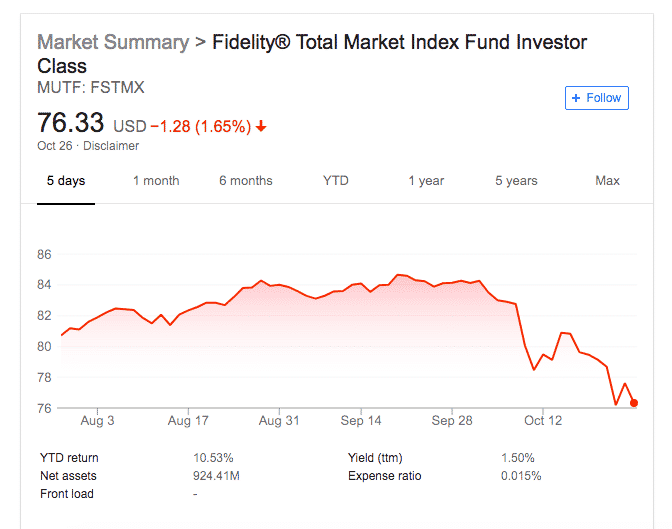 Again, my 403b actually isn't terrible. But if I have the choice of buying the exact same thing for less without doing a ton of work, why wouldn't I do that?
Takeaways
If you have a good retirement plan at work, then for sure, take advantage of it. The ideal thing you can do in that situation is to max out your workplace 401k, then put as much as you are allowed to put into your Solo 401k as an employer contribution. 
But if you're in a position where you have a weak 401k or 403b, just start side hustling and create your own 401k instead. Then replace some of your workplace contributions with your own Solo 401k contributions. There's something to be said about having your own retirement plan that you control. 
I've written posts in the past about how the Solo 401k works and how I set mine up, so be sure to check those out below. 
Please note, I'm not a tax or financial professional, so this is purely based on my own experience using a Solo 401k. Make sure to consult with a financial professional if you have questions. 
So what do you think? What are you doing if you have a crappy 401k or 403b plan?