I'm a little late getting this month's side hustle report out, but here it is for those of you waiting for it. February was a slow side hustle month for me. When you have a toddler and a busy family life, it gets pretty difficult to balance everything.
Before we had kids, it was especially easier for me to take time in the evening to do some side hustling and get things done. These days, my evenings are packed with dinner time, bath time, and bedtime for my son. This is one of the reasons why I've said that if you're going to do weird things, do them when you can, because life likely won't get easier for you later. I still think I live weird – but it's not as weird as it used to be.
It also doesn't help that the weather wasn't particularly great in February. The average temperature for the month was 17 degrees, with a lot of days close to 0 degrees. When the weather is that bad, I'm usually not too motivated to get outside for longer than I need to.
Below is a breakdown of my earnings for each category in February 2022.
Side Hustle Income for February 2022
Total Side Hustle Income for February 2022 = $776.90 
This past month is the first month I've had in a while where I didn't break the $1,000 mark. Historically, February has tended to be my worst side hustle month. This is mainly due to poor weather. When it's cold outside, I just don't do as much side hustling as I do when the weather is nice. 
On the flip side, I had one of the best income months I've ever had for the blog, so that helped take the sting out of the poor side hustle income. 
Percentage-wise, here's how much each category made up my earnings for the month: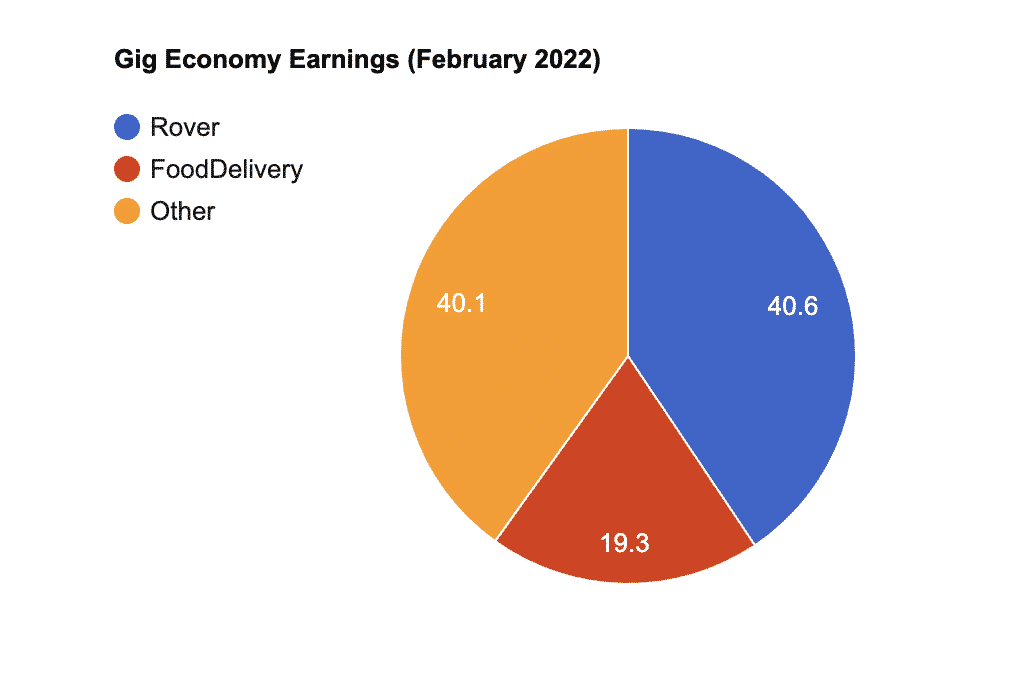 One of the incredible things about my side hustle income sources – and why it's so important to diversify your income sources – is how much the "other" category makes up my side hustle income. Rover and food delivery (i.e. DoorDash, Uber Eats, and Grubhub) made up the majority of my earnings, but all of the other little things I do account for 40% of my side hustle income for the month. It doesn't seem like much when you look at each thing by itself, but when you add them up, it can be significant. 
Below is a more detailed look at my side hustle earnings for the month.
Airbnb/Rental Income Income: $2,400 
The rental property continues to do well, generating $900 to $1,000 of profit each month after I pay the mortgage, taxes, and insurance. In February, I had a few larger handyman expenses, so that lowered the profit a bit. The good thing is that I don't need the rental income, so right now it all goes back into the property for maintenance (or future maintenance). The nice thing is that I'm able to maintain the property and gain equity in the home, all from the rent the tenants pay. 
Rover Income: $316 
I think I'm going to write a post at some point about how Rover is the most passive side hustle income source in the gig economy. That's because watching a dog really isn't much work, especially if you already have a dog. Most of the time, I don't have to change anything with my daily life when I'm boarding a dog in my house. And every night they're in my house, I make money. 
I ended up watching two dogs this month and I also did some drop-in catsitting for a neighbor. My favorite dog for the month was this one: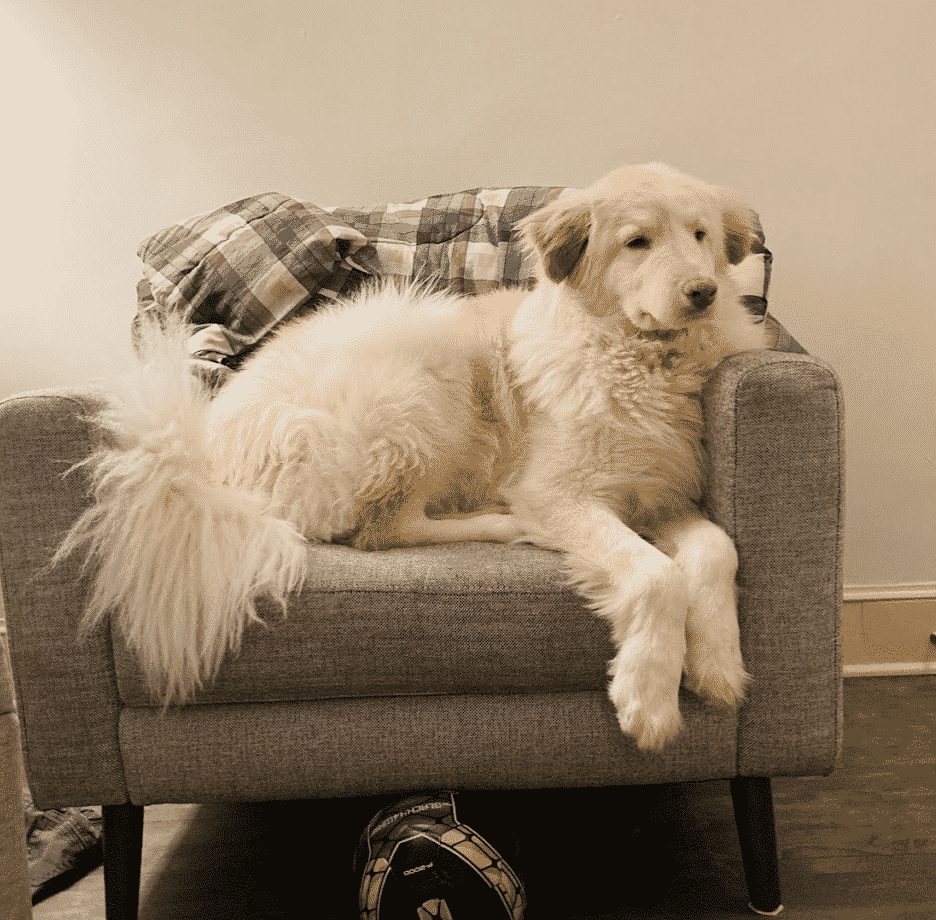 This dog was bigger than the dogs we usually watch, but he was so well-behaved and fit in perfectly with my family. I currently limit myself to small dogs on Rover but wish there was a way to accept only big, low-energy, well-behaved dogs. There are a lot of these types of dogs I like, but I rarely see them unless the owner happens to put them at 35 pounds or less in the Rover app. 
If you want to learn more about how Rover works, check out this post: Rover Pet Sitting – How To Make Money Dog Sitting With Rover. You can also sign up to be a Rover sitter using my Rover referral link. 
DoorDash/Uber Eats/Grubhub Income: $150.68 
I didn't do a ton of food deliveries in February, which is why my income is low here. Things will improve once the weather warms up, but right now I'm mainly being lazy. Below is a breakdown of my earnings on each platform last month:
DoorDash and Uber Eats remain my two busiest delivery apps, although I've noticed some pretty long dry spells with DoorDash recently. Grubhub has also had some negative changes. In my market, the minimum payout used to be $9 per order, but now it can be as low as $3 (which, of course, I always reject). 
I did most of my deliveries this month using my Himiway Escape and Gen3 Outcross, which are the two fat-tire ebikes I currently own. Both of them are absolute workhorses in the snow and cold weather. I have a full review post of the Himiway Escape that you can read here. And my next post will be about the Gen3 Outcross, which is a bike I'm liking more and more each day I use it.
When the weather is warmer, I also will sometimes do deliveries with my son on our way home from daycare. It's usually easy enough for us to snag a delivery heading in the right direction. 
For more information about the different food delivery apps I use, feel free to check out the detailed posts I've written about each: 
Trash/Flipping Income: $8.70
I don't have much to report here. I didn't sell any trash finds last month and the only things I did sell were a few small things on eBay. It's not much money, but it's always nice to get a little bit of money while clearing things out of your house. 
WeGoLook Income: $32 
WeGoLook income was solid once again. As usual, WeGoLook isn't a large moneymaker in itself, but the tasks I accept – usually ones that are nearby and don't take me much time to complete – are worth completing. One of the gigs this month was to take photos of a car that was one block from my house. I was able to walk over there on a weekend morning and snap a few photos, making $20 in the process. 
WeGoLook won't work for everyone, but it's easy enough that I still check the app regularly to see what is available. The only annoying thing is that they keep calling you to see if you'll accept stupid assignments. I always ignore their phone calls now (I might block their phone number soon just so they stop bothering me).
ProductTube Income: $65 
After a few months of weak ProductTube numbers, I'm glad to see my earnings in this category grow again. All of my assignments for this month were at a Target next to my son's daycare. The videos take 5 minutes or less to complete and pay $5 to $20 per video. It's nice to start my mornings with some money in my pocket. 
Gigwalk/EasyShift/Field Agent/Merchandiser/Observa/IVueIt/Pickl Income: $60  
All of my money in this category came from IVueIt. It's become a regular app in my monthly side hustles. Right now, I've been doing the same "dark store" Vues, which is when I go into a closed-down coffee shop and take photos to make sure everything is still in order. The Vues pay $20 each and take me 10 minutes or less to complete. I usually do these with my son on our way home from daycare. I make some money and he gets to have some fun running around an empty store while I take photos. 
If you're interested in learning more about IVueIt, check out my post: IVueIt Review 2022 – Make Money Taking Photos.
Google Opinion Rewards/Surveys On The Go/1Q Income: $7.69
Here's what I made with each short survey app in February:
Google Opinion Rewards was slow. 1Q remained strong though, which is a nice bonus. I've been using Surveys On The Go less because the app is really slow. Eventually, I'll hit the $10 mark so I can cash out my earnings, but that might take a while.
Secret Shopping Income: $94 (plus free food) 
Secret shopping remains strong. I was able to earn $94 this month, as well as get tons of free food. As in past months, all of my earnings came from Marketforce, which can sometimes pay really well. 
For more info about how you can use secret shopping to eat for free, check out these posts:
ProductLab Income: $18.55  
ProductLab earnings for February were solid. In addition to paying $3 per week for a screenshot of my DoorDash earnings, they've also started occasionally accepting random receipts. I already take photos of receipts with other apps, so that's a nice bonus.
ReceiptPal/Receipt Hog/Fetch/CoinOut/Amazon Shopper Panel/Tada Income: $11.85
My receipt earnings this month came from Amazon Shopper Panel, which is a no-brainer receipt app that everyone should sign up for if they can. I've been making at least $10 per month from my receipts. That's $120 per year from random receipts that I already get. Not bad at all.
Premise Income: $11.45
Premise is an app I discovered a few months ago that I think has some potential. It's sort of like a poor man's version of Job Spotter. Unfortunately, it seems to have slowed down a bit, but I was still able to earn some money from the app this month.
Medium Income: $0.98 
I've basically given up on Medium. It's not that I can't make money on it, but I'm just spread too thin if I try to blog here and write on Medium at the same time. If I were starting out today, I might consider solely writing on Medium. But since I have an established blog that I own with a fairly loyal audience, I get a better return writing here versus on Medium.
And that concludes the February 2022 Side Hustle Report!
February wasn't a great side hustling month, but I was still able to make a little bit of extra money even with a busy schedule. As the weather warms up, things will start to improve. 
For more ideas on how you can use the gig economy to earn extra income, check out my post, The Ultimate List of Gig Economy Apps. Thanks for stopping by this month! Feel free to drop any questions or comments below.