I started a new job back in June and with it, I needed to set up my new employer sponsored retirement accounts.  I've never switched jobs before, so I thought it'd be a good bit of education to share how I chose to invest in my employer sponsored retirement accounts.
My original plan was to write about it all in one post, but as I was doing so, I realized that I was talking about things without really giving any background as to why I was making those decisions.  Needless to say, as I started writing, I realized my post was getting way too long!
So, instead of writing one ridiculously giant post, I thought I'd do my first series of posts!  Part 1 is right here and deals with my core investment philosophy.  It's the foundation for how I pick the investments for my employer sponsored retirement plans.
When it comes to investing, I basically believe in three things:
I don't believe that anyone can consistently beat the market.
I believe in the value of equities (i.e. stocks) over the long term.
My costs should be kept low.
Let's delve a little deeper into these three topics.
You Can't Consistently Beat The Market
So first, a little bit of background information for folks who might not be as familiar with investing.  You probably hear the term "market" thrown around a lot. 99% of the time, this refers to something like the S&P 500, which is a group of stocks representing the 500 largest companies in the US.  Basically, imagine that you own a bit of stock for each of those companies in proportion to how big that company is.  Whatever return you got from those stocks would be the "market."
In order to beat the market, you have to do two things right.  You have to both buy at the right time and sell at the right time.  I don't believe that anyone can do this on a consistent basis.  Sure, you can probably beat the market every once in a while.  But I'm 29 years old with an investing timeline of potentially 60 years! That's a long time to have to be right.
Just take a look at the S&P 500 over the past 60 years.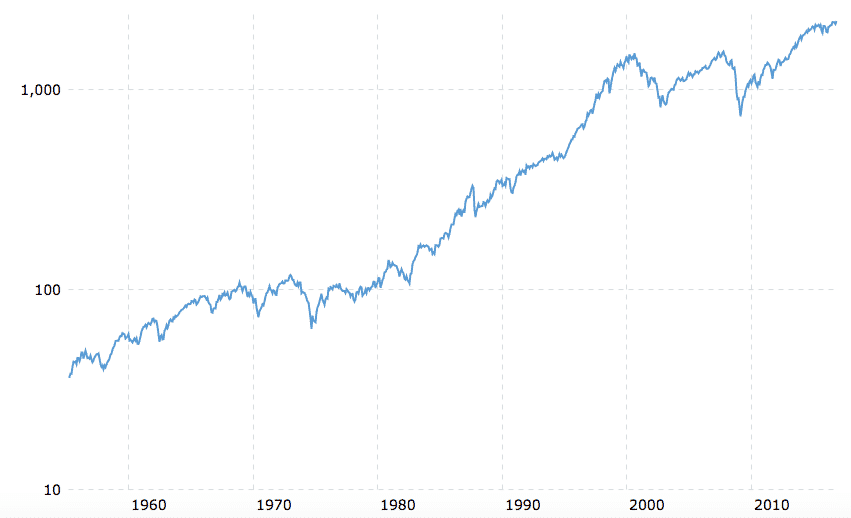 That's a bumpy ride and you'd have to have some really good fortune telling abilities to be able to know when to buy and sell over those 60 years.  If you mess up just one time, you can end up way behind the market.
If you really want to think about how hard it is to beat the market over the long term, just try to think about how well you can predict the future.  I'm writing this post in 2016 from my Apple laptop, while watching YouTube videos on my iPhone.  60 years ago would bring us all the way back to 1956!  Could anyone back then have even imagined the world we live today?  Can you imagine the world we'll live in 60 years from now?  I can barely imagine what the world will look like 10 years from now, let alone 60.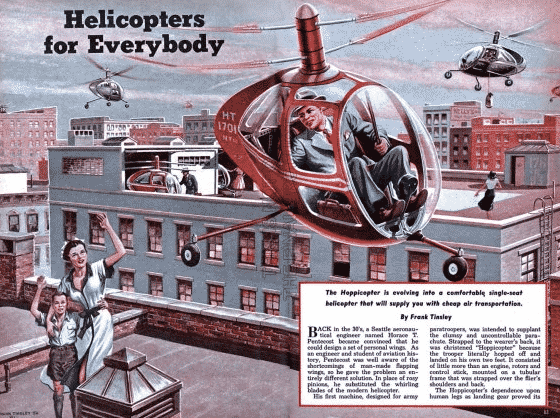 Even if someone could beat the market over a long time span, you'd have to ask how much would they beat the market by.  I can't imagine anyone beating the market by a significant percentage.  If you can reach your financial goals by simply matching the market, why even take the risk of trying to beat it?
So the first part of my investment philosophy – you can't beat the market.  So quit trying to.
Trust In Equities Over The Long Term
The second thing guiding my investment choices is a heavy reliance on equities (i.e. stocks).
Remember that S&P 500 chart above?  Notice how, even with all the bumps and dips, it still has an overall upward trajectory.  It's obviously not a smooth climb.  But through all the wars, oil crises, terrorist attacks, scandals, and financial crises, the market just figures out a way to keep going up.
This makes intuitive sense if you think about it.  Companies become more valuable as technology improves. More goods and services are created as we become more productive as a society.  We've created new industries that have never existed before.  Just think about how different the world was, even a decade ago. Smart phones didn't really exist yet.  Social media was still in its infancy.  Even the internet wasn't nearly as ubiquitous as it is today. Imagine what the world might look like 10 years from now.
If you believe that people will continue to innovate and create, then you have to believe that equities will continue to grow over the long term.  And here's the beauty of the stock market…it can never go to zero!  Even if one company disappears, another one will always come in to take it's place.  In contrast, the stock market can grow an infinite amount, forever!
So what about bonds?  Since I'm young and have a long investing time horizon, I don't really go for bonds in my portfolio.  Bonds are definitely steadier when compared to stocks.  If you're the type of person who can't handle the huge ups and downs of being entirely in equities, then sure, putting 10 or 20 percent of your money into bonds makes sense. The absolute worst thing you can do is freak out when the going gets tough. You've got to stay on the roller coaster.
But for me, since I'm young and likely don't need my retirement funds for a long time (and since I need my money to last me a really long time), why would I have any of my money in an asset class that will under perform equities in the long term?  I can also take comfort in the fact that the S&P 500 has never lost money over a 20-year period.
It'll definitely be a wild ride, no doubt about it.  But, I trust in equities over the long term, so that's where my money goes.
Keep Costs Low
Finally, the important thing I look for when picking investments in my employer sponsored retirement plan – keep costs low!  If you're lucky, you have a good employer sponsored retirement plan with low cost funds.  Unfortunately, a lot of people either aren't so lucky or have no idea what their investments cost.
A fee of 1% might not look like all that much in the short term.  But over time, those fees add up.  This is because a fee does two things.
First, it reduces your rate of return.  Let's say you had 1 million dollars invested and got a 7% return on it.  If you had a 1% fee, instead of making $70,000 in the year, you now only make $60,000.  Obviously, a smaller fee means you make more money in the year.
Second, fees reduce the amount of money you have to invest. Let's go back to that 1 million dollars.  If you had a 7% return and reinvested all of it, that's $70,000 going back into investments.  If you lose 1% of it to fees, you now only have $60,000 to reinvest.  $10,000 less to invest in a year adds up a lot of missing money over the course of decades.  Early on, fees don't look like much.  It's over the long term when you can really see the effect of fees on your return.  Remember, compound interest works both ways.
Just look at the difference an annual fee of 1% can have on your investments.  See the difference between the blue line and the green line?  Notice how they really start to diverge from each other as the years go by?
You want to keep your fees low so you can stay on that blue line.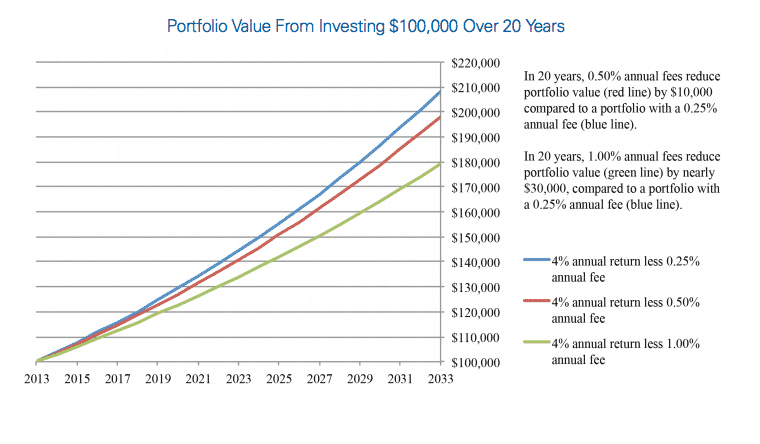 So that's the three guideposts I use when picking investments in my employer sponsored retirement plan (or really any investments).
Hope that gives you a little background as to my investment philosophy.  Tune in for a future post where I go more in-depth with setting up your retirement account and how I choose my investments.
Any core investing philosophies you follow that I didn't mention here?  If so, let me know!