Welcome back to another edition of the Financial Panther Side Hustle Report. Today we'll be taking a look at what I was able to make from the gig economy in July 2020. 
As a recap, over the past four years, I've tracked all of the side hustle income that I've made via gig economy and sharing economy apps. Each month, I share exactly what I made from each app and go into detail about how I made my money and the strategies that I've been using.
It's hard to believe it, but I've been able to make over $100,000 over the past four years, just by taking advantage of all of these different apps. That's pretty amazing to me, especially when you consider that when I started side hustling, I was also working a very demanding, full-time job as a lawyer.
Below is a breakdown of my earnings with each app in July 2020. As a side note, if you want to see a list of all of these different apps in one place, I wrote a really long post last month titled: The Ultimate List of Gig Economy Apps. Be sure to check that post out if you want to get some more ideas about how you can generate extra income via these apps.
Side Hustle Income for July 2020
Total Side Hustle Income for July 2020 = $3,780.58
July was another huge month for me on the side hustle and gig economy front, as I was able to bring in over $3,700 from a variety of gig economy apps.
As you can probably see, the food delivery game made up the vast majority of my side hustle income. I carefully tracked how much time I spent doing deliveries this month, so I have a lot of data that I can share with you later in this post. I think you'll find the info very interesting.
Let's take a more in-depth look at my earnings in July:   
Rover Income: $171.70 
My Rover earnings this month came from a mix of dog sitting and dog walking. On the dog sitting front, I watched one dog this month – a small white dog that I hadn't watched before. I did a meet and greet with this pup a few days before the sitting and was pretty confident that he'd do well in our household. The funny thing is that the owner was really worried that her dog would be too wild, but I didn't get that impression during the meet and greet and he was perfectly fine during his stay with us. He's definitely a winner, so we're hopeful that we can watch him again in the future.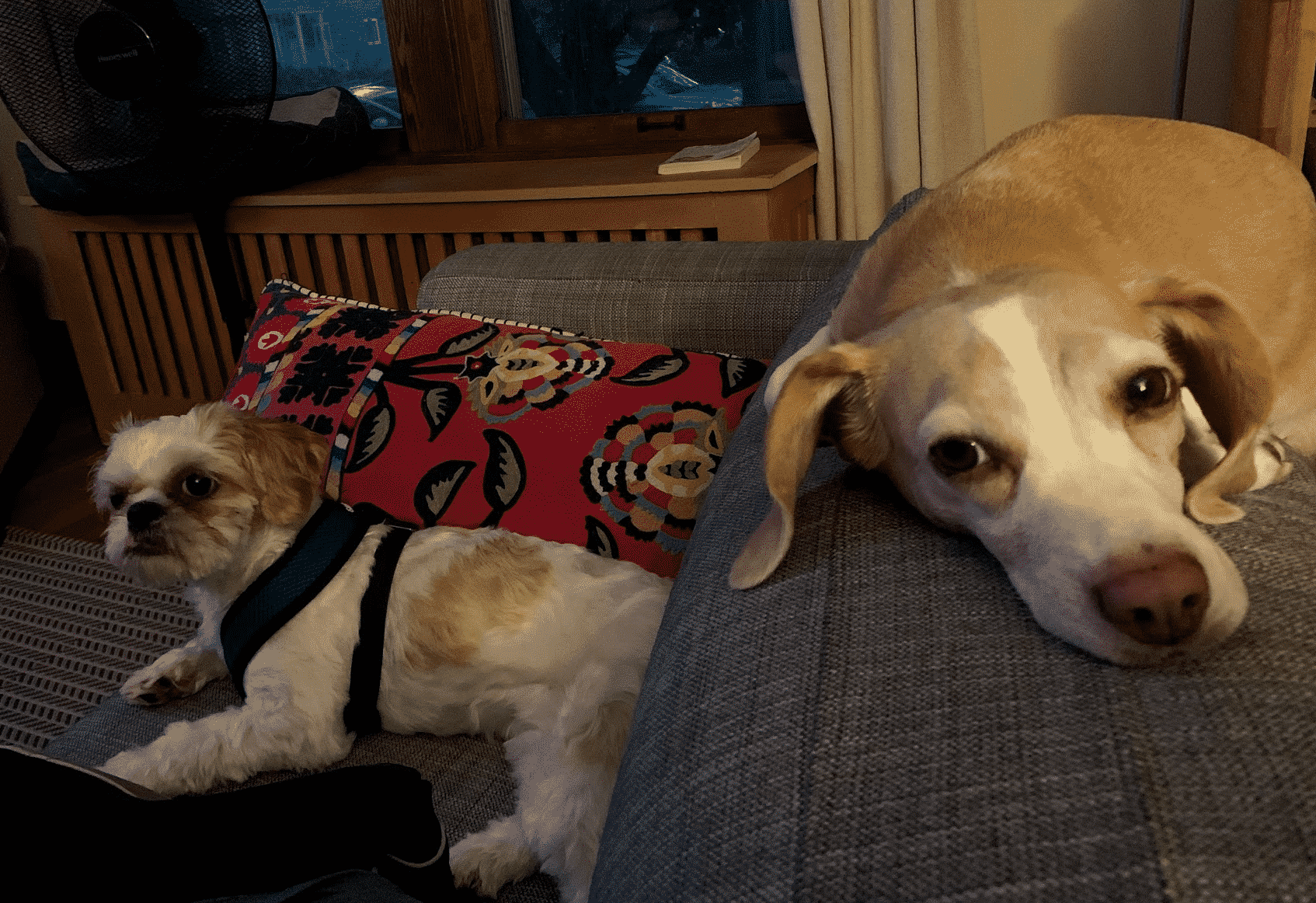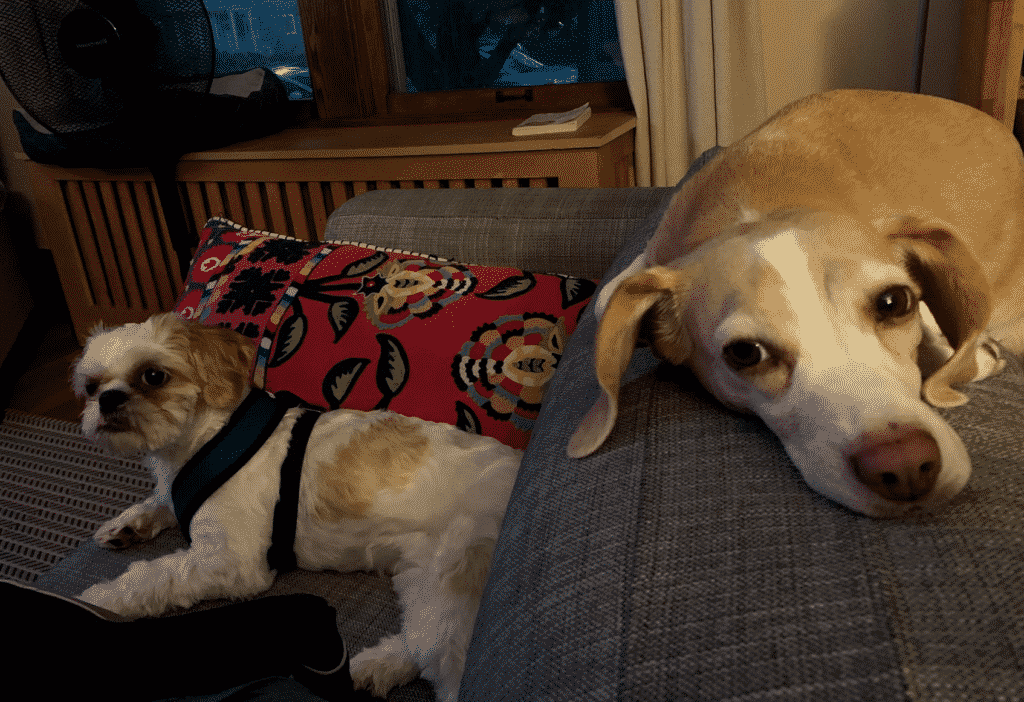 On the dog walking front, I walked a couple of dogs in my neighborhood through Rover. One of the dogs I walked this month was a neighbor's dog who literally lives in the house across the alleyway from my house. It seems like she has a regular dog walker, but I fill in every once in a while. Since she lives so close, it makes for a very easy walk. 
The other dog I walked was a new dog that lives a few blocks from my house. This was also a pretty easy walk that didn't take too much time.
Dog walking is something that I don't do as often these days since I don't find it quite as lucrative as some of my other gig economy options. That said, I still like to work in dog walking when I can, mainly because I find it fun. If this is something you think you might enjoy, you can sign up to be a Rover sitter or dogwalker using this link.
Postmates/DoorDash/Uber Eats/Grubhub Income: $3,431.29
At the moment, I'm having the best delivery stretch I've ever had. Here's the breakdown of my earnings on each platform in July 2020:
As mentioned at the beginning of this post, this past month, I carefully tracked my delivery earnings using a new app I found called Gridwise. This is a great, free app that can track your earnings on each delivery app, as well as track your time and your mileage. I'm not exactly sure how I stumbled onto this app, but so far I've been really impressed with how it works and the information that it's able to provide me. 
Here's what's crazy. Since the pandemic started back in March, I've found the delivery game to be highly lucrative. For the month of July, I averaged over $40 per hour working. This is timed from the second I walk out my door to the second I return back to my door, so I'm essentially also including any "commuting" time I might have (which usually isn't any because my house is in a dense area where I'm able to get my deliveries while sitting in my house). 
Here's what I made in the first week of July. This was my first week using the Gridwise app and I didn't realize that it could track my time and mileage, so as a result, you won't see an hourly rate. For later weeks, the time is accurate.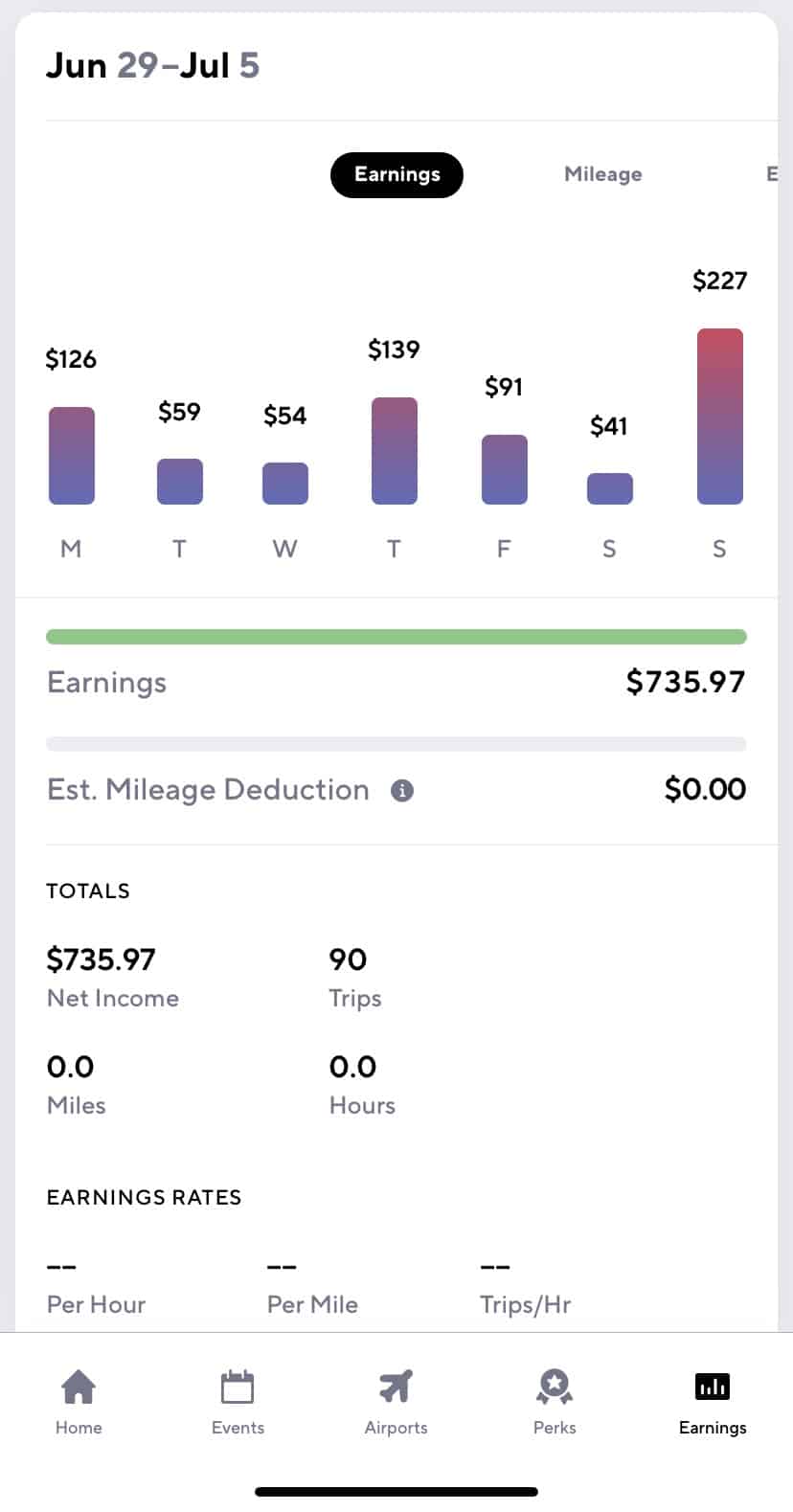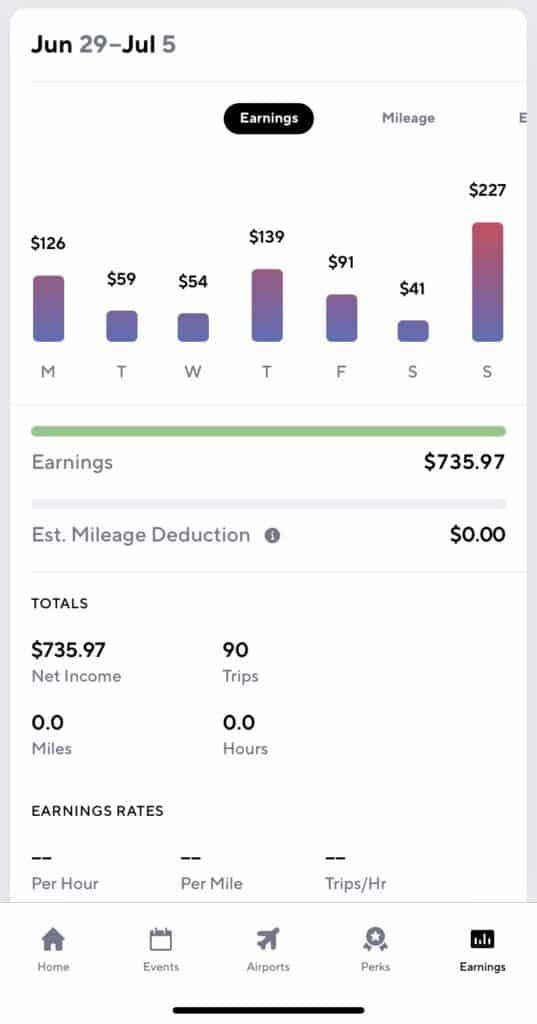 In week 2, I ended up averaging $43 per hour and made almost $800 working just 18 hours.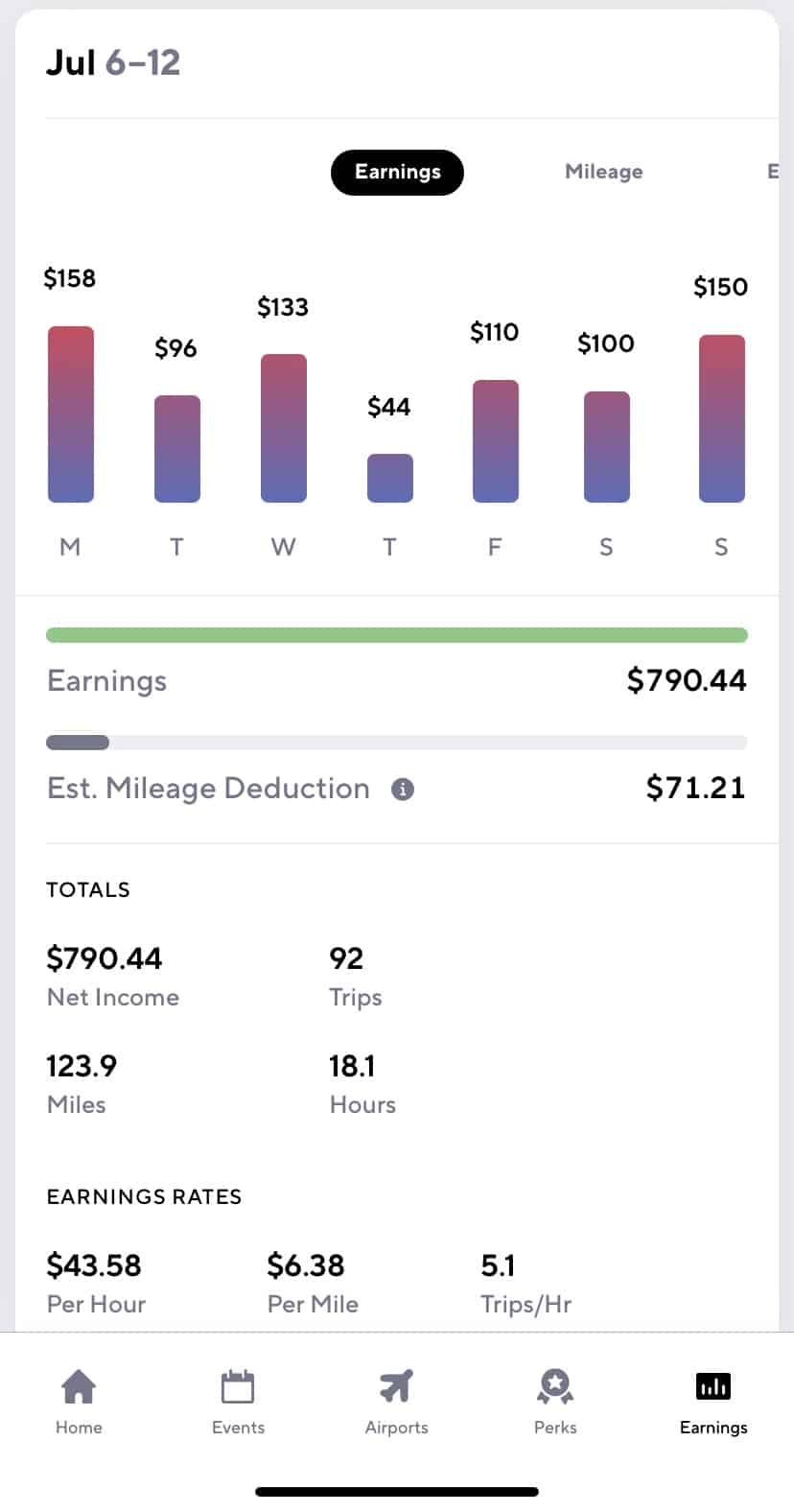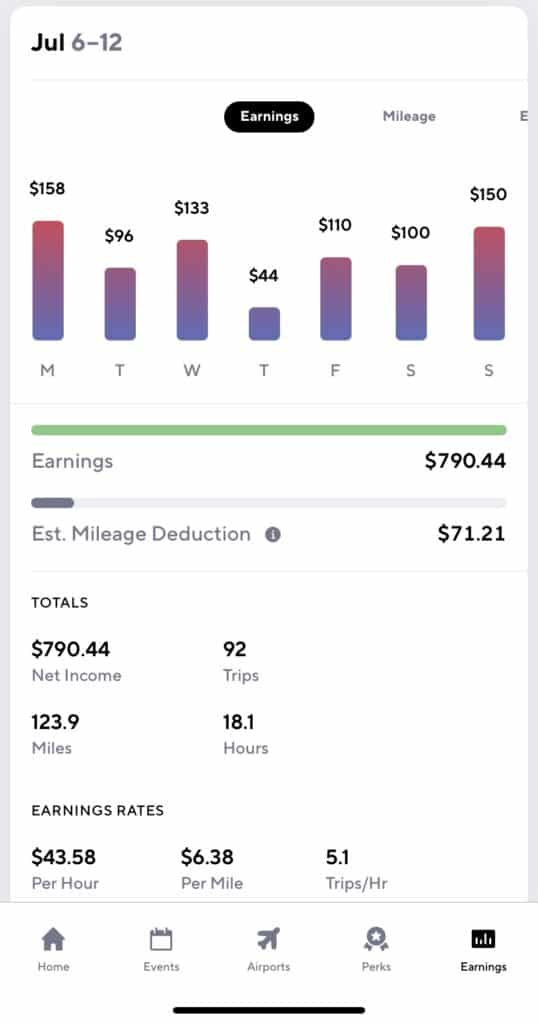 Week 3 was really crazy, as I specifically made it a goal to hit $1,000 for the week. I ended up averaging $47 per hour working 21-22 hours and hit my $1,000 goal.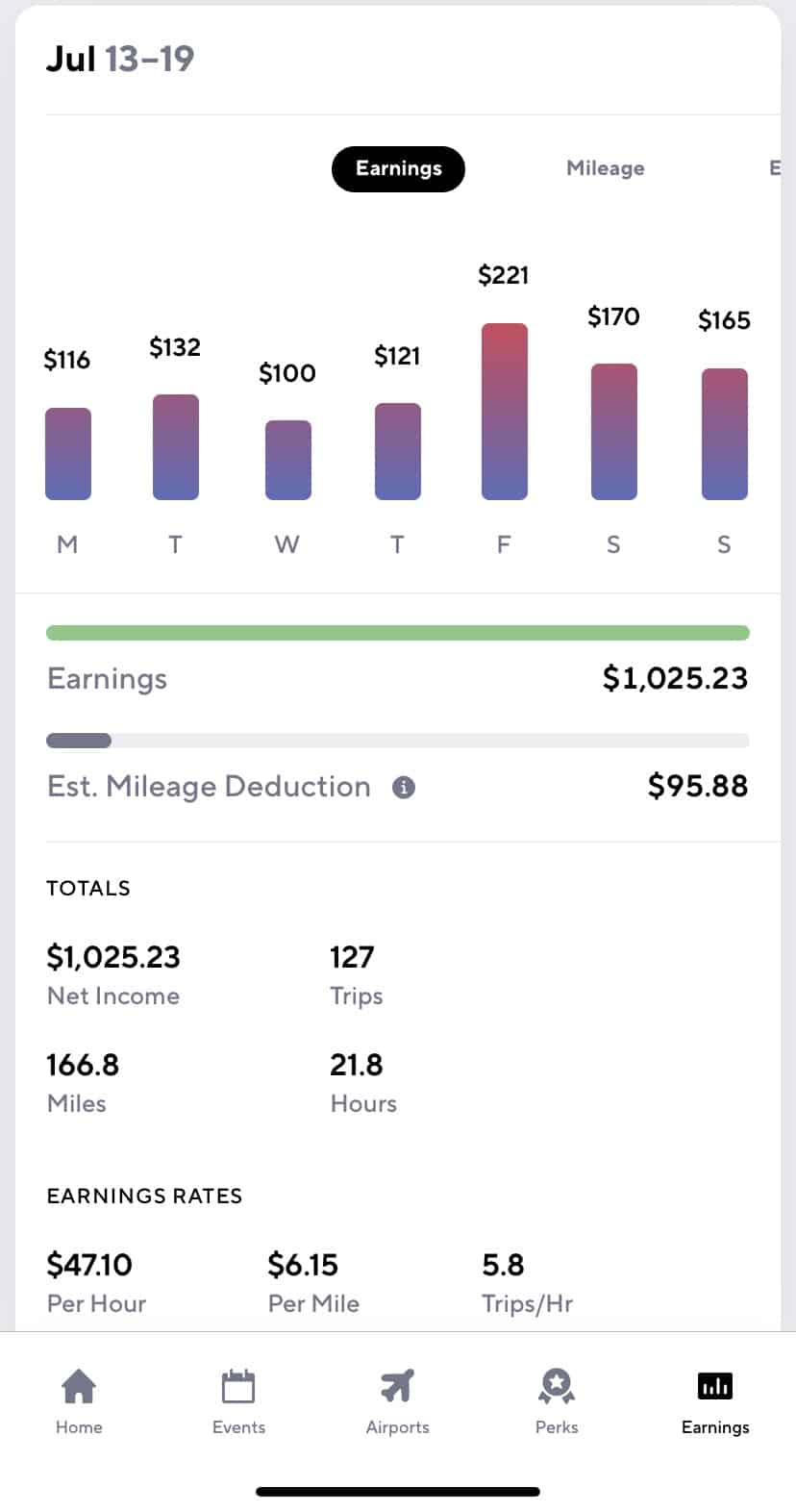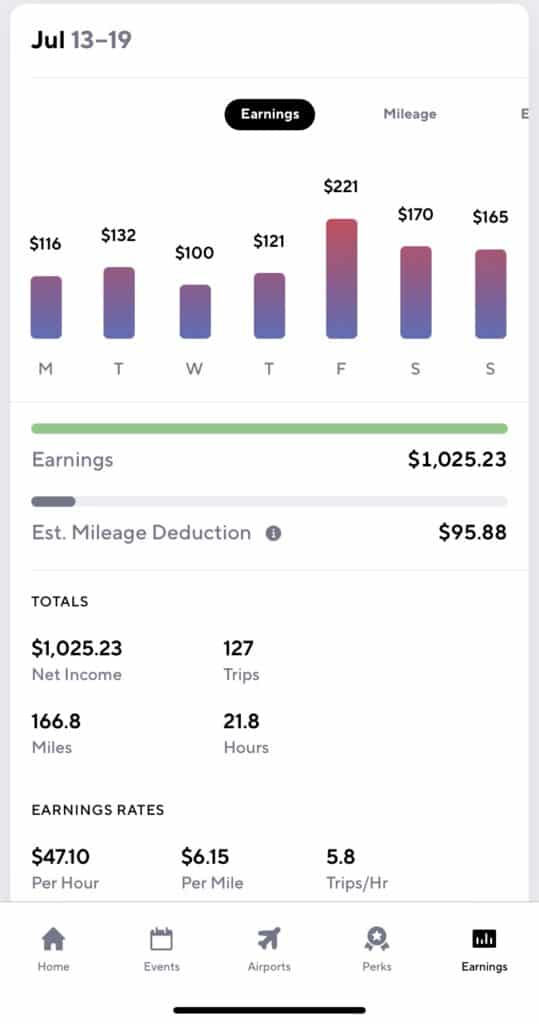 And then finally, in the final full week of July, I ended up averaging $44 per hour over 19 hours.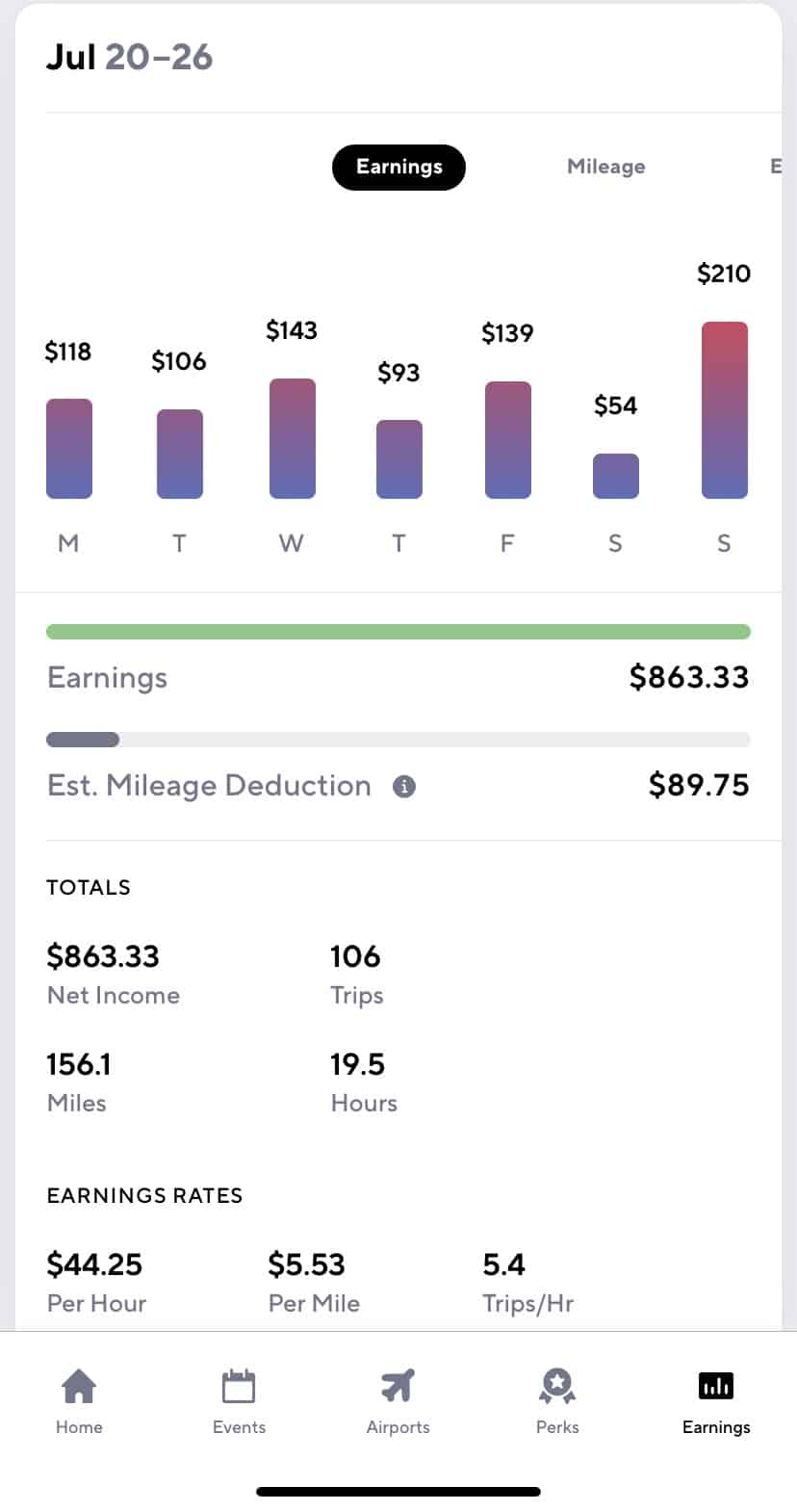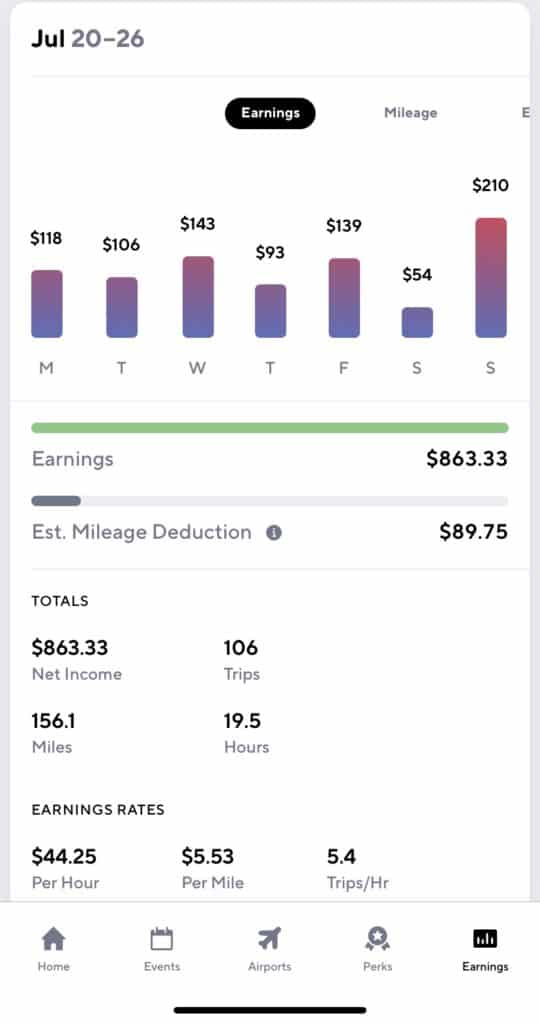 I did all of my deliveries using an ebike or an electric scooter, so my operating costs were basically negligible for the month. It's pretty astounding that I'm able to average over $40 per hour delivering food on a bike. When you break it down, you can sort of see how the math works. Because I'm on a bike and I'm in a dense area and I run multiple apps at once, I'm able to complete a lot of deliveries while I'm working, especially when I can get multiple deliveries going in the same direction.
Typically, I'm able to complete 5-6 deliveries per hour through this strategy. So, breaking it down, if I average around $6 to $8 per delivery, I'm able to hit the $40 per hour range – give or take. If I average 5 deliveries an hour, then I need to make $8 per delivery to make $40 per hour, If I average 6 deliveries per hour, I can hit $40 per hour by making $6.67 per delivery. Remember, with gig economy work, you're trading tasks for money, not time for money. This matters because it means you have more control over what you make. 
Is this hourly rate sustainable over the long term? I'd say definitely not. I think there are a couple of things working in my favor right now, however.
First, the pandemic has made pickups and dropoffs much more efficient. Restaurants are only doing carryout and delivery, which means the food is prepared much faster and I don't waste a lot of time waiting around. And then with dropoffs, I'm usually able to leave the order at the door and move on to the next delivery, which also speeds things up.
Second, because I don't rely on deliveries as my full-time income, I'm able to work only during prime hours and I can work in short bursts. I rarely work more than 2 hours in a single stretch. If I were to stretch out my working time longer, I'd make less simply because demand fluctuates a lot over the course of a day. By working only during the peak lunch and dinner hours, I'm able to maximize my earnings for the time I'm working.
Finally, we're in a bit of a unique time right now where a lot of people are ordering food delivery since they can't go into the restaurant to eat. If/when restaurants open back up, demand will probably drop again. In recent weeks, I've started to see a dip in demand as things start to open up again. I still think that I can consistently make $30 or more per hour at a minimum, even when things slow down. For now, though, I'll take the $40 per hour delivery work. 
If you're interested in trying out the food delivery game and would like to support this blog, feel free to use my referral links below.
Wag Income: $22.05
It's been a while since I walked any dogs on Wag, but in July, I got a few Wag walks in for the first time since February. That's a long time! 
My Wag walks in July were at a house not too far away from me. I ended up walking that dog, then getting some work done at a nearby park. With deliveries doing so well these days, Wag isn't a very high priority for me, especially since it's a timebound task which requires me to do a task, but over a set period of time (in contrast, food deliveries are a non-timebound task, where I'm paid simply to complete the task, regardless of how long or short it takes me to complete the task).
As I continue to do this gig economy stuff, I'm starting to realize that timebound tasks aren't ideal since there aren't a lot of ways you can increase your earnings. If I'm scheduled for a 30-minute walk, there's really nothing I can do to increase my earnings during those 30 minutes.
That said, Wag can work well in certain situations (and obviously, if you like walking dogs, then this is a side hustle for you). If you want more information about Wag and how you can make it work for you, check out my in-depth Wag post, where I discuss the strategies I've used with Wag in the past. 
Shipt/Instacart Income: $8 
My one Shipt delivery this month came about simply out of convenience. I had to drop my dog off at the vet and when I left the vet's office, I noticed that there was a Shipt delivery at the Target right next to the vet's office. This was a CVS prescription delivery, so all I had to do was walk up to the pharmacy and get the prescription. These prescription deliveries never come with tips, but if they pay a decent amount, I think they're worth doing since you can do them really fast. The fact that I was literally next to the Target worked out really well. 
Instacart also gave me a bit of scare this month when I logged in and discovered that my account had been deactivated. I don't do a lot of Instacart so getting deactivated wouldn't have been a big deal, but I still at least enjoy having Instacart available as part of my side hustle toolkit. After sending a few messages to their support team, they let me know that my account had been deactivated because of a security breach where someone was trying to access my account. After verifying my identity, my account was reactivated.
If you're interested in learning more about Shipt, check out my Shipt Review where I go in-depth about what it's like doing grocery deliveries with Shipt. 
If you're interested in Instacart, you can sign up to be an Instacart shopper using my referral link. I recommend signing up for both Shipt and Instacart if grocery delivery is something you'd like to try out. 
Lime/Bird Income: $3.25
After a year, the scooters finally came back to the Twin Cities! Last year, I was making $700 to $1,000 per month charging up electric scooters. Since there were so many scooters by me, this took me no time, so I was earning a lot for the amount of time I was working.
Unfortunately, the scooter game is basically done for me this year. The city of Minneapolis approved two scooter companies for 2020 – Bird and Lyft. Lyft uses its own employees to charge scooters, so I can't do that. Meanwhile, Bird used to use independent contractors but recently switched over to a "fleet manager" program, which basically requires you to charge scooters as a full-time job. That means Bird is out for me as well. 
Lime, meanwhile, is the only scooter company left in my market that's still using independent contractors. However, they're only operating in St. Paul this year, which means if I want to charge Lime scooters, I have to drop them off in St. Paul. The drop off spots are all too far away for me to do this regularly. 
I did charge and drop off one scooter in July, mainly because I wanted to keep myself active. Most likely, I'll try to drop off one or two Lime scooters per month just so that the system knows I'm still working, but for the most part, this won't be a real income source for me anymore. 
Trash/Flipping Income: $34.88 
I didn't list any trash finds this month. My only flip for the month was a hat that I got from a fintech company a while ago. I thought it looked like a nice enough hat that someone might buy it, so I ended up listing it on eBay for 10 bucks. Surprisingly, someone did buy it. 
My other sales for the month were some old clothes that I listed on eBay back when I was spring cleaning. I've had these clothes sitting in a box in the basement for a while now, so I'm glad that they're slowly getting sold. I get $20 per month of shipping credit from my American Express Business Platinum, so I've been able to offer free shipping as well. 
ProductTube Income: $35 
ProductTube is a great app that everyone should have on their phone. This month, I did three ProductTube gigs that took me about 15 minutes total to complete. When you look at what you make for the time you have to spend doing these gigs, you can see that the hourly earnings are in the $100 per hour or more range. You can't live off this app because of low volume, but it's easy extra income that doesn't take up much time. 
Gigwalk/EasyShift/Field Agent/Merchandiser Income: $5
In July, I made $5 doing a mystery shop gig for Field Agent. This gig involved buying a specific item at a fast-food restaurant, then taking a photo of the item, and answering a few questions in the Field Agent app. This took only a few minutes to complete and I got some free food out of it too. 
ReceiptPal/Receipt Hog/Fetch/CoinOut/TrunowIncome: $40
One of the little ways I generate extra income is by taking pictures of my receipts using what I call, "receipt apps." I keep a bunch of these apps on my phone and each one pays me a small amount for each receipt that I get. Now, whenever I get a receipt, I snap a picture of it using these apps. Over the course of a year, I can usually cash out about $100 or so, which isn't bad considering it takes me a second to take a picture of each receipt. 
In July, I ended up earning enough points to cash out $40 on Receipt Hog, It'll likely take me a year before I can cash out on this app again. Obviously, you can't get rich from your receipts, but it's essentially free money to me, so I'll take it if I can.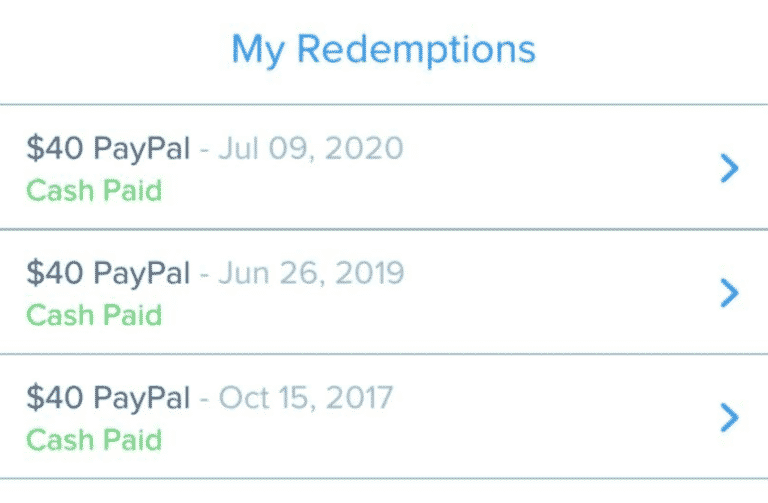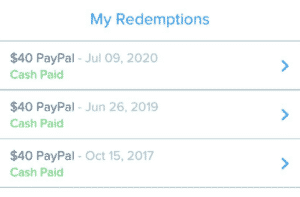 I recommend downloading all of these apps and just keeping them on your phone. Whenever you get a receipt, just snap a picture of it with each app, then toss the receipt. Here are some of my affiliate links if you're interested in trying out these apps: 
Google Opinion Rewards/Surveys On The Go/1Q/Facebook Viewpoints Income: $29.41
I earned a pretty solid amount this past month from the short survey apps that I keep on my phone. Here's the breakdown for July:
The big one this month was Surveys On The Go, which netted me a little over $22. These surveys were all quick ones that I was able to complete on my phone while I was walking around or otherwise doing nothing.
The reason I use these survey apps is that, unlike a lot of other survey apps, the surveys on these apps only take a few seconds to complete. That makes them worth doing in my book given the amount you're paid and the time it takes. 
And that concludes the July 2020 Side Hustle Report!
July continues my strong side hustling summer. In the past, Airbnb was my big side hustle income generator, generally accounting for 50% of my side hustle earnings. I stopped doing Airbnb this year but food deliveries have picked up and are surpassing what I made doing Airbnb. 
As a final parting word, a few people have asked me about how I keep track of all of this income. For side hustling, I typically recommend having a separate bank account that you use only for your gig economy apps. You then need to set up a separate tax account where you save money for taxes. Whenever you get paid, you should automatically pull a set percentage of your income into a separate tax account,
I currently use Chime as my gig economy bank account. Everything I make from my gig economy apps goes directly into this bank account. I then use an app called Catch, which is a great app that monitors my Chime account and pulls a set percentage of every dollar I make into a separate tax account for me. If you're interested in learning more about how this system works, you can check out my post I wrote about these two apps here: Chime Bank + Catch App: The Combination I Use To Manage My Side Hustle Income. 
Another bank account I'm very happy with is Lili. This bank account is designed specifically for freelancers and gig economy workers. Whenever you get paid, they automatically pull a percentage that you set into a separate tax bank account. This one makes it even easier since you don't have to manage another account. I'm really happy with this business bank account, so they're worth checking out if you're trying to get yourself organized. I currently use Lili as my blog bank account, so whenever I pay myself a "paycheck" from my blog, I send it to my Lili account. It then saves away a certain percentage for taxes, all done automatically.
Hope all this info helps. See you all in next month's side hustle report!