Hey everyone. I hope you're all doing well! If you're a regular reader, you've probably noticed I've been pretty slow with posting lately. That's because I have some big news. 
We added a new member to our family in October – a healthy baby boy. That means I'm on paternity leave for a bit while we settle into our new household. With an active two-year-old and a newborn, things in our house – as you can probably imagine – are hectic for us.
That being said, I wanted to try to get a life update out there for everyone and put together my side hustle numbers from last month. I also wanted to share some recent cool purchases I've made, which I hope to talk about more in future posts.
Let's get into it.
Side Hustle Income for October 2022
Total Side Hustle Income for October 2022 = $1,131.79
October was a decent month for side hustling. Looking back at it, I wasn't sure I'd break the $1,000 mark, so I'm glad I was able to do that. Most of my earnings for the month came from DoorDash, Uber, Eats, and Grubhub, with Rover, eBay sales, and secret shopping making up most of the remainder. 
Below is a pie chart breaking down my earnings.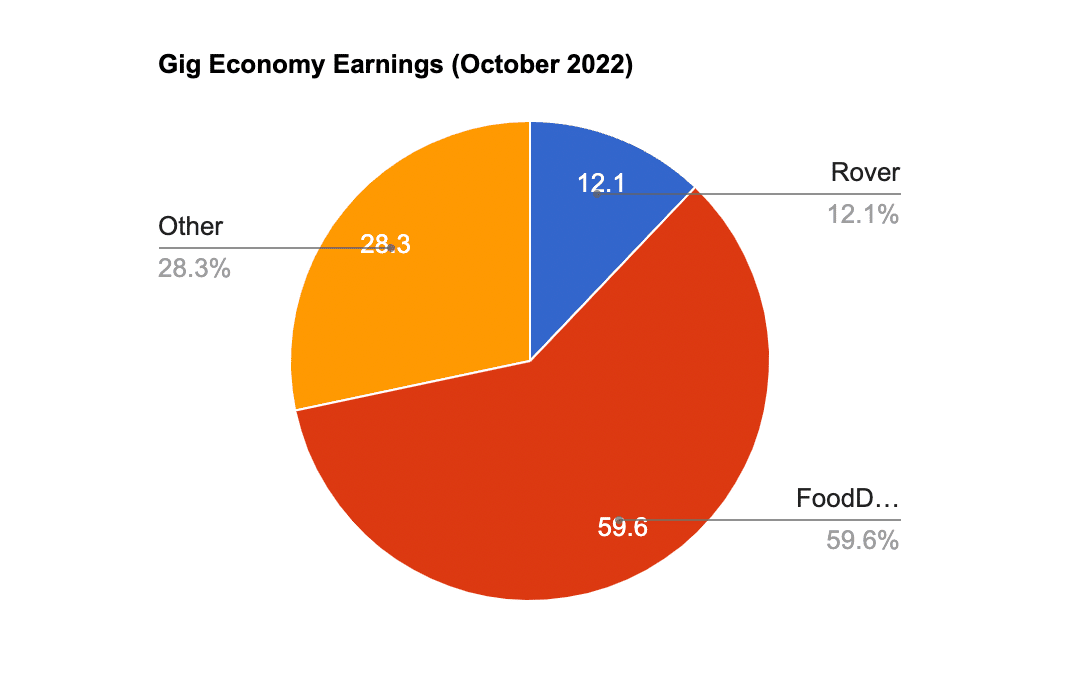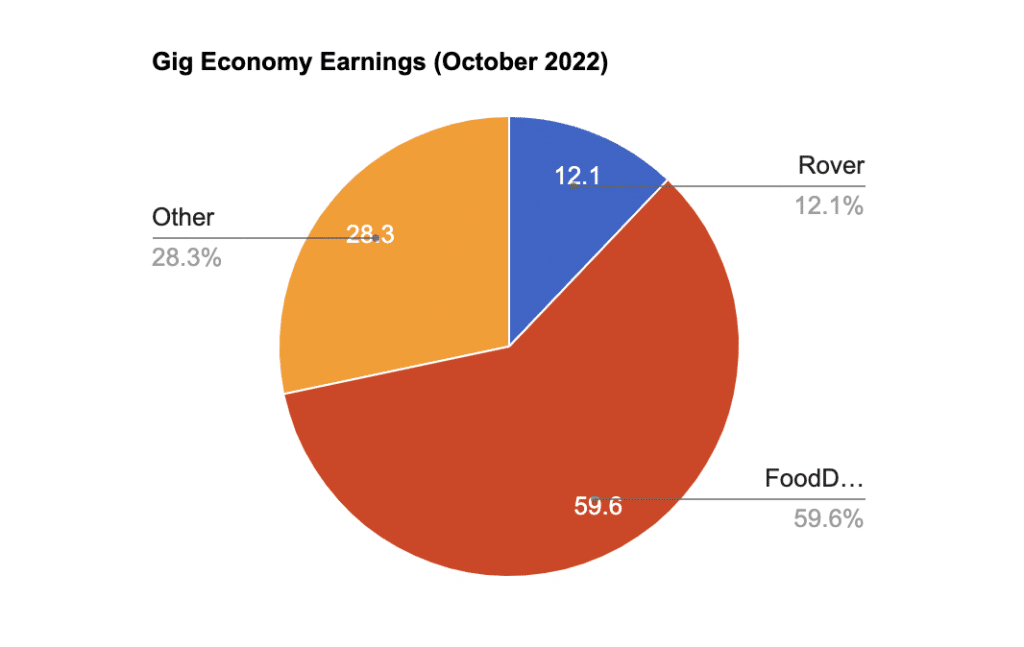 I find it interesting that the "other" category (which includes secret shopping and eBay sales) made up such a large percentage of my earnings. These aren't things I think of as my main earners, so it goes to show you that money from any source – even small ones – can make a difference.
Going back to my personal life, beyond the new addition to our household, we also made some big purchases that I think are worth mentioning.
The big purchase we made was an electric car. Last month, we ended up trading in our Toyota Prius and bought a 2022 Chevy Bolt. I don't think electric cars solve the climate and transportation problems we have (after all, they are still cars), but the way I see it, if we're going to have a car, I'd rather it be electric. I'll write a post in the future about how we decided on the Chevy Bolt and the numbers behind the purchase.
The other big purchase we made was the Urban Arrow. This is an electric box cargo bike (commonly called a Bakfiet). Regular readers know that I'm extremely high on electric bikes and how valuable they can be. A bike like the Urban Arrow is a complete game-changer, doing almost everything a car can do. This is a massively expensive bike – I paid $9,000 for this one – but if you use it as a car replacement (which is what I do with it), it's a bargain. I'll work on writing a post about the Urban Arrow and explain the math behind it and why it makes so much sense to me.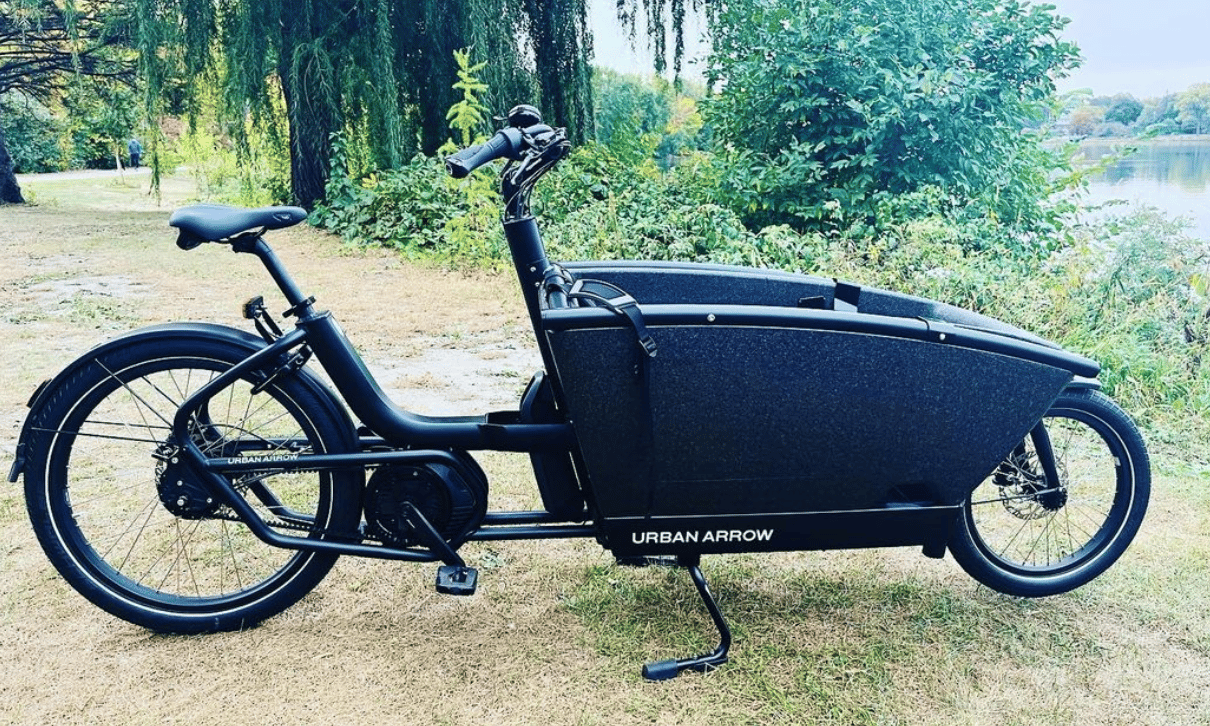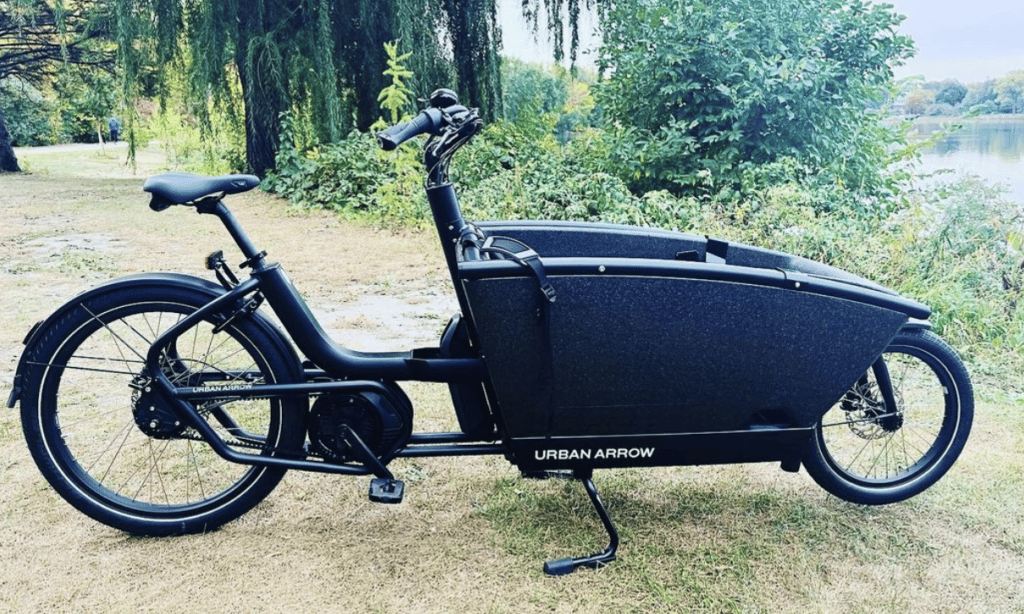 Anyway, with that brief life update out there, let's look into my side hustle earnings for the month. 
Rental Income: $2,400  
The rental property continues to cash flow well and things have been running smoothly. There are a few smaller projects I'm hoping to complete, so I'll probably see about getting some work done on the house in the next few months. 
One interesting thing about this house is that I refinanced it to a 2.75% interest rate. Online high-yield savings accounts are now offering around 3% interest, so banks are now outearning the interest rate on mortgages for those of us that got in when they dropped into the low 3s and 2s.
Rover Income: $137.25  
Rover was slower for me last month, most likely because I blocked out a few weeks in October for the anticipated birth of our child. I ended up watching one Boston Terrier for a few days in the middle of the month and did a few drop-in cat visits for a regular client of mine. 
For the year, I've made over $4,000 from Rover, which is looking to be a new record for me. A lot of this has to do with the move to the new neighborhood we're in, which is more affluent and has led to more demand for dogsitting and catsitting services. 
DoorDash/Uber Eats/Grubhub Income: $674.56 
I made a decent amount from the food delivery apps in October. Here's what I earned with each delivery app for the month: 
I did most of my deliveries during the lunch hour using my Urban Arrow. This is not a normal bike you'd use for food delivery, but the fact that I've been using it for food delivery works out well since it's a way for me to recoup some of the cost of the bike. 
After years of wanting to do it, I finally got around to starting a YouTube channel that shows how I'm doing these deliveries and managing all of these different apps. If you're interested, check out my YouTube channel and subscribe if you like what you see. 
Flipping/Trash Income: $133
I had some good eBay sales last month. Here's a look at some of the interesting things I sold on eBay last month: 
Traeger Grill Cover – I bought a grill during the summer and received a cover for free. However, the company sent me two covers by accident, so I was able to sell one of them for a nice profit.
Settlers of Catan – I found a sealed Settlers of Catan game at Goodwill and was able to sell it for $37. It cost me about $10 to buy it, so I made a good profit from this sale. 
Two Old iPods – I went home to visit my parents a little while ago and found two old iPods in their house. One was broken, so I sold it for parts (someone bought it for $15). Another was in perfect working condition and sold for a solid $45. I
IVueIt/ProxyPics Income: $48  
I made a solid $48 from IVueIt in October. One of the gigs was my usual "dark store" gig where I take photos of a vacant coffee shop. The rest were easy landscape gigs where I take photos of a business to see what condition the exterior is in. I was able to do all of these gigs while I was biking with my son, so it was a nice way to earn some extra income during our commute home.
Google Opinion Rewards/Surveys On The Go/1Q Income/Facebook Viewpoints: $12.28 
It was a relatively slow month with the survey apps, but I was still able to make a little bit of money from these apps. Here's what I made with each app.
Google Opinion Rewards is the best of these apps, with 1Q being the second best. Facebook Viewpoints is too inconsistent, but when there are surveys, they pay well. Surveys On The Go could be a good app, but the annoying thing is how slow the app is, which makes it more difficult to use. 
Secret Shopping Income: $114.50 (plus free food) 
These days, I do a lot of secret shopping with Marketforce, not even for the food, but mainly because the gigs pay well. All of the gigs pay me at least $10 and can climb as high as $25. I get fully reimbursed for the food too. For the year, I'll probably make over $1,200 from secret shopping, along with getting thousands of dollars in free food (yes, I'm not exaggerating, I'm getting thousands of dollars in free food for the year). 
Check out the below posts for more information about how secret shopping works.
ReceiptPal/Receipt Hog/Fetch/CoinOut/Amazon Shopper Panel Income: $12
I made $12 from Amazon Shopper Panel. The other apps are slowly accumulating and eventually, I'll cash out some earnings from those apps. If you've never used these receipt apps, I recommend downloading them. It's an easy way to monetize the receipts you're already collecting anyway.
Medium Income: $0.20
Medium generates a few cents for me each month based on the posts I put on it. This is technically passive income. That being said, Medium isn't worth my time since this blog generates a good amount of income, so I don't focus on Medium at all.
And that concludes the October 2022 Side Hustle Report!  
October was a busy month for me. We had a new baby to add to our household. And we made two big vehicle purchases – a Chevy Bolt electric car and an Urban Arrow cargo bike. 
I'll do my best to get some more posts out there, but time is pretty short for me these days. I'll for sure have some posts breaking down our Chevy Bolt and Urban Arrow purchases, and I have some "thinking" posts I'd like to get out there too.
Stay tuned everyone and thanks for reading!