Once again, I'm way behind on getting this side hustle report out. Things have been really busy in our household and I've been doing a lot of things behind the scenes on the blog, so I've fallen a bit behind on writing these posts. That being said, I think they're useful and I like keeping a record of what I've been doing each month. 
So with that said, let's take a look at what I was able to earn from side hustling in the gig economy in September 2022.
Side Hustle Income for September 2022
Total Side Hustle Income for September 2022 = $1,433.16 
September was a good month for my side hustles. I didn't make a ton of money compared to some months, but I think I did pretty well considering how much I worked. 
Here's a pie chart detailing how my earnings were divided for the month. As you can see, Rover and Food Delivery were close, with my various other side hustles making up the remainder.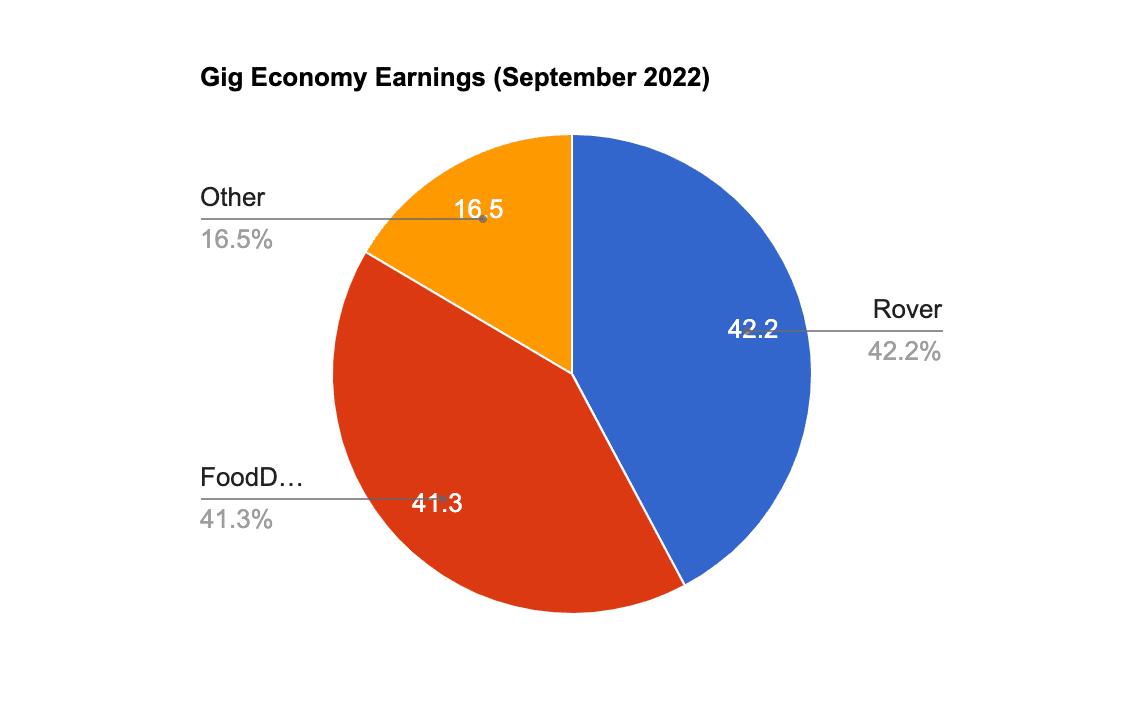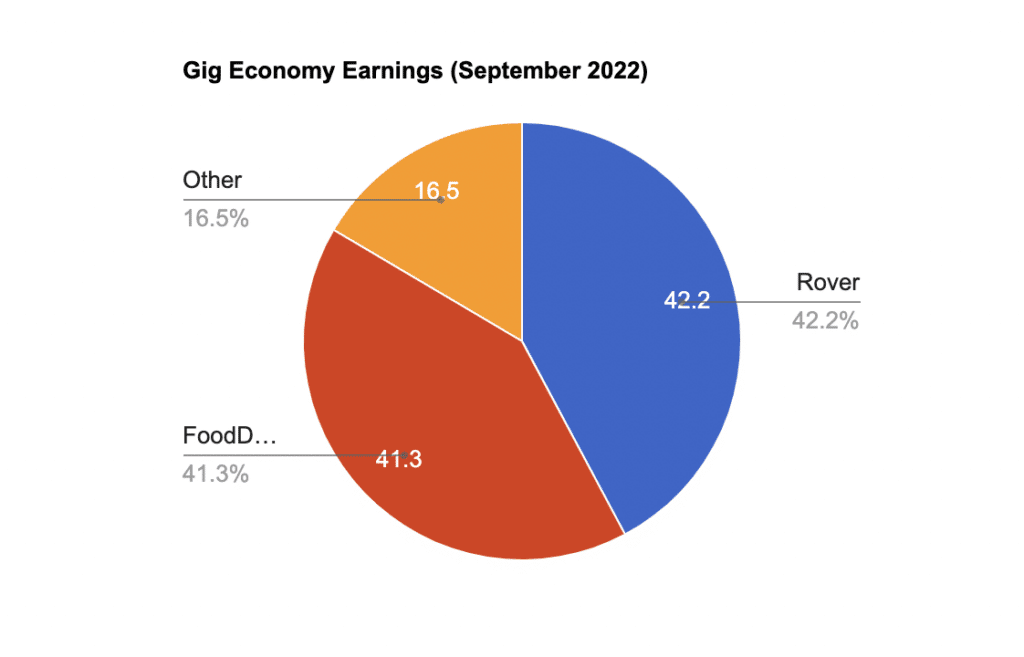 Below is a more in-depth look at my earnings in each category for the month. 
Airbnb/Rental Income Income: $2,400  
I had some major expenses in September, including having to install a new dryer and repair a broken window pane. I ended up paying $1,100 to buy a new dryer and have it installed. Repairing the broken window pane cost $300. Yes, I could save money if I did this work myself, but I'm not handy and I don't enjoy doing these types of projects, which is why I pay professionals to do them for me,
Fortunately, I don't spend the rental income, so I had plenty of cash on hand to cover these expenses. And of course, I paid for these expenses using credit cards, which helped me meet some minimum spend requirements and earn some good credit card bonuses. 
Rover Income: $605.20  
Rover has become a big source of income for me, with the income coming from two things – dog boarding in my house and cat sitting where I visit someone's house and check in on their cat.  
Below is a screenshot of my earnings for each client in September. I watched two new dogs in September and had one repeat client. All those sittings went well.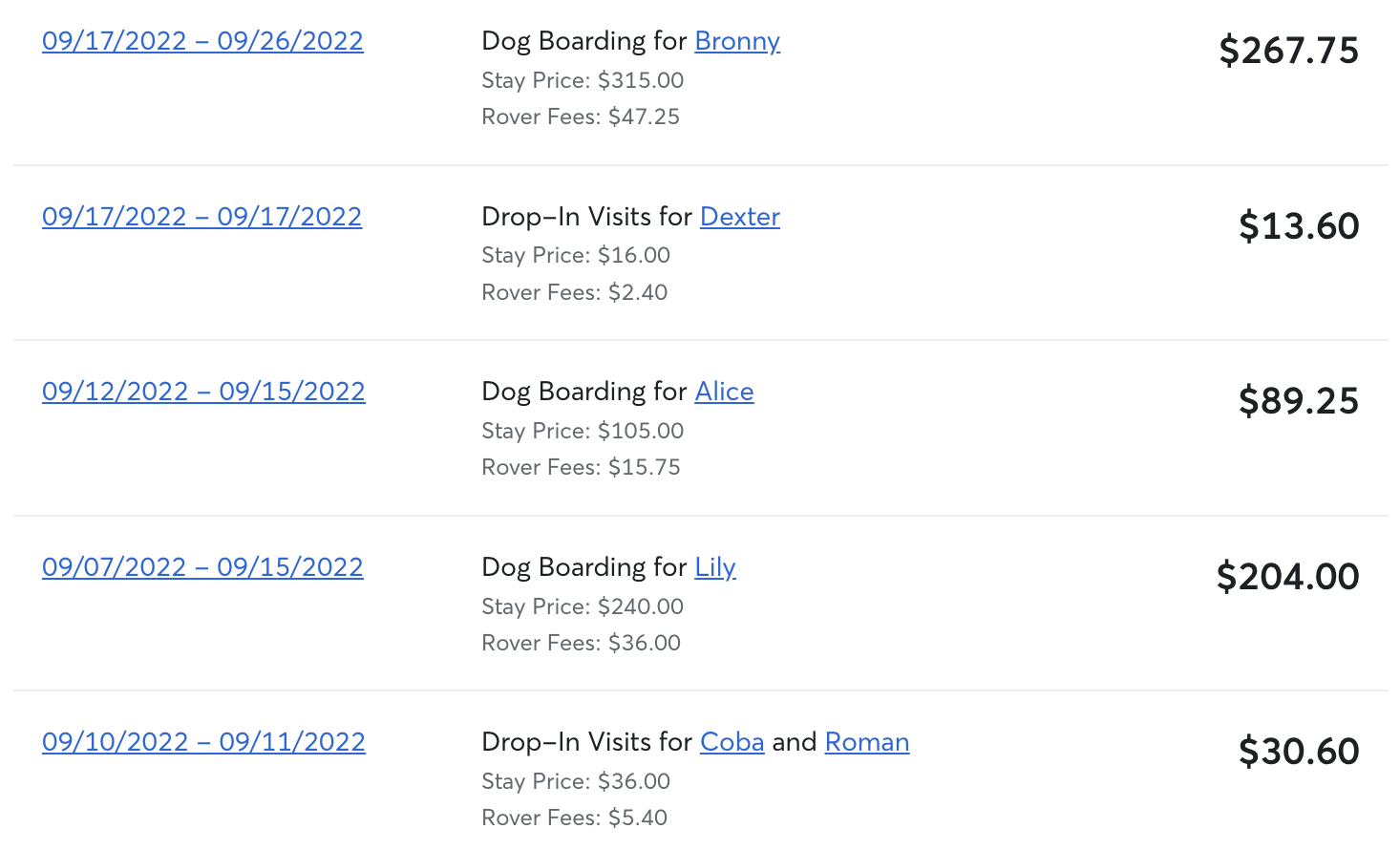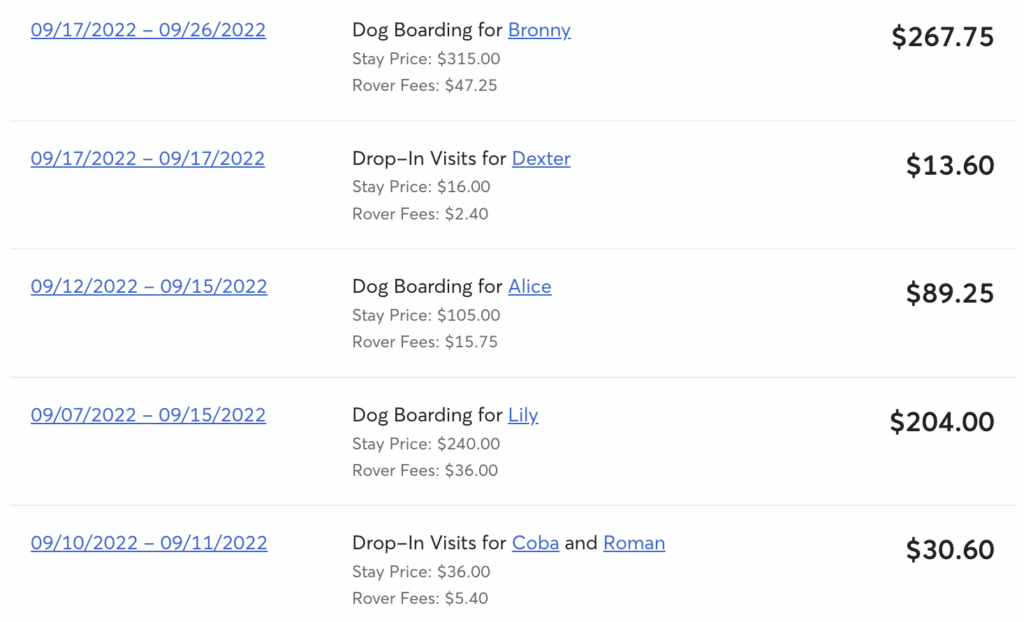 The cat-sitting also worked out well. I ended up visiting the same cats that I've watched in the past – all within a few blocks of my house. This makes it easy for me to stop by in the evening after I get my son to bed. 
For more information about Rover, feel free to check out my post: Rover Pet Sitting – How To Make Money Dog Sitting With Rover. 
DoorDash/Uber Eats/Grubhub Income: $592.23 
Things were slower on the delivery front – they've actually been slower all year, mainly due to less free time. I do far fewer deliveries now on the weekend and for the most part, only do deliveries during weekday lunch hours.
Here's what I earned with each delivery app in September.
DoorDash has been taking a hit lately. One thing DoorDash has been doing is giving "priority" orders to people with a higher acceptance rate. I keep my acceptance rate low because I'm picky with my orders. Whether this is impacting me is still a bit unclear. Accepting more orders wouldn't necessarily help me make more since it'd require me to accept less profitable orders, so my plan is to keep doing what I'm doing and cherry-pick orders that make the most sense for me.  
Uber Eats, thankfully, picked up the slack, so the month still ended up pretty solid. I've been recording a lot of footage of me doing deliveries with my GoPro, so that's going to go up on a YouTube channel soon – I just need to get off my butt and actually edit and upload the footage. 
As a reminder, I do all my deliveries using an ebike or electric scooter. If you can, I highly recommend doing deliveries on an ebike or scooter, rather than using a car. 
If you're interested, I started up a YouTube channel where I record a lot of my delivery runs. I plan to talk about micromobility, ebikes, scooters, and the gig economy on this channel. If you can, I'd definitely appreciate it if you thumbs up and subscribe to my channel. I'm still learning how to edit and record, so it's for sure a work in progress, but hopefully, you find it enjoyable.
Flipping/Trash Income: $3 
I sold one small item from a board game that I bought at Goodwill. Sometimes when I buy games, I split up the pieces and sell them as replacement parts. This earns more than selling the entire game as a set. It's more work and takes longer to sell everything, but it's sometimes the only way a purchase can be profitable. 
WeGoLook Income: $14 
I picked up an assignment from WeGoLook that asked me to take a photo of a house that's currently on the market. This was an easy assignment since I was able to do it while my biking my son home from daycare. It took maybe 1 or 2 minutes to snap the photos, then we were on our way. 
ProductTube Income: $55 
I had another good month with ProductTube. Most assignments on this app are easy, only taking a few minutes to complete. I usually film my videos for this app at the Target next to my son's daycare. It's a nice way to start my day with some extra money in my pocket. 
IVueIt/ProxyPics Income: $0  
Interestingly, I didn't make anything from IVueIt or ProxyPics last month. ProxyPics has been a bit strange, as I get notifications that there are assignments, but then when I open the app, nothing is there. I don't know if someone else is beating me to the assignments, but I doubt it because I open the app immediately when I get these notifications. 
With IVueIt though, someone beat me to all the assignments I usually do each month. We'll hopefully get more opportunities to do these gigs in the future.  
Google Opinion Rewards/Surveys On The Go/1Q Income/Facebook Viewpoints: $28.35
Here's what I made with each of these short survey apps in September: 
I finally earned enough to cash out my earnings with Surveys On The Go, so that was a nice bonus. Facebook Viewpoints is also sporadic, so it was nice to get an easy $5 from them this month. Google Opinion Rewards and 1Q were the same as usual. 
These short survey apps are different from the normal survey websites you see a lot of websites push. That's because all of these survey apps take just a few seconds to complete and pay relatively small amounts. Because of how fast you can do these surveys, they're worth doing. 
Secret Shopping Income: $106 (plus free food) 
Secret shopping with Marketforce is lucrative these days – enough that it's a significant source of side hustle income. In the past, I treated secret shopping as just a way to get free food, but Marketforce is good enough that you can actually earn some decent income with it. 
I did some other secret shops with A-Closer Look, Bestmark, and Reality Based Reports, but these only reimbursed my expenses. With all of these secret shop websites, I'm able to get a ton of free food each month.
Check out the below posts for more information about how secret shopping works.
ProductLab Income: $18 
ProductLab has been absent lately, but I finally got around to cashing out my earnings. As a recap, ProductLab pays me each week to submit screenshots of my DoorDash and Uber Eats earnings. It's a nice way to earn a little bit more from my food delivery apps. The only annoying thing is that ProductLab now requires you to have $15 in your account before you can cash out, so it usually means I can only cash out once every 2 months (whereas before I was cashing out every month). 
ReceiptPal/Receipt Hog/Fetch/CoinOut/Amazon Shopper Panel Income: $11.35
Amazon Shopper Panel still seems too good to be true. I can't imagine it stays around forever, but I'm going to ride that train while it's there. I submitted 10 receipts to Amazon Shopper Panel and made $10, then did some short surveys in the app for another $1.35. By the end of this year, I'll end up making over $120 with Amazon Shopper Panel, just by taking pictures of 10 receipts each month. 
Medium Income: $0.03
I still collect a few pennies each month from Medium and just for the sake of completeness, I've included that money here. Medium is an interesting platform that I'd love to do more with, but I don't have the time and my time is better spent writing here, where I can make more on my posts (and fully own my posts too). 
And that concludes the September 2022 Side Hustle Report!  
This is a quick recap, as I wanted to get this post out there as soon as I could. If you want more details about anything, feel free to leave questions in the comments.
I hope you enjoyed this peek into my gig economy/side hustle earnings for last month. Maybe this post will give you some ideas about what you can do to earn more. An extra $1,000 or so in a month can be a big deal for a lot of people (myself included).