One of the things I've always wondered is why anyone would invest in expensive mutual funds (I typically define an expensive fund as one with an expense ratio of around 1% or more). Since there are many mutual funds with expense ratios of 0.1% or less, it's never made much sense to me why anyone would invest in anything else. Why pay ten times more to invest your money in what amounts to basically the same thing?
One problem I have is that, as someone who's really into personal finance, I fall into a sort of personal finance bubble. I take a lot of the stuff I know for granted and assume that everyone just knows this stuff too. In reality, the vast majority of people have no idea what anything I said even means.
I was reminded of this fact recently when I was talking to my brother about what he's investing his money in. It turns out that he was entirely invested in funds with a big-name financial services company, all with expense ratios of at least 1%.  After a little bit more digging, I discovered that he gave his money to a guy he knows at this big-name financial company who then put the money to work for him. As my brother explained to me, he went to the guy, gave him his money, and said, "make it grow."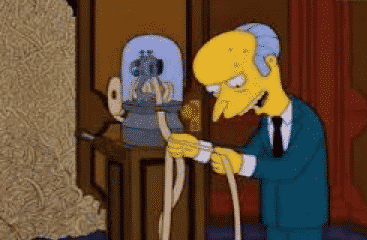 My brother's a smart guy – he's always been good at earning and saving money. But when it comes to investing, he's not particularly knowledgeable. All of the basic terms that personal finance people talk about – expense ratios, 401(k)s, asset allocation, etc – are gibberish to him. And he has absolutely zero interest in learning about any of that stuff.
Needless to say, I wasn't too happy with his investment choices. Financial Panthers don't invest in expensive funds like that. But my brother's situation showed me exactly why people still invest in these types of funds.
The Reason People Invest In Expensive Funds
Ultimately, the reason people like my brother still invest in these expensive funds (instead of opting for cheaper alternatives) stems from a lack of knowledge. It basically boils down to four reasons why someone invests in these, essentially rip-off funds.
Someone Told You To Invest That Way
There's nothing wrong with getting expert advice, especially in areas where you're not all that knowledgeable. At the same time, though, you really need to take the time to scrutinize where your advice is coming from. Not everyone has your best interests at heart.
I don't know enough about why my brother's "guy" put him in the particular funds he's invested in. The only thing I do know is that they don't seem to be particularly smart investment choices. My guess is that there's a commission or something else involved. It's the only explanation I can think of for why a professional would pick funds like these.
Picking Funds Based On Brand Name
Going with brand names when it comes to investing isn't necessarily a bad thing, mind you. Vanguard, for example, is a brand name I trust and if I knew absolutely nothing about your investment choices, I'd still say you can't go wrong picking something from Vanguard.
At the same time, I've always seen funds in my employer-sponsored plans that seem way more expensive compared to the other options. I never understood why anyone would invest in those funds, but my guess is that people see the brand name and just decide it must be good.
Thinking Administrative Fees Are The Only Fees You Pay
One thing my brother told me to justify his investment choices was his belief that his investments were cheap. When I told them they were way too expensive, he explained to me that he only paid $7 per year in order to invest.
Setting aside the fact that I don't think that number is accurate either, it's not uncommon for people to think they're paying very little or even nothing in fees. But everything you invest in has to have some internal costs. Most people don't even realize that their 401(k) plan isn't free.
In this case, my brother sat in these funds because he didn't realize that his investment choices carried internal fees much higher than other alternatives.
Thinking They Can Beat The Market
I know most of us personal finance dorks know that the vast majority of funds will not outperform the market. Still, there are a shockingly high number of people who think that consistently beating the market is possible – as if we can all be Warren Buffet.
Do yourself a favor and don't try to beat the market. You don't need to beat it anyway. Good enough is all you need. And being average will do you just fine here.
What Are Your Alternatives?
So what's a guy like my brother to do? He's got well over $10,000 to invest. If he wanted to, he could basically invest with rock bottom costs.
The simplest thing would be to invest his money with reputable, low-cost alternatives. Naturally, anything Vanguard would do. If he wanted to make it really easy, he could even invest all of his money into something like the Vanguard Total Stock Market Index Fund (VTSAX) and call it a day. With an expense ratio of only 0.05%, he'd be sitting pretty well.

Another potential option would be to go with the Fidelity Total Market Index Fund (FSTVX). It's basically the same thing as the Vanguard Total Stock Market Fund. Again, with an expense ratio that low, you really can't go wrong.

Even investing in just those funds might be too complicated for my brother. Remember, he has absolutely no interest in learning about this stuff and would rather someone just do it for him. Instead of giving the money to his guy and telling him to make it grow, he could just go with a roboadvisor such as M1 Finance. They don't charge any management fees and will help novice investors have a good, low-cost, diversified portfolio.
Takeaways
It's easy to get mired in paralysis analysis, so don't get too caught up in trying to save a few tenths of a percentage point in expenses. But you've got to do some due diligence. To be fair, 1% fees probably won't be the reason you don't reach your financial goals. If you're not going out and saving as much money as you can, it really doesn't matter what your investment expenses are.
But it's still easy enough to just avoid those expensive funds altogether. My brother doesn't need to be in these types of funds. It's just a waste of money. And really, to be blunt, he's being scammed. 
Don't just trust a guy out there to invest for you. If you want to make it really easy on yourself, go with something I listed in the alternatives. This investing stuff doesn't have to be hard or expensive. Save your money and use it on the more important stuff.