Welcome to the last side hustle report for 2019! In today's report, I'll be sharing what I made from side hustling using various sharing economy and gig economy apps in December 2019. 
As a quick recap, over the past four years, I've tracked all of the side hustle income I've made from using these different apps. Each month, I compile them into these detailed side hustle reports. My hope is that these posts give you some ideas about things you can do to earn extra income on your own time.
With that background out of the way, let's take a look at what I made from the sharing economy and gig economy last month. Below is a breakdown of my earnings for the month:
Side Hustle Income for December 2019
Total Side Hustle Income for December 2019 = $1,541.50
December was a down month compared to my other months, although honestly, I think making between $1,000 and $2,000 per month is more sustainable and realistic over the long-term. 
Winter is always a tougher time for me. My side hustle earnings typically drop during the winter months due to lower demand for Airbnb and also because most of the gigs I do are based around me biking and being outside. Being outside is great in the spring and summer but isn't quite as enjoyable for me when you have below-freezing temperatures in the winter (and snow and ice as well).
You'll notice a few interesting things in this month's side hustle report. Airbnb was down a lot this month because I blocked off the last two weeks of December so that my wife and I could have the house to ourselves over the holidays. I also had two interesting and lesser-known side hustles make me a decent chunk of money this month – ProductTube and User Interviews. I'll get into these two apps in more detail later in this post, but suffice it to say, both of these side hustles helped out a lot this month.
Below is a more in-depth look at my side hustle earnings for the month.
Airbnb Income: $430 
December was a slow Airbnb month primarily because of the holidays and the fact that my wife and I are starting to wind down our Airbnb business. I'll write about this more in a future post, but the basic gist is we have some big life changes coming up that are going to change some things with how we do our house hacking strategy. 
That said, this month could have been a bigger earning month, but we had a guest cancel their weeklong stay a few days before their arrival. We ended up getting most of those nights rebooked, but at a lower rate compared to what it had been originally booked at, which hurt our overall revenue for the month. 
In terms of specifics, we ended up with 11 nights booked and hosted 7 different guests in December. That comes out to an average rate of $39 per night, which is about what my rates normally drop down to in December (there's always a noticeable drop in demand during the winter months for my area).
For the year, we ended up making a total of $15,746 on Airbnb from either renting out a spare room in our house or renting out our entire house while traveling. As a point of comparison, our actual mortgage payment (principle + interest) is $845 per month or $10,140 per year. When you factor in the cost of insurance and property taxes, our yearly housing cost comes out to between $15,000 and $16,000 for the year. In other words, house hacking using Airbnb essentially meant we could live almost for free this year (we still have to subtract for taxes).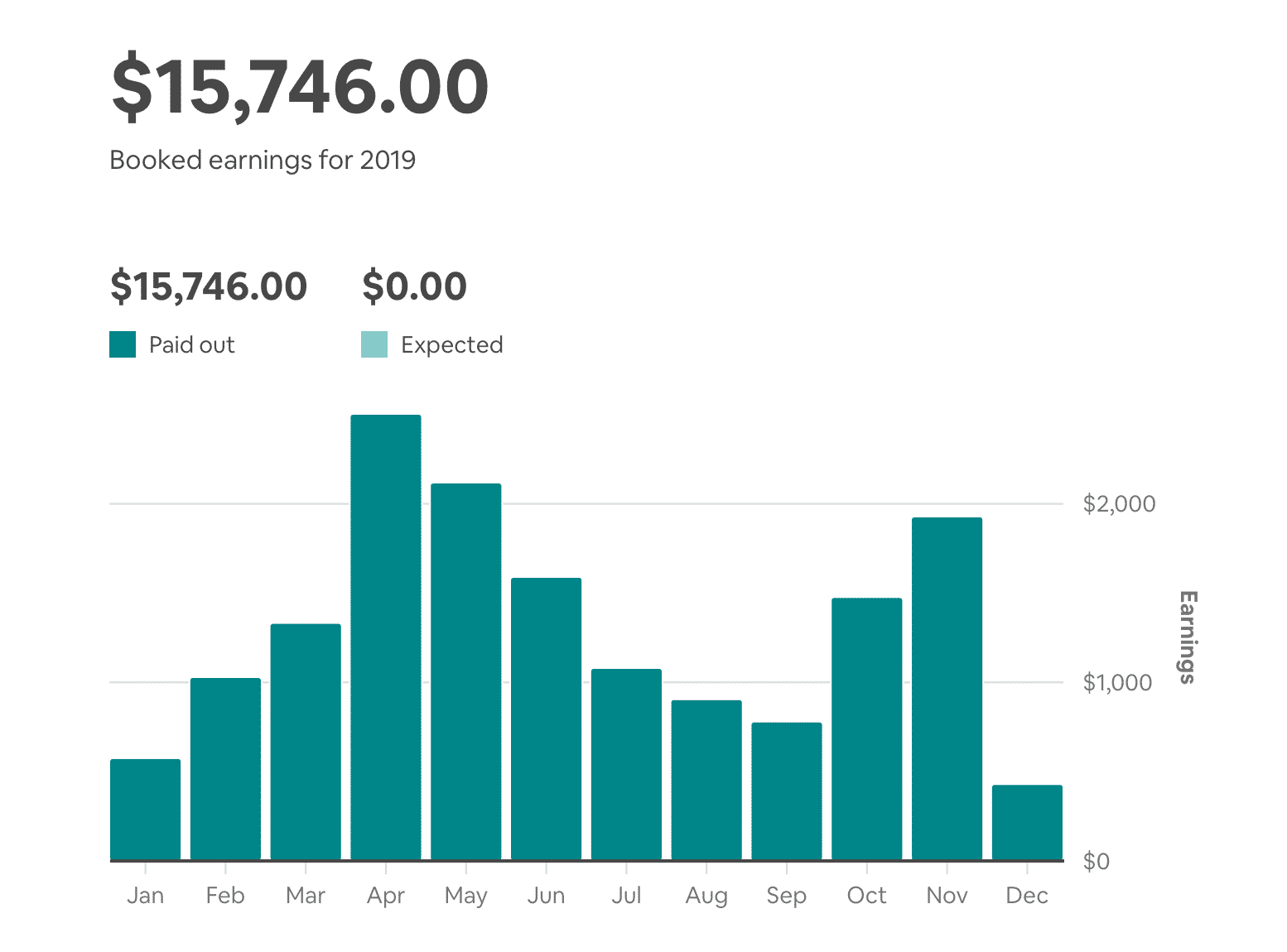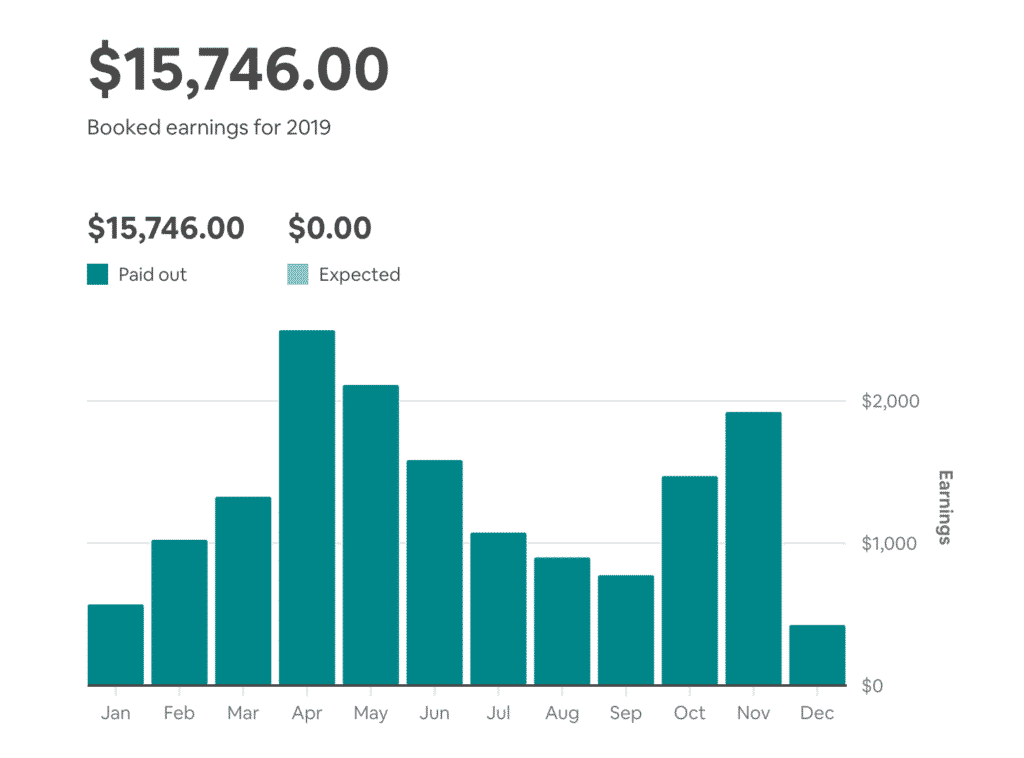 If you have extra space and want to earn extra income using your home, you can sign up to be an Airbnb host using my referral link.
Airbnb is also one of the most affordable ways to travel. If you've never used Airbnb, sign up for Airbnb with my link and you'll get $40 off your first stay. 
Rover Income: $324.70
December is usually a big earning Rover month because demand is high during the holidays as people travel and visit family. Last year, my wife and I went to France over Christmas, which led to a light Rover month, but this year, we stuck around for the holidays, which meant that we were able to watch a lot of pups. The earnings for this month are actually higher than what is reflected in this report, but I had a few stays that carried over into the new year, which means those payments weren't made until January (and thus, will be included in next month's report).
I ended up watching four different pups during the month – three of them repeat clients and one a new client. My favorite pup for the month was, as usual, a French Bulldog that we've been regularly watching for a few years now. I'm going to be sad if/when the owners move, as it seems like they'll be moving out-of-state one day.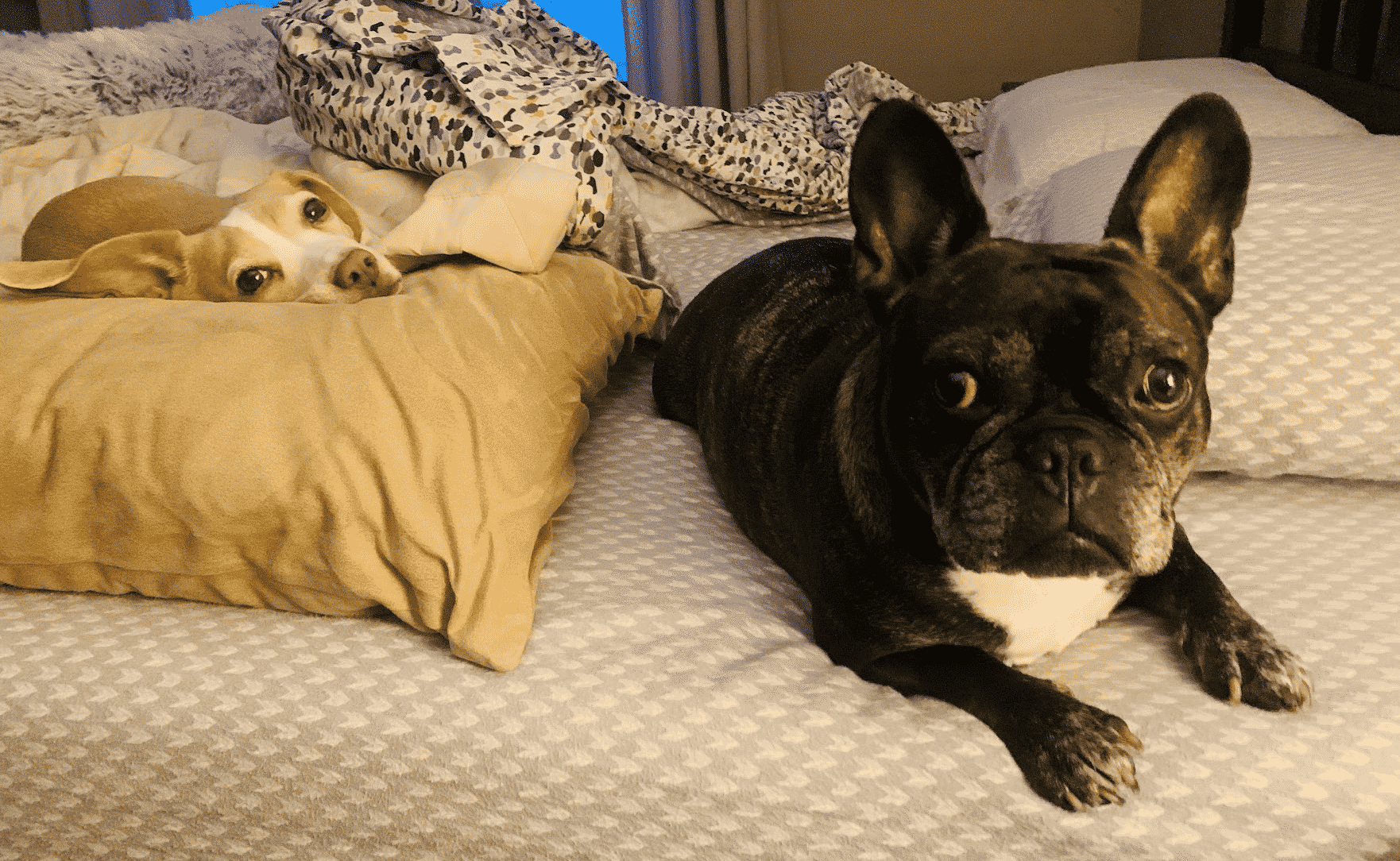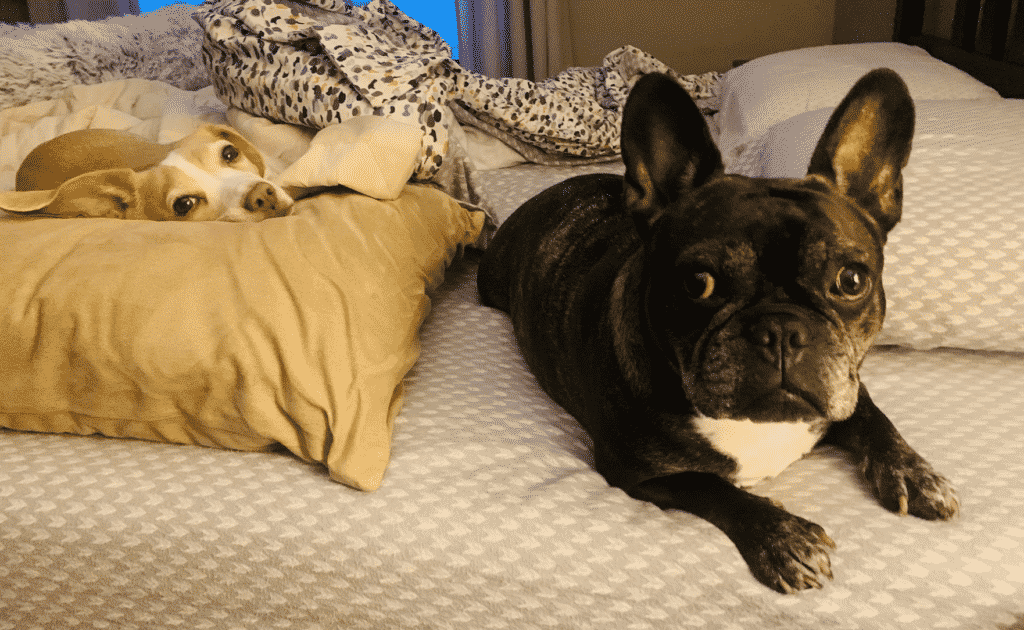 My Rover numbers for this month also included a few dog walks that I did via the Rover app. I've actually never done any dog walking through Rover, but this past month, I received my first walk request that I could actually do. It was for my neighbor who happened to see me on the Rover app and needed someone to walk her dog for a few days over the Christmas break. This worked out very well for me, especially since the owner was also cool with me taking my dog for walks at the same time. I was literally getting paid to walk my dog. 
Rover works almost as a source of passive income for me since I keep getting the same pups to watch and I already have to take care of my dog. I think it's something that many people can add to their side hustle repertoire, especially if they already have a dog.
If you feel like supporting this blog, you can sign up to be a dog sitter on Rover using my referral link. 
Postmates/DoorDash/Uber Eats/Amazon Flex/Grubhub Income: $271.21
Deliveries were pretty decent in December. Here's a breakdown of my earnings on each delivery platform:
DoorDash continues to be the main delivery app that I use because it pays the most in my area and tends to be the busiest. Uber Eats is also pretty decent for me, especially now that they've updated the app to show you the destination in advance. Before, I was using a hack to see where the delivery was going, but now I don't have to do that anymore, which saves me a little bit of time. 
Postmates is typically the worst one for me due to low pay, and I really only do it as a filler or if it's a really short delivery. Grubhub is one that I wish were better in my area, but I only ever seem to get deliveries from Taco Bell, which isn't very convenient to my location. 
As usual, I also did some deliveries while I was on the road – combining travel with gig economy stuff. I had a Saturday morning to go explore when I was Indianapolis for the Big Ten Championship, so I hopped on an electric scooter one morning and did a few deliveries. I always like doing this to get a different view of a city and to check out the bike infrastructure in a new place.
Here's a look at my movements that Saturday so you can get a sense of how far I move around when I'm doing deliveries in a new city.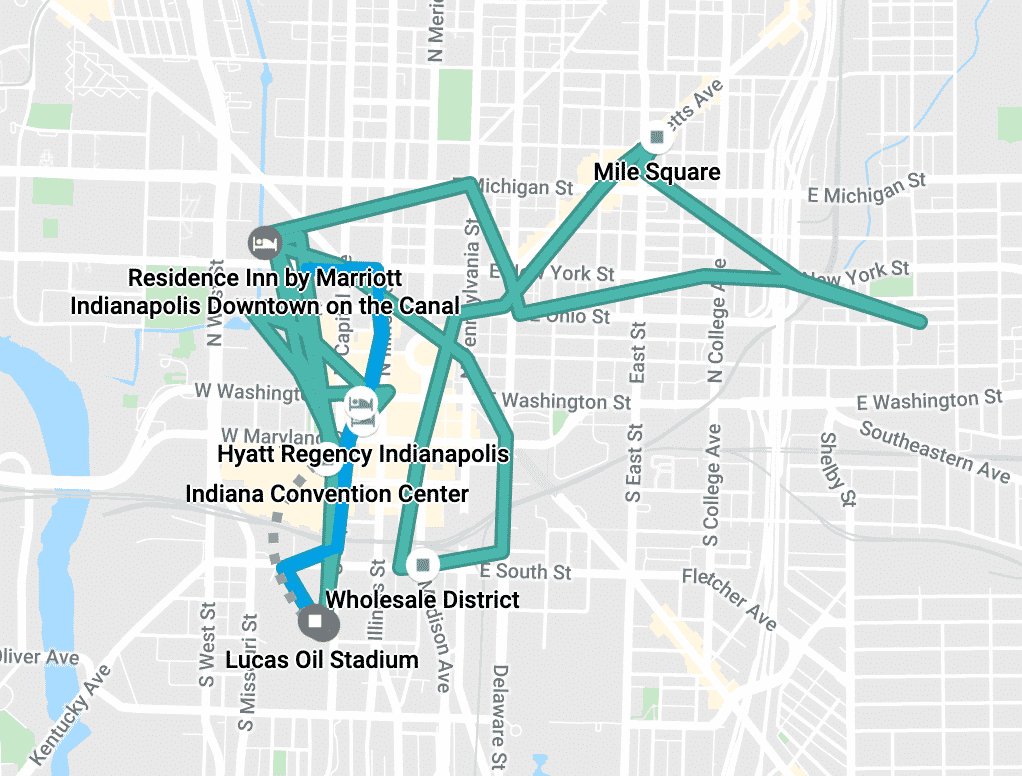 Wag Income: $23.80
I didn't do a ton of Wag walks in December, which is evident by the low earnings for the month. Wag is something that I really only do for fun now and I'm not really using it much as a source of income. When I had a day job, dog walking with Wag made a lot more sense since Wag was one of the few gig apps that I could do in my work clothes without breaking a sweat. Since I have more time freedom these days, I find that I'm able to earn more doing deliveries and other gigs versus walking dogs on Wag.
I do think there is value in Wag depending on your situation and I break down how I think it can best be used in a blog post that I wrote about Wag a while back. In particular, I think Wag works out very well for folks with day jobs or if you're traveling in a new city. Check out my in-depth Wag post if you want to learn more about how you can make Wag work for you. 
Bird/Lime Scooter Income: $0 
Lime scooters are shut down in Minneapolis for the winter, so there were no opportunities in my home city to earn scooter income. However, like most gig economy apps, you can take your scooter charging on the road. In this case, I charged up a few scooters in my hotel room while I was in Indianapolis. I didn't end up making any direct money from these scooters, but instead, I just used them to ride around for free and do deliveries. 
Using the scooters to joy ride and do personal things with is something you shouldn't do too often since it could risk you getting deactivated, but I do this sparingly enough that I seem to fly under the radar. I think it helps that I also charge more scooters than I ride around. 
Shipt/Instacart Income: $116.23 
I started out the month doing a bunch of Shipt orders and it's something that I think could become more useful for me in the winter. As I've said before, one of the things that makes my gig economy side hustles difficult is that almost all of them require me to be outside, which isn't as fun during winter.  
The unique thing about Minneapolis is that the downtown core is connected via a skyway system that allows you to stay indoors and out of the elements. My primary Shipt location is at a Target in downtown Minneapolis, so in December, I picked up a decent number of orders from downtown and just walked them to where they needed to go. It seems like a lot of offices use Shipt to order groceries, so this is something that I could do pretty consistently throughout the winter. 
One thing that I think would help me is if I got some sort of cheap foldable wagon that I could pull groceries with. It'd make it a lot easier if I could just pull groceries through the skyway instead of carrying everything in my arms.
Trash/Flipping Income: $76.55
I sold two trash finds this month, flipped a few things that I had in my inventory from Goodwill Outlet, and sold a few old clothes from my closet (I'm slowly working on reducing the size of my wardrobe). 
There wasn't anything too interesting this month for my trash sales. I did sell a set of nice table lamps for $20 that I found at my mother-in-law's apartment building. I probably could have gotten more for them, but they were taking up a good amount of space in my basement and I just wanted to get them out of there. 
All-in-all, it seems like I make around $100 per month from selling junk I find, which isn't bad at all when you consider I don't put a ton of time into it. There really is treasure everywhere if you're willing to look for it. 
Job Spotter Income: $3.83
Well, it finally happened and the Job Spotter changes hit me pretty hard this past month. Earlier this year, Job Spotter made some changes to the way it does payouts which dramatically reduced the amount many people were making from the app. However, those changes didn't seem to impact me and I was still able to make $20 or more most months without doing very much work.
Unfortunately, it looks like the changes finally hit me this month, as I only made about $3 taking pictures of hiring signs. The main reason this happened is that in the past, Job Spotter would typically pay you a decent amount for a hiring sign, even if others had taken a photo of the sign before. Now though, it seems that Job Spotter pays closer to 5 cents for a hiring sign that has already been photographed recently, which makes it difficult to get high payouts in heavy traffic areas.
That said, I'm still using Job Spotter when I'm out and about, especially since it takes so little time to use. The money isn't as good, which is disappointing, but it's still worth keeping on your phone and using when it makes sense. 
Gigwalk/EasyShift/Field Agent/Merchandiser Income: $3.90
I don't have a ton to report with these apps. I made $3.90 in December taking photos of the charcoal section at a Target near my house. This took me about 2 minutes to complete and I was able to do this while I was shopping for other things. I wouldn't go out of my way to do these type of gigs, but they're easy enough to do if you're already in the store. 
ProductTube Income: $145
ProductTube was very lucrative in December and was made better by the fact that I was able to use the app while I was traveling.
As a quick recap, ProductTube is a market research app where you film a video of yourself shopping for certain categories of items and then record yourself answering a bunch of questions as you shop. The app pays you between $5 and $30 for these videos and none of the videos take more than 5 or 10 minutes to complete. In other words, this is a very lucrative app for the time required – usually adding up to $60 per hour or more. The only reason I don't do these gigs more often is that there usually aren't that many of them in a given month.
December worked out really well though, as there were a ton of very high paying gigs throughout the month. Interestingly, these were gigs that had to be done at a specific grocery store that isn't located in Minnesota. However, the hotel I was staying at in Indianapolis was across the street from this grocery store, so I was able to make over $100 in less than an hour just making videos at the store. That's pretty incredible and goes to show that there are a lot of ways to make some extra money wherever you might be.
Google Opinion Rewards/1Q/Surveys On The Go Income: $21.28
I once again made solid income from the three survey apps that I keep on my phone. Here's a breakdown of my earnings with each one in December: 
Surveys On The Go continues to surprise me with how much I'm able to make from this app each month. What I particularly like about this app is that even if you don't qualify for the survey, you still get paid 10 cents. A lot of the time, I'll purposely answer a few questions in a way that I know will make it so I don't qualify for the survey, just so I can collect my quick 10 cents for a few seconds of work.
User Interviews/L&E Research Income: $125
Market research is something that pays particularly well, but it does usually require you to have some flexibility in your schedule since market research gigs often take place during normal working hours. In December, I grabbed one market research gig via User Interviews. It paid $125 for about 30 minutes of my time, which made it very lucrative and well worth doing. I don't get too many market research gigs, but when I do see ones that I qualify for, I almost always try to grab them.
Secret Shopping Income: $570 In Free Food
I didn't make any actual cash from secret shopping in December, but I did get a lot of free food. Altogether, I went out to eat 25 times in December (2 of those 25 times were as a guest with a friend who has also picked up secret shopping to get some free food each month). 
Interestingly enough, I used my secret shopping strategy to eat for free while I was traveling as well, getting me and my friend $75 worth of free food for dinner while we were in Indianapolis. It's part of the reason why my three-day trip to two different cities in December only cost me $29 in out-of-pocket costs.
Food is one of the three major expenses that most people have to deal with (after housing and transportation). This secret strategy shopping is a major hack that I've been able to use to dramatically reduce my food budget over the past year. You don't have to do it at the extreme that I'm doing it right now (i.e. you don't have to go out to eat 20+ times like I'm doing), but it's not that hard to replace a few nights out with a secret shop or two.
Be sure to read my post on how I use secret shopping to hack my food expenses. It's worth at least looking into to see if it works wherever you live. 
And that concludes the December 2019 Side Hustle Report!
December was a down month on the side hustle front, but it's still not bad to be able to make over $1,500 doing random things that anyone can do. If you have a full-time job, I really do think there's a lot of value in trying out some of these side hustles if for no other reason than to simply prove to yourself that you can make money outside of your job using nothing but your own wits. I think there's something really satisfying about generating income without an employer paying you.
As for the year, 2019 ended up being a really big year of side hustling! I made over $36,000 for the year using all of these different apps, which, importantly, can be used by almost anyone. It's not a huge amount of money for most people, but when you think about it, this amount isn't that far off from what many people in the financial independence community are trying to live on.
If you're someone who's got a decent portfolio already, it's interesting to think that these simple side hustles could be enough to support your lifestyle, even if just for a mini-retirement or a career transition.
Be sure to check out my other side hustle reports if you're new to this blog and see if any of these gigs make sense for your situation. You just might be surprised. Thanks for reading and I hope you enjoyed this look into all of the side hustle income I was able to make in December 2019.