Hey everyone. Life's been busy, so I apologize for getting this side hustle report out so late. But it's here!
As a quick recap, each month, I document what I earned each month from side hustling using gig economy and sharing economy apps. The idea is to show people what's possible if you take advantage of some of these apps.
Let's take a look at my side hustle earnings in July.
Side Hustle Income for July 2022
Total Side Hustle Income for July 2022 = $1,568.83 
July was a simple month for side hustling, with the vast majority of my income coming from two sources – Rover and Food Delivery. The remaining income for the month came from my smaller side hustles – things like secret shopping, Instacart, IVueIt/ProxyPics, and other small gigs. 
Here's a pie chart with a breakdown of my side hustle income by percentage for the month: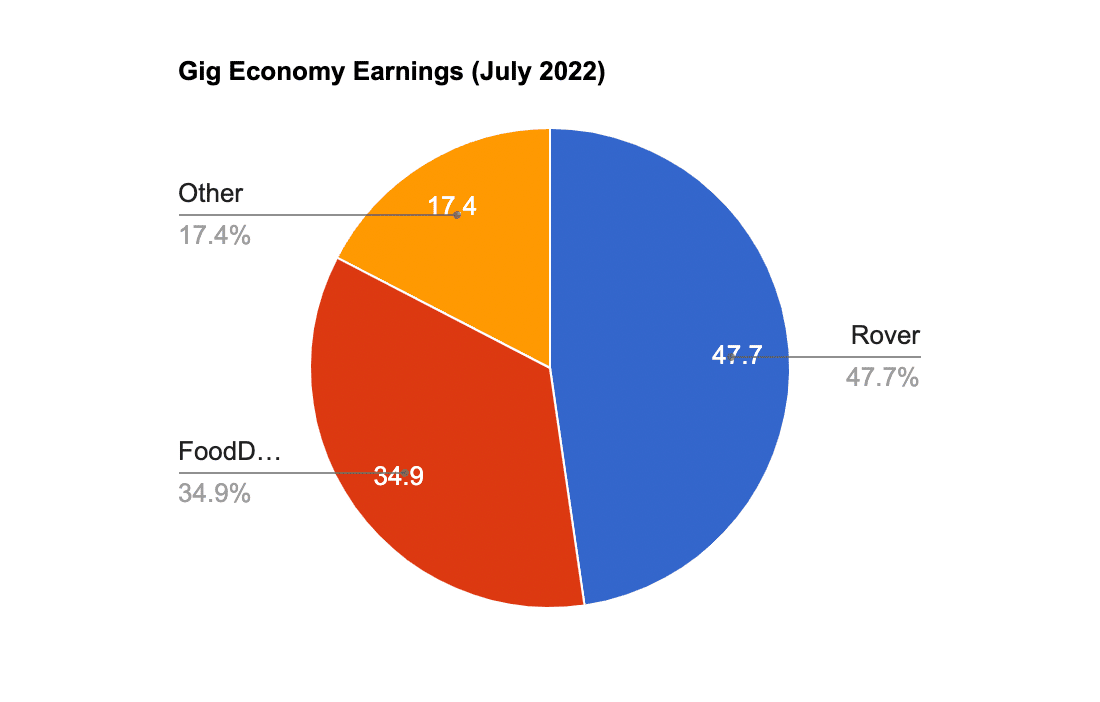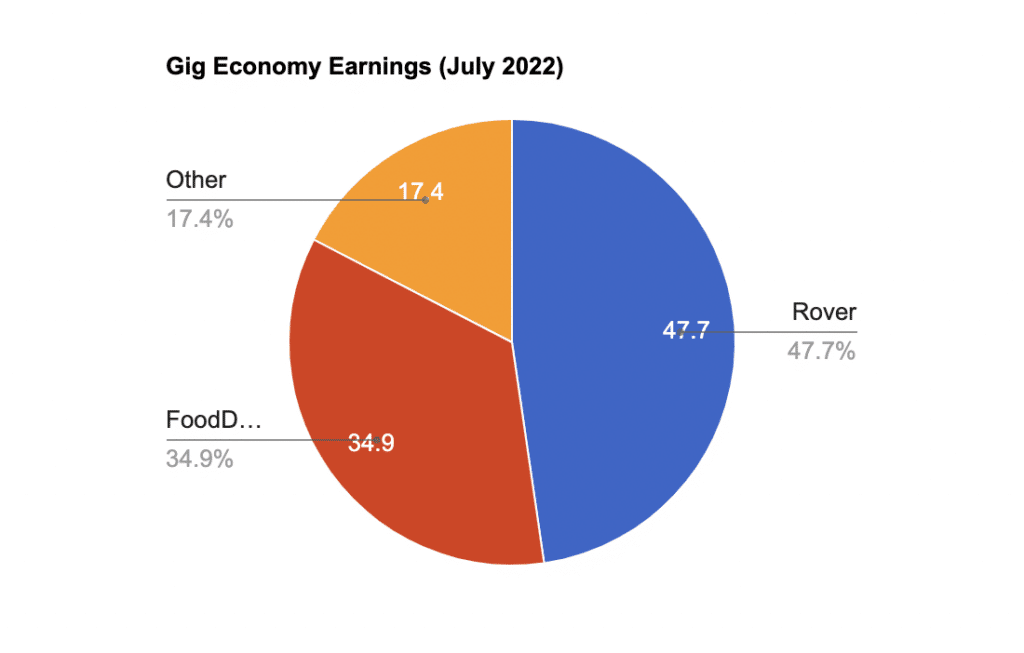 As you can see, Rover and food delivery combined to make up 82% of my side hustle earnings for July. That's probably the highest percentage of my monthly income that those two apps have ever made up. 
Even with most of my income coming from just two sources, it's interesting to see how these other, smaller side hustles can still add up to some solid income. These little side hustles don't look like much individually. But they add up when you put them together. 
Let's take a closer look at how I earned my money last month. 
Airbnb/Rental Income Income: $2,400 
The rental continues to do well, with no major issues so far. All of the cash flow for this property stays with it, which is good because I do have some repairs I've had to do and I imagine I'll have some larger expenses to deal with at some point in the future.
The nice thing about this house is that I refinanced it to a 2.75% interest rate back in 2020. With inflation where it's at, I'm in no hurry to pay this house off anytime soon.
I also like to think of this house as a potential future college fund for my son. We save money in a 529 Plan, but in theory, we could sell this house in the future and likely use the proceeds to pay for college (by the time my son goes to college, the house would be fully paid off). 
Rover Income: $749.15  
Rover made up the largest share of my earnings for the month thanks to a lot of cat drop-in visits and a dog boarding I did in June that carried over into July. 
The dog sitting was good as usual. All of the dogs I watched for the month were easy and fit in well with my household.
The more interesting part of Rover for the month is probably the cat drop-in visits. I've been getting a lot of requests for these services in my neighborhood, to the point where I probably need to get more selective with my clients. These drop-in visits aren't difficult for me, but the main issue with them is that they take more time than I'd like (each drop-in visit is 30 minutes long, which means what I can make is limited). I have a few clients that I'll keep because they're nearby and have nice houses. A few others I may let go or be more selective with. 
If you'd like to learn more about Rover, check out my post: Rover Pet Sitting – How To Make Money Dog Sitting With Rover.
DoorDash/Uber Eats/Grubhub Income: $548.28 
Things were slower for me on the food delivery front, which is to be expected since I was on vacation for part of the month. Even so, I still made over $500 for the month with the food delivery apps. Here's a breakdown of my earnings with each delivery app for the month: 
I did all of my deliveries using an ebike or electric scooter, which is how I recommend you do your deliveries too if you can.
I do most of my deliveries during the lunch hour, which is where I find I can make the best use of my time. Most of the time, I use my RadCity, which I've equipped with a front rack and basket. It lets me put my food delivery bag into it and I can easily put food into the bag.  
I also got myself a GoPro and have been filming some of my delivery runs. My thinking is I can start uploading some of my deliveries to YouTube and maybe give people a better idea of how I multi-app and earn extra income from these food delivery apps. Now I just need to figure out how to edit these videos. I'll let people know as soon as I start uploading some of these YouTube videos.
Shipt/Instacart Income: $31.54 
I don't do a lot of grocery delivery, but if I find things are slow with food delivery, I'll sometimes turn on Instacart and grab easy grocery delivery orders. My main issue is that I'm slow at shopping, so I tend to avoid large orders and stick to smaller grocery orders that I know I can shop quickly.
Instacart is my favorite of the grocery delivery apps because it uses an on-demand model that works similarly to food delivery. You turn on the Instacart app and orders appear in the app as they become available. If it works for you, you can snag the request. If not, let someone else take it. 
I know some people swear by grocery delivery apps, but I can't figure out how to make it as lucrative as food delivery, which is why I only do them when things are slow.
ProductTube Income: $15 
It was a slow month for ProductTube, but that's to be expected at times. I find ProductTube to be lucrative for the amount of time it takes to complete each assignment (easily equating to $100 or more per hour for the time spent), but there's not a lot of consistency with it and you can't count on it for steady revenue.
That being said, if you haven't used ProductTube before, definitely check it out. It always appears on these side hustle reports because of how easy it is.
IVueIt/ProxyPics Income: $74  
IVueIt and ProxyPics were both solid last month. IVueIt brought in $54 of income and ProxyPics added a solid $20.
The IVueIt assignments I do each month are the same. These include the "dark store" photos, where I take photos of a closed-down coffee shop, and landscape photos, where I take photos of the landscaping at a bank or other facility near my house. The good thing about these gigs is that I can usually do them with my son during our bike ride home from daycare. Since we bike commute, it's easy to stop and take the required photos. 
ProxyPics was also the same as usual, with the assignment I did being an exterior photo gig. This is where I take a few photos of the outside of a house. Like with IVueIt, I like ProxyPics because I can do these gigs with my son. 
For more information about IVueIt or ProxyPics, check out these posts: 
Google Opinion Rewards/Surveys On The Go/1Q Income/Facebook Viewpoints: $11.53
The short survey apps did the same as usual. Here's what I made with each app.
These are easy apps I use each month that help me earn a few extra bucks. They take seconds to complete, so they pay well for the time spent. Download all of these apps if you can.
Secret Shopping Income: $127 (plus lots of free food)
Restaurant secret shopping remains steady. I used to only do secret shopping for the free food, but these days, I'm also earning significant income from it. All of this income comes from Marketforce, which is really the only secret shopping site where you can earn significant income. The other ones are mainly for reimbursement only.
Check out the below posts for more information about how secret shopping works.
ReceiptPal/Receipt Hog/Fetch/CoinOut/Amazon Shopper Panel Income: $12.25
Amazon Shopper Panel continues to be a no-brainer receipt app that everyone should download if they can. They pay you $1 per receipt, up to 10 receipts per month. That's $120 per year just for a few receipts each year.
Medium Income: $0.08
Medium income is trickling down to zero since I don't post there anymore. It's really a matter of time and return on investment. At this point, this blog is a far better use of my time than trying to earn income writing on Medium. That being said, if I were starting new and was willing to churn out a ton of content and didn't want to do any SEO, Medium is where I'd probably go in 2022.
And that concludes the July 2022 Side Hustle Report!  
July worked out well, especially considering I was on vacation for part of the month. $1,500 of extra income is not bad, especially when I combine it with my blog earnings and rental income. Those three income sources combined give me a pretty solid yearly income – all without having to work in an office anymore. There's no way I'd ever go back to a regular 9-5 at this point – not unless something dramatically changed with my life and I was desperate. 
Hope you enjoyed this look into my side hustle earnings last month.