Hey everyone. May is in the books, which means it's time for another Financial Panther side hustle report.
As a quick recap, each month, I document exactly what I was able to earn by side hustling using various gig economy apps. I use these gig economy apps as a supplement to my blog income, with my main goal to show what you can earn side hustling with these apps. If you're looking for ideas on how to earn extra income, hopefully, these posts give you some good ideas.
In today's post, we'll be taking a look at my side hustle/gig economy earnings for May 2022. 
Side Hustle Income for May 2022
Total Side Hustle Income for May 2022 = $1,569.18 
May was another solid side hustle month for me. Most of my income for the month came from DoorDash, Uber Eats, and Grubhub.
In addition to my usual food delivery apps, I also earned some income from some interesting new income sources – mainly from a new app I've been using called ProxyPics (I'll go into more detail about ProxyPics later in this post).
Here's a pie chart with my side hustle/gig economy income sources for the month.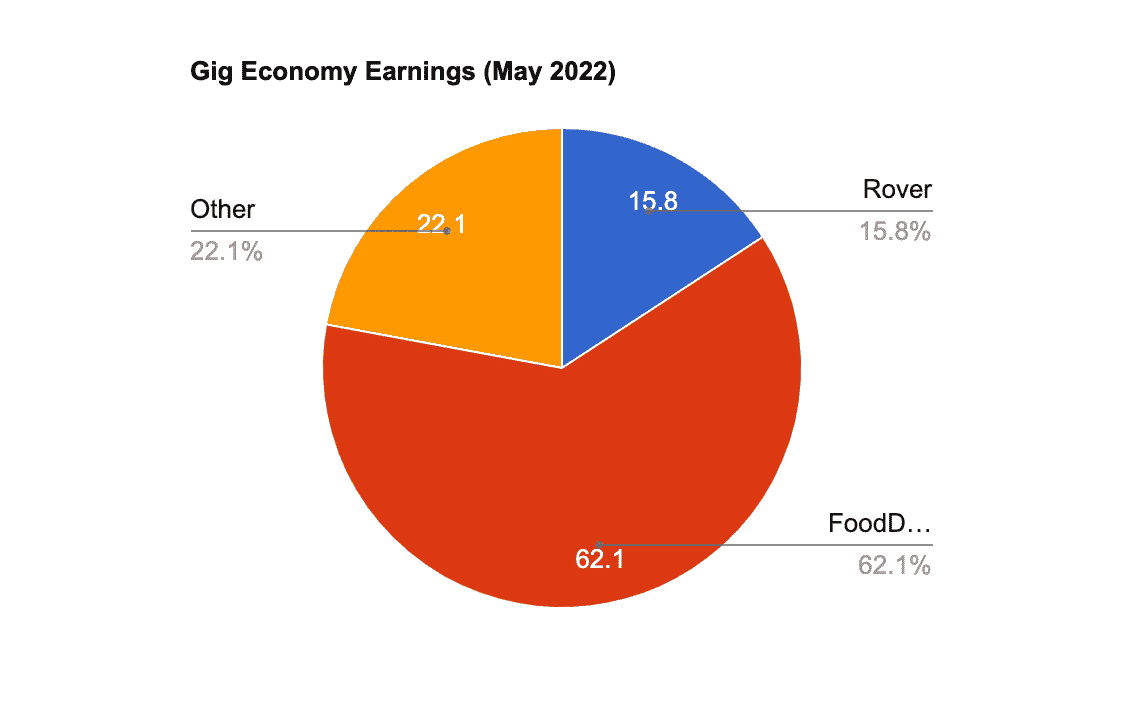 With that said, let's take a closer look at my gig economy earnings for the month. 
Airbnb/Rental Income Income: $2,400 
The rental property remains steady and I've been fortunate to have no issues with my tenants and very few issues with my house. The house cash flows about $900 to $1,000 per month and when you count the equity and tax advantages I'm getting, it's doing even better than that. The income is also fairly passive at this point. I still manage the house myself and handle the yard work, but none of that takes me much time per week.
Rover Income: $249.15  
Rover was a bit slower than what I expected, but I still had some solid earnings. For the month, I watched two dogs and did some drop-in visits for a neighbor's cat. Both dogs were pups that I'd watched before, so it was low-stress earnings (almost passive, even).
I've also been getting the occasional drop-in cat request, where I go to check up on the cat and refill their food and water. I have a neighbor down the street that found me on Rover, so I stopped by her house over Memorial Day weekend to feed her cat.
If you want to learn more about Rover, check out my post: Rover Pet Sitting – How To Make Money Dog Sitting With Rover. If you're interested in becoming a sitter, you can sign up to be a Rover sitter using my Rover referral link. 
DoorDash/Uber Eats/Grubhub Income: $974.93 
DoorDash, Uber Eats, and Grubhub did well for the month, although I came up just a bit short of my $1,000 per month goal. Here's a breakdown of my earnings with each delivery app last month:
I do the bulk of my deliveries during the lunch hour. Occasionally, I'll do some evening deliveries, although I don't work during the dinner rush as often anymore because I usually can't start until later in the evening after I've put my son to bed. I also try to do deliveries on my way home from daycare. I'll often try to find deliveries heading towards my house, and since I bike with my son, it's pretty easy to do deliveries that way. 
If you want more information about the different food delivery apps I use, check out the detailed posts I've written about each app: 
To track my earnings, I use Gridwise, which is a good free app for tracking your gig economy earnings and mileage.
Wag Income: $11
I don't do a lot of Wag walks these days, but in May, I went back home to visit my parents and saw a Wag walk for a dog a few blocks from their house. It was a 20-minute walk and the dog was well-behaved and easy to walk, so it was an enjoyable way for me to earn some extra money while traveling.
If you're interested in learning more about Wag, check out my post: Wag App Review – My Experience As An On-Demand Dog Walker. 
Trash/Flipping Income: $15.66
I haven't been doing much in this category, but I did earn a little bit of money selling a dress shirt I found at Goodwill. The shirt was from a brand called UNTUCKit, which generally sells well on eBay. This sale didn't work out that well – I only made a few dollars after expenses. I'll probably avoid clothing in the future unless it's something I find at the Goodwill Outlet, where clothing is far cheaper compared to the traditional Goodwill stores. 
ProductTube Income: $100 
ProductTube has been doing really well lately. I'll probably put together a more detailed post about ProductTube at some point, but basically, it's an app that pays you to make market research videos about specific products. The gigs take so little time to complete – I'm usually earning $10 or more to make a video that takes me 2-5 minutes to complete – so it's well worth my time. Most of the gigs are at big box stores (i.e. Target or Walmart) or convenience stores (CVS and Walgreens). I try to do these gigs in the morning after I drop my son off at daycare. 
IVueIt/ProxyPics Income: $115  
I used to put IVueIt with the Field Agent type apps, but I've decided to break out IVueIt (and ProxyPics) into their own category. These apps are ones that generally pay you to take exterior photos of a business or residential property, so I think they make more sense as their own category, rather than lumping them with the auditing apps like Field Agent or Merchandiser, which usually pay you to take photos of products at the store. 
With that being said, I made $35 last month from IVueIt and an astounding $80 from a new app I've been using called ProxyPics. 
The IVueIt gigs were the usual ones where I take photos of the landscaping around certain businesses or where I take interior photos of a "dark" store (i.e. a store that has permanently closed). 
ProxyPics meanwhile, is an app that pays you to take photos of residential properties. Appraisers use ProxyPics to get up-to-date photos of properties. The assignments pay well, so they're worth doing. Indeed, last month I completed four assignments for ProxyPics, earning $20 for each one for a total of $80. The assignments only take a few minutes to complete – just take a few photos and answer some questions in the app. This is an app I'll definitely be incorporating into my regular gig economy repertoire. 
To learn more about IVueIt or ProxyPics, check out the posts I wrote about them: 
Google Opinion Rewards/Surveys On The Go/1Q Income/Facebook Viewpoints: $13.52
Here's what I earned with each of the short survey apps in May:
Not much to report here. Google Opinion Rewards and 1Q remained steady. Surveys On The Go requires me to hit $10 before I can cash out, so I didn't hit that mark last month. Facebook Viewpoints paid me $5 for completing a few quick surveys. I don't get a lot of Facebook Viewpoints surveys, but when I do see them, they're worth doing.
Secret Shopping Income: $78 (plus free food)
Secret shopping was solid again. I make all of my secret shopping money from Marketforce, to the point where secret shopping with Marketforce is a bonified side hustle. I also had a few other random secret shops that got me free food. Those only reimbursed me for my meal though, so I didn't earn a profit with those secret shoppers.
Secret shopping is a massively underrated way to reduce your food budget. I get hundreds of dollars of free food each month by taking advantage of Marketforce, Bestmark, A Closer Look, and other secret shopping websites. 
The world of secret shopping is fairly complicated, so I recommend reading the in-depth posts I've written on this subject below:
ReceiptPal/Receipt Hog/Fetch/CoinOut/Amazon Shopper Panel Income: $11.50
Amazon Shopper Panel paid me $11.50 last month. $10 of that was from the 10 receipts I sent them and then I got $1.50 for answering a few survey questions. Without a doubt, Amazon Shopper Panel is the best receipt app, so you definitely want to grab that app if you can. The other apps are good too, but they take much longer to earn any money on them. 
Medium Income: $0.42
I don't write anything on Medium anymore since my time is better spent writing on this blog, but I still get a few pennies each month from the stuff I already wrote on there. If I were starting a blog today and just wanted to write about anything and not care about SEO, then I'd probably go with Medium. If you want to make a go of writing on Medium and earning an actual income, you need to be prepared to pump out content – literally every day. 
That's one thing I've learned about doing anything online – quantity beats quality because quantity leads to quality. 
And that concludes the May 2022 Side Hustle Report! 
May was a solid side hustle month. Earning $1,500 from these random apps is not bad at all. When I put all my income sources together – the blog, the side hustle income, and the rental income, I'm doing pretty well. Not super-rich or anything – but more than enough to live comfortably. 
For more ideas on how you can use the gig economy to earn extra income, check out my post, The Ultimate List of Gig Economy Apps. That post can hopefully give you some more ideas on things you can do to earn extra income. 
Hope you enjoyed seeing what I did last month. Feel free to drop any questions and comments below.