Another month is in the books, so now's a good time to check out another side hustle report. In this side hustle report, we'll be taking a look at what I was able to earn in September 2021.
For new readers, each month, I document exactly what I made from side hustling using gig economy and sharing economy apps. I've been doing this for years, so there's a whole archive detailing all of my side hustle exploits (you can check out my side hustle reports here). The money has added up too – I've made over $120,000 from all my years of consistent side hustling. And I've had some fun along the way too! 
With that said, let's take a look at the side hustle/gig economy income I was able to earn in September 2021: 
Side Hustle Income for September 2021
Total Side Hustle Income for September 2021 = $1,987.92 
September was a busy month, with the most travel I've done in over a year. I had one weekend where I flew home to see my parents. And then another week I was in Austin to attend FinCon. 
Usually, traveling means I'm going to make less side hustle money, but I was able to earn side hustle income even while I was traveling by taking advantage of a few apps. The first is secret shopping, which is something you can do everywhere and can earn you some extra income. The second was charging scooters with Lime, which I was able to do while I was attending FinCon. I'll get into more detail about these side hustle sources later in this post. 
Here's a detailed look at my side hustle earnings for last month. 
Airbnb/Rental Income Income: $2,400 
My wife and I moved to a new house during the summer but decided to keep our old house and turn it into a rental. Our tenants pay $2,400 a month and our mortgage, taxes, and insurance comes to about $1,400 per month. That leaves us with $1,000 in profit. 
We don't need this money at the moment, so the plan is to keep all the revenue the rental property generates and use it towards maintenance. Once we have a good sense of how much things cost, we'll think about investing that money elsewhere. 
For purposes of this side hustle report, I'm leaving the rental income out, but I still like to include it here to give you a sense of where some of my extra income is coming from.
Rover Income: $379.95 
In September, I watched two dogs for a total of 13 days. I could have watched more dogs, but I was traveling for part of the month, which cut back on what I was able to earn. That being said, making almost $400 watching dogs is not bad at all.
Rover has picked up dramatically over the past few months as people start to travel again and need sitters for their dogs. Demand will probably continue to go up too as we head into the holiday season. 
Moving to my new neighborhood has also definitely helped increase the demand for my Rover services. It may not seem as obvious compared to something like Airbnb, but location matters a lot when it comes to Rover too. That's because most people are picking sitters that live near them. Living in a higher-end neighborhood helps too since those are the people that have the most disposable income to spend on dog sitters.  
If you're interested in becoming a Rover sitter, check out this post: Rover Pet Sitting – How To Make Money Dog Sitting With Rover. 
DoorDash/Uber Eats/Grubhub Income: $656.21 
September was a good delivery month, especially when you consider how busy I was most of the month. Here's a breakdown of what I earned with each delivery app in September:  
As has been the case recently, it was a pretty even split between all of these apps. It shows why it's so important to multi-app. If you rely on a single app, you're going to have trouble making these delivery apps work for you. 
I did all of my deliveries this month using my ebikes and my electric scooter. There's no question in my mind that doing deliveries via an ebike or scooter is the way to go. If you're at all on the fence about getting some sort of electric micromobility vehicle, consider getting one as an investment and earn your money back with these side hustles.
When you think about my bikes, I've easily made hundreds of thousands of dollars in income and savings. Consider that if you earn just $30 per day and invest it all, that money can easily become a million dollars over 30 years (I call this the Reverse Latte Factor). 
If you're interested in learning more about these different food delivery apps, feel free to check out the posts I've written about each app: 
Bird/Lime Income: $206.28
Scooter charging used to be a big part of my income during the summer months, but unfortunately, the scooter game has changed a lot over the past few years. Bird switched over to a Fleet Manager model, which is essentially a full-time job. That doesn't for me. 
Meanwhile, Lime wasn't able to renew its contract in Minneapolis. They still operate in St. Paul, but it's not convenient for me to charge scooters over there. As a result, I haven't earned any scooter charging income this year. 
That all changed when I was in Austin for FinCon. My friend and I were staying in an Airbnb downtown, so we knew that there'd be a lot of scooters. Knowing this, I packed a few scooter chargers in my suitcase, and during the day, I'd grab a few scooters and charge them up in the apartment. If we'd stayed in a hotel, this wouldn't have been possible since the hotel staff likely wouldn't have let us bring scooters into our room. In an apartment, though, no one saw us.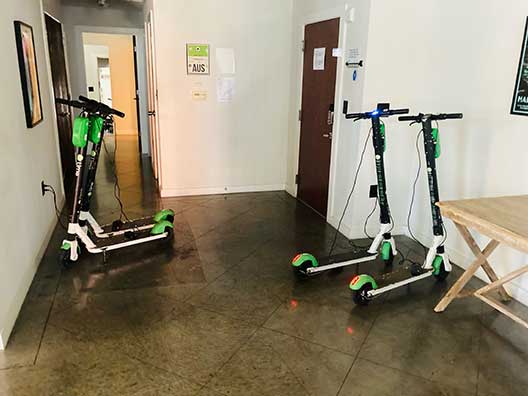 I ended up making a little over $200 for the 5 days I spent in Austin for the conference. It was a nice unexpected bonus. And it's a good example of how you can make extra income if you keep an eye out. Even when you're traveling, you can earn extra income.
Trash/Flipping Income: $120
We're in the process of upgrading our furniture in our new house, so I've been selling a lot of the old furniture. Most of the furniture in our old house was stuff we found in the trash, so it's nice to get use out of it, then sell it later for a profit. 
My wife also spent a few days at her mom's apartment and found some great stuff. Her mom lives in a luxury apartment, and just like with our luxury apartment that we used to live in, there's almost always amazing stuff in the trash.
In this case, my wife stumbled on this animal cage. It was in perfect condition and when I looked up the brand, I found that it sold for $180 new. I listed it on Facebook Marketplace for $100 and someone offered $75, which I accepted.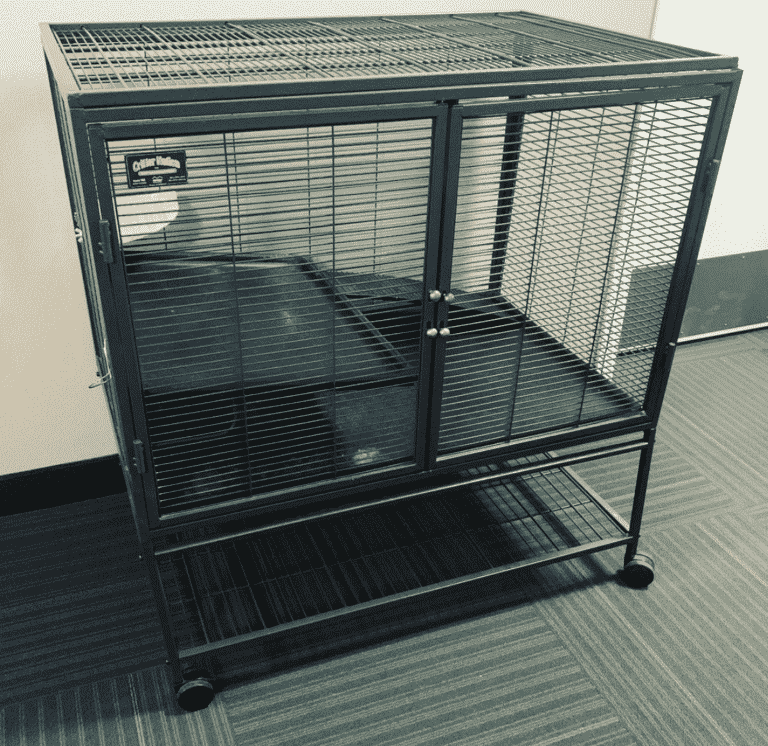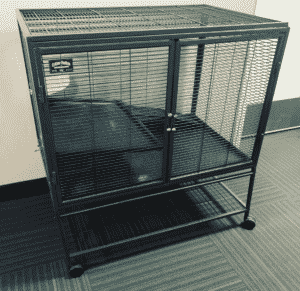 The point here is that there is a lot of value in seemingly random things. Even if something seems valueless to you, it very likely has value to someone else. So don't be so quick to throw things out before checking to see if it's worth something. You'll be surprised at how many people might want it. 
WeGoLook Income: $24 
I've found myself doing a bit more WeGoLook gigs lately. Most of them are automotive inspections where I need to take pictures of a damaged car for the insurance claim. I don't like doing these WeGoLook gigs as much because they require me to coordinate a time with someone. 
Instead, the ones I've been doing more are scene inspection and exterior photo assignments. The scene inspections require me to go to an intersection and take photos. The exterior photo assignments ask me to take three pictures of a house or commercial building. Both of these assignments work out well because I don't have to coordinate with anyone else and I can usually take my son on the bike with me. That way, we get a nice bike ride and I make a bit of extra income too. 
I'm going to write a WeGoLook post in the future because I think this is an app I should probably talk about in more detail. 
ProductTube Income: $65 
ProductTube was a big earner for me last month. Usually, I try to do these gigs in the morning right after I drop my son off at daycare. There's a Target a block away from his daycare, so I'm usually able to complete my ProductTube gigs there. 
ProductTube is never going to be a consistent earner, but it's so easy that I always take advantage of them when I can. Consider downloading this app if you haven't tried it before. 
Gigwalk/EasyShift/Field Agent/Merchandiser/Observa/IVueIt/Pickl Income: $27 
It was a slower month for me with these picture-taking/auditing apps. I usually earn income from Field Agent, but this past month, I didn't earn anything from it. The only money I did earn this month was from IVueIt, where I made $27. 
I like IVueIt a lot. Like we WeGoLook, a lot of the IVueIt gigs involve taking pictures of buildings. They usually don't take much time – 10 minutes at most. And since they're outside, I can bike to them with my son. There are usually a few IVueIt gigs around me each month, so I try to snag them when I see them. 
Google Opinion Rewards/Surveys On The Go/1Q/Facebook Viewpoints Income: $10.49
I made a few bucks from these short survey apps last month. Here's what I made with each app.
Google Opinion Rewards is doing well again, so that's a nice source of extra income. 1Q is also surprisingly consistent lately. 
I've been behind on Surveys On The Go. I usually try to do more of them, but the app sometimes runs slow so I find myself not using it as much. I'll probably hit the $10 mark and cash out this coming month though. 
Secret Shopping Income: $135.50 (plus free food) 
I didn't use to think of secret shopping as a moneymaker, but lately, it's seemed pretty lucrative. Making $100 or so in a month, plus getting a couple of hundred dollars worth of free food is not a bad deal at all.
For September, I earned income from two secret shopping apps. Here's what the breakdown was between these apps:
I also use sites like Bestmark and A Closer Look, but those two sites typically only give you a reimbursement, rather than a payment on top of the reimbursement. 
The fact that I'm able to earn a pretty decent amount of money while also eating is pretty exciting. I've also been secret shopping for so long that it's all second nature to me now. 
For more info about how you can use secret shopping to eat for free, check out these posts:
ProductLab Income: $13 
ProductLab was the same as usual. Each week, I take a screenshot of my earnings on DoorDash and Uber Eats, then upload them in the ProductLab app. Over a month, I make about $10 to $15. The total time I spend doing this is about 30 seconds, so it's definitely worth my time.
ReceiptPal/Receipt Hog/Fetch/CoinOut/Amazon Shopper Panel/NCP ReCap Income: $11.25
My only receipt app earnings this month came from Amazon Shopper Panel. It's so easy – I automatically earn $10 per month just by taking a picture of 10 receipts. The only catch is that Amazon Shopper Panel seems to be by invite only, so you may get put on a waitlist if you try to sign up. If you can, get onto Amazon Shopper Panel because I can't imagine this lasts forever. 
Medium Income: $9.24 
I guess Medium has become a passive income source for me at this point, as I haven't uploaded any new posts to Medium in several months. Even so, I still managed to make a few bucks from the stuff I've already posted on there. I need to carve out some time to start reposting on there because I'm sure I could get myself to 1,000 followers and a decent income if I hustled at it. It's just right now I can do more writing on here versus on Medium.
Freelance Writing Income: $250
I do some casual freelance writing thanks to some organizations reaching out to me on this blog. It's not something I plan to do full-time, but it is a pretty nice source of extra income that I'm able to earn from home (or at the coffee shop). 
Random Surveys Income: $80
Every few months, I receive random surveys in my email that offer me Amazon gift cards if I take the survey. I don't know where these come from, but when I get them, I'll usually do them because they don't take much time. 
The most lucrative survey I did this month was a $75 survey that took me about 10 minutes. I have no idea why I got this survey, but I'll take the money. I assume I must have signed up for some company a long time ago and no longer remember what the company was. 
And that concludes the September 2021 Side Hustle Report.
September worked out well for me on the side hustle income front. Even though I was traveling for about 1/4 of the month, I still managed to earn almost $2,000 from my various side hustles. It might not seem like that big of a deal, but depending on your situation, this can be a huge amount of money to make on the side.
Thanks for reading. If you want to see what I've made in previous months, check out my past side hustle reports.
If you're looking for ideas on how you can earn more money using the gig economy, check out my post, The Ultimate List of Gig Economy Apps. That post has almost every gig economy app I've ever used or heard about.